Guide to Online Accounting Degrees
Accounting degrees train students to help individuals and organizations meet their financial and bookkeeping needs. Students may graduate with a solid understanding of mathematical and business concepts, as well as how to apply these in a variety of settings. Prospective students can often specialize in areas such as taxation or managerial accounting, and those enrolled at the bachelor's level can choose between various degree options.
With the demand for accountants constant according to the Bureau of Labor Statistics (BLS), a bachelor's degree qualifies graduates for most entry-level positions in this field. Some degree programs are also explicitly designed to prepare students to become Certified Public Accountants, a certification that equips accountants to offer a range of tax return and financial services.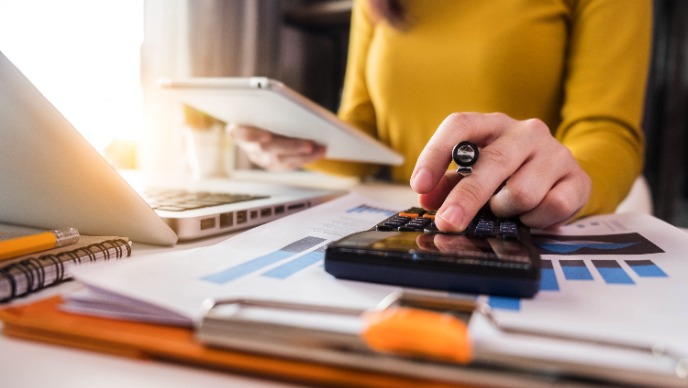 Types of Accounting Degrees
Students can study accounting at the associate, bachelor's, master's, and doctoral levels. Those pursuing a four-year undergraduate credential have additional options and can choose among several different types of accounting degrees. These degrees vary in terms of the emphasis they place on accounting theories and principles, with accounting majors typically completing different educational requirements to graduate. Students at the bachelor's level also have the option to pursue a professional accounting degree that focuses exclusively on preparing graduates for employment in the field. Depending on their area of interest — and future career options — students may consider enrolling in one of the following accounting programs at the bachelor's level.
Bachelor of Arts (BA) in Accounting
A BA covers fundamental accounting principles, introducing students to the core concepts of assets, liabilities, capital, income, and expenses. Generally considered a liberal arts degree, this credential allows students to explore arts and humanities subjects as well. Individuals may minor in subjects such as history, English, and philosophy, thus gaining a broader undergraduate education. While a BA can qualify graduates for entry-level positions in accounting, it may also prepare them for jobs in other fields depending on their choice of coursework.
Bachelor of Business Administration (BBA) in Accounting
The BBA differs from a BA in that it is designed to give students a more business-focused education. Students have the option to major in accounting while taking elective coursework in business management areas such as marketing or human resources. Individuals with a BBA in accounting may graduate prepared to work in a business setting or pursue an MBA.
Bachelor of Science (BS) in Accounting
A BS is meant to give students a foundational understanding of accounting theories and how to apply these in various business and non-business settings. Unlike a BA or BBA, students enrolled in a BS program complete most of their coursework in accounting and usually take required classes in financial reporting, advanced mathematics, business, and data analysis. While they have the option to take elective classes outside these areas, students largely concentrate on studying accounting-related concepts. Graduates with a BS may be well-positioned for careers as financial analysts in many different industries.
Bachelor of Accountancy (BAcc)
The BAcc is a highly specialized degree which trains students to become professional accountants. Learners take classes exclusively in business and advanced accounting topics, and often choose a specialization such as wealth management or taxation. A BAcc is therefore considered a first professional degree that is meant to equip graduates with the knowledge and skills necessary to enter the accounting field. It may also be a suitable option for those who are determined to gain their CPA license or want to pursue a master's in business.
Admission Requirements for an Accounting Bachelor's
While admission requirements for an accounting bachelor's vary by program, students typically need to meet the following prerequisites
High school diploma or GED with a minimum 2.0 GPA
For transfer students, college transcripts showing previously-completed credits
Letters of recommendation from teachers and other mentors that describe the student's skills and abilities
A personal statement detailing the student's interest in completing an accounting program
Additionally, given that accounting programs often expect students to complete coursework in math, students should consider taking high school classes in STEM areas to strengthen their application.
What Do You Study in an Accounting Program?
While the curriculum varies based on the type of accountancy degree an individual is enrolled in, undergraduate students generally spend their first two years meeting major requirements by completing coursework in microeconomics, macroeconomics, business, and statistics. In the subsequent two years, they take professional accounting classes such as financial accounting, accounting information systems, tax law, and government accounting. During this latter period, students may also have the chance to specialize in areas such as taxation, forensic accounting, or management accounting. Most programs expect students to complete a capstone project in their final year — often in the form of a research paper or presentation — in which they apply their accountancy knowledge to a real-world scenario.
Undergraduate students may have the chance to specialize in areas such as taxation, forensic accounting, or management accounting.
Students pursuing graduate-level degrees explore accounting concepts at a much more advanced level while also taking classes in research methods. For instance, they may study international tax regulations, professional auditing procedures, fraud, and advanced cost accounting. Additionally, graduate students complete a thesis which often involves presenting original research on accounting theories and principles.
Careers for Accounting Degree Graduates
Accountants work in many different industries because they play a crucial role in helping organizations manage their financial statements and maintain their long-term financial health. In addition to business, accounting graduates can therefore typically find finance-related jobs in non-profits and the public sector as well. Furthermore, with roughly 5% of accountants self-employed nationwide according to the BLS, graduates with a CPA license may also consider starting their own business.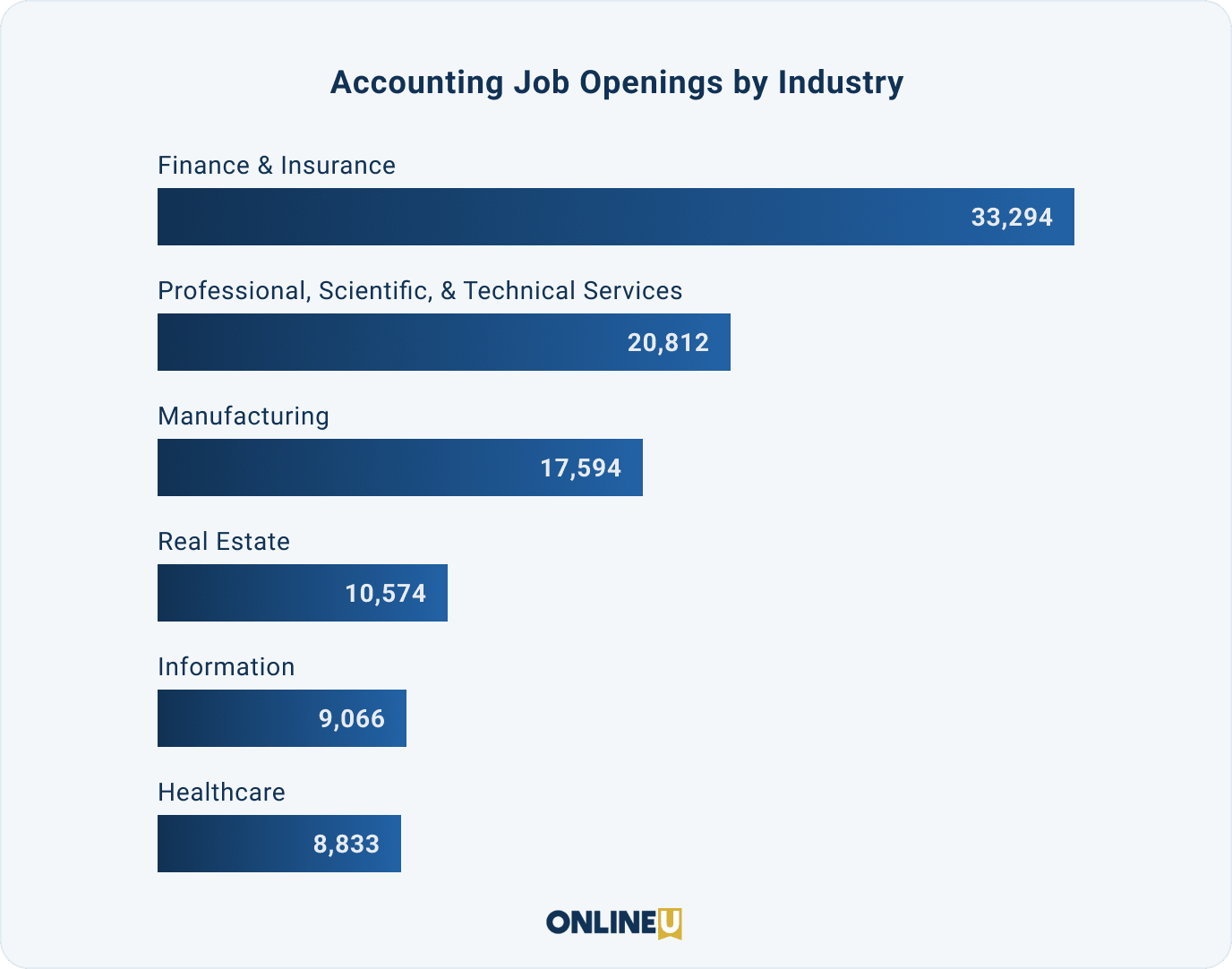 According to data analytics firm Burning Glass Technologies, accountants work primarily in finance and insurance, or in professional, scientific, and technical services. They are also employed in traditional industries such as real-estate and manufacturing, as well as growing ones including information and healthcare. Employers for accountants include a variety of large and small businesses, as well as government organizations. For instance, many graduates find accounting positions with one of the Big Four accounting firms, which collectively provide consulting, financial, and auditing services to a majority of S&P 500 companies. Those that specialize in auditing and taxation commonly find opportunities with tax preparation companies such as Intuit and H&R Block — though these employers may often expect applicants to have a CPA license.
Is a Bachelor's Degree in Accounting Worth It?
A bachelor's in accounting is worth it for individuals who aspire to have a steady career with plenty of opportunities for professional growth. Ultimately, however, the worth of this education will vary depending on an individual's personal circumstances, financial situation, and other obligations, so prospective students should carefully evaluate these factors before deciding to enroll. They may also consider the following pros and cons of an accounting bachelor's.
Potential Benefits
A career in accounting is considered a high-status occupation. According to the World Economic Forum, accountants were ranked seventh in the top 10 most respected professions in the world.
Accountants typically have a well-defined career path. This is because students graduate with a set of hard financial skills and gain on-the-job experience which makes it easier to identify jobs and future promotions. Furthermore, the accounting field remains largely unchanged, despite new financial tools and technologies, allowing graduates to chart a predictable career.
Potential Drawbacks
An accounting degree at the undergraduate level may not be enough to advance a career in finance. Graduates will often need a CPA license to conduct audits and some states expect accountants to have a master's degree and certification for higher-level positions.
Scholarships for Accounting Students
Accounting students interested in funding their higher education can apply for federal, state, and private forms of financial assistance. These may include grants and scholarships that cover tuition or living costs, as well as work-study programs that help students pay for college expenses through part-time employment. While students may also apply for loans, they should first consider funding sources that don't need to be paid back.
The first step to applying for funding involves filling out the Free Application for Federal Student Aid (FAFSA), a form that many government organizations and schools use to determine how much financial assistance an individual qualifies for. While the FAFSA is the most direct way to apply for grants and scholarships, certain noncitizens and undocumented students are not eligible to fill out this form. In general, students should contact the financial aid departments of their prospective schools to learn about the funding opportunities they are eligible for. They may also consider applying for the following grants and scholarships designed specifically for accounting students.
Every year, the AICPA awards 25 scholarships to students enrolled full-time in an undergraduate or graduate accounting degree program. These scholarships are open to U.S. citizens and permanent residents who demonstrate financial need, have a minimum 3.0 GPA, and plan to become CPAs once they graduate.
The IMA offers several grants and scholarships to accounting students at the graduate and undergraduate levels. To be considered, applicants must be IMA student members and currently enrolled in an accounting degree program.
The JMK scholarship is open to female students who demonstrate leadership potential and are pursuing a degree in business. Applicants must be enrolled in at least the second year of undergraduate study and may apply all the way up to the final year of a master's program.
Accreditation
Students interested in an accounting degree should make sure they enroll in an accredited program. Accreditation ensures that a college or university's faculty, program offerings, facilities, and student resources meet established standards for academic excellence. Aside from receiving a quality education, attending an accredited school is also a requirement to receive financial aid and transfer previously earned college credits.
Students can check the U.S. Department of Education's database to determine whether their prospective school has been regionally accredited. This type of accreditation — which is conducted by one of six accrediting bodies — is the most common and applies to the school as a whole. Accounting students may also want to confirm whether a specific program has been evaluated by the Association to Advance Collegiate Schools of Business (AACSB). AACSB accreditation shows that a given program meets educational benchmarks specifically designed for the accounting field. Additionally, holding an AACSB-accredited accounting degree is a requirement for those who want to pursue their CPA license.
Next Steps
After earning their bachelor's in accounting, students may choose to begin working, get certified, or continue their education.
Option A
While entering the workforce in a finance-related role may be a suitable option for some, becoming a licensed CPA may be a better route for those who want to start their own business or offer clients professional accounting services including audits, tax preparation, and financial management. CPA requirements vary by state, but applicants typically need to meet educational and work experience prerequisites for their jurisdiction as well as pass a series of exams.
Option B
Alternatively, students can continue their education by enrolling in an MBA or similar master's program. A bachelor's in accounting typically prepares students for graduate study in many different business-related fields, and those who hope to land a management position are likely to gain from earning a higher-level degree. A master's can also be helpful for students who want to specialize in areas such as forensic accounting or taxation. Additionally, some states may expect students to have a master's degree before applying to become CPAs.
Can I Get an Accounting Degree Online?
With distance education programs rising in popularity, it is possible to earn an accounting degree completely online, including at the bachelor's, master's, and doctoral levels. Distance learners should note that employers are increasingly seeing online accounting degrees that are accredited by the AACSB as comparable to traditional ones.
We rank the best online colleges offering bachelor's degrees in accounting. These schools offer a higher than average return on investment based on a comparison between annual tuition rates and the mid-career salaries that alumni earn. Prospective online students may consider these schools if they hope to maximize their future earning potential as accountants and quickly pay off the initial costs of college.
FAQs About Earning an Accounting Degree
How Long Does it Take to Earn a Bachelor's in Accounting?
A bachelor's in accounting requires 120-124 credits and can be completed in four years of full-time study. Part-time students may take up to six years, and those enrolled in accelerated programs can earn their degree in as little as 12 months depending on whether they've completed prior college coursework or have relevant work experience.
How Much Does a Bachelor's in Accounting Cost?
The cost of a bachelor's in accounting varies based on several factors, including whether a student enrolls in a private or public school, whether they can pay in-state tuition, have additional fees and expenses, or if the specific program costs more. Online programs are typically cheaper and cost $14,000-$21,000 in annual tuition.
Is an Accounting Degree Hard?
Some students may find the advanced math and business concepts taught in an accounting degree difficult to grasp. This may be especially true for individuals who haven't taken statistics or calculus classes in high school. However, accounting programs don't expect previous experience in these areas and are generally designed to be completed by a majority of college students.
How Can I Become an Accountant?
The minimum requirement to become an accountant is a bachelor's degree in the field, though some positions may require a master's as well. While certification and licensure are not necessary for some areas of accounting practice, individuals who hope to provide tax-related services will need to earn their CPA license.
Is an Accounting Degree a Good Fit for me?
An accounting degree may be a good fit for students with strong organizational and problem-solving skills, an eye for detail, and an interest in applying mathematical concepts in real-world settings. Given that accountants typically work closely with their clients, this degree may also be a suitable option for students who enjoy helping others navigate technical and sometimes complicated situations. Overall, an accounting degree is likely to interest individuals who are comfortable with taking responsibility and constantly expanding their skillset to meet new challenges.
Professional Accounting Organizations
Prospective accounting students can learn more about careers, certifications, and continuing education from the following organizations.
Related Articles
2023 Best Online Master's Degrees in Accounting
Compare online master's degrees in accounting based on the best alumni salaries for each program.
2023 Best Online Accounting Bachelor's Degree Programs
Browse our rankings of the best online bachelor's in accounting degrees for 2023, determined by alumni 10-year return on investment.