Best Online Bachelor's in Web Development Degrees
Web development combines, art and creativity with computer science to build websites. Valued for their technical knowledge about creating, designing, and running programs and applications for the internet, web developers can create a website from the bottom up. They use programming languages such as HTML or JavaScript to serve the needs of clients and businesses. As e-commerce continues to expand, web development is one of the fastest growing careers and is expected to grow until the year 2024. View our list of the best online web development degrees of 2020.
Students looking to complete a degree in web development should be sure to enroll in an accredited online college or university. Accreditation is an important factor when choosing a school because it ensures that the program meets national standards.
2020 Best Online Colleges Offering Bachelor's in Web Development Degrees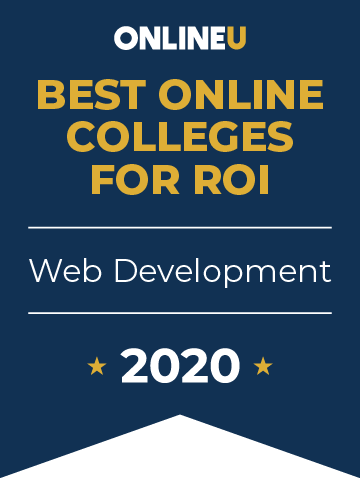 With low tuition rates and high average alumni salaries, the following 11 schools offer the best online bachelor's in web development degrees. Graduates of the #1-ranked school, Arizona State University, reported a median salary of $85,832. Southern Illinois University - Carbondale, ranked #2 on the list, costs $9,637 annually for an online BS in Information Systems Technologies - Web and Mobile App Development, with alumni reportedly earning median salaries of $76,330.
Alumni salaries were provided by PayScale. View our methodology for more details or learn more about OnlineU.
| Rank | School | Annual Tuition | Mid-Career Salary |
| --- | --- | --- | --- |
| # 1 | Arizona State University | $15,900 | $85,832 |
| # 2 | Southern Illinois University - Carbondale | $9,637 | $76,330 |
| # 3 | Champlain College | $9,540 | $69,838 |
| # 4 | Fort Hays State University | $6,778 | $68,301 |
| # 5 | Franklin University | $12,338 | $69,131 |
| # 6 | Middle Georgia State University | $8,670 | $66,789 |
| # 7 | Bellevue University | $13,600 | $65,619 |
| # 8 | Baker College Online | $12,150 | $62,726 |
| # 9 | Liberty University | $11,700 | $61,385 |
| # 10 | University of Maine at Augusta | $9,269 | $59,442 |
| # 11 | Davenport University | $15,570 | $61,173 |
Salary data provided by

2020 Online Colleges Offering Web Development Degrees - Ranking Details
Overview of Online Web Development
An online associate degree in web development is often sufficient to help graduates find entry-level employment in fields such as technology, education, government, business, and more. Students who graduate with associate degrees in this field typically move on to pursue a bachelor's degree after some years of experience.
A bachelor's degree in web development allows for more advanced job placements in large tech companies, businesses, and other institutions. Specializations in web design and software development are typically offered in conjunction with web development programs for better employability.
A master's degree requires students to have a bachelor's degree with some years of professional experience before admission. Students will be exposed to other areas of web development and internet engineering to give them a wider set of skills to fulfill more advanced roles.
An online certificate program in web development is ideal for professionals with years of experience or graduates of a related field looking to breach into web development. These programs are made to give a student specialized knowledge in a specific area within the field of web development such as web design, client-side scripting, and more.
Online Bachelor's Degrees in Web Development
An online bachelor's degree in web development equips a student with the well-rounded knowledge and a developed skill set necessary to start a successful career in various fields such as technology, education, web design, media, and more.
Program Requirements
A student will be required to complete an average of 120 course credits for this degree level. A high school transcript or GED is required for enrolling in this degree level. A letter of recommendation may also be required by some institutions. Students with an associate's degree in a similar field have the option of having their transcripts assessed for transferable credits. This degree level is typically offered in online community colleges, technical schools, and universities.
Curriculum
Students pursuing online bachelor's degrees should expect to develop strong problem-solving skills in a programming language, understand database systems, and integrate applications, technology, and devices for websites. On top of general education courses, students will gain hands-on experience in client-side languages, database systems, and server-side scripting. Optional elective classes also include web and mobile user experience, mobile application design and development, digital commerce, and more. Some online bachelor's degree programs on web development incorporate web design, software development, and other related specializations in their programs for better employability upon graduation.
The Importance of an Accredited Online Web Development Degree
Web development is a technical field that holds high professional standards. When selecting the best program, it is important to choose an online institution that is accredited and recognized by a regional accrediting body. This ensures that the program and curriculum meet national standards and will help equip students with the right tools and knowledge for a successful career in their chosen field. Choosing to study at an institution with regional accreditation also can help transfer credits easier for those who wish to pursue a higher level of education in the future. Accrediting agencies should always be recognized by the US Department of Education. While it does not provide accreditation for educational institutions and/or programs, the US Department of Education oversees the accreditation system by reviewing all of the federally-recognized agencies providing accreditation. For more information, please consult our comprehensive accreditation hub.
What Can You Do With a Web Development Degree?
Web development is becoming an increasingly popular degree choice for students due to its excellent career prospects and high demand. Web developers are in high demand in many industries including business, healthcare, government, education, entertainment, and more. Demands for developers trained in accredited institutions are expected to grow as more and more companies are putting importance in building their online presence in the digital age. Graduates of web development can find themselves working jobs in a wide variety of fields and interacting with different clients. A web developer will gain experience in almost every stage of website creation; from conceptualization, execution, until maintenance. Most web developers will find themselves providing consultation on user experience and website functions.
Some web developers will oversee and take care of every aspect of a website's construction. These are often called full stack developers. However, others will specialize in certain aspects of web development. Such specializations include:
Back-end web developers: Back-end web developers are in charge of managing and maintaining the technical construction of the server, application, and database of a website. Their work builds the framework that ensures the site to function as expected.
Front-end web developers: Front-end web developers create and manage a website's user-facing code. Using tools such as HTML, CSS, and web frameworks, they work closely with web designers to translate the designs from mock-ups and wireframes to something users can interact with.
Webmasters: Webmasters will maintain and update websites to ensure that they are operating correctly, testing for broken links and keeping content relevant.
This website offers school details to prospective students as an informational resource. The appearance of a school listing on this website should not be interpreted as an endorsement of the school by this site.
Related Articles
Best Online Computer Science Degree Programs
Enter the lucrative field of computer science with an online bachelor's degree. Compare schools by tuition, salary, and debt data to find the best ROI.
Best Online Colleges & Degrees
Our rankings are the first of their kind to use student salary and debt data from the government to highlight the best online colleges.