2020 Best Supply Chain Management Degrees Online
Prospective supply chain management students can take advantage of our lists of the best online master's programs and the best online bachelor's programs in supply chain management. All of the schools on these lists were ranked according to tuition rates and alumni salaries provided by PayScale. Supply chain management professionals may work in a variety of industries, such as manufacturing, wholesale trade, and scientific settings, but obtaining an accredited degree is an important step toward achieving one's career goals.
2020 Best Online Colleges Offering Bachelor's in Supply Chain Management Degrees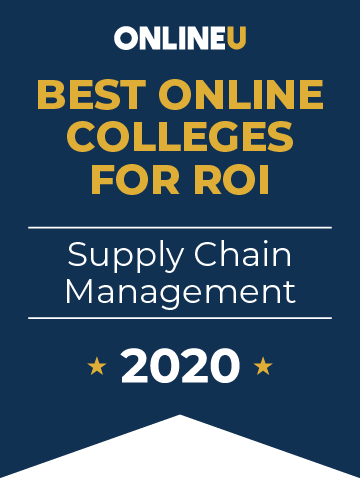 Distance students seeking bachelor's degrees in supply chain management will find that these 24 colleges offer the best value based on affordability and alumni salaries. A degree from the University of St. Francis has an impressive return on investment, with an annual tuition of $11,970 and alumni reporting a mid-career salary of $99,700. In the #2 spot, California Baptist University offers a BA in Business Administration - Logistics and Operations for only $18,390 per year, making it an affordable choice for distance learners who are looking for a high quality and affordable education.
Alumni salaries were provided by PayScale. View our methodology for more details or learn more about OnlineU.
Salary data provided by

2020 Online Colleges Offering Supply Chain Management Degrees - Ranking Details
Online Supply Chain Management Degree Overview & Career Information
This guide to online supply chain management degrees covers online associate, bachelor's, master's, doctorate, and certificate programs. Each program has its own admission and completion requirements, and provides different benefits depending on a student's educational and career goals. An associate degree provides preparation for an entry level supply chain position, as well as a stepping-stone for completing a bachelor's degree. A bachelor's degree is the typical minimum qualification needed to enter a management position. Individuals who are already working in supply chain management and who want to advance in their career and increase their earning potential might consider a master's degree, which is designed to help working professionals move forward in their careers. A doctoral degree allows for a career in teaching at the university level, as well as advanced international business opportunities. Lastly, a certificate program is generally suited for someone who is either already working in the supply chain field and wants to learn some new career skills or someone who has experience in another field and wants to switch to supply chain management.
Online Associate Degrees in Supply Chain Management
An online associate degree in supply chain management will teach students the basic skills they need to get started in a supply chain management career, as well as prepare them to move on to more advanced study at the bachelor's level. Students in these programs will learn skills such as inventory control, moving and storing products, and using various product tracking technologies. Coursework includes classes in mathematics, logistics, accounting, and business. Individuals can use these skills to gain entry-level positions in the industry. Some supply chain management associate degrees are designed specifically to aid in a smooth transition to a bachelor's program. An associate program may be offered by a community college or technical school, and typically takes one-and-a-half to two years to complete, or around 60 semester credits. The minimum requirement for enrolling in an associate degree program is typically a high school diploma or equivalent.
Online Bachelor's Degrees in Supply Chain Management
An online bachelor's degree in supply chain management will go into more advanced and in-depth study of the industry than an associate program. Students in a bachelor's program will take courses that help them expand their knowledge of business practices in order to enhance their managerial abilities. Coursework includes classes in statistics, business law, finance, warehouse management, quality management, economics, and other related classes. Students who complete a bachelor's degree in supply chain management will be able to find work in a variety of jobs, such as a production planner, customer service manager, logistics manager, or inventory planning analyst. Students entering a bachelor's program without earning an associate degree first can expect to spend about four years completing their education, or typically 120 semester credit hours. Online supply chain management degrees are offered by colleges and universities across the country. An individual will need, at minimum, a high school diploma in order to be accepted by most bachelor's degree programs.
Online Master's Degrees in Supply Chain Management
An online master's degree in supply chain management is intended for working professionals who want to advance in their career. New technologies are constantly being invented and processes are ever-changing in an attempt to make supply chain processes more effective. Managers can make themselves more marketable to employers and more effective as leaders by keeping up with the changing workplace through earning an advanced degree like a master's. To learn more about online master's programs in supply chain management, see our master's overview which includes a list of the best programs.
Online Doctoral Degrees in Supply Chain Management
While not as commonly offered as other online supply chain management degrees, those who wish to pursue advanced study in the field can still find opportunities to earn an online doctorate in supply chain management. This degree is intended for individuals who either want to conduct research or teach at the university level, or for those who are interested in international supply chain management careers. In order to be admitted to a PhD program students will need to have completed a master's degree, gained work experience, and submit letters of recommendation. Taking an entrance exam such as the GMAT is also a typical requirement. Students will complete coursework in areas of research methodologies, global supply chains, advanced business topics, and others depending on their areas of concentration. A dissertation is also required. The length of these programs varies and can be highly dependent upon how long it takes a student to finish their dissertation. 60 semester hours of coursework is a common requirement, and that does not include additional credit requirements earned for researching and writing their dissertation. Students should plan on spending three or more years in a doctorate program. Upon completion of the program, students will be equipped with the skills and knowledge needed to teach at the university level, to work in advanced and specialized positions, and to work in the supply chain management field on an international level.
Online Certificates in Supply Chain Management
Individuals who are interested in advancing their supply chain management career may want to consider earning an online supply chain management certificate. While there are a few undergraduate-level certificates available, graduate-level certificates are the most common, because the certificates are usually intended for working professionals who want to expand their knowledge base, keep up-to-date on new technologies, and advance in their careers. In order to be accepted into a graduate certificate program an individual must usually have some work experience in the logistics profession, as well as a bachelor's degree. Those who have a bachelor's degree and work experience in an unrelated field and who want to pursue a career in supply chain management may also find a graduate certificate program beneficial. The completion of a graduate certificate program qualifies professionals to seek out management job opportunities, such as export specialist, purchasing manager, or product supply lead. Students will take courses in the areas of transportation and distribution, quantitative analysis, operations management, and other related subjects. Those interested in pursuing an online graduate certificate can find opportunities at colleges and universities across the country, and should expect to be able to complete their studies in a year or less.
The Importance of an Accredited Online Supply Chain Management Degree
One aspect of a program that students should consider when deciding which online program to attend is whether or not that program is accredited. If a school is regionally accredited, that means that an outside, independent agency in charge of accrediting schools for a particular region has looked at the school and decided that its curriculum meets certain standards.
For example, the New England Association of Schools and Colleges Commission on Institutions of Higher Education accredits schools in the New England states of Rhode Island, Connecticut, Maine, New Hampshire, Massachusetts, and Vermont. This accrediting agency looks at schools in these states and determines whether or not they meet a set of rigorous standards for education quality. There are different accreditation agencies for different regions, as well as accreditation agencies that focus on specific program subjects. For instance, the International Assembly for Collegiate Business Education focuses solely on evaluating business programs at college and universities. When choosing a program, students want to check whether or not it has been accredited by one of these independent agencies, because that means they will be receiving a high level of education that is worth their time and money.
Careers in Supply Chain Management
Individuals who work in supply chain management can expect to spend their days overseeing every step of an item's production, from when it is first created in the factory to when it is delivered to the consumer. Their duties include looking after the purchasing and transportation of a product, as well as storing and keeping inventory of the product. Supply chain managers may work with a variety of products, from everyday household goods to military equipment. They have to use a variety of software and tools in order to make sure that everything is properly kept track of. Example jobs that a person might work in as part of the field of supply chain management include inventory planning analyst, materials planner, director of purchasing, performance improvement manager, and many others.
A bachelor's degree is the typical requirement for landing a job as a supply chain manager, though there are some entry level jobs in the field available to those with just an associate degree. In addition to a degree, experience working in a business or logistics related job is also helpful for finding supply chain management work. Licenses and certificates are not typically required, but can be earned in order to increase a professional's marketability. Certificates can be earned through such organizations as APICS and the International Society of Logistics.
This website offers school details to prospective students as an informational resource. The appearance of a school listing on this website should not be interpreted as an endorsement of the school by this site.