2020 Best Online Sonography Programs
With a projected 17% increase in demand for licensed technicians over the next decade, sonography is a high-growth occupation in the healthcare industry. Diagnostic medical sonographers use ultrasound equipment to detect and help diagnose illness or injury in organs and tissue. They often work with doctors and other healthcare providers before, during, and after medical procedures. The following is a list of the best online schools for sonography. Sonography program accreditation falls under the jurisdiction of the Commission on Accreditation of Allied Health Education Professionals (CAAHEP). Programs accredited by this organization meet rigorous standards, and students enrolled in a CAAHEP accredited program can be assured that they are being taught a relevant and valuable curriculum. Additional details on accredited sonography schools, career options, and frequently asked questions about sonography are also provided below.
2020 Best Online Colleges Offering Bachelor's in Sonography Degrees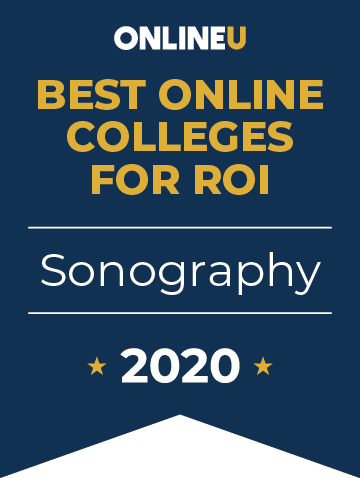 The 8 colleges and universities below offer the best value online bachelor's degrees in sonography. Graduates of the #1 school, the Oregon Institute of Technology, report earning a median salary of $98,369. Clarion University, ranked #2 on the list overall, offers an annual tuition of only $8,334.
Alumni salaries were provided by PayScale. View our methodology for more details or learn more about OnlineU.
Salary data provided by

2020 Online Colleges Offering Sonography Degrees - Ranking Details
Online Sonography Degree Overview & Career Information
On this page, we provide information about online bachelor's degrees and certificates in sonography. Online bachelor's degree completion programs are available to registered sonographers who already hold an associate degree in sonography and wish to advance their career. There are also bachelor's programs that are geared toward those with no medical background who would like to find entry-level positions as a sonographer after graduation. Certificates are available as well, and admission to these programs often requires some formal training in health sciences or a related area. After completing a sonography certificate a student will be prepared to enter the workforce in entry-level positions.
Online Bachelor's Degrees in Sonography
Bachelor's degree programs in sonography come in two forms. One type of bachelor's degree is a degree completion program for those who already have an associate degree in sonography and are already working as registered sonographers. Individuals who pursue this type of degree are looking to advance their career. There are also bachelor's degree programs available to those who have no prior experience working in the sonography field, though these programs are less commonly found online. Students can expect to take two to four years completing their bachelor's degree, depending on how many credits and what kind of professional experience they have when they begin the program. A complete bachelor's degree typically consists of around 120 credit hours. Students in these programs will take classes in the different types of sonography, such as pelvic, abdominal, obstetric, and others. They will also take classes in healthcare ethics and leadership, and complete practical, hands-on lab work and tests. Depending on what kind of bachelor's program an individual is enrolling in admission requirements range from a high school diploma or equivalent for those with no prior experience, to an associate degree in sonography and work experience for those looking into the degree-completion option. A bachelor's degree program in sonography can be found at various colleges and technical schools.
Online Certificates in Sonography
A certificate program in sonography prepares participants for entry-level positions in the diagnostic medical sonography field. Experience as a sonographer is not needed to enroll in one of these programs, but often there will be coursework prerequisites, such as a bachelor's or associate degree in health sciences or a related field. Depending on what -if any-specialization an individual wishes to study, a certificate program takes around one or two years to complete. Courses will cover topics such as anatomy and patient care, and will focus heavily on the technical equipment used by sonographers and how to operate it. Students learn how to take diagnostic images and how to interpret them. They will also get a lot of hands-on experience through labs and clinical work. Individuals looking to enroll in one of these programs can find them at colleges and technical schools across the country.
The Importance of an Accredited Online Sonography Degree
When a school is regionally accredited it means that an independent organization has vetted it to make sure the curriculum meets high standards of quality. Accrediting agencies look at things like how rigorous the curriculum is, how well the program prepares students for their future career, how skilled the faculty is, and other important factors. It is important for a student to choose a regionally accredited school for several reasons. For one, it is an assurance that they are receiving a quality education. Additionally, students can only receive federal aid if they attend an accredited institution, credits can only transfer from one accredited school to another, and employers usually prefer hiring candidates who have received a degree from an accredited school.
The Commission on Accreditation of Allied Health Education Professionals (CAAHEP) is the main accrediting body that oversees sonography programs. CAAHEP accredited programs have to meet certain standards for length of program and what material is covered. Students who are considering a degree in sonography should check to see if their intended program is accredited by CAAHEP, as this offers assurance that they will be receiving a quality education that will prepare them for their future career.
Careers in Sonography
Those who choose to pursue an online degree in sonography will be equipped with the skills and knowledge needed to find work as a diagnostic medical sonographer. These professionals work in medical facilities operating specialized imaging equipment. Sonographers use imaging machines which utilize sound waves to create images of the inside of a person's body, which is known as a sonogram or ultrasound. In addition to taking the images, they must also perform other tasks such as taking patients' medical history, maintaining the imaging equipment, checking the quality of the images, and writing summaries of what they find for the doctors. Sonographers can specialize in a variety of areas, including obstetrical, pediatric, abdominal, musculoskeletal, and breast sonography. In addition to earning a degree, a diagnostic medical sonographer should also become certified through the American Registry for Diagnostic Medical Sonographers.
Frequently Asked Questions About Sonography Degrees
Besides becoming a sonographer, what else can I do with a degree in sonography?
Graduates who have studied sonography are eligible for a number of in-demand careers in the health industry, including as diagnostic technicians, cardiovascular technicians, and health technicians. Some graduates may even be interested in working with animals as a veterinary technician.
How much do sonographers earn?
According to the Bureau of Labor Statistics' Occupational Outlook Handbook as of May 2019, the annual salary range for a diagnostic medical sonographer was $52,770 to $102,060, with a median salary of $74,320. The median annual wage for cardiovascular technologists and technicians was $57,720 in May 2019. These are growth occupations, as demand for trained professionals is expected to increase by 14% through 2028.
This website offers school details to prospective students as an informational resource. The appearance of a school listing on this website should not be interpreted as an endorsement of the school by this site.