Best Accredited Bachelor's Online Sociology Degrees
Sociology is the study of the structure, development, and function of human society. Accredited colleges offer online sociology degrees at the associate, bachelor's, master's, and certificate levels. The best online colleges for a bachelor's in sociology can be found on our ranking list, which highlights the top schools, based on tuition costs and alumni salaries provided by PayScale.
Prospective online sociology students should make sure to attend accredited colleges. This designation helps ensure students receive a quality education that meets national standards. Those who want to become clinical sociologists should also seek certification from the Association for Applied and Clinical Sociology.
Online Sociology Bachelor's Degrees You May Be Interested In
Advertisement
Southern New Hampshire University Online

Arizona State University
Annual Tuition: $19,398 - $29,428
1 Programs (view all)

California Baptist University
Annual Tuition: $34,882
1 Programs (view all)

2020 Best Online Colleges Offering Bachelor's in Sociology Degrees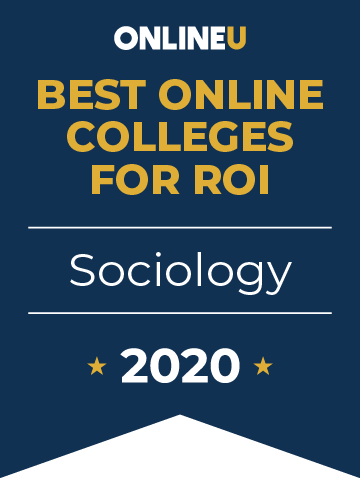 The following 25 schools offer the best online bachelor's in sociology degrees, based on their low tuition rates and high mid-career salary potentials. The University of West Georgia is the #1 school, with an average alumni salary of $86,100. Tuition for their Bachelor of Science in Sociology is only $5,463. At #2, the University of Northern Colorado offers a tuition rate of $11,315 per year for its Bachelor of Arts in Sociology.
Alumni salaries were provided by PayScale. View our methodology for more details or learn more about OnlineU.
| Rank | School | Annual Tuition | Mid-Career Salary |
| --- | --- | --- | --- |
| # 1 | University of West Georgia | $5,463 | $86,100 |
| # 2 | University of Northern Colorado | $11,315 | $84,500 |
| # 3 | University of Colorado Colorado Springs | $15,412 | $82,200 |
| # 4 | University of Colorado Denver | $15,270 | $78,400 |
| # 5 | Florida International University | $10,376 | $75,000 |
| # 6 | Western Kentucky University | $16,200 | $75,100 |
| # 7 | Park University | $12,865 | $73,200 |
| # 8 | Arizona State University | $15,900 | $73,780 |
| # 9 | Saint Leo University Online | $11,100 | $71,300 |
| # 10 | Thomas Edison State University | $9,856 | $70,700 |
| # 11 | Western Illinois University | $8,883 | $68,900 |
| # 12 | Eastern New Mexico University - Main Campus | $7,492 | $66,200 |
| # 13 | University of Nebraska at Omaha | $13,200 | $68,300 |
| # 14 | California State University-Chico | $5,742 | $64,420 |
| # 15 | California State University - Fullerton | $7,650 | $64,000 |
| # 16 | Northern Kentucky University | $13,440 | $65,800 |
| # 17 | University of Central Florida | $11,515 | $64,800 |
| # 18 | South Dakota State University | $10,537 | $63,200 |
| # 19 | University of Missouri | $11,622 | $62,680 |
| # 20 | University of Maryland Global Campus | $14,970 | $63,500 |
| # 21 | Washington State University | $11,550 | $61,880 |
| # 22 | Oregon State University | $13,905 | $62,400 |
| # 23 | University of Louisville | $16,709 | $62,800 |
| # 24 | Old Dominion University | $12,210 | $57,800 |
| # 25 | University of Southern Mississippi | $8,624 | $55,420 |
Salary data provided by

2020 Online Colleges Offering Sociology Degrees - Ranking Details
Overview of Online Sociology
Online sociology degrees are available at the undergraduate and graduate levels. They can provide an educational foundation relevant to a variety of careers including counseling, teaching, library science, and human services. The most commonly available online degree level in sociology is a bachelor's, although those that plan to teach at the college level, work in a clinical role, or conduct sociological research will need at least a master's degree.
Online classes at both the undergraduate and graduate level will cover topics in gender studies, minority studies, medicine, contemporary social issues, and modern research methods. Pursuing online graduate levels studies will enable students to focus more specifically on one particular area within the field of sociology.
Online Bachelor's Degrees in Sociology
Online bachelor's degrees in sociology are available in two forms: a bachelor's of arts or a bachelor's of science. In general, a bachelor's of science tends to have a more quantitative focus than a bachelor's of arts. Both are good choices for students hoping to pursue further education in sociology or want an education in the organization of human society.
Program Requirements
A bachelor's degree in sociology usually requires a minimum of 120 credit hours. Applicants to all online bachelor's degrees will need a high school diploma or equivalent. Some schools have minimum GPA or standardized test score requirements for admission. Transcripts and test scores often must be submitted prior to acceptance and enrollment.
Curriculum
In most bachelor's degree programs, students will take a variety of general education requirements. In addition, they will take courses such as social theory, statistics for behavioral sciences, and research methods. More niche classes may include sociology of the family, gender and society, racial and ethnic relations, and sociology of religion. Some online institutions also require that sociology students engage in an internship. These can often be completed at approved local locations, although in some cases, students should be prepared to travel or should choose an online program from a nearby school.
The Importance of an Accredited Online Sociology Degree
An online degree from an accredited institution is important for sociology students to ensure that the school has a rigorous curriculum and that graduates will be able to transfer credits. If a student receives an associate or bachelor's degree from an unaccredited school, it is unlikely that he or she would be accepted into a graduate degree program. Also, accreditation is an important indication to prospective employers that a student has received a relevant and valuable education.
For graduates pursuing careers in applied and clinical sociology, versus focusing on research or academia, it is important for them to consider programs accredited by the Commission on the Accreditation of Programs in Applied and Clinical Sociology (CAPACS). This designation ensures that a program has quality practical, hands-on experience as well as provides a solid, well-rounded educational foundation.
Licensing and Certification Process
Licensure and certification may be required for certain positions within the sociology field and related careers. Practicing sociologists with master's or doctoral degrees are eligible to apply for certification from the Association for Applied & Clinical Sociology. People may choose to become certified because it indicates to others that they have been evaluated by professionals in the field and that their skills and practices have met national standards for applied and clinical sociologists.
Individuals who use their sociological education to pursue a career in social work will need to be licensed in most states and may require certification from the National Association of Social Workers. Careers within healthcare and teaching similarly often require their own certification. This will vary from state-to-state, so students should research their state's specific requirements for any career they are considering.
Common Online Classes for Sociology Students
Online classes for sociology degrees may vary depending on the emphasis that the student chooses, like women's studies, minority studies, medicine, or modern communications. All undergraduate degrees will require general education courses like math, science, and liberal arts. Students will also take classes like general sociology, quantitative research methods, and social theory. Electives may include courses like cultural anthropology, mass media, criminology, and human sexuality.
This website offers school details to prospective students as an informational resource. The appearance of a school listing on this website should not be interpreted as an endorsement of the school by this site.
Related Articles
2022 Best Online Colleges in the U.S.
Earning an online bachelor's degree can vastly expand your career options and earning power. We've ranked the best colleges by alumni salaries.
Best Online Colleges & Degrees
Our rankings are the first of their kind to use student salary and debt data from the government to highlight the best online colleges.