2023 Best Online Radiology Degrees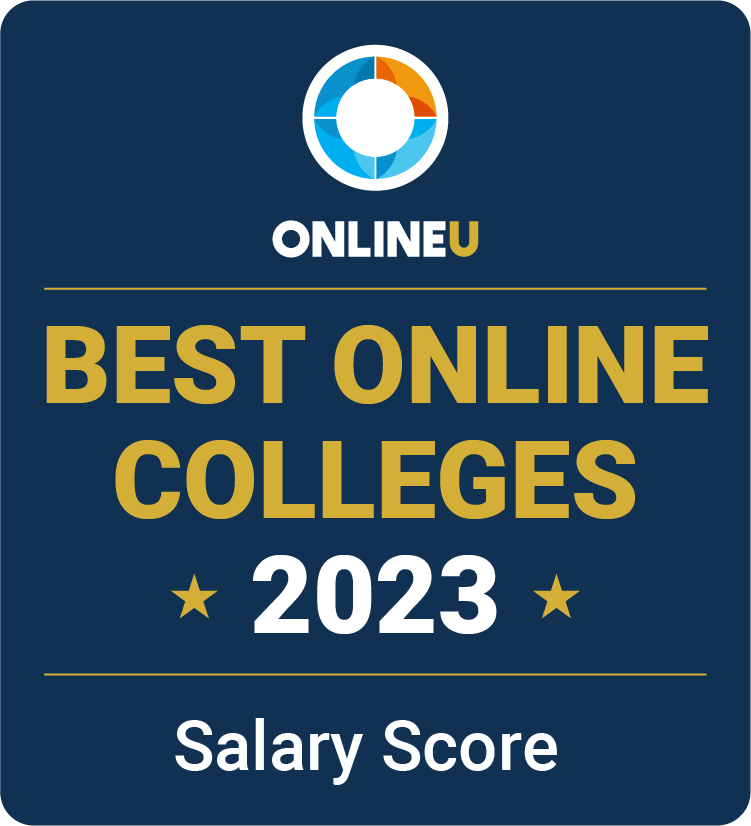 Radiologists with a solid foundation in operating imaging diagnostic tools and interpreting the results often seek career advancement beyond their initial training and certification. An online bachelor's in radiology can help prepare these professionals for leadership roles within the industry by building on existing expertise.
We've ranked our list of programs by salary score so you can find the one that meets your career goals while providing the biggest return on your investment. Similarly, we've also identified online bachelor's degree programs in healthcare administration, healthcare informatics, and nursing if you're interested in healthcare but seeking a different path. View our methodology for details about our list, or learn more about OnlineU.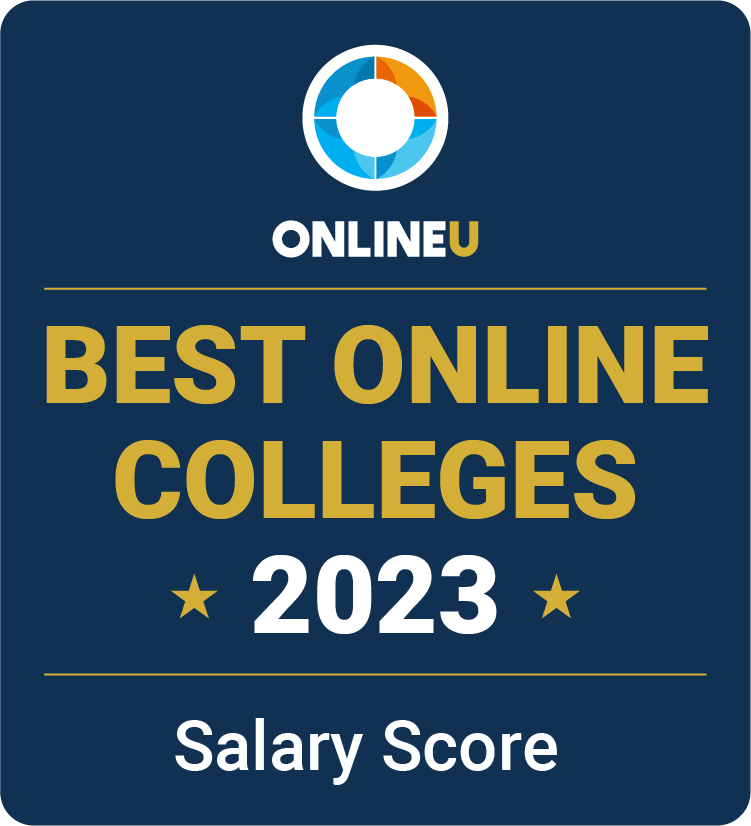 2023 Best Online Radiology Degrees
| Rank | School | Salary Score | Median Starting Salary |
| --- | --- | --- | --- |
| # 1 | Oregon Institute of Technology | | $74,921 |
| # 2 | Pima Medical Institute | 87 | $72,901 |
| # 3 | Upstate Medical University | 74 | $64,336 |
| # 4 | University of Cincinnati | 74 | $64,156 |
| # 5 | Boise State University | 69 | $61,487 |
| # 6 | Indiana University - Purdue University Indianapolis | 63 | $58,687 |
| # 7 | Southern Illinois University - Carbondale | 63 | $58,573 |
| # 8 | Midwestern State University | 59 | $56,852 |
| # 9 | University of Southern Indiana | 57 | $55,913 |
| # 10 | University of Missouri | 55 | $55,017 |
2023 Online Colleges Offering Bachelor's Degrees
Ranking Details
#1
Oregon Institute of Technology
Salary Score:
Median Starting Salary:
Locations:
Accreditation:
Oregon Institute of Technology (Oregon Tech) s a public institution offering an online Bachelor of Science in Health Care Management - Radiologic Science for those currently registered through the American Registry of Radiologic Technologists (AART) and seeking career advancement. This online degree program requires completing 205 quarter credit hours in order to graduate. However, 89 prior learning credits are awarded due to the current AART registry enabling many students to finish quickly. Oregon Tech accepts 95% of applicants, and 50% of undergraduate students graduate.
Oregon Tech delivers online coursework and instruction via Canvas, a popular learning management system (LMS). Distance learners in the Radiologic Science program take classes such as Principles of Healthcare Marketing, Introductory Statistics, Introduction to Report Writing, and Healthcare Management. They must also complete a senior project. A radiology degree from Oregon Tech can help enable advancement into middle-management healthcare roles.
#2
Pima Medical Institute
Salary Score:
Median Starting Salary:
Locations:
Accreditation:
Pima Medical Institute (PMI) is a private, for-profit institution offering an online Bachelor of Science in Radiologic Sciences. This bachelor's completion program is for students who currently hold ARRT certification. Graduation requires completing 120 credit hours of coursework. Full-time students may be able to finish in as few as 16 months. However, students generally transfer with 70 credit hours. PMI has a 100% acceptance rate, and 81% of students graduate with degrees.
PMI's online students access their coursework and instruction via Blackboard. The radiologic sciences distance learning program has a range of courses that include Advanced Sectional Anatomy, Patient Information and Management, Healthcare Law and Compliance, and Technical Writing. Students must also complete a professional capstone. Occupations of interest include department director, clinical supervisor, clinical director, pharmaceutical sales representative, and applications specialist.
#3
Upstate Medical University
Salary Score:
Median Starting Salary:
Locations:
Accreditation:
Upstate Medical University is a public institution offering an online Bachelor of Professional Studies (BPS) in Medical Imaging Science. Students must currently hold ARRT certification, be certificate-eligible in radiography (X-ray), have an associate or bachelor's degree, and have completed the required prerequisites to enroll. Track options include Computed Tomography (CT) and Magnetic Resonance Imaging (MRI). This full-time-only program requires completing 48 semester credit hours of coursework — regardless of a student's chosen track — which takes approximately one year. Upstate has an 84% graduation rate.
Upstate provides the Brightspace LMS to its distance learners. Online students in the medical imaging science program can access coursework and instruction for classes such as Imaging Pathology, Healthcare Ethics, and Advanced Imaging Procedures. Students must also complete clinical rotations to graduate.
#4
University of Cincinnati
Salary Score:
Median Starting Salary:
Locations:
Accreditation:
The University of Cinncinating (UC) is a public institution offering an online Bachelor of Radiation Science Technology to current radiologic technologists seeking career advancement. This bachelor's completion program requires 60 semester credit hours to graduate, which may take full-time students less than two years. The required internship allows students to focus on management, clinical practice, or education. UC accepts 76% of applicants, and 66% of students at the school graduate.
Students use Canvas to access UC's online curriculum. Distance learners studying radiation science technology enroll in courses such as foundations of Imaging Modalities, Diversity in Medical Imaging, Leadership Strategies in Healthcare, and Current Topics in Healthcare. Additionally, they must complete a capstone project. Alums work as clinical instructors, program directors, CT technologists, and shift supervisors.
#5
Boise State University
Salary Score:
Median Starting Salary:
Locations:
Accreditation:
Boise State University is a public institution offering an online Bachelor of Science in Imaging Sciences as an associate to bachelor's degree completion program. Seven-week courses enable full-time students to complete the required 120 semester credit hours in as little as a year. Students may be awarded 25 credits for holding a current ARRT certificate and 62 transfer credits for an associate degree. Boise State has a 77% acceptance and a 50% graduation rate.
Boise State delivers online curriculum and instruction via the LMS Canvas. In the online imaging sciences program, students may choose to enroll in courses such as Study of Diseases in Imaging Sciences, Preventative Care and Patient Advocacy in Imaging Sciences, and Comprehensive Analysis on Radiation Protection. The program's curriculum helps prepare students for various roles in the field, such as healthcare managers and instructors.
Overview of Online Radiology Degrees
If you're interested in studying for a career in radiology, you can choose from quite a few colleges offering online bachelor's degrees in the subject. There are several specialized paths with a number of concentrations among these schools, but all of them are degree-completion programs intended for registered radiologic technologists (also called radiographers). Most schools accept 70-90 transfer credits from an associate degree in radiology, allowing students to jump right into more advanced imaging coursework.
Depending on the program, students may learn to perform different diagnostic tests, sometimes referred to as modalities, on a variety of equipment. Starting in their degree program, radiologic technologists can specialize in one or several of these imaging modalities, which include magnetic resonance imaging (MRI), computed tomography (CT), ultrasound, and bone densitometry. Enrollment in a radiology degree — even one with fully online courses — will always require an in-person field experience where students will have supervised practice on the complex machinery they'll use in their jobs. Students currently working as technologists may be able to complete this at their place of employment, or they may need to arrange for another location.
Enrollment in a radiology degree — even one with fully online courses — will always require an in-person field experience where students will have supervised practice on the complex machinery they'll use in their jobs.
There are a number of online bachelor's degree concentrations that can help prepare graduates for different career paths, such as MRI technologist or nuclear medicine technologist. If you're specifically looking to become a diagnostic medical sonographer, you may want to research online sonography degrees also.
Note that the job title radiologist refers to the medical doctors who interpret diagnostic imagery and communicate results to patients. Becoming a radiologist requires a medical degree; becoming a technician or technologist does not. However, there is a distinct difference between a technician, who operates machinery and may run tests but does not make assessments, and a radiologic technologist, who may take part in running tests as well as assessing the results with a medical team.
How Long Does a Radiology Tech Program Last?
Most online bachelor's degrees in radiology are degree-completion programs for students who already have an entry-level associate degree and are registered radiologic technologists. These degrees can take 16-24 months of full-time study or 24-36 months of part-time study to complete all 120 credits, assuming students are able to transfer all their associate credits (usually not a problem if they attended an accredited school). In addition to regular coursework, the bachelor's degree includes a field experience with a set number of required clinical hours in a healthcare practice setting. This experience can last from a few months to a year but may occur simultaneously with online classes.
How Difficult Are Online Programs in Radiology?
There's no absolute answer to this question, because individuals have different strengths, experiences, and learning styles. One way to gauge the difficulty of individual online programs is by reviewing graduation rates. These can be hard to find for individual programs, but the Joint Review Committee on Education in Radiologic Technology provides a helpful data search tool. Prospective students can review JRCERT-accredited programs for their student completion rate and credential exam pass rate to get a sense of how well a college supports its students and how prepared graduates are for their necessary certifications.
Prospective students can review JRCERT-accredited programs for their student completion rate and credential exam pass rate to get a sense of how well a college supports its students and how prepared graduates are for their necessary certifications.
Another helpful practice is reading student reviews from your prospective school. You can filter by school from our rankings list and look for reviews specifically about radiology programs. Personal experiences in radiology degree programs sometimes describe challenging courses and clinical experiences. In general, those who liked their programs enjoyed the challenges, and those who wrote negative reviews tended to describe their courses as too difficult. The two main challenges that alumni describe are:
1. Learning the details of human anatomy, physiology, and biology
2. Understanding and differentiating among different types of diagnostic imaging and machinery
Depending on your aptitude for science and technology, you may find one of these aspects more difficult to learn than the other. Many radiology programs feature courses covering a variety of imaging machines, so current radiology techs may find new equipment difficult to learn if it differs from the equipment they already use in their work. It's also possible that students will excel in their health science and imaging science courses but struggle in some required general education or liberal arts classes.
---
Common Courses in Online Radiology Programs
Course offerings can differ across radiology programs, but most of them have a few courses in common. This is because faculty want to train diagnostic imaging specialists who are not just proficient at one set of tests, but also adept at cross-training on new technology according to the needs of their employers. Below, we've listed a few classes that most radiology students will encounter.
Fundamentals of Computed Tomography: Students learn the uses and limitations of CT scans in diagnosing illness and injuries. Professors teach the scan process, including safety protocols and administration of contrast agents. Although a doctor is responsible for diagnoses, professors may cover basic interpretation of results.
Introduction to Diagnostic Medical Sonography: Lessons in this course cover the use of sound waves to retrieve images. Students learn the practical applications of sonography, including echocardiograms for cardiovascular imaging and ultrasound for obstetrics and gynecology. Faculty generally cover patient care, professional behavior, and ethics.
Introduction to MRI: This course introduces the principles of MRI, including the operation of machinery and interpretation of results. Students learn about the physical processes behind using magnets and contrast agents to reveal organs and tissues. Faculty emphasize safety around magnets and common patient reactions to immersion in an MRI tube.
Physics in Diagnostic Imaging: Faculty teach the scientific principles that allow machines to render diagnostic images. Coursework may cover image formation and processing, magnetism, and basic electronics. Students are introduced to concepts explored in more depth in later courses, such as contrast (including the use of nuclear medicine) and the effects of the body's structures on imaging.
Sectional Anatomy: Radiology students learn the human body's systems and how they interconnect. Professors often discuss which imagining machinery best reveals each system. The focus is on the physical plane viewable in different types of images, along with the limits of each.
---
Applying to a Program
Once you've selected a list of preferred colleges, it's time to apply. Online radiology bachelor's degrees are almost all completion programs, so their application processes are usually similar to one another and to comparable on-campus programs.
1. Complete an online application form. Prospective students enter their personal details so the college has a record of who they are and what they've already achieved. Some schools may ask applicants to complete a Free Application for Federal Student Aid (FAFSA) at this time so they can begin consideration for financial aid.
2. Submit official transcripts. Students need to request that their associate degree institution send official transcripts to the new college. Most schools require a minimum GPA for admission, often between 2.5 and 3.0.
3. Provide proof of registration. Applicants must demonstrate that they've passed a certification exam in at least one radiology discipline, which will differ by program. Prospects may need to request proof of registration from one of the following organizations, or an admissions officer may use a verification tool provided on an organization's website:
4. Provide additional documentation. Some colleges require 1-3 letters of recommendation from professors or managers, some ask for a written reflection or answers to a series of essay questions, and most will ask for a resume if the applicant has a professional work history.
---
The Importance of an Accredited Online Radiology Degree
Accreditation is an important qualification for all future college students to consider. Every college featured on OnlineU is either nationally or regionally accredited, which helps ensure that your education is legitimate and credits will transfer to any future master's degree program.
Most specializations in the radiologic sciences require students to graduate from an accredited program before testing for a license.
However, prospective students should ensure that an online bachelor's degree is also accredited at the program level before committing. Most specializations in the radiologic sciences require students to graduate from an accredited program before testing for a license. Below, we've listed the organizations that accredit programs in radiology, along with the specialties they cover.
To ensure that your program is accredited by the correct body, review the licensure requirements in the state where you want to practice.
---
Scholarships for Online Radiology Students
Online radiology students can qualify for a variety of financial aid if they're enrolled at an accredited school. Most college students or their families take out some federal or private loans to help finance a degree, but these must be repaid with interest. More desirable forms of aid include grants, scholarships, and work-study programs, which don't require repayment after graduation.
Some private organizations and donors sponsor scholarships specifically for bachelor's students in radiology, and we've listed some examples below. Check with a school's financial aid office to make sure they participate in a particular program.
American Society of Radiologic Technologist scholarships: This association offers several scholarships each year for dues-paying members. The Hologic Mammography Scholarship awards $4,300 to technologists pursuing a bachelor's degree with emphasis in mammography. The Jerman-Cahoon Student Scholarship grants $2,500 to one winner per year pursuing a degree in any radiologic technology discipline. And applicants from racial or ethnic minority groups can seek the Royce Osborn Minority Student Scholarship to earn $4,000 toward tuition and fees.
Mickey Williams Technologist Minority Scholarship: Each year, two bachelor's students win this $2,500 award to study nuclear medicine technology. Applicants must come from select racial backgrounds underrepresented in nuclear medicine, demonstrate financial need, and have earned a minimum 2.5 GPA in their most recent coursework. The award is open to student members of the Society for Nuclear Medicine and Medical Imaging, and student membership is free.
SDMS Foundation Sonography Student Scholarship: The Society of Diagnostic Medical Sonography awards two annual $2,500 scholarships to students in accredited programs. Applicants must be current SDMS members who haven't won this award previously.
---
Careers in the Radiology Field
The broad field of radiologic technology contains many job titles depending on employees' specialties and certifications. Most careers in radiology have a healthy outlook, with above-average job growth over the next several years.
All radiologic technologists train in human anatomy in order to take precise and accurate images. Their responsibilities usually also include maintaining complex radiology equipment, managing patient records, and occasionally helping doctors interpret image results. Depending on their state regulations, an aspiring technologist generally needs to obtain certification after earning a degree.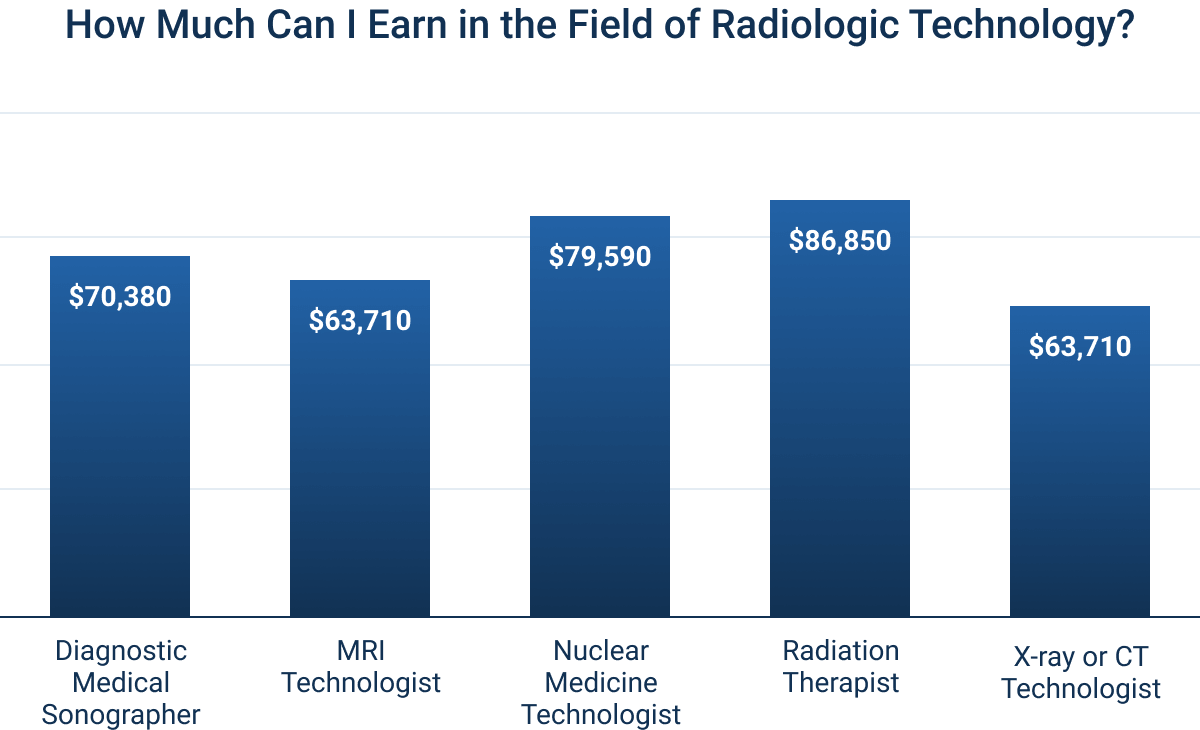 We've listed a few radiology specializations here, along with their median salaries and job outlook figures from the Bureau of Labor Statistics.
Diagnostic medical sonographer: These professionals use sound wave technology to perform gynecological, abdominal, and cardiac assessments of patients, including prenatal health screenings for pregnant women. Ideally, sonographers should possess strong social skills so they can put patients at ease by walking them through each procedure. These professionals earn median salaries of $70,380 per year, and the field is expected to grow very fast at 17% through 2029.
MRI technologist: MRI technologists specialize in using MRI machines to create images and may also work with a physician to interpret the results. MRIs are used to diagnose everything from joint pain to tumors. Like sonographers, MRI techs benefit from high emotional intelligence so they can calm patients who dislike the noisy, immersive MRI procedure. These jobs pay a median salary of $63,710 per year, with the field expected to grow 7% by the end of the decade.
Nuclear medicine technologist: Nuclear medicine can help radiology professionals take more accurate images, and nuclear medicine technologists are experts in administering and explaining this medicine to patients. They follow radiation protection procedures for radiopharmaceuticals, including their disposal. Nuclear medicine techs earn relatively high median annual salaries for radiologic technologists, at $79,590. However, their 5% job growth outlook is lower than other radiology professionals.
Radiation therapist: These professionals use radiation to treat disease rather than diagnose medical issues. They follow rigorous safety protocols to prepare patients for focused doses of radiation that can shrink tumors. Radiation therapists command the highest median salaries at $86,850 of any radiology discipline that doesn't require an M.D. The job outlook is also good, with 7% growth expected through the end of the decade.
X-ray or CT technologist: These technologists take X-ray images for physicians to analyze and interpret. CT scans involve the use of several X-rays to harvest a three-dimensional image of an internal section of the patient's body, and their images are often made clearer with the use of an ingested or injected contrast agent. Like MRI techs, these professionals earn median wages of $63,710 per year, and available jobs are projected to increase by 7% through 2029.
Is Radiologic Tech a Stressful Job?
A common feature of each career path in radiology is the potential for high levels of work-related stress. This was true even before the COVID-19 pandemic put healthcare workers on the front line. A Philips research report showed that in 2019, 44% of U.S. radiologic technologists reported moderate to severe levels of stress, with 36% demonstrating symptoms of professional burnout.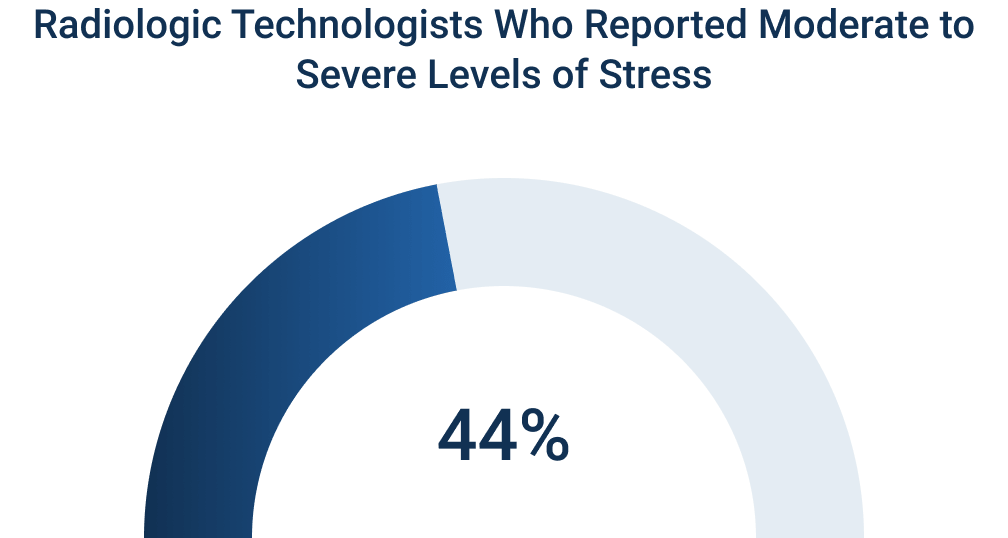 One potential stressor is the high pace of work that requires care and precision. In a typical day, techs may need to perform a number of physically and mentally demanding tasks dozens of times during a shift, including:
Reading medical charts and consulting with doctors to get patients ready for the correct procedures
Physically preparing patients for tests, which might involve helping lift and position people with mobility issues
Ensuring that safety precautions are in place
Administering contrast agents in some patients
Explaining procedures before and during tests to reassure anxious patients
Carefully noting and recording each image according to best medical practices and strict legal guidelines
80% of U.S. techs and their managers say that they're satisfied, very satisfied, or extremely satisfied with their work.
The aging U.S. population will lead to more stress on radiology departments, because seniors typically need more diagnostic imaging than younger patients. However, radiology professionals still report relatively high levels of job satisfaction. The Philips survey notes that 80% of U.S. techs and their managers say that they're satisfied, very satisfied, or extremely satisfied with their work, with the most important factors being good communication and information access among their teams, safe workplace conditions, and the importance of their work in their patients' care.
Why Trust Us?
60,000 Degrees Researched Annually
20,000 Hours Spent on Research Annually
Launching Rankings Since 2009
Meet our team
Related Articles
2023 Best Online Bachelor's in Sonography Programs
These schools offer the best online bachelor's in sonography degrees for 2023. Graduates will learn to use ultrasound machines to capture images that doctors need to make a diagnosis.
2023 Best Online Dental Hygienist Programs
Online dental hygienist schools prepare students for careers in oral health. Our list of the best bachelor's degrees is based on alumni salaries.