Best Online Bachelor's in Public Health Degrees
Students looking to start or further their careers in public health will find online public health degrees available at several degree levels. We highlight the best online bachelor's and best online master's (MPH) in public health programs, ranked based on tuition rates and average alumni salaries provided by PayScale. Public health focuses on improving the health of the population through research, intervention, policy, and clinical practice.
Prospective online public health students should look for degree programs that are accredited by the Council on Education for Public Health (CEPH). Public health degree programs that have earned CEPH accreditation have passed rigorous standards and are more likely to provide relevant, quality education.
Online Public Health Bachelor's Degrees You May Be Interested In
Advertisement
Southern New Hampshire University Online

Grand Canyon University
Annual Tuition: $17,800
1 Programs (view all)


2020 Best Online Colleges Offering Bachelor's in Public Health Degrees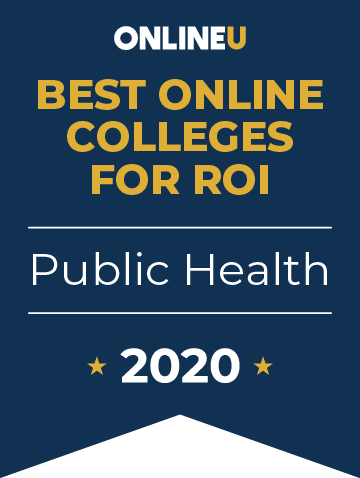 The 8 online colleges on this list are the best value options for online bachelor's degrees in public health, based on their tuition and alumni-reported salaries. Graduates of the #1-ranked school, Old Dominion University, reported a median salary of $109,300. Murray State University, ranked #2 on the list, costs $13,710 annually for their online Bachelor of Science in Public and Community Health, with alumni reportedly earning median salaries of $94,400.
Alumni salaries were provided by PayScale. View our methodology for more details or learn more about OnlineU.
| Rank | School | Annual Tuition | Mid-Career Salary |
| --- | --- | --- | --- |
| # 1 | Old Dominion University | $12,210 | $109,300 |
| # 2 | Murray State University | $13,710 | $94,400 |
| # 3 | Mercy College | $18,934 | $88,200 |
| # 4 | Central Washington University | $21,999 | $80,400 |
| # 6 | Kent State University at Kent | $20,007 | $52,700 |
| # 7 | University of South Florida Online | $13,547 | $44,100 |
| # 8 | Central Michigan University | $13,454 | $40,400 |
Salary data provided by

2020 Online Colleges Offering Public Health Degrees - Ranking Details
Overview of Online Public Health
Online public health programs are available at the associate, bachelor's, master's, doctoral, and certificate degree levels. A graduate degree is the minimum educational requirement for many positions, and many people holding degrees at this level work for government departments and agencies at the federal, state, or local levels. Some universities offer undergraduate degrees in public health, and this type of program is a good choice for people who plan to continue their studies at the graduate level or for students who intend to apply to law or medical school. Associate degrees can help graduates prepare for entry-level roles in healthcare administration or other related fields. Bachelor's degrees can be good preparation for entry-level public health positions or as an initial step toward future graduate study. Holding a master's degree can open up more job opportunities.
Those seeking leadership positions should consider a PhD. Doctoral degrees in public health can be used to enter public policy, research, postsecondary teaching, and executive positions in state agencies, international organizations, and other high-level groups. Certificates are generally obtained by professionals in a related field, like nursing, who are looking to gain more experience with public health either out of interest or in order to advance their career.
Online Bachelor's Degrees in Public Health
The public health major provides an interdisciplinary look at the factors that can impact health, such as biology and disease spread, environmental factors affecting health, the psychology of human behavior, and how legislation affects health. The bachelor's in public health is a standard employment requirement for work in a variety of health promotion settings, such as hospitals, public health departments, wellness centers, and human services agencies.
Program Requirements
Applicants to an online bachelor's degree program in public health will need to have a high school diploma or GED. Many schools will require applicants to submit transcripts from high school and any transcripts from college courses that a student may have enrolled in. Additionally, some schools will require SAT, ACT, or other standardized test scores, a personal statement, and/or letters of recommendation for the application process. Most online bachelor's degree programs will take about four years to complete.
Curriculum
Online public health bachelor's programs are available as both Bachelor of Art (B.A.) and Bachelor of Science (B.S.) programs. The B.A. focuses more on the psychological and sociological aspects of public health, such as environmental health and human behavior. The B.S. program delves deeper into scientific issues, such as biology, chemistry, physics, biochemistry, and epidemiology. Both programs draw from a variety of social and natural sciences disciplines. Many require an internship or fieldwork in a community health setting. Like most bachelor's degree programs, the public health curriculum also contains a broad-based set of general education classes in humanities, arts, and sciences. This major is a good choice for people who are planning to continue their studies at the graduate level or for students hoping to work in entry-level positions in the field of healthcare.
The Importance of an Accredited Online Public Health Degree
When deciding which school to attend, it's very important to consider the school's accreditation. While it is no guarantee, going to an accredited school increases your chances of receiving a quality education that adequately prepares you for a career in your desired field. The Council on Education for Public Health accredits public health programs and schools of public health. This organization works to standardize public health education and ensure that graduates have necessary public health competencies.
Besides increasing your chances of receiving a quality education, attending and graduating from a CEPH-accredited school qualifies you to take the Certified in Public Health exam. The Certified in Public Health exam is administered by the National Board of Public Health Examiners (NBPHE).
Getting Certified in Public Health
Individuals working in public health may choose to take the Certified in Public Health (CPH) exam administered by the National Board of Public Health Examiners. Becoming a CPH professional can serve to bolster one's employment prospects and is an indication that one has knowledge of the fundamental elements of public health. In addition, it shows that an individual has a commitment to public health and public health expertise. The test is administered two times each year. While employers may not specifically require this certification, many view certified job candidates favorably when deciding whom to hire.
Admission Requirements for Public Health Programs
Online undergraduate programs in public health typically require a high school diploma or its equivalent, along with letters of recommendation, standardized test scores, and a resume. Master's programs usually require an accredited undergraduate degree with basic course work in social sciences, natural sciences, and statistics; some require work experience in a healthcare setting and GRE scores. Doctoral programs require an accredited master's or bachelor's degree, GRE scores, letters of recommendation, and professional work in healthcare or public health.
Students wishing to apply to a graduate program in public health can utilize the centralized application served for public health, called SOPHAS, This makes it easy to apply since you only need to fill out one application. In addition to a standard application, each graduate program typically has its own admission requirements.
Most programs require a bachelor's degree and your score from the Graduate Record Examination (GRE) or the Graduate Management Admission Test (GMAT). Some schools also accept the Medical College Admission Test (MCAT) and Law School Admission Test (LSAT) scores.
While the bachelor's degree can usually be in any field, most programs require that you have taken certain prerequisite courses, such as biology, nutrition, anatomy, statistics, and calculus. Other admission requirements may include letters of recommendation, work experience, a personal statement or essay, and an interview with admissions staff.
Graduate students are accepted into public health programs based on the GPA, GRE, and other types of test scores. Acceptance also depends on the applicant's personal statement, career or volunteer experience, personal statements, and their ability to prove that they will be successful in the graduate program.
What Would I Learn in an Online Public Health Degree Program?
The field of public health is concerned with increasing the health of populations and communities. You're probably already familiar with many public health programs, although you might not realize it; some notable recent public health campaigns include laws banning smoking in public buildings, healthier school lunches, and free flu shots at public clinics.
In addition to educating the public about healthy living, diseases, and injuries, public health workers implement initiatives and campaigns that seek to increase exercise, healthy eating, and preventive healthcare amongst the general public. They research ways in which diseases, injuries and other conditions affect communities and how they can be prevented or mitigated.
In a public health degree program you would learn about the different factors that can affect the health of communities, such as pollution, access to clean water, and exposure to harmful substances. Students also study epidemiology, which is the spread of disease. Public health students also explore the social institutions that can affect health, such as elder care.
Completing a degree in public health can open the door to a number of interesting and rewarding career opportunities. A graduate degree is the minimum educational requirement for many positions, and many people holding degrees at this level work for government departments and agencies at the federal, state, or local levels. Some universities offer undergraduate degrees in public health, and this type of program is a good choice for people who plan to continue their studies at the graduate level or for students who intend to apply to law or medical school after completing their bachelor's degree.
Here is an overview of some of the subjects your coursework in public health would likely cover:
Biostatistics – Public health workers study the effects of certain factors on health on a large scale. An understanding of statistics is necessary to examine data and draw sound conclusions.
Environmental Health – Environmental health looks at the ways in which the space we live impacts our health. Air quality, water quality, food availability, and the built environment are some topics discussed.
Epidemiology – Epidemiology looks at the spread of disease and the factors that can exacerbate or mitigate diseases in society.
Management Science – Public health professionals often work in a supervisory capacity, in settings such as think tanks, quality assurance, non-governmental organizations, and pharmaceuticals. Management courses help students study ways of directing financial and human capital.
Public Health Policy – This course covers the ways in which public health can be supported and improved through changes in legislation. Students look at the ways that policy can solve public health problems.
Public Health Biology – To assess public health issues and threats, students learn the science of physiology and infectious diseases. Other public health courses may cover subjects like toxicology, water borne diseases, stem cells, aging, vaccines, and HIV/AIDs.
Behavioral Science – Public health professionals work with people, not just diseases, and it is imperative that they understand the sociological and psychological aspects of health. Psychosocial factors influencing health, behavior change, and behavioral theory are discussed in these classes.
Career Specializations for Public Health Graduates
Since public health encompasses such a wide variety of disciplines, there are many different career options available for those with a degree in public health. Graduates can go into teaching, research, policy making, community advocacy, administration, and management.
Public health professionals may find work in local health departments or for a larger government organization like the Centers for Disease Control and Prevention. Annual salaries for public health professionals are very wide-ranging, as job opportunities are very diverse. In most cases, salaries will depend on the specific industry a public health professional enters and the amount of schooling he or she has obtained. The following career overviews can help you get a sense of the many opportunities available for those pursuing public health.
Biostatistics: Biostatisticians work to make sense of the numbers collected from public health research. They work to see if there are any significant trends that we should notice.
Environmental Health: Arsenic poisoning from wells, hazardous chemicals released from oil spills, air pollution from heavy traffic in metropolitan areas; these and many more are issues addressed by public health professionals working in environmental health.
Epidemiology: These professionals help prevent the spread of disease by investigating the causes of disease. Epidemiologists plan disease studies, analyze information on disease spread, and oversee public health programs designed to prevent disease.
Health Educator: Health educators are the public health professionals who work "on the ground" to teach people about health and to promote positive behavior change. They work in a variety of settings, including healthcare facilities, colleges, public health departments, and nonprofit organizations. They develop educational programs, assess the health needs of their community, help people get pertinent health information, and lobby to promote healthcare policies.
Health Policy and Management: With healthcare reform at the forefront of issues in the United States, the field of health policy is experiencing significant growth. Public health professionals in this field work to ensure that healthcare gets delivered fairly and in a way that we can afford.
Health Services Manager: Healthcare services managers direct the day-to-day functioning of healthcare facilities, as well as their long-term trajectory. They work to improve healthcare outcomes and efficiency, manage financial issues, and communicate with staff. They work in hospitals, physician offices, nursing care facilities, home healthcare services and outpatient care.
Health Teachers: People interested in public health and working directly with children should consider becoming a health teacher. These educators typically cover topics like sexual health, allergies, smoking (and how to quit), nutrition, skin care, and more.
Nutrition: Public health professionals in nutrition have the ultimate goal of preventing countless deaths around the world by ensuring that people receive adequate nutrition.
Social and Community Service Management: These managers plan and enact programs that benefit the local community. For example, a particular community service organization might work to improve the mental health of veterans. Managers coordinate services, oversee workers, and evaluate the success of the community service programs offered by their agency.
It is important to note that public health degrees do not qualify graduates to work as medical practitioners unless they have further or previous training and experience. For example, some individuals who are already registered nurses seek public health degrees because they have a personal interest or advanced career aspirations, in which case they can continue to work as nurses with extra credentials. Those who study public health usually do not treat patients, but serve a more widespread, behind-the-scenes, organizational role.
Someone who has no medical background will be able to seek careers as consultants, advisers and trainers, and political health advocates. Most graduates work on community projects or state and city health advocacy groups, but some will work for national organizations. A person who has a public health degree may also be able to apply his or her skills in a career abroad. Poorer countries can benefit greatly from the knowledge that public health graduates have in the areas of disease prevention and nutrition.
Related Articles
2023 Best Online Human Services Degrees
There are many options for pursing online bachelor's in human services degrees. Compare our ranking of 2023 programs with the highest return on investment based on alumni salary and debt.
2023 Best Online Healthcare Administration Programs
Find the online bachelor's degree in healthcare administration that's the right fit for your long-term career goals. Our list is based on each program's salary score.