2020 Best Online Public Administration & Policy Degrees
Online degrees in public administration focus on the implementation of public policies and the management strategies of local, state, and federal government agencies. Public administration degrees are available at all degrees levels but most commonly at the master's and bachelor's levels. You can view the 25 best online colleges offering MPAs and best bachelor's degrees, ranked by tuition and alumni salaries provided by PayScale.
The Network of Schools of Public Policy, Affairs, and Administration (NASPAA) is the predominant accrediting agency for master's degree programs in public administration, and students should make sure that the school they plan to enroll in is accredited.
2020 Best Online Colleges Offering Bachelor's in Public Administration Degrees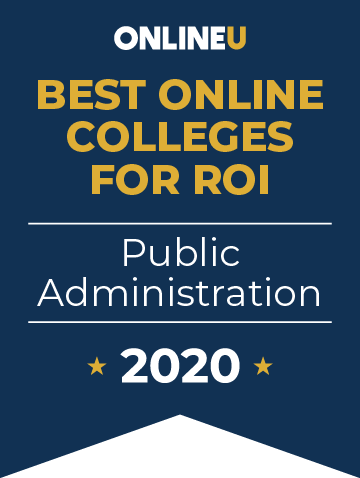 With low tuition rates and high average alumni salaries, the following 9 schools offer the best online bachelor's in public administration degrees. Ranked #1 is the University of La Verne, with a tuition rate of $19,350 and a reported mid-career salary of $102,200. California State University-Northridge, ranked #2 on the list overall, offers an annual tuition of $18,852 and has a reported salary of $87,300.
Alumni salaries were provided by PayScale. View our methodology for more details or learn more about OnlineU.
Salary data provided by

2020 Online Colleges Offering Public Administration Degrees - Ranking Details
Online Public Administration Degree Overview & Career Information
Public administrators need to understand how business and management principles apply in a service-oriented organization. Associate programs in public administration introduce students to the basics of office management and client service and prepare graduates to become social and human services assistants. A bachelor's degree is the usual entry-level requirement for public agency and nonprofit management positions. Students can expect to take courses like fundraising and budgeting, organizational behavior, and program evaluation in public agencies. A master's in public administration is a professional degree that combines practical courses with fieldwork in a mission-driven organization. Students obtaining doctoral degrees will do research into public administration practices, in order to enter high-level administrative roles or college-level instruction positions.
Online Associate Degrees in Public Administration
While there are a few schools that offer online associate degrees in public administration, it is not as common as bachelor's and master's degrees in the field. However, an associate degree may be a great way to start students on the right path for a career in public administration or to sharpen skills related to existing public service positions.
Program Requirements
Typical online associate degrees in this field take around two years to complete and require upwards of 60 units, combining major-specific courses with general education. Some schools require that students have a high school diploma or a GED. For those schools, applicants will generally need to submit transcripts from their high school and any previous college coursework they may have completed.
Curriculum
In an online associate degree program, students will usually take a variety of general education courses including classes in the humanities, social sciences, natural sciences, and math. Students can also expect to take courses related to the degree such as program planning, human resource management, organizational leadership, accounting, macroeconomics, microeconomics, introduction to business, budgeting, sociology, and psychology.
Students who graduate with an associate degree in public administration may go on to work in entry-level jobs or research positions, often in city planning, human and health services, criminal justice, and with non-profit organizations. Some common positions include Information Specialist, Accounting Clerk, City Planning Officer, and Human Resources Assistant.
Online Bachelor's Degrees in Public Administration
A bachelor's degree in public administration adds to the skills learned in associate degree programs, but also introduces concepts for those who are starting fresh in public administration. In addition to advancing the necessary public administration skills, online bachelor's degree programs offer additional communication and management skills.
Program Requirements
In order to enroll in a bachelor's program in this field, students must have graduated high school with a diploma or completed their GED. Some programs also require potential students to provide SAT or ACT exam scores. Students who are transferring with an associate degree may have slightly different admission requirements. Online bachelor's degrees in public administration can typically be completed in four years and require anywhere from 90 to 120 units.
Curriculum
Online bachelor's degrees in public administration will include courses on social issues, government, politics, economics, and law in addition to the standard leadership, finance, and management courses. Specific classes might include sociology, public speaking, public administrative ethics and theory, sustainable communities, social science research methods, principles of macroeconomics, business statistics, and environmental policy.
Online Master's Degrees in Public Administration
Master's programs in public administration focus on enhancing critical thinking skills, solving real-world problems, and evaluating and analyzing everything from budgets to public policy. To learn more about online master's programs in public administration, see our master's overview which includes a list of the best programs..
Online Doctoral Degrees in Public Administration
With an emphasis on leadership and collaboration, an online doctorate in public administration delves deeper into skills learned while earning a bachelor's or master's degree. These programs are good for students hoping to pursue careers in teaching or researching.
Program Requirements
Undergraduate and master's degree are generally required to enroll in online public administration doctoral programs. Applicants will usually need to submit transcripts and may also need to submit some combination of GRE or other standardized test scores, a resume or CV, letters of recommendation, and a personal statement. Most programs take around three years to complete. While some programs require only 48 units, others may require 60 or more.
Curriculum
Coursework for an online doctorate in public administration builds upon the foundations laid in an MPA program. Students can expect to take classes in government, financial management, human resources, resarch methods, public policy, and organizational change. In addition to classes, students will usually be expected to complete a dissertation on a topic of their choosing.
Online Certificates in Public Administration
Online certificates in public administration are good choices for students hoping to gain a basic understanding of the subject and learn the skills necessary to enter the job field. In addition, credits earned through a certificate program can be applied toward a degree at many colleges. While almost all of the certificate programs require that students take Fundamentals of Public Administration, other required courses vary based on the focus of the certificate. Required classes can include everything from public finance and budgeting to organizational behavior or public policy analysis. At fewer than 20 units per certificate, certificates in public administration are a quick way to fine-tune the skills needed for a current job or to gain new skills to try to break into public administration.
The Importance of an Accredited Online Public Administration Degree
When students are determining which online college or university to attend, it's important to pay attention to accreditation. Accreditation is the process educational organizations use to ensure that students are receiving quality educations that include relevant knowledge and skills. Since there is only programmatic accreditation available for master's in public administration degree programs, students at the associate, bachelor's, doctoral, and certificate levels should focus on regional accreditation when selecting a school to attend. If a school has been regionally accredited, students can rest assured that they are getting the education they deserve and that their classes will transfer to other accredited universities.
For a master's in public administration, the Network of Schools of Public Policy, Affairs, and Administration (NASPAA) sets the standards that determine which concepts public service degrees should include. NASPAA accredits specific degree programs rather than colleges or departments, but they only look at master's degree programs. The organization examines programs that deal with public policy, public administration, public affairs, and non-profit management. Many fields require that students earn a degree from an accredited university in order to be eligible for licensure, but public policy careers don't require that same certification, making it optional to attend a college that has been accredited. But, as previously mentioned, it's always a good idea since it ensures that students receive a quality education.
NASPAA Accredited Online Master's Degrees in Public Administration
Master's degrees are the most common level of online degrees in public administration. They are good choices for students hoping to pursue careers such as city administrators, analysts, city planners, and human resource directors. These six schools offer online master's programs in public administration that are accredited by NASPAA.
All schools on this list are regionally accredited, non-profit institutions that offer accredited online master's in public administration programs.
Southern Utah University's two-year online public administration program explores the topic in a social, cultural, historical, political, and economic context. Each student can customize their path, blending necessary elements with written communication skills. The program includes 21 units of core classes, up to 12 units of electives, and up to six units of experiential learning (either an internship, thesis, or professional project) that must equal at least 36 units overall. The required courses include Theory of Public Administration, Public Sector Economics, Administrative Law, Research Methods for Public Administration, Public Human Resource Management, Critical Thinking and Ethics in the Public Sector, and Capstone in Public Administration. Available electives include those on higher education, policy, leadership, law, and analysis. While the program was recently accredited by NASPAA, it is also accredited through the Northwest Commission on Colleges and Universities (NWCCU).
The Master of Public Administration program at Texas A&M International University requires students to have at least three years of management experience. This program also admits international students as well. The 42-unit MPA program has 33 units of required courses, which include Advanced Methods of Social Research, Organization Theory, Administrative Ethics, Human Resources Management, and Principles and Politics of Public Budgeting. Students must also complete a project or an internship as well as three elective courses. The university also offers an additional certificate in Non-Profit Leadership and Management that MPA students may obtain, though they must apply for the program separately. Tuition can range from $2,000 to $6,000 per year depending on whether or not you're a resident of Texas.
The program at the University of North Carolina at Chapel Hill is another one that is designed with working professionals in mind, facilitating an easier path to a master's degree while maintaining a job. With a focus on the necessary skills for government and non-profit roles, this master's program is consistently ranked as one of the top online programs in the country. With a flexible curriculum, students can organize their classes into a schedule that works best for them; the program can be completed in anywhere from 18 months to five years. Courses in UNC's program equate to 45 required credits, including 27 units of core classes like Public Service Leadership, Human Resource Management, and Law for Public Administration. Another 15 units of electives are required as well, in hopes that the classes will aid in students' competency and cultivate new skills. Students may choose from Federal Policies and Institutions, Technology and Community Engagement, and Productivity Improvement in Local Government. Another three credits are split between work experience and a professional portfolio.
The University of Texas at Arlington's master's program teaches students something that other colleges may not: how to face some of the unique challenges of working as a manager in an urban area. Most of the courses last for eight weeks, featuring topics like Ethics in Public Service, Foundations of Urban Research and Analysis, Public Budgeting, Intergovernmental Relations, and Non-Profit Institutions. Students must also choose between two specific electives: Capital Budgeting, and Personnel Management and Conflict Resolution in the Public and Non-Profit Sector. The MPA program can be finished in two years and three-course classes come out to around $1,275 each at a rate of $425 per unit. At 39 required credits, the total for the program overall comes to around $16,000.
Their two-year master's program requires 42 units that will prepare students to think critically, learn how to research, and determine what your civic responsibilities are when you're working in public service jobs. There is also a heavy focus on interacting with both peers and professors despite the fact that courses are entirely online. Students can choose from four different specializations, including public policy and administration, health-care policy and administration, budgeting and fiscal administration, and public and non-profit management. The website provides a list of recommended elective courses for each specialization, which students should definitely check before determining their class schedule. No matter which specialization a student chooses, there are also 33 units of required core classes to take. Some of these courses are Bureaucracy and the Political Process, Statistical Applications in Public Administration, and Legal and Ethical Environment of Public Administration. A three-unit internship is also required, though it may be waived with proof of significant professional experience in the public sector.
With 13 courses equaling 39 credits, students can earn an online graduate degree in public administration at the University of San Francisco without ever having to take the GRE. The program teaches students about the public good through avenues like organizational behavior, policy analysis, budgeting, information technology, strategic planning, and program implementation. Nine core classes are required, including Information Technology and E-Trends, Program Evaluation and Monitoring, Strategic Planning, and Core Value Driven Leadership and Ethics. Two additional electives are also required. Students may choose to have an additional concentration in health services administration, which is designed for those who hope to go into healthcare management. Following graduation, the majority of students end up in state, local, and federal government. Others work for non-profits, or even for companies in the private sector.
Careers in Public Administration
Individuals with online degrees in public administration may go on to pursue a variety of careers. A public administration degree at any level helps prepare students to work at a variety of government agencies, private businesses, or non-profit organizations. While certificates, associate degrees, and even bachelor's degrees can earn students entry-level jobs, master's or doctoral degrees may help them find more advanced positions.
In addition to education, experience plays an important role in which jobs students land in this career field. Some students may go on to work in law enforcement or criminal justice at state or city governments, law or consulting firms, or anywhere that utilizes managers, analysts, planners, or certain types of specialists. Working in public administration requires a wide range of abilities and knowledge, but mainly the ability to multitask. Once hired, students will find themselves analyzing, organizing, and evaluating everything from budgets to events and clients. Working in public service can be rewarding as it offers many different options and paths.
This website offers school details to prospective students as an informational resource. The appearance of a school listing on this website should not be interpreted as an endorsement of the school by this site.