2020 Best Online Bachelor's in Project Management Degrees & Certificates
Online project management degree programs are offered at the certificate, bachelor's, master's, and doctorate levels to help prepare aspiring project managers for careers in finance, information technology, and many other industries. Our best online bachelor's programs and best online master's programs highlight exceptional options, based on tuition costs and alumni salaries reported by PayScale. Prospective students should research accredited project management programs to ensure the best academic experience.
2020 Best Online Colleges Offering Bachelor's in Project Management Degrees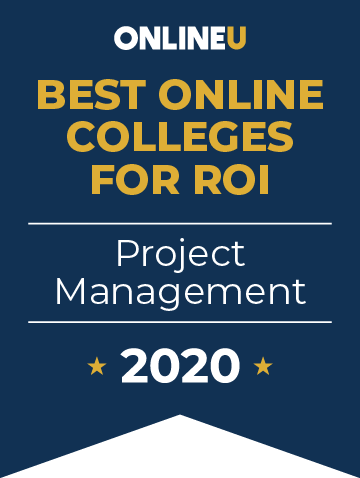 The 23 schools on this list are the best value options for obtaining an online bachelor's degree in project management based on alumni salaries and low tuition rates. A degree from Wentworth Institute of Technology has an impressive return on investment, with an annual tuition of $34,970 and alumni reporting a mid-career salary of $102,000. City University of Seattle offers distance learners a Bachelor of Science in Project Management for $20,520 per year. Alumni reported a mid-career salary of $93,000.
Alumni salaries were provided by PayScale. View our methodology for more details or learn more about OnlineU.
| Rank | School | Annual Tuition | Mid-Career Salary |
| --- | --- | --- | --- |
| # 1 | Wentworth Institute of Technology | $34,970 | $102,000 |
| # 2 | City University of Seattle | $20,520 | $93,000 |
| # 3 | Arizona State University | $15,900 | $89,400 |
| # 4 | Charter Oak State College | $12,570 | $84,500 |
| # 5 | Amberton University | $7,950 | $81,700 |
| # 6 | Northeastern University | $16,230 | $83,900 |
| # 7 | Central Washington University | $21,673 | $85,100 |
| # 8 | National University | $16,650 | $81,600 |
| # 9 | Colorado Christian University | $14,070 | $76,600 |
| # 10 | Embry-Riddle Aeronautical University-Worldwide | $12,803 | $71,700 |
| # 11 | Union University | $13,050 | $71,700 |
| # 12 | Southern New Hampshire University Online | $9,600 | $70,100 |
| # 13 | Bellevue University | $13,600 | $71,100 |
| # 14 | Minnesota State University-Moorhead | $14,769 | $71,100 |
| # 15 | Saint Leo University Online | $11,100 | $69,200 |
| # 16 | Charleston Southern University | $15,190 | $70,100 |
| # 17 | Park University | $12,450 | $68,900 |
| # 18 | George Fox University | $36,750 | $78,100 |
| # 19 | Liberty University | $11,700 | $66,900 |
| # 20 | Malone University | $15,810 | $67,600 |
| # 21 | Baker College Online | $12,150 | $65,600 |
| # 22 | Saint Louis University-Main Campus | $19,500 | $68,200 |
| # 23 | University of the Incarnate Word | $15,900 | $65,100 |
Salary data provided by

2020 Online Colleges Offering Project Management Degrees - Ranking Details
Overview of Online Project Management
Online project management certificates offer concentrated training on management skills through courses ranging from cost management to communications. The graduate-level certificates are open to students with an accredited undergraduate degree. Most certificates take a year or less to complete, making it a great option for working professionals to enhance their management opportunities.
Online bachelor's degrees typically include topics in organizational leadership, project risk management, contracts and procurement, project performance and quality assurance, and project scheduling and cost. Bachelor's programs usually have a capstone project requirement aimed at enhancing the students' practical knowledge in the field.
The online master's degree curriculum covers several key knowledge areas, including assessing and mitigating risk, project planning, execution and closure, schedule and cost control techniques, contracting and procurement in project management, and project management processes. A capstone project is a typical requirement in master's programs.
Online doctoral project management degree programs explore theoretical underpinnings in project management at a far deeper level than other academic programs. The doctoral curriculum covers areas such as advanced project management methodologies, advanced risk management systems, and contemporary leadership theories and practices. Doctoral students are also required to take a comprehensive exam and complete a dissertation.
Online Bachelor's Degrees in Project Management
Online bachelor's degrees in project management help prepare students to navigate the many aspects of a project that they see through from beginning to end. The project management bachelor's degree often combines general business skills with particular leadership strategies for bringing complex projects to completion.
Program Requirements
Online bachelor's degree programs generally require a minimum of a high school diploma or GED for admission, and some programs require additional application materials, such as a resume, personal statement, or standardized test scores. This is a four-year degree, requiring about 120 credit hours of coursework.
Curriculum
Undergraduate courses cover topics such as the role of the project manager, strategic goal setting, portfolio management, procurement and contracts, and budgeting. Many project management programs are offered as business degrees with a project management focus. In such programs, students also take more general business classes such as leadership, decision making, marketing, and accounting. Most project management bachelor's programs require a capstone course or a project-based class. In this course, students manage a mock project from beginning to end, developing the project's goals, setting a timeline, assigning teams, creating a budget, and procuring contracts.
Graduates with bachelor's degrees will typically find lower-level project management positions in management, information technology, accounting, and human resources. Most people who graduate with a bachelor's degree in project management generally begin by working at businesses, government agencies, or other organizations as a manager or administrator taking on small projects. Project management can be an experience-based profession, so after gaining experience, professionals may be assigned to larger projects and can advance to take on more projects.
The Importance of Accreditation
It's important to consider the reputation and qualifications of any project management degree program you're considering, and official accreditation is one way to begin narrowing down your choices. When a school or program is accredited, it means that its curricula, faculty, student outcomes, and general academic standards have been reviewed, evaluated, and deemed acceptable by an independent agency.
The Project Management Institute (PMI) is the most popular and reputable project management organization. PMI's Global Accreditation Center (GAC) for Project Management Education Programs is the leading accrediting body for project management related education. Committed to excellence, GAC accreditation ensures that programs maintain policies and procedures of project management. Students who attend a GAC accredited program demonstrate to future employers that they have received an enriched education that equipped them with necessary skills, techniques, and experience to succeed as a project manager. PMI Registered Education Providers (R.E.P.), which are organizations that have been approved to provide training in project management, are also strong indicators of a quality education.
Entire institutions can be accredited by national or regional accrediting agencies, or individual PM programs can be accredited by the Association to Advance Collegiate Schools of Business or the Accreditation Council for Business Schools & Programs. It's wise to refer to the lists of accrediting agencies that are recognized by US Department of Education and the Council for Higher Education Accreditation.
For more information about the benefits of accreditation, visit the OnlineU accreditation hub.
What Should I Know About Professional Project Management Certification?
The certifications offered by PMI are among the most popular credentials for project management professionals. There are eight different certificates available: Project Management Professional, Program Management Professional, Portfolio Management Professional, Certified Associate in Project Management, PMI Professional in Business Analysis, PMI Agile Certified Practitioner, PMI Risk Management Professional, and PMI Scheduling Professional.
The Project Management Professional (PMP) credential is considered the gold standard of project management certification. A Project Management Professional Certification is recognized worldwide and can be attained regardless of industry. The PMP Certification communicates to potential employers that the candidate has an understanding of project management that is consistent with the other members of the organization.
To obtain the PMP certification, experienced project managers must pass a 4-hour exam that consists of 200 questions. All those hoping to be certified must have at least 35 hours of project management education and 7,500 hours experience leading and directing projects or 4,500 hours if the applicant holds a bachelor's degree. To maintain the certificate, students must earn 60 professional development units every three years.
What Can I Do with an Online Project Management Degree?
Project managers juggle the moving parts of a project and must be open to rapidly changing environments. They must have an ability to move other people into action and keep them accountable for the progress of a project. Project managers are necessary for many industries including:
Healthcare: where they oversee new hospital remodeling projects, assess spending and budget allocation, and transfer doctors between departments.
Information Technology: where they design, plan, and carry out software or computer engineering projects from start to finish. This role involves coordinating with multiple companies and the information technology team. Managers troubleshoot problems and make a plan to stay within deadlines.
Manufacturing: where they assess risks and constantly make efforts to improve the quality of the product. In manufacturing, project managers might compare products and efficiency against other competing products.
Construction: where they work closely with clients to make sure budgets and project needs are met. Building projects are susceptible to alteration every day, so project managers must be able to adapt quickly to changing environments, scope, and budget.
This website offers school details to prospective students as an informational resource. The appearance of a school listing on this website should not be interpreted as an endorsement of the school by this site.