2020 Best Online Colleges for Paralegal Degrees & Certificates
Online paralegal certificates and degrees are offered by 39 accredited colleges and universities. According to The U.S. Bureau of Labor Statistics, most paralegals have at least an associate degree or a certificate in paralegal studies. Our lists of the most affordable online paralegal certificates and associate degrees highlight schools that stand out for their academics and affordability and will help lead to certification exam eligibility.
Prospective students should look for programs at accredited schools. Choosing a paralegal degree program at an accredited school will help ensure a high quality education that will be recognized and respected by future employers. In addition to earning an online degree at an accredited institution, paralegal students may want to consider certification to help advance their careers.
I'm looking for a:
2020 Most Affordable Online Paralegal Certificates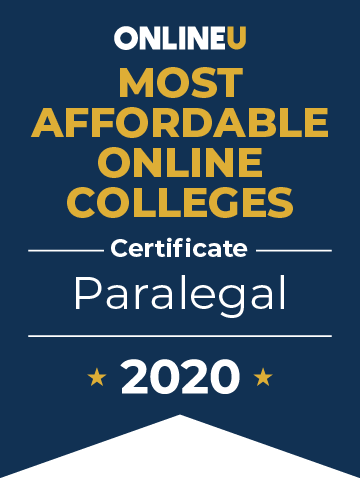 These 25 schools offer the most affordable online paralegal certificates with tuitions under $12,000 per year. View our methodology for more details.
Eligibility for Paralegal Certification Exams:
NALA Certified Paralegal Exam: you are eligible if you have an undergraduate certificate in paralegal studies and a bachelor's degree in another field.
NFPA Paralegal Core Competency Exam: you are eligible if you have an undergraduate certificate in paralegal studies and an associate or bachelor's degree in another field.
If you have an associate or bachelor's degree in paralegal studies, you are eligible for both the NALA and the NFPA exams
2020 Online Colleges Offering Paralegal Certificates - Ranking Details
2020 Most Affordable Online Paralegal Associate Degrees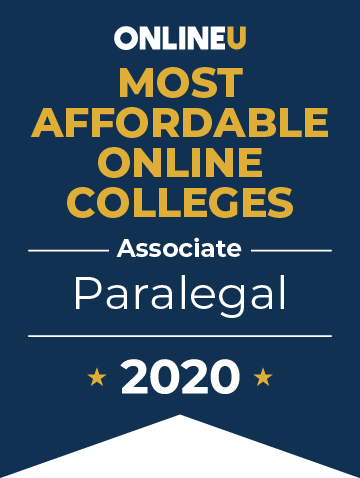 These 24 colleges offer the most affordable online paralegal associate degrees with tuitions under $10,500 per year.
Eligibility for Paralegal Certification Exams:
NALA Certified Paralegal Exam: you are eligible if you have an associate degree in paralegal studies.
NFPA Paralegal Core Competency Exam: you are eligible if you have an associate degree in paralegal studies.
View our methodology for more details.
2020 Online Colleges Offering Paralegal Associate Degrees - Ranking Details
Online Paralegal Degree Overview & Career Information
Paralegal studies programs are available at the associate, bachelor's, master's, and certificate levels, although the standard educational requirement for becoming a paralegal is an associate degree. Certificates in paralegal studies are available to students with a wide range of educational and work experience. Some certificates are designed for current professionals, while others are designed for students who are new to the legal profession.
Associate degrees in paralegal studies teach students how to put basic legal principles into practice and build reasoning skills, as well as written communication and conflict resolution skills. Coursework typically addresses topics in commercial law, civil procedure, paralegal litigation, legal research and writing, and domestic relations. In addition to didactic coursework, students may have an opportunity to participate in an internship to gain hands-on experience.
Students who complete an associate degree program may choose to transfer to a bachelor's degree program in paralegal studies to enhance their knowledge of the legal system and complex procedures. Most undergraduate programs place an emphasis on courtroom conduct, investigative practices, and litigation. They may explore a variety of subjects, such as tax law, legal writing and research, legal ethics, wills and estates, and administrative litigation. Additional components of the program include seminars and internships.
A small number of schools offer paralegal master's degree programs to students who want to maximize their chances of advancing in an organization. Students may select an area of concentration in intellectual property law, international law, or government law. Typical courses include contracts, jurisprudence, and advanced legal research and writing.
Online Associate Degrees in Paralegal
Online associate degrees in paralegal studies are great options for students looking to develop writing, research, and critical thinking skills which they can utilize in support roles at law firms and legal departments.
Program Requirements
Paralegal associate degrees offered by online schools usually take two years to complete and require 20 to 30 courses. Applicants need a high school diploma or GED and may need to provide high school transcripts for admission.
Curriculum
The paralegal studies curriculum at the associate level covers particular skills of the legal assistant, as well as the ins and outs of different applications of the law. Courses in legal terminology and legal research and writing teach students how to investigate pertinent laws and regulations; students also learn how to write legal correspondence and other documents. Litigation classes focus on the process of going to court and the paralegal's role in preparing a case for the courtroom. Other common courses in the online paralegal associate degree cover particular areas of law, such as commercial law and real estate law. Business communication and legal office administration are other typical electives in these programs.
Many online associate programs will also include at least one course in English composition due to the writing-intensive nature of the paralegal profession. These classes focus on teaching students how to write clearly and effectively with correct grammar. Prospective students can also expect to take a class that is dedicated to legal research. Much of a paralegal's job will revolve around conducting research for attorneys, and associate degree courses in research will focus on navigating Internet resources and other legal databases.
Additionally, paralegal students are usually required to take a class in civil law, as this is one of the most common legal areas addressed in large law firms and corporations. Civil law courses include study of consumer rights and contracts, and knowledge of criminal law is also often beneficial to the work of legal assistants.
Beyond the traditional classes, some programs will offer students the opportunity to participate in an internship to gain practical experience in the legal field.
Online Bachelor's Degrees in Paralegal
Online paralegal bachelor's programs are designed to train graduates for positions as legal assistants and paralegals. These four-year programs cover the workings of the US legal system and different areas of law, as well as the writing and research skills crucial for paralegal work.
Program Requirements
Bachelor's degrees in paralegal studies generally require four years to complete, or the equivalent of 120 semester credit hours. Applicants need to have a GED or high school diploma and will need to submit transcripts from high school and any college courses they have previously taken.
Curriculum
Bachelor's programs in paralegal studies include general education classes as well as coursework in legal operations, writing, and research. Through their program's electives, students may specialize their degree in a particular area of law, such as corporate law or civil law.
Courses in different areas of law form the foundation of the paralegal bachelor's degree. For example, in a civil litigation course, students learn how civil law functions in the United States and about the rights and procedures of the court system. A course in real estate law discusses the laws involving property ownership and real estate financing. Tort law is a type of law used in all areas of the legal system; it covers the ways that individuals or organizations are to be reimbursed if they are intentionally or accidentally harmed.
While knowledge in specific law topics is important, these classes do not cover the practical skill set that paralegals need in order to be competent in their work; instead, classes in legal writing and legal research cover these most important skills. In these classes, paralegals learn how to research court precedents and laws regarding particular cases, as well as how to write up affidavits, contracts, and other legal documents.
Many distance learning paralegal bachelor's programs require students to complete an internship. This professional experience in a legal office can be very helpful in finding employment after graduation. Besides this internship experience, most of the coursework in these programs is information-based and can be effectively transferred to the online format.
Bachelor's graduates may pursue a wide range of careers in the legal system. Career opportunities include case manager, corporate paralegal, junior paralegal, law clerk, law office manager, legal assistant, and legal researcher. Work settings for graduates include corporate legal departments, government agencies, insurance companies, private law firms, real estate companies, and title insurance firms. Bachelor's programs also lay an excellent foundation for further studies and career advancement in the legal field.
Online Master's Degrees in Paralegal
A master's degree is the highest level of paralegal degree available. There are very few master's degree programs offered in paralegal studies. An online master's program is ideal for students looking to strengthen their skills in legal writing, research, and office administration.
Program Requirements
Online master's degrees in paralegal studies require approximately two years to complete. Students can expect to take between 32 and 38 semester credit hours. Applicants need an accredited bachelor's degree and will need to submit transcripts from their undergraduate degree program. Additionally, applicants may need to supply letters of recommendation. Often, graduate-level programs have minimum GPA requirements and/or minimum standardized test score requirements for admission.
Curriculum
The curriculum in the law and paralegal master's provides an education in history and legal theory, as well as the practical abilities to perform administrative duties in a legal environment. Courses in the history of U.S. law and criminal justice provide a framework for legal work. Other foundational courses focus on the skills for utilizing legal databases, searching for relevant past cases, and compiling notes for attorneys. Students also learn how to fill out certain legal documents and draft correspondence.
Master's-level paralegal students will take a course in legal research and writing which will expand upon their existing knowledge of drafting legal documents and conducting research. Other common classes include corporations and contracts law which covers corporate law practice, business ethics, SEC rules, the Uniform Commercial Code, and contract formation; litigation which focuses on civil actions within the court systems along with rules, technology, ethics, and procedures; and American jurisprudence which will cover court systems and an overview of constitutional law, as well as evidence, ethics, and professionalism. Master's students also take electives in particular areas of the law, such as constitutional law, criminal law, and environmental law. While most paralegal master's programs do not require a thesis, some require a capstone project, which is completed during the student's final semester.
The law and paralegal master's degree can offer professionally oriented training to career changers interested in entering the paralegal and legal office administration career. As these positions do not typically require a graduate degree, those with this advanced credentials are likely to stand out in the job search. Current business professionals and entrepreneurs can also use the law and paralegal master's program to gain a working knowledge of the legal system in order to better understand the legal environment of business.
Online Certificates in Paralegal
An online paralegal certificate program prepares students for work as paralegals in private law firms or businesses. The paralegal will have duties that include interviewing, investigation of claims, prep work of legal forms, research activities, as well as assisting lawyers in court and other activities. Some certificate programs are offered for beginning students, while other programs are only available to students who have completed an associate or bachelor's degree. For students looking to enter the field of law as a paralegal, the certificate program can be a positive step toward a better job, a new career, a higher salary, or just more knowledge of the field of law.
Certificate paralegal programs typically take between 10 months and 2 years to complete. Some online colleges offer a full-time curriculum that can be completed in as little as seven months. The length of the program will depend on the type of certificate you choose and the curriculum covered.
While all certification programs will have required courses, students are usually allowed some flexibility when choosing electives, which may help with different types of law and legal offices, such as family law, criminal law, intellectual property, or administrative law. Students should expect to take courses in legal research and writing, litigation, legal theories and analysis, contract law, corporations and partnerships, and legal office management. Certificate coursework often includes legal research, writing, and civil litigation, torts and personal injury, real property, constitutional law and criminal procedure, laws of evidence, and legal document preparation.
Those students looking to enter a paralegal certificate program without an associate or bachelor's degree will find classes such as business law, legal assisting, tort law & claims, legal writing, property and creditor rights, probate law, will and trusts, and a legal research lab. For those students entering a certificate program after completing an undergraduate degree, the classes may include legal analysis, computers and the law, torts, contracts, property law, civil litigation, and legal research. Ethics for the paralegal and technology for the paralegal will also be included. Students aren't usually required to complete a final project as part of their certificate program, but some schools require work experience or an internship.
Certification Requirements for Paralegals
Certification for paralegals is not mandated by any US state, but more and more paralegals and legal assistants are choosing to earn voluntary certification. Those seeking new employment may find that certification will make them more appealing in the job market. Paralegal certifications are offered by various national and regional legal industry professional groups. The National Association of Legal Assistants (NALA) and the National Federation of Paralegal Associations (NFPA) offer some of the most widely recognized paralegal credentials.
To become eligible for the NALA Certified Paralegal exam, applicants must meet these criteria. Those who successfully pass the NALA exam become Certified Paralegals (CP) and must complete 50 hours of approved continuing education hours every 5 years to maintain their certification.
To become eligible for the NFPA Paralegal Core Competency Exam, applicants must meet these criteria. Those who successfully pass the NFPA exam receive a Core Registered Paralegal (CRP) designation. For paralegals with an accredited associate or bachelor's degree in paralegal studies and two to six years of professional experience, the NFPA offers the Paralegal Advanced Competency Exam which if passed, results in the Registered Paralegal (RP) designation. RPs are required to complete 12 hours of continuing education courses every 2 years to maintain their certification.
The Importance of Accreditation
Attending a reputable paralegal program will help ensure that you receive a high-quality education and have access to the most current information about the paralegal profession. Although enrolling in a formally recognized paralegal program won't guarantee immediate employment, corporations and firms often prefer to hire applicants from accredited schools because they can feel confident that students who graduate from these approved programs are knowledgeable and competent.
The US Department of Education (USDE) recognizes several agencies that evaluate and accredit schools and degree programs, and they provide a list of accredited schools and programs on their website. The American Bar Association is recognized by the USDE and provides a list of their approved paralegal programs, as well.
What Should I Know About Paralegal Programs and ABA Approval?
There are dozens of online paralegal training programs to choose from in the United States; choosing just one can be daunting. One concept you should understand as you research education options is the American Bar Association approval for paralegal programs.
The American Bar Association does not accredit paralegal programs in the same way that a regional accrediting body accredits colleges and universities. Instead, the ABA may offer its approval to paralegal programs, in exchange for a fee. The ABA approves paralegal training programs that meet certain standards of program administration. The majority of paralegal training programs do not choose to pursue ABA approval. Currently, the ABA does not approve training programs where the majority of coursework takes place online.
Do I Need to Attend an ABA Approved Paralegal Training Program?
In most cases, paralegals do not need to graduate from an ABA-approved program in order to find work. Only about 25 percent of paralegal training programs have ABA approval, so many graduates do not have the ABA affiliation. With this in mind, there are some employers who prefer to hire paralegals who have completed an ABA-approved program. It makes sense to investigate the type of paralegal work you want to do and prospective employers you might work for before choosing a paralegal training program. Talk to current paralegals who are doing the kind of work you want to do, and get their perspective on ABA approval.
What Should I Consider When Choosing an Online Paralegal Training Program?
You may decide that it makes sense for you to pursue an online paralegal training program, despite the lack of ABA approval. To find the best online program for you, keep the following factors in mind:
Instructor Qualifications: Look for programs with courses taught by licensed attorneys or experienced paralegals.
Online Course Style: Online paralegal programs may use one of a few types of online classes. Some use self-paced classes, where students do assignments at their own pace within a certain large time frame. Other programs have weekly video lectures and due dates like traditional classes. Still others are hybrid programs that require students to come to class to complete certain assignments.
Study Tools: High-quality online programs provide students with a variety of study materials, such as textbooks, workbooks, online practice exercises, and access to online legal databases.
Paralegal Specializations
Paralegals can specialize in specific types of law such as corporate law or civil law. All paralegals study the same basic skills such as legal writing and research or court operations.
At the associate degree level students learn foundational skills but, as students progress in their education, they can choose specializations that are interesting to them. It's helpful for students to determine their area of interest early on in their paralegal education because there are different paralegal skill sets required depending on the type of law. For example, criminal law paralegals learn how to research cases, understand crime laws, prepare for trial, and interview witnesses, among other responsibilities.
Because there are so many different specializations for paralegals (ex: corporate, litigation, estate, family law, immigration, intellectual property, debt, freelance paralegals), acquiring hands-on experience through internships or practicums can help students identify which specialization to pursue.
The paralegal studies degree at allows students to choose from a variety of electives based on interest. For those hoping to expedite the educational process, undergraduate students graduate with a specialized certificate in pre-law or political studies along with their degree.
Another accelerated option is a 27-hour Certificate in Paralegal Studies offered by for those who already have an undergraduate degree. offers a Criminal Justice bachelor's degree and a paralegal certificate.
For those interested in a broader, more comprehensive degree, boasts a liberal arts specialization. There are several specialization options offered at ; students can earn a bachelor's in law and national security, master's in litigation or mediation or one of 11 other paralegal degree options.
What Kind of Degree Do You Need to Become a Paralegal?
The minimum requirement for an entry-level paralegal job is typically a two-year associate degree. This is a great option for students ready to launch into the legal workforce. An associate degree gives students a basic foundation of paralegal skills including legal practices and research.
However, some law firms require a bachelor's degree for upper-level paralegal positions. A four-year bachelor's degree builds upon foundational knowledge with an emphasis on complex courtroom procedures and litigation and more opportunities to explore specializations and niche aspects of the field. A bachelor's degree can allow more time for students to recognize their specific legal interests.
Those who already have an undergraduate degree might decide to earn a certificate instead of an additional bachelor's degree. Certificates are specialized training that take anywhere from 6 months to a year to complete. While not required for employment, students who earn a certificate might be more appealing to prospective employers. Certificates can be obtained at any level of the educational process, whether students are pursuing graduate study or are starting out in the legal field. While not as common, there are also master's degrees offered for those who want to further advance their career. These degrees serve those working in highly targeted legal fields or for those who ultimately desire to teach paralegal studies.
This website offers school details to prospective students as an informational resource. The appearance of a school listing on this website should not be interpreted as an endorsement of the school by this site.