2020 Accredited Online Nurse Practitioner (NP) Programs
As the population in the U.S. continues to grow and age, there is an increasing need for healthcare professionals with advanced skills. The Bureau of Labor Statistics is projecting an astounding 45% rise in the demand for nurse practitioners through 2029. A nurse practitioner (NP), also known as an Advanced Registered Nurse Practitioner (ARNP), provides primary care and performs tasks comparable to those of a doctor, from prescribing medication to ordering tests and interpreting the results. However, only a master's degree is required to become a nurse practitioner. The following is a list of the best online master's nurse practitioner degree programs. Read on for additional information about accreditation, accelerated programs, licensing requirements, and specializations in this growing field.
2020 Best Online Colleges Offering Master's in Nurse Practitioner (NP) Degrees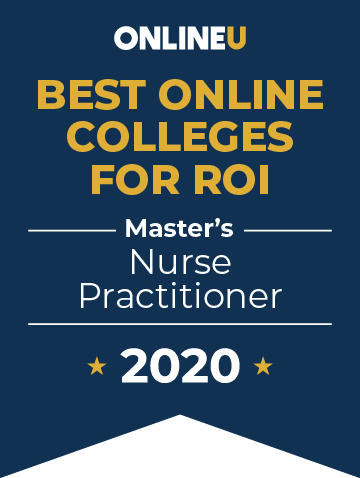 Ranked based on affordability and earning potential, these 23 schools offer the best online nurse practitioner programs. Graduates of the #1 school, Rivier University, report earning a median salary of $114,800. Tuition for Rivier University is also one of the lowest on the list, at $9,450 per year. At #2, the University of Connecticut charges $24,050 per year for its Master of Science in Neonatal Nurse Practitioner/Neonatal Clinical Nurse Specialist and has a reported alumni salary of $115,800.
Alumni salaries were provided by PayScale. View our methodology for more details or learn more about OnlineU.
Rank
School

Annual Tuition

Mid-Career Salary

#

1

Rivier University

$9,450

$114,800
#

2

University of Connecticut

$24,050

$115,800
#

3

Northeastern University

$37,398

$119,300
#

4

Gonzaga University

$10,200

$107,500
#

5

The University of Texas at Arlington

$10,393

$104,300
#

6

University of Southern Indiana

$5,105

$101,600
#

7

Texas Woman's University

$10,474

$103,400
#

8

Seton Hall University

$31,440

$110,900
#

9

University of North Dakota

$18,360

$104,000
#

10

Texas A & M University-Corpus Christi

$12,831

$101,200
#

11

The University of Texas Medical Branch

$10,342

$100,200
#

12

The University of Texas at El Paso

$17,986

$103,200
#

13

University of Southern California

$48,200

$114,100
#

14

University of South Carolina-Columbia

$7,345

$96,000
#

15

University of Cincinnati

$14,216

$98,000
#

16

Saint Louis University-Main Campus

$10,900

$96,400
#

17

Northern Kentucky University

$16,146

$98,100
#

18

Sacred Heart University

$18,145

$98,800
#

19

University of South Alabama

$13,662

$95,900
#

20

University of Missouri-Kansas City

$22,840

$99,200
#

21

The George Washington University

$33,480

$102,300
#

22

University of St. Francis

$18,600

$96,300
#

23

Loyola University New Orleans

$19,632

$96,400
Salary data provided by

2020 Online Colleges Offering Nurse Practitioner (NP) Degrees - Ranking Details
Online Nurse Practitioner (NP) Degree Overview & Career Information
The Master of Science in Nursing (MSN) for nurse practitioners is usually a two-year degree, but some schools require three years of training. Students are expected to already be a practicing nurse, and they will learn about topics such as women's health, family practice, pharmaceuticals, injury treatment and prevention, and various types of medical testing. A Doctor of Nursing Practice (DNP) will give students all of the same tools and knowledge as an MSN, but with more in-depth analysis. DNPs also usually require a residency period, where students work under the guidance of a licensed NP.
Anyone applying to a nurse practitioner preparation degree program must be a registered nurse with a bachelor's degree. Some schools require that applicants have a certain amount of experience, measured either in years or hours. While on-campus NP programs emphasize collaborative group work and class discussion, online students do most of their learning alone. Most online students are also expected to maintain a nursing job while they are enrolled in order to implement and practice new skills as they learn them. Schools may ask for proof of employment and letters of recommendation from employers.
Online Master's Degrees in Nurse Practitioner (NP)
An online Master of Science in Nursing (MSN) degree with a nurse practitioner concentration prepares nurses for advanced practice roles in the field. Programs focus on advanced nursing theory and principles in the design and delivery of primary care. This training helps students prepare to take the national certification exam after graduation. Master's NP programs also establish a foundation for pursuing doctoral studies in the field.
Program Requirements
Applicants to an online nurse practitioner master's program should hold a bachelor's degree in nursing and a registered nurse (RN) license. Students may be required to complete prerequisite courses such as statistics and basic computer courses. Once enrolled, NP master's students will generally need to complete 42-48 credits including clinical practice hours. Full-time students may complete the program in two years, while part-time students may require three to six years.
Curriculum
An online master's degree in nursing with a nurse practitioner concentration will include a combination of foundation, clinical, and specialty courses. Foundation courses cover nursing theory, diversity, ethics, health policy, research, and advanced practice nursing roles. Clinical courses equip students with skills in advanced nursing interventions, anatomy and physiology, assessment, pathophysiology, and pharmacology. Students choose specialty courses that best represent their career interests and complete a practicum to gain clinical experience. Specialty courses may include adults and older adults, health promotion, pediatrics, and women's health. MSN programs also typically include a comprehensive exam requirement in the final semester.
Master's programs help prepare students to provide primary care to individuals of all ages in various settings. Graduates may be able to take up NP positions in clinics, emergency rooms, intensive care units, and physicians' offices. Job opportunities may also available at care centers that specialize in areas such as oncology, nephrology, and women's health. NPs are in high demand in rural and under-served areas, and some graduates choose to pursue careers in the global health arena. Graduates may also go on to work in nursing administration and research or as faculty members in schools of nursing.
Online Doctoral Degrees in Nurse Practitioner (NP)
Online Doctor of Nursing Practice (DNP) degrees prepare students for the highest level of nursing practice. Programs are clinical in nature and train students to play leadership roles in healthcare reform.
Program Requirements
For traditional DNP programs, applicants must hold a master's degree in nursing and a current RN license. Students with only a Bachelor of Science in Nursing may be interested in a BSN-to-DNP program, which enables them to enroll in doctoral studies without a graduate degree. BSN-to-DNP programs last four or five years, requiring approximately 65-75 credit hours and over 1,000 clinical practicum hours. Traditional doctoral programs require completion of 43-48 credit hours and approximately 500 practicum hours, which takes two to three years. Part-time students may take up to five years to earn a doctoral degree.
Curriculum
The doctoral curriculum places heavy emphasis on research methodology. Prerequisites may include graduate-level statistics, advanced health assessment, advanced human physiology, advanced pharmacotherapeutics, and nursing research. Students enhance their skills in applying evidence-based practices in the field and gain the knowledge and expertise needed to play lead roles in quality improvement initiatives. Coursework covers areas such as epidemiology, ethical issues in practice, genetics, healthcare finance, healthcare policy, health systems management, informatics in healthcare, models of care, quality improvement, and the US health system. In addition to the more general coursework, DNP students may take specialized classes if they elect to focus on an area such as adult-gerontology, family practice, mental health, and women's health. Online students may be required to visit the school campus to complete some of the coursework. Doctoral programs also usually require completion of a clinical research project and practicum.
Online Certificates in Nurse Practitioner (NP)
Online graduate certificate programs are available for licensed RNs who have a master's or doctoral degree and wish to pursue advanced, specialized nursing roles. The most common NP certificates are for family practice nurse practitioners, but there are also certificate programs for adult-gerontology, neonatal, and psychiatric care. Certificate programs range from 26-50 credits and last two to five years, depending on whether students attend full-time or part-time. Because most online NP certificate programs are designed for currently practicing nurses, they are often offered in a flexible, part-time learning format to accommodate students' work schedules.
Admissions criteria for online NP certificates typically include a current license to practice as an RN, a resume, letters of recommendation, a written personal statement, undergraduate and graduate transcripts with a minimum GPA requirement, and clinical experience in a nursing specialization. Some schools may also have state residency requirements or require an interview with a faculty member or graduate exam scores.
Online NP certificate programs provide students with opportunities to perform evidence-based research and advanced analysis in their specialization. The curriculum will depend on the particular specialization chosen, but some examples of coursework include advanced pharmacology, human physiology and pathophysiology, clinical management principles, health assessment, theory for the practice of advanced nursing, research methods for advanced nursing, and specialty care courses for the population students are training to provide care for. Some online certificate programs may require students to visit campus or complete a clinical practicum in their community or in the state where the online school is located.
Completion of an accredited NP certificate program will typically qualify students to take a
certification
exam with the
American Nurses Credentialing Center
or the
American Academy of Nurse Practitioners
.
Accelerated Nurse Practitioner Programs
Nurse practitioners need at least a master's degree in advanced nursing skills to become certified. Accelerated online NP programs provide a way for non-nurses or current registered nurses to earn the master's credential in a shorter time frame. There are two distinct types of accelerated nurse practitioner programs: those for current RNs and those for non-nurses.
Accelerated NP programs for current bachelor's degree-level RNs take approximately a year and a half to complete. These programs often utilize online courses for the didactic portion of the degree; students still complete clinical classes in their local area. Like NP programs for non-nurses, these accelerated degrees are available in a variety of advanced practice areas.
Accelerated NP programs for non-nurses usually take around three years to complete. These programs are open to individuals with an accredited bachelor's degree and prerequisite courses in areas such as anatomy and physiology, microbiology, developmental psychology, and statistics. After being accepted to the program, non-nurses complete a period of bachelor's-degree-level bridge coursework; this usually takes one year to complete. After completing this successfully, students take the National Council Licensure Examination for Registered Nurses (NCLEX-RN) nursing exam to earn their general nursing license. After passing this test, nurses then begin two years of master's-level NP coursework.
Examples of common course requirements in accelerated NP degree programs include:
Advanced Pathophysiology: This course takes an advanced look at the biology of disease and how medicine treats diseases.

Applied Pharmacology: Students learn how to utilize knowledge about drug dosage and interactions when working with different types of patients.
Evaluating Evidence in Advanced Practice Nursing: This course teaches nurses how to take into account the various metrics of patient health when developing a diagnosis.
Health Assessment & Diagnosis: Nursing students learn how to interview patients and perform physical exams.
The Importance of an Accredited Online Nurse Practitioner Program
Accreditation is an important factor to consider when deciding which online degree or certificate NP program to attend. One of the most important reasons for attending an accredited program is that most professional nursing certification exams are only open to candidates who have completed an accredited degree program. When a program is accredited, it means that it meets the nationally-recognized standards set by independent agencies with regard to curriculum and the qualifications of faculty, among other things. Accreditation also helps to ensure that the credits you earn will be transferable to other accredited institutions and that you will be eligible for federal financial aid.
Prospective NPs should choose online degrees that are accredited by programmatic accrediting agencies, such as the Accreditation Commission for Education in Nursing, Inc. (ACEN) or the Commission on Collegiate Nursing Education (CCNE), and by institutional accrediting agencies, such as the Higher Learning Commission of the North Central Association of Colleges and Schools. The US Department of Education and the Council for Higher Education Accreditation maintain databases of all accredited schools and programs.
Licensing and Certification Requirements for Nurse Practitioners
All US states regulate the practices of nurse practitioners. Depending on the state, licensed NPs may be referred to as either an Advanced Practice Registered Nurse (APRN) or an Advanced Registered Nurse Practitioner (ARNP). Many states still accept an MSN with a concentration in NP studies as qualification to earn a license to practice; however, some states are slowly phasing this degree out in place of a doctoral degree. Applicants should consult their state's licensing board and talk to current NPs in their state to determine if the laws are likely to change soon. Those who do not need a doctorate for licensure purposes will probably find that a master's degree program meets their professional needs.
The vast majority of those working to become NPs have already received a bachelor's degree in nursing at an accredited school and are licensed as an RN. Only after working two or more years as an RN can people pursue an advanced nursing degree to become a nurse practitioner. Although there are a few programs you can take to become a licensed NP without having previously obtained a bachelor's degree, they will require quite a bit more time to complete than traditional NP programs. An online master's degree in nursing will take about two years to complete, while an online doctorate in nursing practice can take up to five years. Additionally, in order to graduate, you must complete a certain number, usually hundreds, of clinical hours.
To work as an NP anywhere in the United States, you must obtain a license through your state's nursing board. You should first look to achieve certification (otherwise known as the Certified Nurse Practitioner) through the American Nurses Credentialing Center or the American Academy of Nurse Practitioners. However, to even be able to sit for the NP certification exam, you must meet a number of eligibility requirements. For example, the certification eligibility criteria for the Family Nurse Practitioner-Board Certified includes holding an active RN license that was administered in the United States and having obtained a master's, post-master's, or doctoral degree from a program accredited by the Commission on Collegiate Nursing Education or the National League for Nursing Accrediting Commission.
Nurse-midwives can find more information about certification through the American College of Nurse-Midwives. The National Association of Clinical Nurse Specialists and the American Association of Nurse Anesthetists may also have relevant information, depending on your particular nurse practitioner specialization.
Nurse Practitioner Specializations
The online NP master's degree is a specialized degree program. Prospective NPs should decide which area of advanced practice care they would like to work in. Potential clinical areas include acute care, adult care, family care, geriatric care, pediatric nursing, and psychiatric/mental health nursing.
Family Nurse Practitioner (FNP)
Family nurse practitioners (FNP) provide collaborative healthcare for patients of all ages, from infants to adults. They work in many different settings, including hospitals, outpatient clinics, private practice, and urgent care clinics. Responsibilities for FNPs include interviewing and counseling patients, reviewing patient medical histories, performing physical examinations and screenings, promoting self-care and disease prevention, and designing treatment plans. Family nurse practitioners provide comprehensive care to individuals while also taking into account the family system as a whole.
Students interested in pursuing a career as a family nurse practitioner will need to begin by earning a bachelor's degree in nursing from an accredited institution. They will then need to work full-time for at least one year as a licensed registered nurse before applying to a Master of Science in Nursing or Doctor of Nurse Practice degree program. Some schools offer MSN programs with a family nurse practitioner concentration, while others offer a separate FNP certificate program for master's and doctoral graduates. After completing a graduate degree program and at least 500 hours of supervised practicum experience, graduates can then take an FNP certification exam through the American Academy of Nurse Practitioners or the American Nurses Credentialing Center.
Adult Nurse Practitioner (ANP)
Adult nurse practitioners (ANP) are registered nurses (RNs) who have completed advanced training at the graduate level. They specialize in working with patients in all stages of adulthood, from young adults to seniors. Some ANPs work independently, while others are employed by hospitals, clinics, or public health units and work as part of a larger healthcare team to provide primary or acute care services to patients.
People who would be most successful in this career field are those who have a strong interest in individual and public health. Adult patients are not only individuals, they are also a part of families and communities, and nurse practitioners need to understand how their healthcare needs factor into these relationships as well.
To become an ANP, nurses must complete an accredited master's, doctorate, or post-master's certificate program and a clinical practicum with approximately 500-600 hours. Candidates who apply for an ANP program must have an accredited bachelor's degree and a current RN license, as well as relevant nursing experience. Some colleges will only admit prospective students who have achieved a minimum GPA in their undergraduate program. GRE scores may need to be submitted for consideration with the other application materials.
ANPs must have strong oral and written communication skills in order to effectively share information with patients, co-workers, doctors, and other healthcare professionals. Much of an ANP's time will be spent interviewing patients, recording patients' medical histories, and conducting or ordering medical tests. The ANP will also be responsible for reviewing and interpreting test results and sharing them with patients in ways they can easily understand. The practitioner must have excellent listening skills and be able to create an atmosphere where patients can share their health concerns openly and directly.
The American Academy of Nurse Practitioners and the American Nurses Credentialing Center offer certification exams for adult nurse practitioners. Certification exams test candidates' competency in many areas, such as clinical decision making, cultural competence, evidence-based practice, health promotion and disease prevention, interviewing concepts, and pharmacological therapies. ANPs can apply for a Certified Registered Nurse Practitioner license through their state's licensing board.
Frequently Asked Questions About Nurse Practitioner Degrees
How is a nurse practitioner different from a clinical nurse specialist?
Both the nurse practitioner role and the clinical nurse specialist role require master's degrees because they involve advanced healthcare activities. In fact, there is a fair degree of overlap between the two in terms of education, training, and practices. Both are required to be licensed to treat patients, conduct physical exams, and coordinate patient care. The main difference between the two roles is the focus. Nurse practitioners are more likely to provide direct patient care, while clinical nurse specialists are more likely to be employed in administrative, research, program development, and teaching positions.
What's the difference between a nurse practitioner and a physician's assistant?
In some ways, the roles of nurse practitioner and physician's assistant are similar. Professionals in these roles must hold master's degrees and be licensed to practice, and they earn comparable salaries. The Bureau of Labor Statistics also projects a dramatic increase in demand for professionals with either of these credentials. In practice, however, the roles are quite different. Nurse practitioners come from the nursing tradition, so they focus on long-term care and wellness. Physician's assistants come from the medical model and are focused on diagnosing and treating ailments and injuries.
How much can I expect to earn as a nurse practitioner?
The median annual income for a nurse practitioner was $109,820 as of May 2019, per the Bureau of Labor Statistics. The growth rate for nurse practitioners and other advanced nursing positions is projected to be 26% through 2028, which is much higher than the average for other employment opportunities.
How can I fulfill the clinical practice requirement for a nurse practitioner program if I'm going to school online?
Some nurse practitioner degree programs require students to complete a minimum number of hours of real-world experience as part of the curriculum. When students are completing their degrees online, they may have to work with their advisor or another faculty member to make arrangements to complete this requirement at a recognized healthcare facility that is convenient to the student. Students will need to work under the supervision of licensed professionals at the chosen facilities. The purpose of clinical hours is to give students valuable experience in treating patients.
This website offers school details to prospective students as an informational resource. The appearance of a school listing on this website should not be interpreted as an endorsement of the school by this site.