2023 Best Online Nurse Practitioner Degree Programs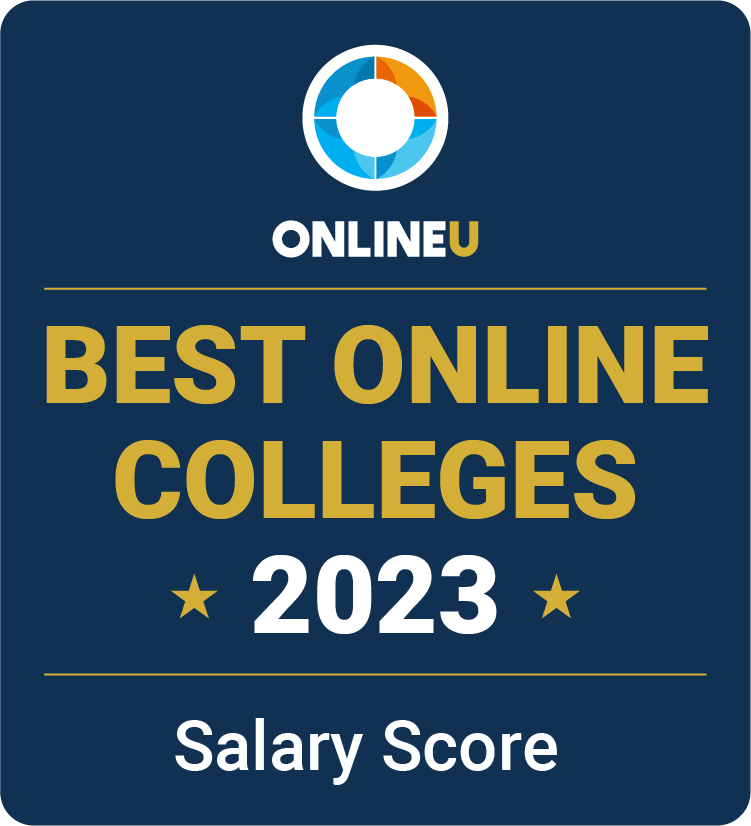 An online master's degree in nursing that focuses on nurse practitioners teaches students how to effectively diagnose, assess, and treat patients in a clinical setting. Students study pathophysiology, pharmacology, research methods as well as healthcare policies, ethical practices, and management techniques. Medical teams and patients alike value nurse practitioners for their mastery of skills and compassion.
Becoming a nurse practitioner requires a Master of Science in Nursing, which you can obtain online. This graduate degree prepares students for advanced practice roles or continuing on to the doctoral level. There are also a variety of nursing degrees to explore that may help students find their place in the broader healthcare industry.
View our methodology for more details about our list or learn more about OnlineU.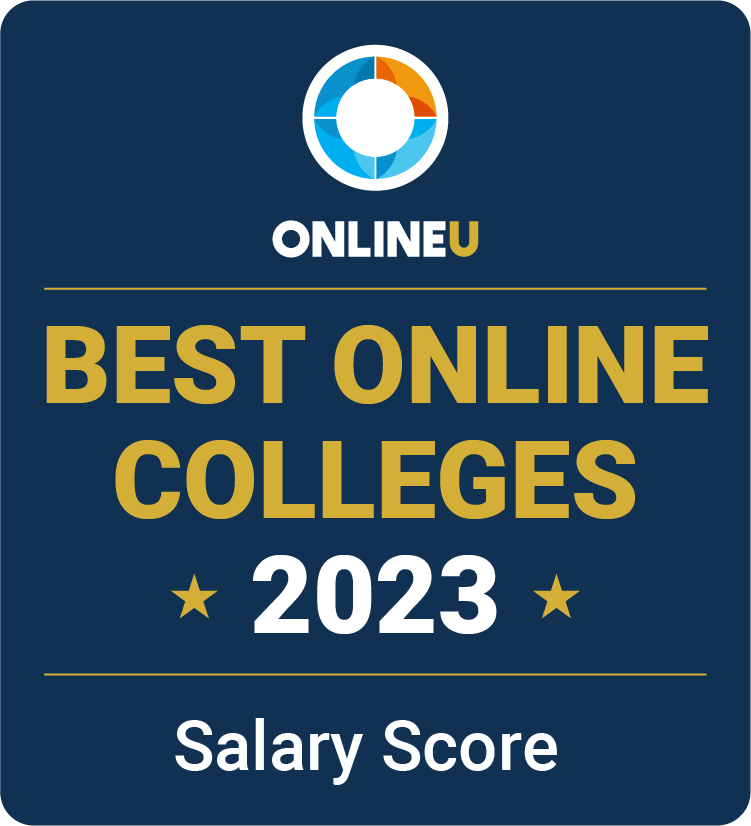 ADVERTISEMENT
Online Nurse Practitioner (NP) Master's Degrees You May Be Interested In

Annual Tuition: $16,952
1 Programs (view all)


Western Governors University
---
2023 Best Online Nurse Practitioner Degree Programs
| Rank | School | Salary Score | Median Starting Salary |
| --- | --- | --- | --- |
| # 1 | University of Southern California | | $167,228 |
| # 2 | AdventHealth University | 100 | $187,060 |
| # 3 | Midwestern State University | 89 | $125,822 |
| # 4 | Pace University | 81 | $118,294 |
| # 5 | Fairleigh Dickinson University | 80 | $117,472 |
| # 6 | United States University | 79 | $116,603 |
| # 7 | University of Nevada at Las Vegas | 79 | $116,502 |
| # 8 | Bloomsburg University of Pennsylvania | 78 | $115,619 |
| # 9 | Northeastern University Global Network | 75 | $113,631 |
| # 10 | West Coast University | 70 | $110,302 |
2023 Online Colleges Offering Master's Degrees
Ranking Details
#1
University of Southern California
Salary Score:
Median Starting Salary:
Locations:
Accreditation:
The University of Southern California (USC) is a private university with an online Master of Science in Nursing - Family Nurse Practitioner. This degree requires 49 credit hours, which full-time students can complete in 21 months.
USC students use Blackboard as their primary learning management system (LMS), where they can complete courses online. Coursework may come in both synchronous and asynchronous formats. The curriculum for this program takes an evidence-based approach to develop a student's professional skills in nursing. Among the required classes are Quantitative and Qualitative Data Analysis and Research Methods, Community-Based Research, and Health Care Technology and Innovation. Students are also required to complete a clinical placement and two on-campus intensives. Career opportunities to become nurse practitioners may be available after graduation.
#2
AdventHealth University
Salary Score:
Median Starting Salary:
Locations:
Accreditation:
AdventHealth University (AHU) is a private university that hosts a Master of Science in Nursing - Family Nurse Practitioner. In order to receive this online degree, students must complete between 31 and 57 credit hours, which is typically done within two years.
Online students at AHU use Canvas, a popular LMS, to complete their coursework. Classes are delivered online in an asynchronous format, allowing students to complete their work on a flexible schedule. The curriculum teaches students to utilize evidence and research in their practice effectively. It also provides the foundational strategies and ethics that make up the professional healthcare industry. There are a number of required courses, such as Strategic Leadership in Nursing, Role Fidelity and the Exercise of Power, and Theoretical Foundations of Nursing Practice. An on-site practicum is also required. Graduates may find employment as clinical nurse managers or nurse practitioners.
#3
Midwestern State University
Salary Score:
Median Starting Salary:
Locations:
Accreditation:
Midwestern State University (MSU) is a public institution with an online Master of Science in Nursing - Family Nurse Practitioner requiring 48 credit hours. The average completion time for this degree is around two years for full-time students. MSU also offers a Master of Science in Nursing - Psychiatric Mental Health Nurse Practitioner. The curriculum for either online program meets the requirements set by the Board of Nurse Examiners for the State of Texas, allowing graduates to pursue certification.
At MSU, students use Brightspace as their LMS, where courses are delivered 100% online/ While some instructors allow for a flexible timeline, some courses are delivered synchronously on a set schedule. Here are three examples of required courses: Pathological Processes for Advanced Nursing Practice, Theoretical Foundations in Nursing, and Health Assessment for Advanced Nursing Practice. Students must also complete an advanced practicum in a family practice clinical site. Graduates for either degree may pursue a career as a nurse practitioner.
#4
Pace University
Salary Score:
Median Starting Salary:
Locations:
Accreditation:
Pace University is a private university that offers an online Master of Science in Psychiatric Mental Health Nurse Practitioner. This degree requires 42 credit hours, which is generally completed in two years while studying full time.
Brightspace is the main LMS used by Pace students to obtain their degree, which can be completed mostly online. Students are required to visit campus at least once per semester. This degree explores various mental diseases and disorders and how to prevent, assess, and treat them — specifically as they relate to vulnerable populations. The curriculum includes classes, such as Psychopharmacology in Advanced Practice Psychiatric Nursing, Diagnoses and Therapeutic Management in Advanced Practice Psychiatric/Mental Health Nursing, and Pathophysiology For Advanced Practice Nursing. Additional credits are required for a practicum in a clinical setting. Jobs for graduates may be available in private practices, substance abuse centers, and trauma centers.
#5
Fairleigh Dickinson University
Salary Score:
Median Starting Salary:
Locations:
Accreditation:
Fairleigh Dickinson University (FDU) is a private university offering a Master of Science in Nursing - Family Nurse Practitioner that requires 37 credit hours. If studying at a full-time pace, students can complete this online degree program in two-and-a-half years. However, the expected completion time for working students is between three and five years.
At FDU, students use the Blackboard LMS to access their online courses. Students do not have set hours to attend their classes. As a whole, the curriculum for this program teaches students how to apply effective and accurate treatment methods using information based on their own research. Required courses include Intro to Advanced Nursing Philosophies, Theories, Roles, and Issues; Translating Research into Evidence-Based Practice; and Advanced Pathophysiology. Upon graduation, students are prepared to take their nursing certification exams. Graduates may pursue career opportunities as nurse practitioners and in nursing leadership roles.
---
Online Nurse Practitioner Degree Overview
The Master of Science in Nursing for nurse practitioners is for registered nurses and focuses on advanced nursing theory and principles in the design and delivery of primary care. MSN students choose a specialization, such as family health, gerontology, women's health, or neonatal care. The curriculum is intended to prepare students for the national certification exam and also establishes a foundation for pursuing doctoral studies as a DNP, or Doctor of Nursing Practice. Program completion generally requires 42-48 credits and approximately 600 practicum hours to gain clinical experience. Full-time students may complete the program in two years, while part-time students may need four.
While on-campus NP programs emphasize collaborative group work and class discussion, as an online student, you'll work autonomously. There is also an expectation that you maintain your nursing job while enrolled to practice and implement new skills and eventually complete your practicum.
Admission Requirements
An NP degree program applicant must be a registered nurse with an active license and a Bachelor of Science in Nursing (BSN). If your bachelor's degree is in another field, you'll have to enroll in an RN to MSN bridge program. Most programs also require approximately one year of nursing work experience and proof of employment, in addition to letters of recommendation from employers.
Other admission requirements are similar across programs:
A minimum 3.0 GPA.
Prerequisites that may include microbiology, physiology, anatomy, psychology, chemistry, and statistics.
GRE test scores.
College transcripts.
A current resume.
An application fee of approximately $50.
The admissions office may require an interview that an advisor will schedule once they review all the applications.
Types of Nurse Practitioner Programs
You can choose from one of several NP programs based on your prior education, RN status, and career goals. Requirements vary as well as program completion time. Some programs may take two years full-time to complete, while accelerated programs may take RNs as little as a year and a half.
| Degree Type | Typical Prerequisites | Average Years to Complete | Details |
| --- | --- | --- | --- |
| ADN to MSN | Associate Degree in Nursing | 2 Years | This program may be ideal for licensed RNs who have their Associate Degree in Nursing and want to earn their master's without taking extra time to complete a BSN program in between. |
| RN to MSN | Bachelor's degree in a non-nursing field | 2-3 Years | This program bridges a bachelor's program to a master's program for RNs who already have a bachelor's degree in another field. Students interested in becoming nurse practitioners can complete master's core courses in lieu of BSN electives. |
| BSN to MSN | Bachelor's of Science in Nursing | 2 Years | This program is for RNs who want to complete their MSN to become nurse practitioners. |
| NP Certificate | Licensed Advanced Practice Registered Nurse (APRNs) with a master's degree | 12-16 Months | A nurse practitioner certificate is a post-graduate certificate in a specialty area, such as pediatrics, neonatal, or gerontology. |
| DNP | MSN | 2 Years | A Doctor of Nursing Practice is the highest clinical degree for nursing and will give students all the same tools and knowledge as an MSN, but with more in-depth analysis and practice. DNP programs usually require a residency period, where students work under the guidance of a licensed NP. |
Accelerated NP Programs
There are two distinct types of accelerated nurse practitioner programs: those for current RNs and those for non-nurses. You'll need at least a master's degree in advanced nursing skills to become a certified NP.
Accelerated NP programs for current BSNs
Time to Completion: Approximately a year and a half
These programs often utilize online courses for the instructional portion of the degree but include an element of clinical classes to be completed in the student's local area. Like NP programs for non-nurses, these accelerated degrees are available in a variety of advanced practice areas.
Accelerated NP programs for non-nurses
Time to Completion: Around 3 years
Open to individuals with an accredited bachelor's degree. The first step is to complete bachelor's degree-level bridge coursework, which can take one year. After completing this successfully, the next step is to take the National Council Licensure Examination for Registered Nurses (NCLEX-RN) to earn a general nursing license. After passing this test, students may begin their two years of master's-level nurse practitioner coursework.
What to Consider When Choosing an Online Nurse Practitioner Program
Career goals, specialization, and relevant experience will dictate which online NP programs may suit you best. Once you identify schools you're interested in, you can narrow your choices by considering several factors.
| | |
| --- | --- |
| Cost | You'll most likely incur some student debt, so you'll want to choose an affordable program that meets your needs and fits within your budget. Public colleges often cost less than private, and many online programs cost less than those on campus. Accelerated programs can save both money and time. |
| Location | If you need to complete campus intensives or other on-campus work, you may want to only consider local programs. |
| Curriculum | Make sure to look through the course catalog to ensure courses meet your expectations, and that the school offers your specialty. |
| Clinical experience opportunities | Online programs may require you to complete a minimum number of hours of real-world experience, where you'll treat patients under the supervision of licensed professionals at a recognized healthcare facility. |
| American Association of Nurse Practitioners exam pass rates | If you're interested in a program such as an online family nurse practitioner (FNP) program, ask school advisors for their NP certification exam pass rates to ensure the number of graduates passing is satisfactory. |
The Importance of an Accredited Online Nurse Practitioner Program
Most professional nursing certification exams are only open to those who have completed accredited degree programs. Programmatic accrediting bodies ensure programs in their field offer high-quality curriculum that meets employer needs. Graduates should be proficient in the skills currently in-demand in order to pass certification exams and remain competitive in the job market.
You should choose an online nursing degree program specifically accredited by an agency such as the Accreditation Commission for Education in Nursing Inc., the Commission on Collegiate Nursing Education, or the Commission for Education in Nursing. You can visit Ed.gov to check accreditation status.
Common Courses in an NP Program
An online master's degree in nursing with a nurse practitioner concentration includes a combination of foundational, clinical, and specialty courses. Foundational courses cover nursing theory, diversity, ethics, health policy, research, and advanced practice nursing roles. Clinical studies equip you with skills in advanced nursing interventions, anatomy and physiology, assessment, pathophysiology, and pharmacology. You may also choose specialty courses suited to your career interests and, finally, you'll complete a practicum to gain clinical experience.
Below are some classes that remain similar across all nurse practitioner programs to ensure the same learning outcomes.
Advanced Health Assessment
Through interactive coursework and the use of online simulation, students apply their knowledge to complete comprehensive physical assessments across the lifespan. Students also explore the use of diagnostic reasoning, differential diagnosis, and problem-solving skills to conduct physical assessments of patients.
Instruction focuses on advanced pharmacokinetics, pharmacodynamics, pharmacotherapeutic principles, and the skills necessary to prescribe medications safely. Students also investigate herbal remedy efficacy and potential drug interactions.
Clinical Prevention for Diverse Populations
Students examine the determinants of health, epidemiology, population health, and clinical prevention. Topics include how cultural competency plays a role in delivering equitable health prevention and intervention to diverse populations.
Information Technology and Data Management
Through the study of healthcare informatics and technology, students observe how each enhances collaboration and communication among healthcare teams. Students apply these skills to advanced practice roles to improve population health.
Innovative Models of Health Delivery
Coursework prepares students to become healthcare leaders through the study and design of innovative care delivery models. Students gain experience applying continuous quality management principles and business process improvement strategies to practice management while balancing productivity with quality of care.
It's important to note that programs may require some amount of on-campus intensive learning, though it's not extensive. For example, online FNP programs may require you to attend a five-day intensive at the beginning of a course and then to complete an assessment exam in person at the end.
Nurse Practitioner Specializations and Careers
NP specializations through online programs can lead to gratifying careers. NPs work in various healthcare environments, including hospitals, clinics, private practices, trauma centers, intensive care units, and emergency rooms. The demand for these roles is high with a median salary of $117,670, which is well above the national average for all jobs of $41,950.
Adult-Gerontology Acute Care Nurse Practitioners (AGACNPs)
AGACNPs work to improve the health outcomes of adults and seniors with complex chronic and acute illnesses. Those who work in acute care units may have to work non-traditional hours that extend into evenings and weekends.
Adult Nurse Practitioners (ANPs)
ANPs provide primary or acute care to adults throughout their lifespan. ANPs interview patients, record medical histories, and conduct and interpret medical tests for patients.
Family Nurse Practitioner (FNPs)
FNPs provide comprehensive and collaborative healthcare to families. FNPs interview and counsel patients, review patient medical histories, perform physical examinations, administer preventative care, and design treatment plans.
Neonatal Nurse Practitioners (NNPs)
NNPs provide care for at-risk infants born prematurely or with serious health conditions, such as low birth weight, infections, or cardiovascular abnormalities. NNPs often provide care through age 2 while continuing to educate and support parents.
Psychiatric and Mental Health Nurse Practitioners (PMHNPs)
PMHNPs assess, diagnose, and treat mental health conditions. They often work after-hours or on-call to administer physical and psychosocial assessments and provide emergency psychiatric care at a facility.
Women's Health Nurse Practitioner (WHNP)
WHNPs treat the sexual well-being and gynecological needs of women of all ages. They often provide preventative care exams, such as breast cancer and Pap smear exams. They administer pregnancy tests, provide contraceptive care, and provide menstrual and menopausal care.
Certification and Licensing Requirements for Nurse Practitioners
Certification is required for NPs to work with patients and to obtain a license. While eligibility requirements may vary, you'll generally need an active RN license and a minimum of 500 supervised clinical hours in your specialty to take a certification exam to demonstrate your competency. Once certified and licensed, NPs work in various settings, including clinics, emergency rooms, intensive care units, and physicians' offices.
There are five different NP certification boards in the U.S., each offering certifications for various specialties listed below:
Adult-Gerontology Acute Care
Adult-Gerontology Primary Care
Family
Pediatric Primary Care
Psychiatric-Mental Health
Pediatric Primary Care
Pediatric Acute Care
Neonatal
Women's Health-Gender Related
Family
Adult-Gerontology Primary Care
Adult-Gerontology Acute Care
Once you've passed your certification exam, you'll be eligible for licensing through your state's nursing board. Requirements differ depending on the state, but in general, you'll need the following to obtain your license:
Photo identification.
Proof of completion for education requirements.
Proof of NP certification.
A background check and fingerprints.
An application fee.
Is an Online Nurse Practitioner Degree Worth It?
You can determine whether an online nurse practitioner degree is worth it based on your interests, desired lifestyle, professional goals, and financial situation. Your preferred learning style will also influence your decision whether to complete an online or on-campus program. As with any big life decision, there are advantages and disadvantages to consider.
Potential Benefits
Earning an online degree is convenient for rural nurses who may work far from universities, shift nurses whose schedules rotate, and anyone juggling multiple responsibilities.
The work can be rewarding. Healthcare workers are often passionate about the work they do to improve the well-being of others and consider nursing their vocation — something they feel called to do.
There are many opportunities for job growth as a nurse practitioner, not only with annual salaries potentially exceeding $100,000 but also with the possibility to work anywhere — from a healthcare clinic or intensive care unit to a delivery room or private practice.
An online nurse practitioner degree may be more affordable than on-campus programs because schools often waive campus fees, charge tuition a flat rate, and offer free and affordable digital materials and resources.
Potential Drawbacks
Practicum opportunities may be limited for you as an online student if you don't live close to campus and don't live near healthcare facilities. It may be difficult for you to find opportunities locally, especially if you live in a rural area.
The work can be stressful, especially for NPs who work in emergency rooms, trauma centers, and neonatal clinics, which can be physically and emotionally exhausting.
Work hours and shifts may be irregular and stressful for you and your family. You may be an on-call NP, work rotating shifts, or you may be scheduled for evenings, weekends, or holidays. Your hours are often longer than the average workday, which can negatively impact your free time.
Why Trust Us?
60,000 Degrees Researched Annually
20,000 Hours Spent on Research Annually
Launching Rankings Since 2009
Meet our team
Related Articles
2023 Best Online Bachelor's in Nursing Degrees
Browse our rankings of the best online BSN degrees, determined by alumni salary data.
2023 Best Online Health Care Management Degrees
Pursue the best online bachelor's degree in healthcare management from our 2023 list ranked by salary score.