Online Master's in Social Work (MSW) Programs
Online MSW programs are an increasingly popular option for aspiring social workers as well as current social workers who wish to pursue an advanced degree. One of the most common reasons for pursuing an online master's degree in social work is flexibility. Online MSW programs often offer class schedules that are more convenient for those who work full-time or part-time. After earning an MSW, you can go on to become a Licensed Master of Social Work (LMSW) by passing your state's board exam or a Licensed Clinical Social Worker (LCSW) after passing the exam and meeting the requirement for supervised clinical hours.
In order to earn licensure and to ensure that your degree meets national standards for social work education, you should make sure that your MSW program is accredited by the CSWE. Keep reading to learn more about social work licensure requirements in your state and to see the best online MSW programs of 2020 based on tuition and alumni salaries provided by PayScale.
2020 Best Online MSW Programs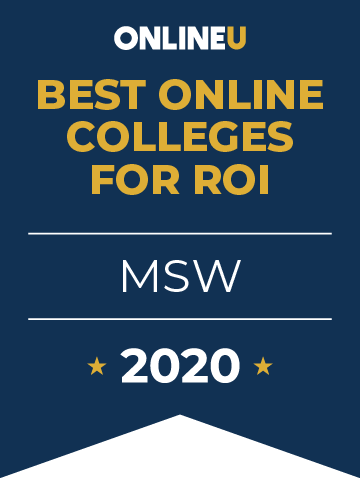 The following 24 schools offer the best online MSW programs based on their low tuition rates and high mid-career salary potentials. California State University-San Bernardino is ranked #1, offering a Master of Social Work for $12,000 per year. Graduates of the school reported a median salary of $74,900. Rutgers University ranks #2, with a median salary of $72,100 and one of the lowest annual tuition rates, at $9,600.
Alumni salaries were provided by PayScale. View our methodology for more details or learn more about OnlineU.
| Rank | School | Annual Tuition | Mid-Career Salary |
| --- | --- | --- | --- |
| # 1 | California State University-San Bernardino | $12,000 | $74,900 |
| # 2 | Rutgers University | $9,600 | $72,100 |
| # 3 | Edinboro University of Pennsylvania | $17,040 | $70,300 |
| # 4 | Aurora University | $12,000 | $67,400 |
| # 5 | New Mexico State University | $11,985 | $66,200 |
| # 6 | University of Nevada - Reno | $18,200 | $68,400 |
| # 7 | Loyola University Chicago | $10,500 | $64,900 |
| # 8 | Our Lady of the Lake University | $16,326 | $66,400 |
| # 9 | University at Buffalo | $13,080 | $63,800 |
| # 10 | University of Arkansas at Little Rock | $11,490 | $63,000 |
| # 11 | Temple University | $14,625 | $63,200 |
| # 12 | University of Southern California | $36,632 | $72,000 |
| # 13 | University of North Dakota | $9,616 | $60,800 |
| # 14 | Texas State University | $13,672 | $62,200 |
| # 15 | Arizona State University | $15,960 | $63,000 |
| # 16 | Fordham University | $31,317 | $69,000 |
| # 17 | Columbia University in the City of New York | $48,780 | $74,900 |
| # 18 | Rutgers University-Camden | $29,232 | $66,900 |
| # 19 | University of Missouri | $7,720 | $58,200 |
| # 20 | Portland State University | $22,830 | $64,100 |
| # 21 | University of Houston | $30,096 | $67,000 |
| # 22 | University of Central Florida | $15,110 | $61,000 |
| # 23 | The University of Tennessee - Knoxville | $14,630 | $60,600 |
| # 24 | Boise State University | $16,830 | $61,400 |
Salary data provided by

2020 Online Colleges Offering MSW Programs - Ranking Details
CSWE-Accredited Online MSW Programs by State
MSW Degree Tracks and Specializations
Some online Master of Social Work programs have several specialization tracks. The specialization options allow students the opportunity to focus on coursework that directly relates to their future career path of choice. For example, Walden University offers concentration tracks in advanced clinical practice, military social work, and social work with children and families. Sacred Heart University has clinical and community specializations. Boston University offers clinical and macro tracks. Students can usually complete their degrees in about two years of full-time enrollment.
Advanced Standing MSW Programs
| School | Annual Tuition |
| --- | --- |
| Adelphi University | $43,420 |
| Boise State University | $26,566 |
| Boston University | $55,502 |
| Brescia University | $800 |
| Campbellsville University | $12,690 |
| Columbia University in the City of New York | $49,968 |
| Dominican University | $20,884 |
| Fairleigh Dickinson University | $23,110 |
| Florida State University | $26,707 |
| Indiana Wesleyan University Online | $13,156 |
| Liberty University | $8,475 |
| Metropolitan State University of Denver | $14,326 |
| Northcentral University | $18,095 |
| Northern Arizona University | $20,296 |
| Ohio State University-Main Campus | $36,009 |
| Ohio University - Main Campus | $17,712 |
| Our Lady of the Lake University | $17,166 |
| Portland State University | $19,347 |
| Regis College | $38,850 |
| Rutgers University | $32,391 |
| Saint Leo University Online | $7,296 |
| Saint Mary's University of Minnesota | $9,180 |
| University at Buffalo | $25,920 |
| University of Arkansas | $22,121 |
| University of Central Florida | $28,657 |
| University of Denver | $51,639 |
| University of Kentucky | $32,564 |
| University of Louisville | $27,310 |
| University of Maine | $27,635 |
| University of Memphis | $14,202 |
| University of Missouri | $26,577 |
| University of Nevada - Reno | $20,982 |
| University of North Alabama | $13,860 |
| University of Oklahoma-Norman Campus | $23,236 |
| University of South Dakota | $12,637 |
| University of South Florida Online | $21,126 |
| University of Southern California | $47,107 |
| The University of Tennessee - Knoxville | $31,798 |
| West Virginia University | $26,154 |
| Western Kentucky University | $18,340 |
| Widener University | $24,130 |
| Winthrop University | $30,006 |
An advanced standing MSW program allows students with undergraduate education in social work to earn their graduate degrees at an accelerated rate. Schools that offer online MSW degrees include Sacred Heart University, the University of Southern California and Boston University.
To be accepted to an advanced standing program, students need BSW from a CSWE-accredited school. Some schools have a minimum GPA requirement and other admissions criteria. For example, the MSW programs at Sacred Heart and BU programs require students to have a 3.0 GPA. Undergraduate degrees must come from schools accredited by the CSWE. Additionally, Sacred Heart and BU accept undergraduate degrees less than six years old, whereas USC accepts degrees less than five years old.
Clinical MSW Programs
A clinical track MSW prepares students for careers as licensed clinical social workers (LCSW). All states require LCSWs to have master's degrees in social work. Clinical programs focus on skills that prepare students to treat patients with behavioral or mental disorders in health care and human services environments. For example, students in the clinical social work curriculum at Boston University learn assessment, diagnosis, and treatment skills and apply them in clinical practicums. LCSWs are usually required to work under supervision in a clinical setting for two years after they graduate from their degree program before they get their state license.
How do clinical track and non-clinical track programs differ?
Non-clinical social workers pursue careers in health care practices, public health agencies, and other non-profit organizations. Unlike LSCWs they do not diagnose and treat patients. Non-clinical MSW degree curricula focus on topics such as social welfare policy and human behavior. Students also do fieldwork practicums but do not perform diagnosis and treatment.
Clinical social work programs are ideal for students who know that they want a career in clinical practice. Non-clinical social work degree tracks allow graduate students to specialize in important areas outside of clinical practice such as social welfare and policy. The main disadvantage is that non-clinical graduates who desire to shift their careers to clinical practice will not be able to do so without additional education.
How to Choose an Online MSW Program
Aspiring social workers should carefully review both online MSW programs and on-campus MSW programs to ensure their needs are fully met. The first step in narrowing down an MSW program is making sure it is accredited by the Council on Social Work Education (CSWE). States typically require this qualification as part of their licensing process.
Next, prospective students should consider whether they should earn their degree online or in a traditional classroom setting. Those who plan to work or don't live near an accredited MSW program may prefer the online route. Tuition is also an important factor for students searching for the right program, as are living and commuting expenses.
Once a student's list is narrowed by accreditation, cost, and logistics, MSW programs can be evaluated in a few different ways. Future social workers who are passionate about a certain field or demographic should make sure the program offers the appropriate specialization. Field placements for internships during the program are also important since future employers consider work experience during the hiring process. Students should also research job placement records and average starting salaries for program graduates. These statistics give a very clear indication of the school's reputation among the area's relevant employers.
The MSW Curriculum
Online MSW students can expect to begin with foundational courses to learn the theory that supports practicum experiences required by their degree program and their future professional careers. After completing foundational courses, students move into advanced practicum and research projects.
For example, Walden University students take courses such as Introduction to Social Work, Essential Skills for Social Work Practice, and Social Policy and Psychopathology for Social Work Practice. At Sacred Heart University, online MSW students take foundational courses such as Social Welfare as a Social Institution, Human Behavior and the Social Environment, and Human Diversity and Social Justice.
Students' curriculums also vary depending on their specialization tracks. For example, in the clinical social work curriculum at Boston University, students learn assessment, diagnosis and treatment skills supported by coursework in human behavior theory and evidence-based practice. They also apply theoretical coursework in three clinical practicums. The macro track in the Boston University online MSW covers multiple specialty areas and allows non-clinical students to prepare for a range of careers in social work.
Fieldwork and Capstone Requirements
MSW students also complete three to four fieldwork practicums during their degree program. Online MSW students in the Boston University clinical track complete individual, family and group clinical practicums. Students usually write a capstone paper based on their fieldwork experiences to complete their degree requirements.
Online MSW Program Admission Requirements
To gain admission to an online MSW program, applicants need a bachelor's degree in any field. Some degree programs also have a minimum GPA requirement. For example, Sacred Heart and Boston University both require a 3.0 GPA. Some programs, such as the MSW at Sacred Heart University, offer advanced standing to students who have an undergraduate degree in social work. Students with an undergraduate degree in social work may be able to complete their MSW at an accelerated rate. For example, accelerated students in the Sacred Heart MSW program can complete their degree in one year.
What Can a Social Worker with an MSW Do?
Graduates who earn a Master of Social Work can choose from a large pool of jobs serving diverse populations. MSW graduates passionate about working with children and youth can fill roles in schools as school social workers or guidance counselors, in a variety of child welfare roles like caseworker or advocate, or in nonprofit organizations that serve children and youth.
Master of social work graduates who wish to work with adults also have an array of job opportunities. Some options include working as a substance abuse counselor either one-on-one or in a group setting, as a clinical mental health therapist, in eldercare facilities, as a community organizer, or as a social services provider either in community based organizations or in governmental organizations.
To prepare for these different types of MSW jobs, students are typically able to choose a specialization track as part of their curriculum and must declare this specialty before graduating. Each school differs in the social work tracks they offer, so students should use this as part of their criteria for choosing the best MSW program.
Where Can a Social Worker with an MSW Work?
The types of work settings where social workers can find employment are as varied as the types of jobs they can find. Those pursuing a medical-focused career are likely to work in clinics, hospitals, private practices, or eldercare facilities. Substance abuse counselors with a Master of Social Work can find relevant jobs at substance find relevant jobs at treatment facilities or behavioral health agencies.
MSW graduates with a specialization in children and youth can work in non-profit organizations, schools, and government agencies such as child welfare. Social workers with a passion for serving military personnel can find civilian employment on military bases, enlist as a social worker, or work at the VA. MSW graduates who study community practice or policy and administration may find work in nonprofit organizations, community-based offices, foundations, and even government agencies and legislatures.
How Much Does a Social Worker With an MSW make?
The average MSW salary in the U.S. is $51,760 a year; however, multiple factors can impact an MSW social worker's salary. For instance, social workers with more years of experience will qualify for higher salaries than those who recently graduated from their MSW program.
Another factor affecting MSW salary is the location or work environment. For example, those employed in the private sector could very well earn more than those working in a public agency. Social workers with a career in a medical or clinical setting are also likely to earn more.
Continuing Education
Most states require continuing education in social work in order for licensed social workers to maintain their active licenses. However, each state sets its own guidelines for how many hours are required and over what period of time. Different types of licensure are also likely to require different types of continuing education. A master of social work graduate practicing in a clinical setting, for example, may need to complete more credits than an MSW with no clinical license.
Continuing education is also available in the form of a more advanced degree. The doctor of social work (DSW) is a practice-focused degree, while a Ph.D. is more research-focused. These degrees can be pursued by social workers who wish to follow the most advanced career path in the field of social work.
Licensure and Accreditation
In order to become a licensed social workers, prospective social workers should narrow down their MSW programs to colleges and universities that are accredited by the Council on Social Work Education (CSWE). This national organization evaluates programs to ensure quality education in more than 750 accredited social work programs across the country. The CSWE is the only social work accrediting agency in the U.S., so it's important for students to confirm this accreditation before enrolling in an MSW program. Most states, if not all, require licensed social workers to graduate from a social work program that is accredited by the CSWE. Neglecting this crucial step could lead to graduates being unable to receive a state social work license.
Career Paths
MSW graduates can pursue careers as clinical or non-clinical social workers.
Licensed Clinical Social Workers pursue career paths in various settings that include human service agencies, mental health clinics, schools, hospitals and schools. Licensed clinical social workers must usually complete two years of supervised practice after they graduate from an MSW program and meet the requirements of the state where they plan to practice.
Non-clinical social workers typically pursue careers in community organizations, hospitals and healthcare practices, public health agencies, and other non-profit organizations. Most states also have licensure or certification requirements for non-clinical social workers.
Common social work careers include:
Clinical Social Worker: A clinical social worker is a broad term referring to someone who offers counseling services to those in need. They assist their clients by offering group counseling and one-on-one therapy sessions that teach basic life skills, encourage the development of support systems, and promote community involvement. Some of the most common issues addressed by clinical social workers are poverty, medical problems, mental health, addiction, and learning disabilities. In addition to providing counseling services, they will act as advocates for their clients and connect them with resources and services that can offer further assistance. Pursuing a career as a clinical social worker requires a Master of Social Work degree as well as an advanced license that adheres to state requirements.
Child Welfare Social Worker: Child welfare social workers focus on the well-being of children and work to improve outcomes for at-risk children in vulnerable situations. A child welfare social worker typically works in a school, state agency, family service agency, or the federal government. Their clients are often children who are at risk of neglect or abuse and have a disability or behavioral issues. For this reason, a child welfare social worker should be patient and compassionate as well as highly observant. For most roles in this field, only a bachelor's degree and an initial license are necessary, but many child welfare social workers choose to earn a graduate degree to advance their careers.
School Social Worker: Working within a school setting, school social workers assist teachers, parents, and students in addressing any issues that are interfering with a child's schoolwork. They work with the general student population, as well as students with special needs, to resolve social, emotional, and behavioral issues. There's a wide variety of responsibilities for school social workers that largely depend on the level of the position, but some duties include evaluating students for substance abuse and suicidal thoughts, offering family or group therapy sessions, making home visits, and providing referrals to relevant resources. Since there are so many different levels to this position, the education needed to pursue a career as a school social worker ranges from a bachelor's to a doctorate. Additionally, many states also require a school social work license with state-specific requirements.
Medical/Healthcare Social Worker: A medical or healthcare social worker works in a medical setting such as a hospital, hospice, outpatient clinic, or long-term care facility assisting patients with health related issues. They assess a patient's emotional, environmental, and social needs, and work with members of a healthcare team to come up with a continuing care plan for after the patient is discharged. A medical or healthcare social worker is also responsible for arranging in-home medical assistance or equipment needs for patients, as well as helping them obtain financial assistance and health insurance coverage if needed. Additionally, a medical or healthcare social worker is responsible for providing patients with individual counseling and leading support group discussions. To be considered for a position in this field, most states require candidates to have a master's degree, a number of supervised clinical hours, and the appropriate license.
Administrative Social Worker: Administrative social workers are committed to strengthening organizations and systems, and can be found in all areas of social work. Administrative social workers help support the operations of organizations, programs, and institutions, and provide crucial leadership in the places they work. They are skilled at balancing support for workers and consumers with satisfying agency demands, and integrating legality, equity, and efficiency in the field of social work. Administrative social workers often have extensive knowledge in areas including, but not limited to, human resources, change leadership, financial management, resource development, and management and supervision. They often fill roles such as social work administrators, directors, managers, supervisors, mentors, field instructors, and lead social workers.
Community-Based Social Worker: Community-based social workers work directly with and within communities to bring about social and economic change. They help to strengthen, empower, and advocate for those within marginalized communities, and are committed to economic and social justice ideals, including equity and equality. Community-based social workers have extensive knowledge of the social and historical contexts of the communities they work with, and are skilled at centering their communities, embracing flexibility and changing political and social landscapes, and leveraging relationships and resources in the interest of their work. Examples of areas community-based social workers work in include: outreach, grassroots mobilization, lobbying, community development, and public awareness efforts.
This website offers school details to prospective students as an informational resource. The appearance of a school listing on this website should not be interpreted as an endorsement of the school by this site.
Related Articles
Best Online Master's in Counseling Degrees
View rankings of the best master's in counseling online degrees here. Rankings are based on annual tuition rates and reported alumni salaries.
Best Online Bachelor's in Social Work (BSW) Programs
See online social work degrees offered at the bachelor's level ranked by return on investment.