2020 Best Online Master of Fine Arts (MFA) Programs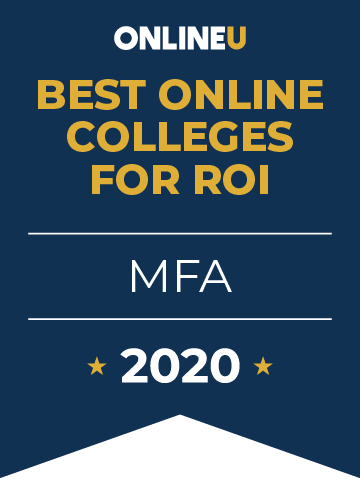 The 16 schools on this list are the best value options for obtaining an online Master of Fine Arts based on alumni salaries and low tuition rates. At #1, Albertus Magnus College charges $13,500 per year for their MFA in Writing. In the #2 spot, Drexel University offers a Master of Fine Arts in Creative Writing for only $29,969 per year, making it an affordable choice for distance learners who are looking for a high quality and affordable education.
Alumni salaries were provided by PayScale. View our methodology for more details or learn more about OnlineU.
Rank
School

Annual Tuition

Mid-Career Salary

#

1

Albertus Magnus College

$13,500

$103,167
#

2

Drexel University

$29,969

$102,934
#

3

Arcadia University

$15,300

$84,100
#

4

National University

$13,260

$79,986
#

5

Brenau University

$19,251

$81,000
#

6

University of Houston-Victoria

$13,934

$73,500
#

7

Southern New Hampshire University Online

$11,286

$70,413
#

8

Liberty University

$16,350

$71,865
#

9

Regent University Online

$9,750

$68,014
#

10

Bay Path University

$14,800

$66,900
#

11

Goucher College

$20,400

$69,100
#

12

Radford University

$22,320

$68,020
#

13

University of Nebraska at Omaha

$15,000

$58,700
#

14

Savannah College of Art and Design

$38,475

$67,391
#

15

Seton Hill University

$21,249

$54,800
#

16

Lindenwood University

$11,880

$48,127
Salary data provided by

2020 Online Colleges Offering MFA Degrees - Ranking Details
Online MFA Overview
Program Requirements
Online master's degrees in art and design are much more variable in course content and requirements than undergraduate degrees. These programs may include anywhere from 36 to 72 semester credits, as well as a significant amount of hands-on studio work.
Curriculum
Students in an online MFA program typically devote one to three years taking studio and theory courses while also working on a thesis project. The structure of the thesis will depend on the degree's focus. For example, painting students might be required to paint a complete work of visual art, while a graphic design student might develop a series of advertisements for a particular product.
Online art and design programs in areas such as illustration, painting, or fashion design may require students to scan and upload their work for their professor's critique. Some online art and design degrees, such as those in architecture or interior design, require that students travel to campus to participate in seminars and design labs.
Graduates can use the master's credential to qualify for advanced positions in creative businesses and design firms; others can use the degree to further develop their artistic mission in order to create works of art for sale or display. Graduates who enter more commercial areas of art and design can qualify for supervisory or leadership positions with the master's degree.
This website offers school details to prospective students as an informational resource. The appearance of a school listing on this website should not be interpreted as an endorsement of the school by this site.