Best Online Master's Degrees in Web Design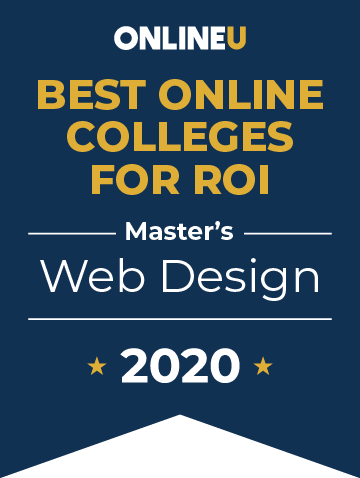 Ranked based on affordability and earning potential, these 4 schools offer the best online master's programs in web design. Ranked #1 is the University of Florida, with a low tuition of $9,905 and a high median salary of $115,206. The University of Denver, ranked #2 on the list, costs $22,816 annually for an online MS in Information and Communications Technology with a concentration in Web Design and Development.
Alumni salaries were provided by PayScale. View our methodology for more details or learn more about OnlineU.
Salary data provided by

2020 Online Colleges Offering Web Design Degrees - Ranking Details
Overview of an Online Master's Degree in Web Design
The master's degree in web design covers the technical skills used to build the structural framework and layout of interactive, complex websites. These programs have a firm foundation in basic information technology (IT) skills and require about 10 to 20 courses. Students can generally complete the program in a one- to three-year time frame. Programs are available through computer science, information technology, and professional development departments of colleges and universities. Applicants typically need an accredited bachelor's degree and working knowledge of operating systems and programming.
The web design master's curriculum discusses the basic IT concepts, programming, and interactive design skills to build secure and stable websites. Foundational courses in IT topics, such as IT industry structures and enterprise architecture, discuss the IT tools and techniques used in business today. Courses in programming languages like PHP and JavaScript teach students how to process data and build web applications. Other courses discuss digital media layout, web interactivity, and digital communication. Many programs require a capstone course or thesis project where students build a large website from the ground up.
This website offers school details to prospective students as an informational resource. The appearance of a school listing on this website should not be interpreted as an endorsement of the school by this site.
Related Articles
Best Online Master's in Information Technology (IT) Degrees
We've ranked the best online master's in IT degrees based on tuition rates and alumni salaries. Compare schools to narrow down a choice.
Best Online Master's Programs
A master's program can greatly expand your employment options and earning power. Here are the best online master's programs, ranked based on alumni salaries and debt.