Best Online Master's Degrees in Web Design
By Jordan Beliles | Updated 8/24/2022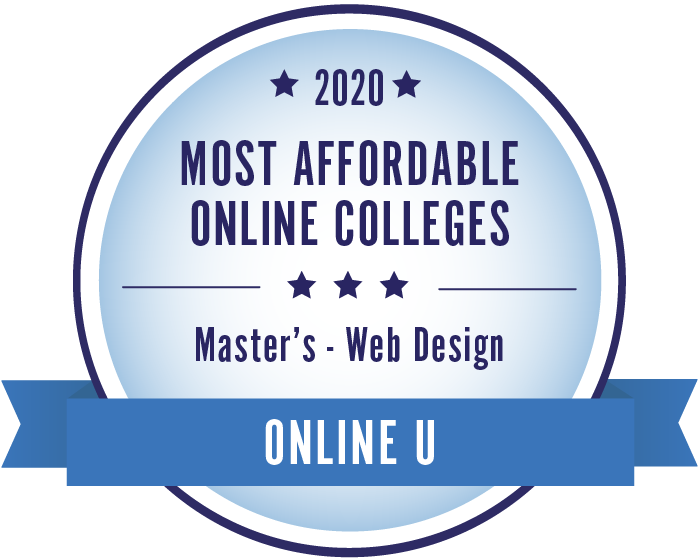 Ranked based on affordability and earning potential, these 4 schools offer the best online master's programs in web design. Ranked #1 is the University of Florida, with a low tuition of $9,905 and a high median salary of $115,206. The University of Denver, ranked #2 on the list, costs $22,816 annually for an online MS in Information and Communications Technology with a concentration in Web Design and Development.
Alumni salaries were provided by PayScale. View our methodology for more details or learn more about OnlineU.
Salary data provided by

2020 Online Colleges Offering Web Design Degrees - Ranking Details
Can I Do a Master's in Web Design?
A master of science in web design teaches you how to build websites through both technical and non-technical skills at varying levels of complexity. You'll discover the nuances of creating mobile applications, interactive websites, and all the visual design components that make up these digital products. In order to learn web design, you'll also need to understand various methods of computer programming and web development.
Web master's degrees require between 30 and 60 course credits, which will include everything from HTML to JavaScript, as well as more creative classes covering graphic design and digital product design. Most online web design degrees at the master's level take between one and three years to complete, depending on your schedule. In order to be accepted into such a program, you'll need to have completed a bachelor's degree in areas such as computer science, web design, or information technology.
Can I Get a Web Design Degree Online?
There are a wide variety of schools for web design that offer online programs. They can be found at every level, from associate to bachelor's and even graduate degrees, as the rankings list above illustrates.
Students finish their online coursework through a learning management system (LMS), which facilitates tests, homework, discussion forums, and classroom projects. Your school's LMS may also offer forums and chat rooms for live discussions between your peers and teachers. For MS web design classes, you're required to use professional software, such as Adobe Dreamweaver, GIMP, or Google Web Designer. You'll also be asked to complete projects by developing your own websites.
Common Courses for a Web Design Major
Before you apply for college, you may want to know what coursework lies ahead of you. The curriculum for a master's in design online combines several subjects to help students understand the creative and technical processes of website design and development. This involves teaching a combination of software and design programs alongside courses in product development and graphic design. Information technology and data communication courses are also included in the curriculum.
Let's take a look at some core courses you'll encounter in a web design master's program:
User Experience (UX) Theory and Research
In this course, you'll learn how User Experience Design (UED) is driven by Human-Computer Interaction (HCI) by taking practical tools and using them to build web properties. You'll learn processes, such as user flows, information architecture, usability testing, and optimization techniques.
Business Data Communication and Networks
This course teaches data communication through the lens of network security, management concepts, wireless networks, signal processing, and IoT areas. Through these aspects of data communication, you'll be skilled at creating more user-friendly websites.
UX and User Interface (UI) make websites more appealing to specific audiences. UX and UI design principles look at the visual, creative, and conceptual components of website building, alongside the accessibility of page layouts, which make for an appealing browsing experience.
Social Media Advertising for Conversions
Social media is often directly tied to web design by click-through-rates and customer acquisition. Courses in social media advertising for conversions teach you how to develop social media campaigns by utilizing design and marketing techniques.
Interactive Design for Mobile
To start the interactive design class for mobile, you'll get a crash course in interactive concepts for mobile devices, such as how dialogue plays a part in the people and product relationship. Then you'll get hands-on experience designing actual mobile applications for iOS and Android.
Web Design Concentrations
If you want to expand on the required coursework that many web design colleges offer, you may be able to choose a concentration to go along with your degree.
Much of web design falls on the creative side; therefore, taking on a concentration in graphic design or multimedia production may help you better understand the aesthetics of digital products and give you more skills for developing creative assets.
Or you may want to further explore mobile applications through a mobile development concentration, which looks at the software and application development for tablets, smartphones, and smartwatches.
What Can You Do With a Web Design Degree?
By earning a degree from a web design graduate school, you'll be eligible for careers in development, design, management, and even marketing.
Your job path ultimately depends on what aspect of web design you identify with most. If you prefer the technical side of HTML or JavaScript, you may pursue a career in web development, which relies heavily on coding languages. Or, perhaps your affinities lie with website aesthetics. In this case, graphic design may be a preferable path.
In general, web design careers offer average to slightly above-average salaries and job growth projections. No need to worry about whether your online degree is respected by employers, as most hiring managers consider them as equal to traditional degree programs.
As we take a closer look at the available job roles for graduates of a master's in web design, it's important to keep in mind that educational requirements in this field vary from employer to employer. Some career paths may only require a high school diploma or bachelor's degree at the entry-level. However, a master's can potentially position you among the highest earners in that role, or it can give you a leg up into a management position.
Is Web Designer a Good Career Choice?
According to CareerExplorer's survey of professionals in the field, web designers have a medium job satisfaction rating of 3.3 out of 5 stars. However, web design remains a good career choice for those with an interest in how consumers interact with the internet. In all the jobs listed above, you'll look at how to create better experiences for users on web products — whether that's through creative design, user interfaces, or marketing techniques.
Is a Master's in Web Design Worth It?
Entering into a web design graduate program may be worth the investment of time and money for several reasons. Below you'll find some pros and cons for earning a master's in web design:
Potential Benefits
Mobile application design is growing in demand. According to 2022 survey data from Top Design Firms, 48% of small businesses have their own app, as compared to 32% in 2021. In fact, graduates will see a positive job outlook in many roles within this field thanks to the growing demand for web products as a whole.
Web design is a massive industry. Recent statistics from IBISWorld show that web design services are an $11 billion industry in the United States alone.
You can easily enter into consulting or freelance work. Many companies want a simple website built without the hassle of a full-service creative agency. As a freelancer, you'll be able to use your skills to create your own small business without relying on outside employment.
Potential Drawbacks
Your education continues long after earning a degree. With constant software updates, new technologies, and changing design trends, you'll always be required to re-learn the latest and most effective strategies for web design.
Some related careers, such as graphic design, do not have a positive job outlook. Graphic designers are expected to see an underwhelming 3% job growth from 2020 to 2030.
Not every project will peak your interest. Website designers work for clients in every industry, from finance to health care. In many cases, projects you encounter will be fairly simple without the added benefit of challenging your skills or peaking your interest.
FAQs About an Online Web Design Degree
Which Master's Degree Is Best for Web Development?
---
Software engineering is the best master's degree program for aspiring web developers. The coursework requires you to learn computer languages that are used to create websites. Software engineering degrees include web development courses because of the similar languages used in coding, but it will also cover systems engineering and software development, which make it more complex than web development as a standalone practice.
What Degree Is Best for Web Design?
---
Information technology degrees are great for web designers because they look at the various systems along with the hardware and software components that make up modern-day computers. This will give you a technical edge when it comes to website design because you'll have an understanding of how different system components interact with one another.
An information technology degree at the master's level will be ideal if you can include a creative concentration, such as graphic design or multimedia production.
Is Web Design the Same as Web Developer?
---
Web designers tend to focus on the visual components and efficacy of a website, such as the graphics, layout, and overall user experience. Web developers are primarily responsible for writing the code that dictates how a website operates at its core. They build interfaces, manage databases, and ensure property functionality. Designers work in tandem with web developers by integrating the creative and functional components from their designs.
How Difficult Is Web Designing?
---
Web design isn't as complex as software engineering, for example, but it can be difficult for some students to pick up on. There are coding languages that need to be learned on top of developing a good sense of creative direction and usability. If you have a strictly technical mindset, it may be hard to pick up on the creative nuances of the role. Conversely, highly creative students may find it hard to understand complex coding tasks.
Related Articles
2023 Best Online Master's Degrees
A master's program can expand your employment options and earning power. Explore our list of the best online master's programs based on alumni salaries.
2023 Best Online Master's in Computer Science Programs
Compare the best online master's in computer science programs and learn about the degree prerequisites, curriculum, and career opportunities for graduates.