2020 Best Master's in Theology Online Programs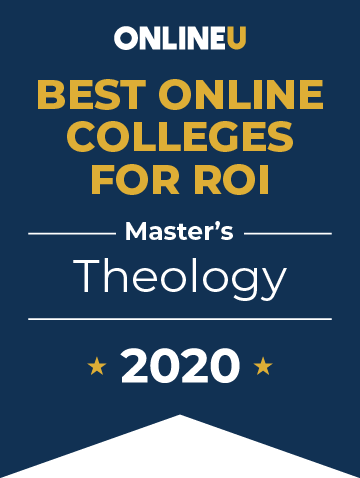 The 11 schools on this list are the best value options for obtaining an online master's program in theology based on alumni salaries and low tuition rates. Covenant Theological Seminary is ranked #1, offering a Master of Arts in Theological Studies for $14,175 per year. Graduates of the school reported a median salary of $76,900. In the #2 spot, Multnomah University offers a Master of Arts in Theological Studies for only $11,160 per year, making it an affordable choice for distance learners who are looking for a high quality and affordable education.
Alumni salaries were provided by PayScale. View our methodology for more details or learn more about OnlineU.
Rank
School

Annual Tuition

Mid-Career Salary

#

1

Covenant Theological Seminary

$14,175

$76,900
#

2

Multnomah University

$11,160

$71,900
#

3

Regent University Online

$7,500

$68,500
#

4

Dallas Theological Seminary

$5,310

$65,300
#

5

Western Seminary

$16,800

$68,200
#

6

Midwestern Baptist Theological Seminary

$9,085

$61,800
#

7

Biola University

$15,825

$64,200
#

8

Liberty University

$5,500

$58,300
#

9

Luther Seminary

$14,400

$59,600
#

10

The Southern Baptist Theological Seminary

$17,552

$59,000
#

11

New Orleans Baptist Theological Seminary

$7,810

$51,300
Salary data provided by

2020 Online Colleges Offering Theology Degrees - Ranking Details
Online Master's in Theology Overview
It takes about two years to complete a master's degree in theology online; the programs require approximately 36 academic credits, or 60 credits if the college or university uses the quarter system. As a theology graduate student, students will take courses such as Legal & Financial Issues in Ministry, Evangelism, Early Faith Foundations, and Ministry to Children at Risk. Students also may be required to complete a research methods course, as well as undertake a research project and write a thesis.
Applicants to online theology master's degree programs will be required to provide academic records proving their completion of an undergraduate course of study. Some schools will also require standardized test scores, or an undergraduate degree in theology specifically. Students should be prepared to answer questions about their character and faith to gain admission. Divinity schools at public and private universities and theological seminaries typically offer online master's degree programs in theology.
An online master's in theology may prepare students for leadership roles in churches, nonprofit organizations, and educational institutions. Graduates may also find jobs teaching theology and religious studies at two- and four-year colleges or working as chaplains in colleges and universities, healthcare organizations, or the United States military.
This website offers school details to prospective students as an informational resource. The appearance of a school listing on this website should not be interpreted as an endorsement of the school by this site.