2023 Best Online Teaching Degrees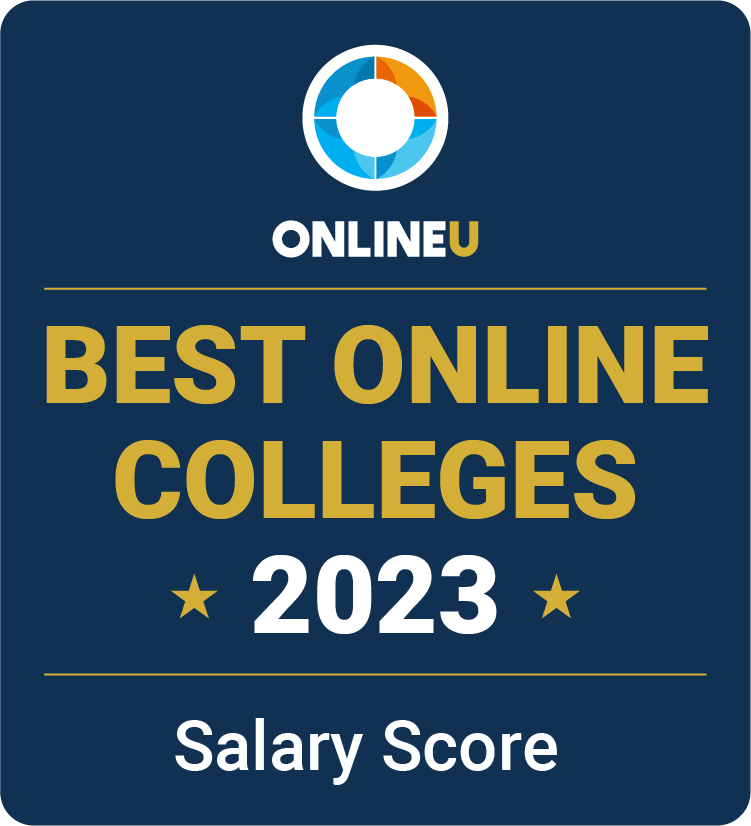 An online master's in teaching can help prospective educators develop the skills necessary for credentialing and certification and seasoned professionals to pursue career advancement. Earning this online degree provides scheduling flexibility and greater access to programs across teaching specializations — such as special education, literacy, and early childhood education.
We've ranked these programs by Salary Score so you can set realistic earnings expectations while potentially minimizing excess student debt. Additionally, our list of the most affordable online master's degrees in teaching can help you stay within your budget. View our methodology for more details about our list, or learn more about OnlineU.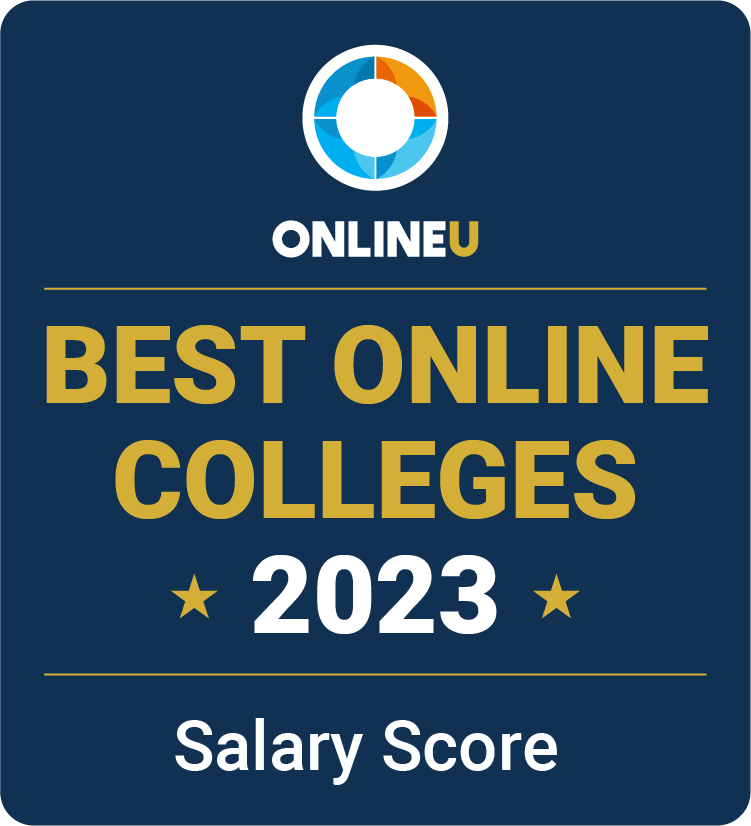 ADVERTISEMENT
Online Teaching Master's Degrees You May Be Interested In

Annual Tuition: $11,538
2 Programs (view all)

Annual Tuition: $8,475
15 Programs (view all)

Annual Tuition: $7,790
15 Programs (view all)
---
2023 Best Online Teaching Degrees
| Rank | School | Salary Score | Median Starting Salary |
| --- | --- | --- | --- |
| # 1 | Fordham University | | $69,026 |
| # 2 | Touro College | 100 | $68,501 |
| # 3 | St. John's University | 100 | $68,413 |
| # 4 | California State University - Fullerton | 100 | $67,018 |
| # 5 | New Jersey City University | 98 | $63,692 |
| # 6 | UMass Global | 93 | $58,796 |
| # 7 | Capella University | 93 | $58,489 |
| # 8 | New York University | 92 | $58,294 |
| # 9 | American University | 92 | $58,228 |
| # 10 | Montana State University | 85 | $55,464 |
What Does An Online Master's in Teaching Involve?
An online master's degree in teaching prepares each graduate student with the skills needed to become a teacher at primary and secondary schools. Many curriculums are based on the credential qualifications in their state, allowing graduates to earn a teacher's license. Some programs, however, are designed for professional teachers who wish to gain specialized training through concentrations such as special education, physical education, or literacy.
While curricula vary based on the concentration, core courses typically cover classroom organization, curriculum planning, student evaluation, learning technologies, and teaching laws and ethics. Students must also participate in teacher training through practical fieldwork in local classrooms that involves observing professional teachers and later teaching classes themselves under the guidance of their trainers.
Students should always ensure their online master's degree in teaching comes from an accredited institution. This means that a third-party education agency has evaluated the program they're pursuing. Every school featured on the OnlineU site is accredited.
How Long Is a Master's Degree in Teaching?
A master's degree in teaching online takes full-time students two years to complete. Most programs require between 30 and 40 credits, with a certain allowance of transfer credits for students who have already taken some graduate-level coursework.
Is There a Difference Between a Master's in Teaching and a Master's in Education?
The main difference is the application of skills from a master's in education is broader than a master's in teaching.
A master's in teaching focuses specifically on skills for the classroom, such as instruction techniques, subject specializations, and classroom management.
A master's in education also explores teaching applications but with broader examinations of administrative careers, education policy, and curriculum design.
Teaching Specializations
There are various specializations, otherwise known as concentrations, that allow teaching majors to narrow the focus of their degrees to meet their career goals. Students may want to teach specific subjects, such as math or science, or focus on particular age ranges or teaching disciplines.
Special Education
This track explores the unique teaching techniques designed for social, emotional, and learning development in young students with exceptionalities. Coursework examines classroom diversity, communication, organization, and intervention related to autism spectrum disorder and other disabilities.
Early Childhood Education
Early childhood education explores the components of instructing preschool and primary students through program design in formal classrooms and childcare environments. Essential aspects of this track include language, cognitive, and social development in students from birth to around eight years old. If you would rather dedicate more coursework to this subject, there are also affordable early childhood education master's degrees available.
Mathematics
In this specialization, students focus their studies on teaching strategies and curriculum design in mathematics. Coursework includes historical perspectives on teaching math, classroom technologies that engage students, and math concepts at various learning levels.
Common Courses in a Teaching Program
Coursework in an online teaching degree promotes a broad understanding of classroom principles and techniques. There will be nuances in curriculums based on specializations, but the core remains the same throughout nearly every teaching degree online.
This course introduces students to various development areas of children, including cognitive, emotional, social, physical, and moral. Coursework also looks at theories, research findings, and evidence-based instructional methods.
Foundations of American Education
In this course, students learn about the early iterations of public education in the United States and how these systems affected social, economic, and political structures. Students also learn how to advocate for improving public schools by understanding education policy.
Instructional technology courses continue to be relevant as more and more schools embrace digital learning tools. This course embraces classroom technology by assessing its effectiveness in meeting the needs of different types of learners, from special needs children to adult learners and online students.
Measurement and Evaluation
Measurement and evaluation techniques allow future teachers to prepare to question, assess, and identify instructional strategies. This includes the content, tests, and tools used in the classroom. Students also look at the latest research on standardized tests in K-12 environments.
What Jobs Can I Get With an Online Teaching Degree?
After graduation, students may want to pursue a PhD in teaching so they can work as college professors or in academic research institutions. Post-master's teaching certificates are also available that work like degree concentrations to provide specialized training in education disciplines or subjects. Below are some of the most common jobs earned from a teaching degree.
Median Annual Salary:
$62,360
High school teachers instruct students, create lesson plans, grade assignments, conduct exams, and administer policies. Most specialize in one subject, such as mathematics or geography. Although not all high school teaching jobs require a master's degree, some states, such as New York, Connecticut, and Maryland, require teachers at all levels to hold a master's.
Median Annual Salary:
$80,840
Postsecondary teachers teach at the college and university levels. Like high school teachers, they provide instruction on a specific subject through assignments, lectures, and exams. Sometimes, these teachers can work with a master's instead of a PhD, such as at community colleges.
Instructional Coordinators
Median Annual Salary:
$66,490
Instructional coordinators implement curriculums and oversee courses that teachers use to instruct students. Some of their work involves data analysis from student tests, which they use to adjust lesson plans and textbooks. They also train teachers on new classroom content and updates to curriculums.
Median Annual Salary:
$101,320
Education administrator is a broad term for oversight positions such as principals, school administrators, and superintendents. In general terms, they are responsible for coordinating operations outside the classroom. They manage faculty and staff, evaluate curricula, provide guidance to students, and analyze the effectiveness of the school's programs.
How Much Money Can I Make With a Teaching Degree?
Master's graduates consistently earn higher salaries than bachelor's graduates. Most professional teachers earn median annual salaries of just over $60,000, slightly higher than other occupations. Administrative roles, however, offer salaries between $80,000 and $100,000. College professor salaries can also reach $100,000 for those who earn tenure.
Applying For a Teaching Degree
Students applying to college for a master's in teaching must have a bachelor's degree in a relevant major. Applicants have to submit their college transcripts to prove their academic accomplishments. Ideally, applicants will have a bachelor's in teaching or major in the subject they plan to teach, such as history or biology.
Application requirements may include letters of recommendation from college counselors, personal essays, or entrance exams.
FAQs About Teaching Degrees
Are Online Teaching Degrees Respected?
---
Teaching degrees earned online are just as respected as those achieved in person. Schools use the same instructors and curriculums that students learn on campus. Online diplomas rarely even mention that they were earned online, so there's no need to worry about employers questioning their legitimacy as long as they were delivered by an accredited institution.
Do I Need a Master's Degree to Teach?
---
In general, master's degrees are not required to teach at the elementary and secondary levels. This is true everywhere except New York, Connecticut, and Maryland. However, they are needed for college professors. Students wishing to teach at the collegiate level will likely need to go beyond a master's to earn a PhD.
How Many Credits Is a Master's Degree in Teaching?
---
Master's degrees in teaching require students to complete between 30 and 40 credits. Part-time students take around six credits per semester to graduate for three or more years, while full-time students take up to 12 credits per semester. Summer courses may also be available through accelerated programs.
How Do I Get a Master's Degree in Teaching?
---
To pursue a master's degree in teaching, students must first complete a bachelor's degree from an accredited university. However, before picking a college and applying to a graduate program, students should decide what career path they intend to pursue. This will be the basis for their concentration and field experience.
Is a Teaching Degree Worth It?
Benefits
Master's degrees open up more job opportunities. Students who want to explore administrative careers outside the classroom will benefit from the leadership training gained through master's degrees.

Salaries are often higher for master's graduates. Careers such as education administrators, principals, and athletic directors earn median annual salaries of approximately $90,000 to $100,000.

Graduates are likely to enjoy their jobs. Although teachers' job satisfaction declined during the pandemic, 2023 has seen an uptick in those who enjoy their work and aim to stay in the profession.
Drawbacks
External factors can have profound effects on the field of teaching. The pandemic, for example, caused a spike in teachers quitting their jobs, while experts fear the politicization of education could lead to more teacher shortages in certain states.

A master's degree in teaching may not be necessary. Students who wish to teach elementary or high school students usually only need a bachelor's in teaching to gain employment.
For many, teaching is a calling. It's a profession that shapes the minds of young people and encourages individual growth. Make your own pros and cons list to help you understand if a teaching degree is worth it based on their career prospects, financial constraints, and job satisfaction goals.
Why Trust Us?
60,000 Degrees Researched Annually
20,000 Hours Spent on Research Annually
Launching Rankings Since 2009
Meet our team