Best Online Teaching Degrees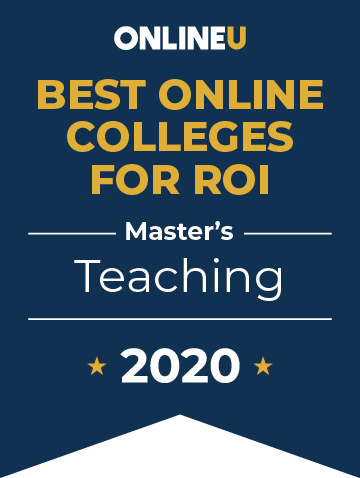 The following 25 schools offer the best online master's in teaching programs, based on their low tuition rates and high mid-career salary potentials. Graduates of the #1 school, the University of Massachusetts - Amherst, report earning a median salary of $92,200. The University of Illinois Urbana - Champaign ranks #2, with a median salary of $91,600 and an annual tuition rate of $7,712.
Alumni salaries were provided by PayScale. View our methodology for more details or learn more about OnlineU.
Rank
School

Annual Tuition

Mid-Career Salary

#

1

University of Massachusetts - Amherst

$7,650

$92,200
#

2

University of Illinois Urbana - Champaign

$7,712

$91,600
#

3

Mercy College

$13,455

$89,000
#

4

Johns Hopkins University

$13,481

$88,200
#

5

California State University-Fullerton

$13,374

$80,100
#

6

Western Governors University

$6,480

$76,900
#

7

Saint Xavier University

$6,900

$75,800
#

8

Central Michigan University

$9,555

$69,000
#

9

Kansas State University

$9,187

$68,600
#

10

University at Buffalo

$9,605

$67,100
#

11

Wayne State University

$22,046

$72,000
#

12

University of North Texas

$12,146

$66,900
#

13

University of Virginia

$8,115

$63,900
#

14

University of Memphis

$10,455

$64,700
#

15

Ball State University

$9,765

$63,900
#

16

Arizona State University

$8,512

$63,100
#

17

University of Louisville

$10,314

$63,600
#

18

National Louis University

$10,960

$62,800
#

19

Lesley University

$11,050

$62,800
#

20

University of New Mexico

$4,583

$58,600
#

21

Texas A&M University-College Station

$12,496

$61,200
#

22

Troy University

$7,904

$59,100
#

23

University of Alabama

$6,300

$58,400
#

24

Liberty University

$9,960

$59,800
#

25

New York University

$53,850

$77,000
Salary data provided by

2020 Online Colleges Offering Teaching Degrees - Ranking Details
Online Master's Degrees in Teaching
Some online master's programs lead to teaching certification. Graduates of these programs may go on to gain employment in preschool, elementary, middle, and secondary private and public institutions. There are also other master's level programs for teachers who are already certified but who wish to continue their education in order to be eligible for post-secondary teaching opportunities or in order to specialize in areas like literacy or curriculum and instruction.
Program Requirements
Applicants to an online master's in teaching program will need to have a bachelor's degree from an accredited institution and will need to submit their undergraduate transcripts. Some schools will require GRE scores, personal statements, and/or letters of recommendation, as well. Programs leading to licensure may also require a criminal background check. Master's degrees for licensed teachers will require proof of teaching credentials prior to admission.
Curriculum
The curriculum in the online teaching master's combines courses in education theory and psychology with a firm understanding of instructional approaches. The required classes in these programs will depend on the student's teaching specialization area; students choose a particular grade level and focus within that grade level. For example, an elementary education major with a focus in literacy would take courses in childhood development, language acquisition, and reading curriculum design. A secondary education major with a focus in math would take courses in methods for teaching algebra, geometry, and calculus.
Besides online graduate courses for teachers, all accredited education degrees have student teaching requirements, which can account for up to 50 percent of the work in the program. This fieldwork places teaching students in real classrooms so that they can practice the teaching techniques they have learned in the degree program. Students typically complete several fieldwork experiences. In early practicums, student teachers observe experienced teachers and their instructional skills. In later practicums, student teachers actually instruct courses. Experienced teachers offer critiques and advice to student teachers on improving their teaching style.
Financial Aid for Teachers
When it comes to getting a degree, one of the main concerns is affordability. It might seem impossible for some students, but there are many options to help with associated education costs. The two most common are scholarships and grants.
Scholarships
Scholarships are the more ubiquitous option. The primary criteria for scholarships are merit-based whether its artistic, athletic or academic talent; however, there are countless options. They are offered by many private and nonprofit organizations from local churches to Fortune 500 companies. According to the National Center for Education Statistics, more than 750,000 scholarships are available for students every academic school year.
Grants
Grants are another gift aid option for students. Unlike scholarships, grants tend to be based on a needs-based standard such as the Federal Pell Grant which is awarded to students with an annual family income of $50,000 or less. Grants are often awarded by the government, whether state or federal, and the institutions to help economically disadvantaged students.
Financial Assistance Specific to Teachers
While grants and scholarships are the main options to help students mitigate the costs of higher education, teachers have another one: the Teacher Loan Forgiveness Program. Designed by the Department of Education to encourage people to continue in the teaching profession, the program has a strict set of criteria. To qualify, a teacher must teach full-time for five consecutive academic terms in a Title 1 school or education facility. Teachers that qualify can have upward of $17,500 forgiven from federal subsidized and unsubsidized loans including Stafford Loans. In some cases, Direct and Federal Consolidation Loans may be eligible for forgiveness if they were used to repay one of the subsidized or unsubsidized loan options.
Education should be an option for everyone, and with these gift aid options and loan forgiveness programs students can less time worrying about ever-growing education costs.
This website offers school details to prospective students as an informational resource. The appearance of a school listing on this website should not be interpreted as an endorsement of the school by this site.