2020 Best Online Master's in Substance Abuse Counseling Degrees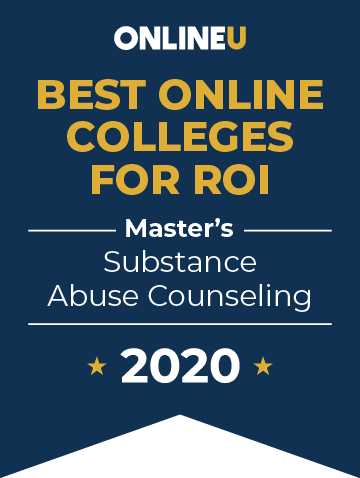 The 17 colleges and universities on this list are the best value options for online master's programs in substance abuse counseling, based on their tuition and alumni-reported salaries. Graduates of the #1 school, Drexel University, report earning a median salary of $102,934. In the #2 spot, University of Oklahoma-Norman Campus offers a Master of Prevention Science for only $17,821 per year, making it an affordable choice for distance learners who are looking for a high quality and affordable education.
Alumni salaries were provided by PayScale. View our methodology for more details or learn more about OnlineU.
Rank
School

Annual Tuition

Mid-Career Salary

#

1

Drexel University

$13,156

$102,934
#

2

University of Oklahoma-Norman Campus

$17,821

$96,690
#

3

University of Louisville

$22,920

$98,442
#

4

Wright State University-Main Campus

$24,286

$90,453
#

5

Governors State University

$11,296

$83,867
#

6

University of South Dakota

$8,384

$82,300
#

7

Regent University Online

$17,850

$68,014
#

8

Texas Southern University

$23,337

$69,600
#

9

New Mexico Highlands University

$10,500

$62,525
#

10

Cornerstone University

$13,110

$62,600
#

11

Eastern Washington University

$27,214

$66,100
#

12

Crown College

$15,120

$61,100
#

13

Morehead State University

$10,260

$58,600
#

14

Liberty University

$11,300

$54,300
#

15

Virginia Commonwealth University

$25,956

$60,100
#

16

Nova Southeastern University

$18,960

$57,100
#

17

Washburn University

$9,522

$52,825
Salary data provided by

2020 Online Colleges Offering Substance Abuse Counseling Degrees - Ranking Details
Overview of an Online Master's Degree in Substance Abuse Counseling
A master's degree in substance abuse counseling allows individuals to engage in clinical work. Some substance abuse counselors go into private practice, whereas others work at schools, universities, corretional facilities, or inpatient or outpatient treatment centers.
Program Requirements
Applicants to a graduate degree program in substance abuse counseling must hold a bachelor's degree. Some schools will only consider prospective learners who have achieved a minimum grade point average in their undergraduate studies. Colleges or universities will ask to see official transcripts, a resume, and GRE scores. A 30-credit program can be completed in two years of full-time study.
Curriculum
Students enrolled in this type of program can expect to take courses in principles of theories of psychotherapy, group counseling, counseling and advocacy with diverse populations, ethics and legal issues in counseling, lifespan development, diagnosis and assessment, and group dynamics. The program may include one or more courses in research methodology. Depending on the concentration chosen, the master's degree program also includes specialization courses in subjects such as human sexuality, interventions, cultural factors in public health, mental health law, vicarious trauma and compassion fatigue, and child and adolescent counseling. The program may also include an internship.
This website offers school details to prospective students as an informational resource. The appearance of a school listing on this website should not be interpreted as an endorsement of the school by this site.