Best Master's in Sports Management Online Programs
By Jordan Beliles | Updated 9/6/2022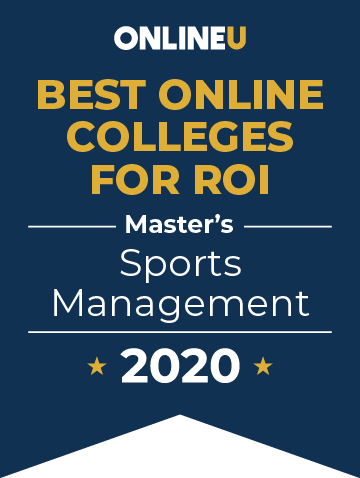 The 15 schools on this list are the best value options for obtaining an online master's program in sports management based on alumni salaries and low tuition rates. At #1, American University charges $24,210 per year for their MS in Sports Analytics Management. University of Florida, ranked #2 on the list, costs $27,105 annually for an online MS in Sport Management, with alumni reportedly earning median salaries of $140,771. Students can choose from the following concentrations: Athlete Development, High Performance Coaching, or Sport Law.
Alumni salaries were provided by PayScale. View our methodology for more details or learn more about OnlineU.
| Rank | School | Annual Tuition | Mid-Career Salary |
| --- | --- | --- | --- |
| # 1 | American University | $24,210 | $149,900 |
| # 2 | University of Florida | $27,105 | $140,771 |
| # 3 | Texas A&M University-College Station | $17,064 | $112,243 |
| # 4 | DePaul University | $15,720 | $108,700 |
| # 5 | Western Carolina University | $11,350 | $101,800 |
| # 6 | Drexel University | $29,095 | $104,000 |
| # 7 | Troy University | $8,892 | $94,200 |
| # 8 | Northeastern University | $16,698 | $88,300 |
| # 9 | Liberty University | $13,560 | $83,600 |
| # 10 | West Virginia University | $7,635 | $80,900 |
| # 11 | Southern New Hampshire University Online | $11,286 | $76,700 |
| # 12 | United States Sports Academy | $12,240 | $67,400 |
| # 13 | PennWest California | $12,624 | $66,500 |
| # 14 | Ohio University - Main Campus | $10,620 | $57,200 |
| # 15 | Old Dominion University | $10,710 | $45,700 |
Salary data provided by

2020 Online Colleges Offering Sports Management Degrees - Ranking Details
Overview of Master's in Sports Management
By pursuing a degree in sports management, you'll discover the business side of professional, collegiate, and amatuer athletics. This degree aims to prepare you with the skills needed for the delicate negotiations associated with athletic contracts, launching marketing campaigns for sports brands, managing stadium operations, and the financial management of sports teams.
The top online sports management master's programs require a thesis paper or similar project, where you'll be asked to dissect a relevant sports topic using an evidence-based approach. These programs usually take one to three years to complete 30 or more credit hours. Bachelor's degrees — especially an undergraduate degree in sports management — are generally required to be accepted into a master's in sports management.
Many sports management professionals start off as an entry-level equipment manager, program coordinator, or sports marketing associate at a local high school or youth league after college graduation. During an online masters degree in sports management, you'll likely be required to attend an internship or mentorship with a team or organization. This will give you a step up above those that only hold a bachelor's degree with no experience.
Can You Get a Sports Management Master's Degree Online?
Yes, you can earn an online sports management masters degree. Online degrees are just as respected as traditional, campus programs. They may even set you apart as more qualified to work in a remote environment. When you earn a degree online, you'll primarily study through a digital learning management system (LMS), with coursework, tests, and classroom discussions all being conducted online.
Before deciding on a specific school, make sure they are an accredited institution. This means their coursework, faculty, facility, and general educational standards have been verified by the U.S. Department of Education or another regional accreditation service. Importantly, all of OnlineU's recommended sports management programs are accredited.
Program Requirements
In order to study in a master's program in sports management online, you'll need to complete several requirements before a college will accept you. Generally, most programs require a minimum 2.75 to 3.0 GPA and a bachelor's degree in a relevant field, such as healthcare administration, marketing, education, physical education, or nutrition.
Work experience may also be considered, especially if you have experience working in sports leagues or directly with athletes. This will be particularly helpful if a school asks for letters of recommendation as part of your admissions requirements. Once accepted into a program, you'll be required to complete core and elective coursework alongside a capstone or thesis project on a sports topic that interests you.
Is the GRE Required for Sports Management?
The Graduate Record Examination (GRE) is a standardized test that some graduate schools require before you're admitted. However, not every master's degree in sports management requires these scores. Many colleges put less emphasis on standardized testing by taking a more holistic approach to your experience and education.
Requirements always vary by school, which is why it's important to check your institution's officially listed requirements before applying.
Is GMAT Required for Sports Management?
The Graduate Management Admission Test (GMAT) is another standardized exam that is not necessarily required to be accepted into a sports management masters degree. Similar to the GRE, the GMAT's importance in the admissions process comes at the school's discretion.
Courses in an Online Sports Management Master's
Coursework in a master's in sports management online degree covers the financial, organizational, legal, ethical, and marketing aspects of professional, collegiate, and amatuer sports. You'll likely start with general business and finance courses to learn the terminology and basic operational aspects of these subjects. From there, you'll go into more specialized courses and learn how to apply your existing knowledge to a sports environment.
Here are five common core courses found in sports management master's:
This course covers the theoretical understanding and practical skills needed to create a sports brand, launch advertising campaigns, secure sponsorship deals, and facilitate licensing agreements. It will also look at how these facets relate to the sports broadcasts and sporting goods industries.
Sports managers are also team leaders. Therefore, Sport Ethics is an important course in teaching you how to consider the moral dilemmas that professionals encounter both on and off the field. You'll look at topics such as performance enhancing drugs, sportsmanship, race, gender and the media.
Sports Events and Community Development
This course identifies the impacts and legacies of athletic events on communities. You'll look at the processes leading up to events, such as bidding and preparation, before comparing the post-event effects on both local and neighboring communities.
This class explores the way technology impacts sport at every level, including on-field athletics and in the world of sports business. You'll look at the devices used to train, protect, test, and enhance athletic performance as well as the tools that empower sports business leaders.
Sports Business and Finance
This course provides an overview of the industry marketplace. You'll use practical finance tools to forecast budgets and utilize operational practices to keep projects on tracks. Often, there are discussions about what it means to practice fiscal responsibility in the world of sports management.
What Kind of Careers Are There in Sports Management?
There are numerous roles that are needed to create a functioning sports league, competitive team, or related sports business. With a master's in sports management, you'll be well-equipped to join a sport company's marketing, operations, or finance department at the managerial level.
Let's take a closer look at some of the job opportunities that are available for sports management graduates at the master's level:
Is Sports Management a Growing Field?
Sports and entertainment go hand-in-hand. For this reason, the Bureau of Labor Statistics (BLS) has aligned the two together in their analysis of the growth of this unique industry. From 2020 to 2030, the BLS reports that sports and entertainment will see a 22% job growth across the board. This includes roles for professional athletes, coaches, event producers, and other sports officials.
---
If you're wondering, what is the future of sport management? The data suggests the industry is expected to add over 160,000 new jobs in the next decade.
---
Is There Money in Sports Management?
The BLS outlines the wage average for those that work in the sports industry writ large. Their findings show that the median salary falls at $49,470, just over the median salary for all occupations at $45,760. For spectator sports specifically, salaries climb much further up to a mean of $104,480 at the managerial level.
If you're curious about what jobs are the highest paid in sports management, take a look at the BLS data below, showing the mean wages for relevant sports management roles:
Chief Executives - $276,530
Financial Managers - $165,810
Marketing Managers - $140,550
Operations Managers - $139,070
Financial Aid and Scholarships for Online Students
Before you begin the process of applying to school, it's helpful to look into securing financial aid, scholarships, and student loans. Financial aid and student loans can be obtained from the federal government or other private institutions. Importantly, you will be required to pay back the loans in full, plus interest.
Scholarships, on the other hand, are awarded based on a student's merits. Students do not have to repay them, and they can be put toward tuition, school fees, books, and other school supplies.
Here are four scholarships available for master's students in sports management:
The Commission on Sport Management Accreditation (COSMA) created the $3,500
COSMA Student Grant
for graduate students attending one of their accredited university programs.
The National Academy of Television Arts and Sciences, the organization that hosts The Emmys, has a $10,000 scholarship, called the
Jim McKay Memorial Scholarship
, for students pursuing a career in sports television.
The Stadium Managers Association offers an annual scholarship, which is known as the
SMA Scholarship Foundation
, for undergraduate and graduate students studying in a sports management program.
Is a Master's in Sports Management Worth It?
Earning a sports management master's online can set you up for a fruitful career in a growing field. With a defined career path laid out, you can benefit from a role that fits your academic strengths and passions in the industry.
Let's take a look at some of the pros and cons of obtaining your master in sports management:
Potential Benefits
Join a thriving industry with a growing job outlook. According to BLS, there are 114,140 professionals currently working in spectator sports. Furthermore, 160,600 professionals are expected to join the sports and entertainment industry in the next ten years.
Learn skills that will benefit you in other industries. If you decide to pursue a career outside of sports and athletics, the team management and finance training you earned in your master's program will prepare you for a role in business.
Get the chance to work with high-profile athletes. With the credibility that comes with a master's degree in sports management, you'll be more likely to start your career with a prominent organization, such as the NFL, NBA, or NHL.
Potential Drawbacks
Sports managers often work outside of the normal 9 to 5. Sports games at both the amateur and professional level often take place during weekday evenings. As a facility manager, athletic director, or equipment manager, you'll likely be required to work unusual hours.
The gender pay gap goes beyond professional athletes. It's well-documented that women athletes receive significantly less than men. However, according to a 2022 report, professional women in the sports industry earn $0.82 for every $1 that men earn.
Many sports management roles do not require a master's degree. Graduates of bachelor's programs are able to secure some of the same roles as master's students.
Is a Sports Management Degree Easy?
Some sports management master's programs may require you to take difficult classes in biology and physical therapy, corporate accounting, and public speaking. Depending on your individual strengths, these are often seen as tough classes to pass. In general, sports management master's coursework can be considered easier than other degrees at the graduate level simply because most students have a passion for sports and athletics. Having enthusiasm about what you study makes you more eager to understand the subject matter.
Bottom Line
Sports is a growing field with a higher job growth outlook than other industries. The salaries are wide-ranging, with entry-level roles falling below the national average. Even the best sports management graduate programs can't guarantee a high paying job. However, with salaries ranging from $49,000 on average to over $200,000 at the executive level, a master's degree will give you a better chance of earning a six-figure wage.
Similar degrees, such as master's in health education or physical education, may allow you to work in sports or athletics, but a sports management program is ideal for students interested in joining a sports organization or sports league. Graduates can go on to land an exciting role working alongside professional athletes, where they may spend their days inside football arenas or soccer stadiums.
Related Articles
Online Sports Management Degrees
These popular schools offer online sports management degrees. Read more about sports management classes and careers in the field.
2022 Best Online Master's in Physical Education
Explore the best online master's degrees in physical education from our list of accredited schools. Our rankings are based on alumni salary from each program.