2020 Best Master's in Sports Management Online Programs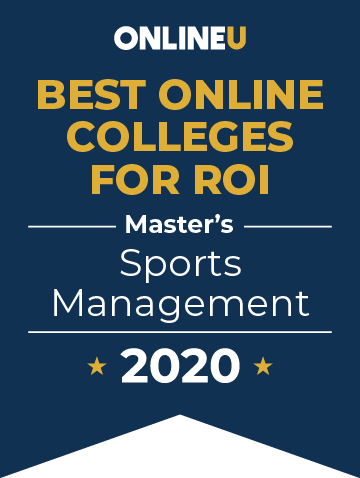 The 16 schools on this list are the best value options for obtaining an online master's program in sports management based on alumni salaries and low tuition rates. At #1, American University charges $24,210 per year for their MS in Sports Analytics Management. University of Florida, ranked #2 on the list, costs $27,105 annually for an online MS in Sport Management, with alumni reportedly earning median salaries of $140,771. Students can choose from the following concentrations: Athlete Development, High Performance Coaching, or Sport Law.
Alumni salaries were provided by PayScale. View our methodology for more details or learn more about OnlineU.
Rank
School

Annual Tuition

Mid-Career Salary

#

1

American University

$24,210

$149,900
#

2

University of Florida

$27,105

$140,771
#

3

Texas A&M University-College Station

$17,064

$112,243
#

4

DePaul University

$15,720

$108,700
#

5

Western Carolina University

$11,350

$101,800
#

6

University of Kansas

$12,492

$97,600
#

7

Drexel University

$29,095

$104,000
#

8

Troy University

$8,892

$94,200
#

9

Northeastern University

$16,698

$88,300
#

10

Liberty University

$13,560

$83,600
#

11

West Virginia University

$7,635

$80,900
#

12

Southern New Hampshire University Online

$11,286

$76,700
#

13

United States Sports Academy

$12,240

$67,400
#

14

California University of Pennsylvania

$12,624

$66,500
#

15

Ohio University-Main Campus

$10,620

$57,200
#

16

Old Dominion University

$10,710

$45,700
Salary data provided by

2020 Online Colleges Offering Sports Management Degrees - Ranking Details
Online Master's in Sports Management Overview
Completing a sports management master's degree can take one to three years, depending on the structure of the program and the commitment of the student. Most schools offer sports management as a concentration within their MBA program.
Sports management students will learn about the general structure of collegiate and professional sports. They will study recruiting, rules and regulations, marketing sports teams, team contracts, player contracts, and athletics finance. Many students complete either a thesis on a topic of their choosing or a related cumulative project that showcases what they have learned and trains them to apply it in the real sports management world. Those who are studying sports management in a school of business will probably be required to satisfy general business course requirements in addition to their specialized courses.
Sports management is a very competitive arena, but having a master's degree in sports management can make a candidate stand out. Often, people start out in entry-level management positions in collegiate sports and work their way up over the years, leveraging their connections to find new opportunities. Having a sports background and either volunteer or professional experience is key. Managers sometimes work in high schools maintaining and ordering equipment, creating schedules, keeping tabs on players, securing funding, processing legal paperwork, and marketing their sporting events.
This website offers school details to prospective students as an informational resource. The appearance of a school listing on this website should not be interpreted as an endorsement of the school by this site.