2020 Best Master's in Secondary Education Online Programs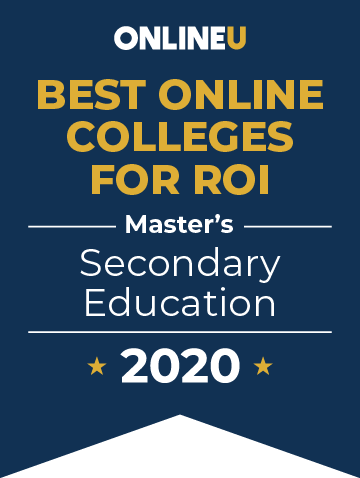 Ranked based on affordability and earning potential, these 18 schools offer the best online master's programs in secondary education. Graduates of the #1-ranked school, The George Washington University, earn a median salary of $91,400 after earning their MA in Education and Human Development in Interdisciplinary Secondary Transition Services. Mercy College ranks #2, with a median salary of $89,000 and an annual tuition rate of $13,455.
Alumni salaries were provided by PayScale. View our methodology for more details or learn more about OnlineU.
Rank
School

Annual Tuition

Mid-Career Salary

#

1

The George Washington University

$15,750

$91,400
#

2

Mercy College

$13,455

$89,000
#

3

California State University-Fullerton

$13,374

$80,100
#

4

Western Governors University

$6,480

$76,900
#

5

University of Georgia

$11,322

$66,900
#

6

University of South Florida Online

$13,131

$67,300
#

7

University of North Texas

$12,146

$66,900
#

8

Kansas State University

$17,800

$68,600
#

9

University of Memphis

$10,455

$64,700
#

10

Ball State University

$9,765

$63,900
#

11

University of New Mexico

$4,583

$58,600
#

12

University of Alabama

$6,300

$58,400
#

13

Liberty University

$9,960

$59,800
#

14

Troy University

$8,892

$59,100
#

15

New York University

$53,850

$77,000
#

16

Stephen F. Austin State University

$6,060

$57,000
#

17

Old Dominion University

$8,925

$55,000
#

18

Mississippi State University

$8,313

$54,600
Salary data provided by

2020 Online Colleges Offering Secondary Education Degrees - Ranking Details
Online Master's in Secondary Education Overview
Program Requirements
An online master's degree will typically take about two years to complete, and in order to be admitted, applicants need to have completed a bachelor's degree. Depending on the program, the bachelor's degree will need to be in a particular teaching subject, like English or math. Students with or without previous teaching experience can apply to a master's program. Other admission requirements may include letters of recommendation, a resume, a statement of purpose, and graduate test scores. Tuition will vary depending on the school and program, though students can plan on spending at least somewhere between $10,000 and $15,000 a year.
Curriculum
Sample course titles that a student might take include Adolescent Psychology, Language and Culture, Curriculum and Instructional Planning for Middle and High School, and Adolescent Literature. Student teaching will also usually be required. Once the program is completed graduates will be prepared to teach at the secondary level. A master's degree can make a teacher more competitive in the job market over those who only have a bachelor's.
This website offers school details to prospective students as an informational resource. The appearance of a school listing on this website should not be interpreted as an endorsement of the school by this site.