2020 Best Online Master's in Public Health Degrees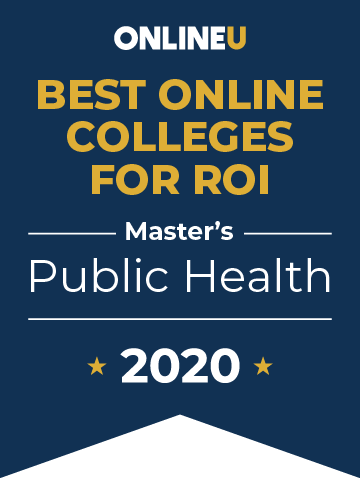 This list highlights the 18 best value colleges offering online master's programs in public health. A degree from the University of California - Berkeley has an impressive return on investment, with an annual tuition of $23,104 and alumni reporting a mid-career salary of $115,200. Students at UC Berkeley can choose from the following concentrations: Community Health Science, Epidemiology and Biostatistics, Global Health, Health Policy & Management, and Spatial Data Science. Indiana State University, ranked #2, offers an annual tuition of only $10,820.
Alumni salaries were provided by PayScale. View our methodology for more details or learn more about OnlineU.
Rank
School

Annual Tuition

Mid-Career Salary

#

1

University of California - Berkeley

$23,104

$115,200
#

2

Indiana State University

$10,820

$110,100
#

3

California State University-Northridge

$15,792

$107,700
#

4

Central Michigan University

$15,288

$99,300
#

5

San Diego State University

$23,922

$101,000
#

6

University of Alabama at Birmingham

$11,529

$92,800
#

7

University of South Carolina-Columbia

$12,017

$92,100
#

8

The George Washington University

$40,250

$102,100
#

9

University of Massachusetts - Amherst

$12,915

$89,300
#

10

Johns Hopkins University

$27,888

$95,000
#

11

University of South Florida Online

$16,221

$88,500
#

12

Tulane University

$31,510

$91,600
#

13

University of Minnesota Online

$20,181

$85,300
#

14

University of North Carolina at Chapel Hill

$36,435

$87,100
#

15

Florida International University

$18,000

$78,800
#

16

New York University

$43,176

$86,500
#

17

University of Arizona

$19,950

$77,100
#

18

Benedictine University

$20,300

$65,100
Salary data provided by

2020 Online Colleges Offering Public Health Degrees - Ranking Details
Online MPH and MS in Public Health Programs Overview
Program Requirements
Applicants to an online MPH or MS program will need to have already earned a bachelor's degree from an accredited institution. Most schools will require transcripts from undergraduate degrees as well as some combination of standardized test scores, personal statements, letters of recommendation, and resumes or CVs. In general, a master's degree in public health will require about two years to complete.
Curriculum
Online public health master's degree programs cover five major competency areas: biostatistics, epidemiology, environmental health, health services administration, and social and behavioral sciences. In addition to those five areas, common classes will also include occupational safety, health policy, human nutrition, and immunology. The curriculum contains a mixture of classes in social and behavioral sciences, natural sciences, and management issues.
Many MPH programs allow students to specialize in a particular area, such as international public health, human rights, maternal and child health. These programs are usually aimed at aspiring public health practitioners, people who want to lead in organizations like government health agencies, public health research organizations, or private healthcare facilities. Because of the practitioner focus of the MPH, many programs also include a fieldwork requirement. During this requirement, students spend several hundred hours interning in a public health setting of their choosing.
In contrast to the MPH program, the online Master of Science in Public Health degree program focuses more on the natural sciences and quantitative skills which are useful for careers that involve conducting research on issues affecting large segments of the population. Examples of concentrations available in the MS degree program are: environmental health, health policy and management, occupational health, or social and behavioral health.
This website offers school details to prospective students as an informational resource. The appearance of a school listing on this website should not be interpreted as an endorsement of the school by this site.