2020 Best Master's in Public Administration Online Programs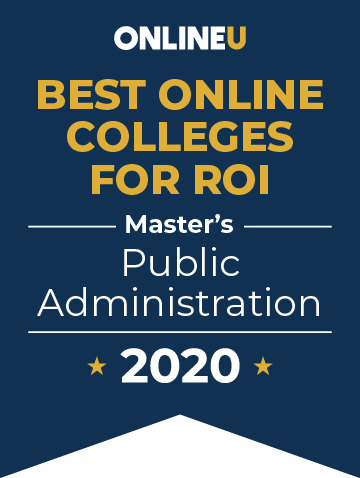 Distance students seeking master's programs in public administration will find that these 25 colleges offer the best value based on affordability and alumni salaries. California State University-Long Beach is ranked #1, offering a Master of Public Administration for $10,656 per year. Graduates of the school reported a median salary of $113,300. Second-ranked Arizona State University offers an Executive Master of Public Administration for $10,101 per year.
Alumni salaries were provided by PayScale. View our methodology for more details or learn more about OnlineU.
Salary data provided by

2020 Online Colleges Offering Public Administration Degrees - Ranking Details
Online MPA Programs Overview
Program Requirements
Students who are considering enrolling in an online master's degree program in the field of public administration must first complete a bachelor's program in a similar field. Applicants will need to provide transcripts from their undergraduate degree programs. Some schools may also require personal statements, a resume or CV, letters of recommendation, and standardized test scores. Most programs can be completed online in two years or less, and require between 30 and 40 units.
Curriculum
Online MPA programs typically offer coursework in economics, statistics, public policy, research methods, management, business ethics, organizational behavior, government, and social responsibility. Many schools offer specializations so that students can become experts in specific aspects of public administration. Possible specializations include non-profit management, human resources, organizational leadership, healthcare administration, and criminal justice. Students earning MPA degrees with specializations will take additional classes that focus on their topics of choice.
Students who earn master's degrees in public administration may pursue jobs as development managers, directors of non-profits, government affairs directors, health service managers, policy coordinators, program analysts, and communications directors.
This website offers school details to prospective students as an informational resource. The appearance of a school listing on this website should not be interpreted as an endorsement of the school by this site.