2020 Best Master's in Project Management Online Programs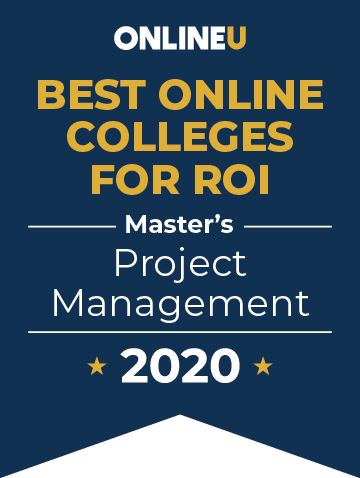 With low tuition rates and high average alumni salaries, the following 21 schools offer the best online master's programs in project management. At #1, New York University charges $35,802 per year for their Master of Science in Project Management. Alumni reported a mid-career salary of $153,400. Johns Hopkins University offers distance learners an MS in Technical Management - Project Management for $55,530 per year.
Alumni salaries were provided by PayScale. View our methodology for more details or learn more about OnlineU.
Rank
School

Annual Tuition

Mid-Career Salary

#

1

New York University

$35,802

$153,400
#

2

Johns Hopkins University

$55,530

$154,900
#

3

Purdue University - Main Campus

$13,175

$129,800
#

4

The George Washington University

$31,770

$127,800
#

5

University of Southern California

$23,136

$122,700
#

6

Florida Tech-Online

$12,821

$114,800
#

7

New Jersey Institute of Technology

$39,210

$124,300
#

8

Embry-Riddle Aeronautical University-Worldwide

$12,402

$104,100
#

9

Stevens Institute of Technology

$55,020

$119,500
#

10

University of Denver

$22,816

$105,800
#

11

Western Carolina University

$15,209

$101,800
#

12

University of Kansas

$9,945

$97,600
#

13

City University of Seattle

$15,985

$99,700
#

14

University of Maryland Global Campus

$11,862

$98,000
#

15

Troy University

$7,410

$94,200
#

16

Webster University

$14,040

$96,700
#

17

Northeastern University

$16,698

$88,300
#

18

Liberty University

$18,080

$83,600
#

19

Southern Wesleyan University

$10,170

$78,200
#

20

Southern New Hampshire University Online

$11,286

$76,700
#

21

Bellevue University

$10,530

$74,700
Salary data provided by

2020 Online Colleges Offering Project Management Degrees - Ranking Details
Online Master's in Project Management Overview
Program Requirements
Many online master's degrees in project management require applicants to have some formal or informal management experience, along with an accredited undergraduate degree. Individuals in an accredited master's program can use their coursework toward the 4,500 hours of project management experience required to take the Project Management Professional (PMP) exam.
Curriculum
The coursework in the project management master's degree combines traditional management topics with project-specific issues. For example, courses in project planning and estimating generally include material about setting project goals and creating a budget. Project procurement courses address obtaining the necessary contracts and materials for a project and managing costs. Other common core classes discuss project risk management, quality management, financial methods, and quantitative management. Many programs also require a capstone course, where students plan and control a mock project.
Most graduates of project management master's programs will seek out careers as project managers, either as employees of firms or as consultants. Others seek out related careers, such as supply chain manager, procurement manager, or computer and information systems manager.
Online MBA in Project Management
The MBA in project management combines a foundation of practical business classes with a core of classes in particular project management skills. Unlike some other graduate programs, the MBA is career-oriented and designed to impart skills that are useful on the job. An accredited undergraduate degree is required to apply to an MBA program. Some MBA programs only accept applicants who also have a minimum of two years of professional experience in project management or a related business area. Some online programs require current employment in a project management capacity. GMAT scores, professional recommendations, and a personal statement may also be required.
The basic business classes in this degree are interdisciplinary and can be applied to just about every industry. They cover topics like finance, management, organizational behavior, economics, statistics, and accounting. This firm foundation in business principles allows project managers to approach a project with an understanding of how different factors can affect the project's success.
In addition to these business classes, students in MBA in project management degrees will also take classes which cover the unique skills involved in getting a project off the ground, maintaining it during execution, and finishing strong. For example, classes on project overview and strategy cover meeting with the client, determining the goals for the project, developing a timeline, and hashing out a budget. Courses in project planning focus on procuring contracts, developing teams, and creating diagrams for the workflow of the project. Other core classes discuss project initiation, project simulation, and legal considerations in project management.
This website offers school details to prospective students as an informational resource. The appearance of a school listing on this website should not be interpreted as an endorsement of the school by this site.