Best Master's in Project Management Online Programs
By Jordan Beliles | Updated 8/11/2022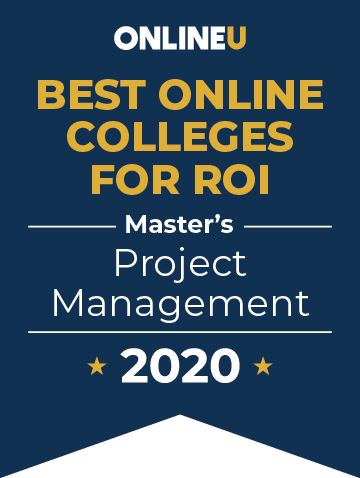 With low tuition rates and high average alumni salaries, the following 21 schools offer the best online master's programs in project management. At #1, New York University charges $35,802 per year for their Master of Science in Project Management. Alumni reported a mid-career salary of $153,400. Johns Hopkins University offers distance learners an MS in Technical Management - Project Management for $55,530 per year.
Alumni salaries were provided by PayScale. View our methodology for more details or learn more about OnlineU.
| Rank | School | Annual Tuition | Mid-Career Salary |
| --- | --- | --- | --- |
| # 1 | New York University | $35,802 | $153,400 |
| # 2 | Johns Hopkins University | $55,530 | $154,900 |
| # 3 | Purdue University - Main Campus | $13,175 | $129,800 |
| # 4 | The George Washington University | $31,770 | $127,800 |
| # 5 | University of Southern California | $23,136 | $122,700 |
| # 6 | Florida Tech - Online | $12,821 | $114,800 |
| # 8 | Embry-Riddle Aeronautical University - Worldwide | $12,402 | $104,100 |
| # 9 | Stevens Institute of Technology | $55,020 | $119,500 |
| # 10 | University of Denver | $22,816 | $105,800 |
| # 11 | Western Carolina University | $15,209 | $101,800 |
| # 12 | University of Kansas | $9,945 | $97,600 |
| # 13 | City University of Seattle | $15,985 | $99,700 |
| # 14 | University of Maryland Global Campus | $11,862 | $98,000 |
| # 15 | Troy University | $7,410 | $94,200 |
| # 16 | Webster University | $14,040 | $96,700 |
| # 17 | Northeastern University | $16,698 | $88,300 |
| # 18 | Liberty University | $18,080 | $83,600 |
| # 19 | Southern Wesleyan University | $10,170 | $78,200 |
| # 20 | Southern New Hampshire University Online | $11,286 | $76,700 |
| # 21 | Bellevue University | $10,530 | $74,700 |
Salary data provided by

2020 Online Colleges Offering Project Management Degrees - Ranking Details
Overview of a Master's in Project Management
Project managers have a broad set of responsibilities within a professional organization. They develop project scopes, organize finances, monitor deadlines, and lead teams to the finish line — all while solving complex problems along the way. Given the importance of the role, and the wide-ranging duties they're tasked with, earning a master's in project management can be a valuable asset for your future career goals.
Over the course of one to two years, a project management master's teaches you the leadership, communication, analytical, and organizational skills needed to oversee important projects. Today, many project managers work remotely while overseeing virtual teams. Therefore, most master's in project management online also teach you Agile, which is a proven approach to managing projects and software development.
To gain entry into one such program, you'll need a bachelor's degree in project management, or a related field such as business, finance, or software development. You'll also be asked to meet certain GPA and entrance exam requirements, which depends on the school you're applying to.
Can You Get a Master's in Project Management Online?
Yes, a masters degree in project management can be taken 100% online. As stated above, a lot of project management roles today don't take place in an office. In fact, HubStaff Tasks' 2021 Project Management Report notes that over 40% of professionals in the field said they are permanently working in a remote environment. While remote work does come with its challenges, this bodes well for those interested in taking an online master's in project management.
During an online program, you'll be primed with skills to manage teams from afar, including communication tactics and how to tackle hurdles, such as time zone differences and keeping team members accountable for their tasks.
Before settling on an online school, it's important to consider a college's accreditation. This means the college or university has been vetted by the U.S. Department of Education, or an approved regional accreditation organization. For individual programs, you may look to see if they're accredited by the Project Management Institute (PMI). Each and every one of OnlineU's programs comes from an accredited institution, making your degree search much easier to navigate.
It's also important to note that online degrees are respected. The stigma surrounding remote learning has long since dissipated, especially because of the pandemic, which forced many traditional universities to host more online programs. Today, online degrees won't even mention that you took online courses, even if they were your primary source of learning.
Common Courses for a Project Management Master's
The curriculum for a master's in project management revolves around the specific skills you'll need to be a team leader and organizational guru. You'll learn ways to manage and mitigate risk, analyze financial reports, communicate with stakeholders, and develop complex schedules with numerous moving parts. There will also be courses covering the fundamentals of common project management software programs, such as Scrum and Agile.
Toward the end of each program, faculty will likely require you to put your skills to the test with a capstone project. This usually entails real-world project oversight in a team environment, with the purpose of developing a portfolio for your future employers.
Let's take a closer look at some common courses found in an online project management master's degree:
Risks are inherent with every project, regardless of scale. In a risk management course you'll learn about methodologies for risk analysis as well as the skills and tools required to mitigate the inevitable challenges, threats, and issues that come with complex projects.
At its most basic level, Agile is a set of processes and techniques that focuses on teams producing working software for customers. Agile plays such an important role in the degree's curriculum that there are specific Agile project management courses, where you'll learn the associated methodologies, including its overarching philosophies.
Courses in project leadership or project governance teach the skills needed to actively lead groups of people through effective strategies and adaptable communications. You'll learn to identify and negotiate expectations all the while facilitating teamwork.
Project Scope and Scheduling
This course will teach you how to properly plan for an upcoming project, including understanding its scope and the best ways to allocate resources, organize documents, utilize scheduling tools, and predict budgets.
You'll need to know how to maintain project quality along with efficiency. This course explores the qualitative methods used to ensure the best possible project outcome through identifying standards, monitoring control, and analyzing dependencies.
What Can I Do With a Master's in Project Management?
An online masters degree in project management can open the door to a variety of career opportunities across sectors. Graduates will gain a wide range of expertise in people management, communication, risk analysis, scheduling, and financial oversight. These skills are increasingly valuable in business, allowing professionals to join a company even without an expert-level knowledge of their specific product. You may be asking yourself, "How much do project managers make?"
Let's take a closer look at some jobs you can obtain with a master's in project management, along with the salaries they offer:
Can You Get Rich as a Project Manager?
The average salary for project managers varies depending on the job title you're able to secure. Most roles hover in the $90,000 to $120,000 range. This income falls in line with management salaries across the board. According to the Bureau of Labor Statistics (BLS), management occupations have a median salary of $123,370. Since the living wage requirement is $68,808, the average project manager's salary is likely in a much higher wage bracket than what's needed to meet basic necessities. However, it should be noted that living wages vary dramatically by location.
Certification and Licensure
Project manager roles typically do not require a license to legally operate in any state. However, some employers may look favorably on applicants with a project management certification.
The Project Management Institute administers one of the most well-regarded certificates in the industry known as the Project Management Professional (PMP) certificate. The exam costs $555 for non-members and tests your knowledge in three different methodologies.
There are a variety of other certificates that you can earn in niche areas of project management — including Certified ScrumMaster (CSM), Master Project Manager (MPM), and CompTIA Project+.
Financial Aid and Scholarships for Online Students
Along with financial aid and student loans, scholarships are a great way for students to lessen the upfront amount they have to spend for their college education. Scholarships, in particular, are plentiful for students in a master project management online program:
The Project Management institute has several scholarships available, including the Global Accreditation Center (GAC) scholarship, which is available for students at the graduate level. Each year, $2,000 is awarded to two recipients. To apply, you must prove enrollment in an accredited-GAC program. Master's students have to be studying at least part-time with one semester already completed at the time they apply.
PMI's Kenneth O. Hartley & James "Jim" Gallagher Fellows Scholarship is another $2,000 award, this one is exclusively for graduate students in a project management or project management-related program. Other scholarships from PMI include the Dr Harold Kerzner Scholarships and the PMI Ned Engman Founders Scholarship.
Is a Master's in Project Management Worth It?
Earning a masters degree in project management online requires a set of skills that other degree programs may not put as much emphasis on. This includes your ability to communicate effectively to large teams of people, leading them through tough projects on tight deadlines. If you're not comfortable in a leadership role, this graduate program may not be worth it for you. To others, a project management degree may seem very appealing thanks to their higher-than-average salaries.
Let's take a look at the potential benefits and possible drawbacks of taking on a master's in project management:
Potential Benefits
A project management master's degree can allow you to work in a wide variety of industries. Most program's take a comprehensive approach in terms of understanding how to manage people, utilizing practical business tactics, and learning valuable software.
Potential Drawbacks
A master's degree is an expensive endeavor. Even if you take your courses online, which can be slightly less expensive than on-campus, you can still expect to spend over $66,000 in total.
Many project manager roles require experience on top of a degree. This means that some employers value practical skills — which can only be achieved from work experience and certificates — over theoretical and academic achievements.
A Master of Business Administration (MBA) is more widely recognized than a Master's in Project Management. Employers know what comes with an MBA; however, they may be less knowledgeable about the credentials that come with a project management master's program.
Bottom Line
Master's programs can be difficult to achieve while adding tens of thousands of dollars to your overall education costs. Some employers may look at an MBA or PMP certificate as more valuable than a master's in project management, especially if you have no practical work experience in the field. But, if you're a dedicated student with the ability to take on internships while you study, you can expect to land a role earning far more than the average U.S. salary. Even more encouraging is the wide range of skills you learn in a project management master's program, which are amplified by the act of learning in a remote, online environment.
Related Articles
Best Master's in Organizational Leadership Online Programs
Discover the best online master's organizational leadership degrees, ranked based on tuition rates and alumni salaries.
2022 Best Online Bachelor's in Project Management Degrees & Certificates
Our rankings feature the best online bachelor's in project management degrees, based on alumni salary outcomes.