2020 Best Online Master's Degrees in Political Science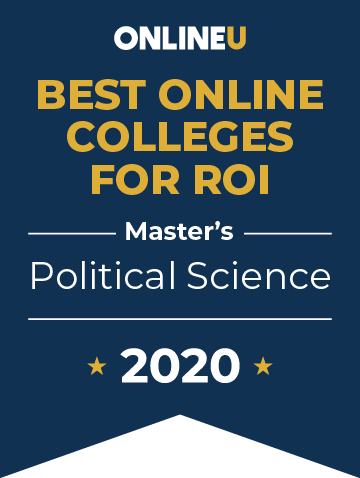 The following 12 schools offer the best online master's in political science programs, based on their low tuition rates and high mid-career salary potentials. Graduates of the #1 school, The George Washington University, report earning a median salary of $155,900. Virginia Polytechnic Institute and State University, ranked #2 on the list, costs $29,559 annually for an online Master of Arts in Political Science, with alumni reportedly earning median salaries of $113,576.
Alumni salaries were provided by PayScale. View our methodology for more details or learn more about OnlineU.
Rank
School

Annual Tuition

Mid-Career Salary

#

1

The George Washington University

$15,030

$155,900
#

2

Virginia Polytechnic Institute and State University

$29,559

$113,576
#

3

Fort Hays State University

$4,604

$99,100
#

4

University of Illinois at Springfield

$8,145

$98,360
#

5

Johns Hopkins University

$55,530

$110,700
#

6

The University of West Florida

$15,700

$89,500
#

7

Bellevue University

$10,530

$82,632
#

8

Sam Houston State University

$7,769

$71,400
#

9

Liberty University

$13,560

$71,987
#

10

Regent University Online

$11,700

$68,500
#

11

Rutgers University-Camden

$29,232

$66,900
#

12

University of Nebraska at Omaha

$9,000

$56,893
Salary data provided by

2020 Online Colleges Offering Political Science Degrees - Ranking Details
Online Master's in Political Science Overview
Program Requirements
To qualify for master's in political science programs, students must hold bachelor's degrees. Many schools also require applicants to submit resumes detailing their relevant job, internship, and volunteer experience. Applicants must also submit transcripts, letters of recommendation, and a statement of purpose. Earning a master's degree in political science requires two years of coursework, or 30 units.
Curriculum
Students typically begin their degree program by taking courses in communications, political theories, political structures and methodologies, sociology, business, law, the criminal justice system, and elections. Most students specialize in a certain area of political science and structure their curriculum around their chosen concentration. Most political science master's programs have a thesis requirement. Students spend many months choosing a topic, developing their research processes, and working with professors to write and edit their thesis.
This website offers school details to prospective students as an informational resource. The appearance of a school listing on this website should not be interpreted as an endorsement of the school by this site.