2020 Best Online Master's in Physician Assistant Programs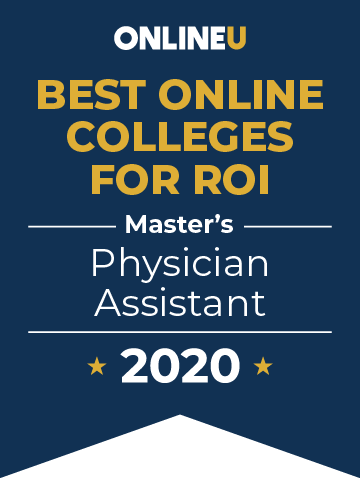 The following three schools offer the best online master's in physician assistant programs, based on their low tuition rates and high mid-career salary potentials. At #1, University of Nebraska Medical Center charges $21,156 per year for their Master of Physician Assistant Studies. Touro College ranks #2, with a median salary of $102,275 and an annual tuition rate of $8,500.
Alumni salaries were provided by PayScale. View our methodology for more details or learn more about OnlineU.
Salary data provided by

2020 Online Colleges Offering Physician Assistant Degrees - Ranking Details
Overview of Online Physician Assistant Master's Degrees
Master's level programs in physician assistant studies allow candidates to specialize in areas such as internal medicine, emergency medicine, or neonatology. During physician assistant master's programs, students participate in a mixture of courses in health-related areas and laboratory instruction. Students must take the expected human physiology-related subjects like biology, biochemistry, and human anatomy. They also take classes in areas that are more focused on medical practice and diagnosis, such as medical ethics and physical diagnosis. Here are some other courses you may be required to take during a master's program in physician assistant studies:
Clinical Medicine: Students will learn problem-solving techniques to help them evaluate, diagnose, and treat patients. An emphasis will be placed on clinical reasoning.
Leadership and Stewardship: This course will focus on teaching studets to become medical leaders and stand for change. Students will study different strategies to pursue these efforts in a professional manner. They will then put together a leadership portfolio.
Principals of Medical Science: This course will provide students with a clinical foundation from a physiological standpoint as they examine topics such as diseases and bodily functions.
Research Methods and Designs: Students will learn the skills to evaluate research that has been published for clinical practice. They will learn about different research concepts and methods in order to help them properly evaluate each resource. There will be an emphasis on interpretation.
Almost every task that a physician assistant is responsible for requires hands-on work. Therefore, these methods, techniques, and practices must be practiced in an on-site manner before graduation. Within the master's degree in physician assistant program, there will be required periods of on-site training referred to as "rotations" that students must complete in order to graduate. These rotations are supervised by medical professionals and generally cover several areas, like family practice, pediatrics, surgery, emergency medicine, and many others. Most programs require two to three years of full-time study.
In order to be admitted to a physician assistant master's program, a prospective student have a bachelor's degree from an accredited institution, preferably in a healthcare-related discipline. There are physician assistant bachelor's degree programs, but general science degrees in biology, chemistry, physics, anatomy, or kinesiology are accepted, as well. Pre-med or public health majors are favored also. Many programs only admit students who have a few years of experience in the medical industry, so students must submit a resume and letters of recommendation from employers.
References
Accreditation Review Commission on Education for the Physician Assistant, Inc. (ARC-PA). Accessed May 29, 2014. http://www.arc-pa.org.
This website offers school details to prospective students as an informational resource. The appearance of a school listing on this website should not be interpreted as an endorsement of the school by this site.