Best Master's in Organizational Leadership Online Programs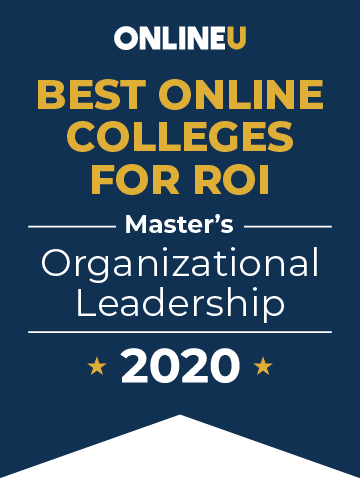 Ranked based on affordability and earning potential, these 20 schools offer the best online master's programs in organizational leadership. Graduates of the #1 school, the University of Colorado Denver, report earning a median salary of $186,500. Tuition for the University of Colorado Denver's Master of Science in Management and Organization - Leadership is $10,965 per year. Johns Hopkins University ranks #2, with a median salary of $154,900 and an annual tuition rate of $14,274.
Alumni salaries were provided by PayScale. View our methodology for more details or learn more about OnlineU.
| Rank | School | Annual Tuition | Mid-Career Salary |
| --- | --- | --- | --- |
| # 1 | University of Colorado Denver | $10,965 | $186,500 |
| # 2 | Johns Hopkins University | $14,274 | $154,900 |
| # 3 | The University of Texas at Dallas | $36,450 | $141,600 |
| # 4 | Florida Tech - Online | $12,821 | $114,800 |
| # 5 | Colorado State University - Fort Collins | $10,272 | $110,300 |
| # 6 | Embry-Riddle Aeronautical University - Worldwide | $12,402 | $104,100 |
| # 7 | Albertus Magnus College | $12,258 | $103,300 |
| # 8 | Pepperdine University | $64,800 | $122,600 |
| # 9 | University of Denver | $22,816 | $105,800 |
| # 10 | City University of Seattle | $14,595 | $99,700 |
| # 11 | Western Governors University | $7,600 | $95,500 |
| # 12 | Troy University | $7,410 | $94,200 |
| # 13 | Webster University | $14,040 | $96,700 |
| # 14 | National University | $11,934 | $87,400 |
| # 15 | Northeastern University | $16,698 | $88,300 |
| # 16 | Southern Wesleyan University | $10,170 | $78,200 |
| # 17 | Southern New Hampshire University Online | $11,286 | $76,700 |
| # 18 | Bellevue University | $10,530 | $74,700 |
| # 19 | Fontbonne University | $13,175 | $70,800 |
| # 20 | Wayland Baptist University | $9,760 | $58,700 |
Salary data provided by

2020 Online Colleges Offering Organizational Leadership Degrees - Ranking Details
What Is an Organizational Leadership Master's Degree?
This master's degree teaches leadership skills to students interested in the theory and practice of organizational management. It shares some commonalities with a Master of Business Administration (MBA), but features a more theoretical and scientific focus and less emphasis on strictly profit-making business organizations.
Faculty typically design these programs to last two years on a part-time cadence of one or two classes per term. This set-up helps accommodate the many master's students who work full-time while going to school. The curriculum is usually 30-36 credit hours and contains coursework in motivational psychology, ethics, communication, and data analytics. Most programs culminate in a capstone project where you integrate everything you've learned.
Online Master's in Organizational Leadership
Online master's programs usually feature asynchronous online courses: You log in to a learning management system at your convenience rather than at a scheduled time. You can watch lecture recordings and interact in discussion forums whenever you prefer, as long as you respect assignment and exam due dates. You'll work in person at an employer's office for any required internships, but these are relatively uncommon among organizational leadership programs.
Admission Requirements
You must hold a bachelor's degree from an accredited college to apply for a master's in organizational leadership. You don't need to have studied a particular major to apply; organizational leadership students come from a variety of higher education backgrounds.
Beyond your undergraduate transcripts, admission requirements differ by program. But most schools ask for the following:
A minimum 3.0 GPA for your most recent degree

Two letters of recommendation, usually from professors

A resume with education and work experience details

GRE or GMAT scores
What Can You Do With an Organizational Leadership Master's?
Organizational leadership master's graduates have landed a variety of roles in a range of industries. In fact, each of the top three employers of organizational leadership master's graduates in the last 12 months is in a different industry. According to the analytics company Lightcast, those employers are the consulting firm PricewaterhouseCoopers, Shelby County public school district in Tennessee, and the pharmaceutical company Johnson & Johnson.
We've listed possible career opportunities for alumni of organizational leadership programs below.
Is an Online Master's Degree in Organizational Leadership Worth It?
It's tough to say in advance whether a degree will be worthwhile, but an organizational leadership master's has been a good investment to many graduates committed to leading organizations. These degrees often equip graduates with useful, transferable skills that might help you succeed in whichever sector you choose to work in.
Potential Benefits
Organizational leadership is a less known quantity than business administration, which might help you stand apart in a job market crowded with MBA graduates. You may want to perfect a confident elevator pitch for the advantages that your education has given you.
Potential Drawbacks
Higher education is expensive, and a master's degree could put you further into debt. There's lots of research about the worth of an MBA, but it's unclear whether a graduate degree in organizational leadership offers quite the same pay boost to make it worth the debt.
Online learning may be less useful for networking than studying on campus. Online students have fewer chances to interact with classmates and faculty who can offer potentially helpful professional connections.
Organizational Leadership Concentrations
As you research master's degrees, you may notice some programs that offer optional concentrations. These concentrations are collections of courses designed to help you improve your competencies in a focus area. Read on for examples of organizational leadership concentrations and what they entail for this field in particular.
Diversity, equity, and inclusion is likely to become an increasingly popular specialization as employers push for more diverse hiring and inclusive workplace practices. Coursework may cover cultural sensitivity, organizational change, and mentoring.
A human resources specialization may be ideal if you're interested in working for HR consulting firms or in the HR department of a large employer. You might study talent acquisition, team building, conflict resolution, and performance management.
Faculty in supply chain management teach the efficient flow of materials and finished products through the development and delivery cycle. You'll typically take courses on logistical planning, implementation, and problem-solving.
Organizational Leadership Courses
Organizational leadership master's curricula vary slightly from one school to the next. However, most programs cover many of the same concepts, perhaps only packaged a bit differently. We've listed some courses below that you're likely to encounter in some form during a master's degree program.
Students examine theories of ethics and apply them for organizational leadership purposes. Faculty usually discuss real-life case studies of ethical decision-making in professional contexts. Students may also write about hypothetical scenarios.
Foundations of Leadership
Master's cohorts typically take this class during their first term, because it introduces the concepts underpinning organizational leadership. Topics include organizational behavior, organizational development, intrinsic and extrinsic motivation, and leadership theories such as transformational and dyadic.
This class covers methods for understanding and mitigating unfolding crises. Professors lecture on risk assessment, threat detection, response plans, and strategic organizational communication.
Leaders need to understand how their organization receives and uses money, which is the subject of this course. Lessons often cover microeconomics principles, budgeting, and cost-benefit analysis across the corporate, government, and nonprofit sectors, because each has a different relationship to financing.
This course covers one of the most important functions of leadership: providing an overarching, long-term plan for an organization. Students complete readings and assignments about setting goals, delegating responsibility, drawing up budgets, making necessary adjustments, and reviewing actual outcomes.
FAQs about Online Organizational Leadership Master's Degrees
Which Is Better: an MBA or a Master's in Organizational Leadership?
---
It's difficult to answer this without more research into the career outcomes of organizational leadership master's graduates. We can definitively say that an MBA is usually a good investment, especially if you get your MBA from a program with a high Salary Score. Therefore, an MBA is likely a safer bet, but this doesn't mean that an organizational leadership degree is necessarily inferior.
How Long Does It Take To Get a Master's in Organizational Leadership?
---
Faculty usually design these master's degrees to last two years with a part-time schedule, working on the assumption that graduate students want to take one or two classes at a time. But there is some variation within that framework. For example, program administrators may allow you to take fewer courses than usual or skip a term as long as you finish within three or four years.
How Much Does an Online Master's in Organizational Leadership Cost?
---
According to the National Center for Education Statistics, the overall average yearly cost of a graduate program is $19,749. But keep in mind that costs vary widely among schools. In general, public schools are the most affordable as long as you qualify for in-state tuition rates, followed by for-profit private schools, then nonprofit private schools. Financial aid can help lower the total cost of a degree, so it's always good practice to apply for all possible sources of aid.
How Much Can You Make With a Master's in Organizational Leadership?
---
According to the Bureau of Labor Statistics, computer and information systems manager is the highest paying job in the management field. These professionals make median yearly wages of $159,010. However, you need at least some previous computer science or IT education and experience to secure a leadership role. One of the highest paying roles for graduates of a master's in organizational leadership that doesn't necessarily require years of experience is management analyst, which has a median annual salary of $93,000.
Related Articles
2022 Best Online Master's in Business Management Degrees
Discover the best online master's in business management degrees and learn about the program types, curriculum, and potential careers for MBA graduates.
Best Online Human Resources Master's Degrees
We've ranked the best online master's in human resources degrees based on return on investment. Compare schools by tuition and projected alumni outcomes.