2020 Best Master's in Organizational Leadership Online Programs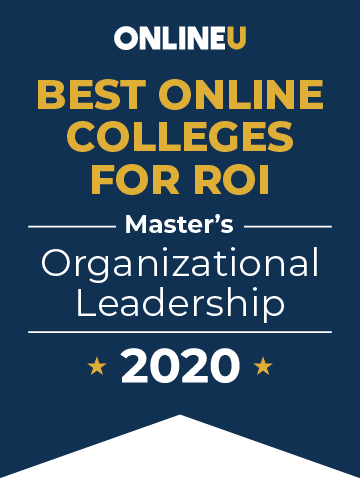 Ranked based on affordability and earning potential, these 20 schools offer the best online master's programs in organizational leadership. Graduates of the #1 school, the University of Colorado Denver, report earning a median salary of $186,500. Tuition for the University of Colorado Denver's Master of Science in Management and Organization - Leadership is $10,965 per year. Johns Hopkins University ranks #2, with a median salary of $154,900 and an annual tuition rate of $14,274.
Alumni salaries were provided by PayScale. View our methodology for more details or learn more about OnlineU.
Rank
School

Annual Tuition

Mid-Career Salary

#

1

University of Colorado Denver

$10,965

$186,500
#

2

Johns Hopkins University

$14,274

$154,900
#

3

The University of Texas at Dallas

$36,450

$141,600
#

4

Florida Tech-Online

$12,821

$114,800
#

5

Colorado State University-Fort Collins

$10,272

$110,300
#

6

Embry-Riddle Aeronautical University-Worldwide

$12,402

$104,100
#

7

Albertus Magnus College

$12,258

$103,300
#

8

Pepperdine University

$64,800

$122,600
#

9

University of Denver

$22,816

$105,800
#

10

City University of Seattle

$14,595

$99,700
#

11

Western Governors University

$7,600

$95,500
#

12

Troy University

$7,410

$94,200
#

13

Webster University

$14,040

$96,700
#

14

National University

$11,934

$87,400
#

15

Northeastern University

$16,698

$88,300
#

16

Southern Wesleyan University

$10,170

$78,200
#

17

Southern New Hampshire University Online

$11,286

$76,700
#

18

Bellevue University

$10,530

$74,700
#

19

Fontbonne University

$13,175

$70,800
#

20

Wayland Baptist University

$9,760

$58,700
Salary data provided by

2020 Online Colleges Offering Organizational Leadership Degrees - Ranking Details
Overview of an Online Master's Degree in Organizational Leadership
The organizational leadership curriculum is a unique blend of psychology, organizational behavior, business, and leadership courses. Courses in decision making, conflict management, and building effective teams teach students the principles behind working with groups of employees and aligning many different personalities and goals. Psychology courses such as human behavior discuss how humans are motivated, especially within the group setting. Many organizational behavior programs include a research paper, capstone project, or final exam, meant to synthesize all the information included in the degree.
Students take 12 to 18 courses over one or two years; some programs contain optional or required specializations in particular business or organization areas. To apply to the master's degree in organizational leadership, candidates need an accredited bachelor's degree. Many programs also require demonstrated leadership experience or an essay detailing the applicant's goals in the degree
Organizational leadership master's graduates go on to a wide variety of consulting, management, and specialist positions. More obvious career options include becoming an organizational specialist within a business, or acting as an organizational consultant. Other graduates become human resources managers or specialists. Leadership opportunities are available in many sectors that require effective teamwork, such as healthcare administration, higher education, public administration, and non-profit management.
This website offers school details to prospective students as an informational resource. The appearance of a school listing on this website should not be interpreted as an endorsement of the school by this site.