2023 Best Online Master's in Nutrition Programs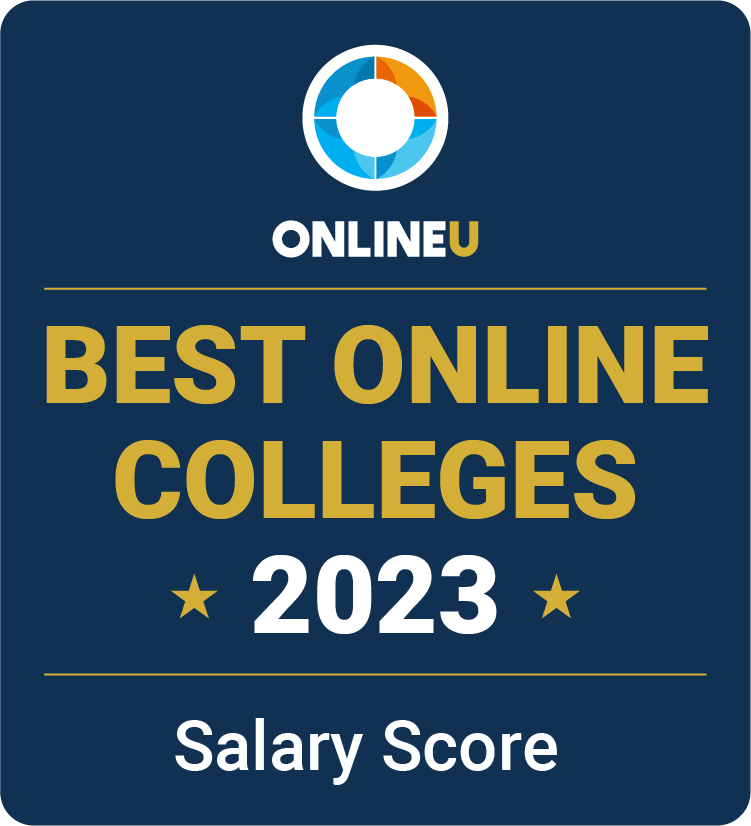 For individuals seeking to delve deeper into the intricate world of food science, dietary analysis, and health promotion, pursuing an online master's in nutrition degree may be the best fit. An online nutrition bachelor's degree can help prepare students for the rigorous curriculum at the master's level, which includes a broad spectrum of subjects, ranging from advanced biochemistry and metabolism to clinical nutrition and public health initiatives. Graduates with a nutrition master's degree can help transform the lives of others by promoting the power of balanced, evidence-based dietary practices.
View our methodology for more details about rankings, or learn more about OnlineU.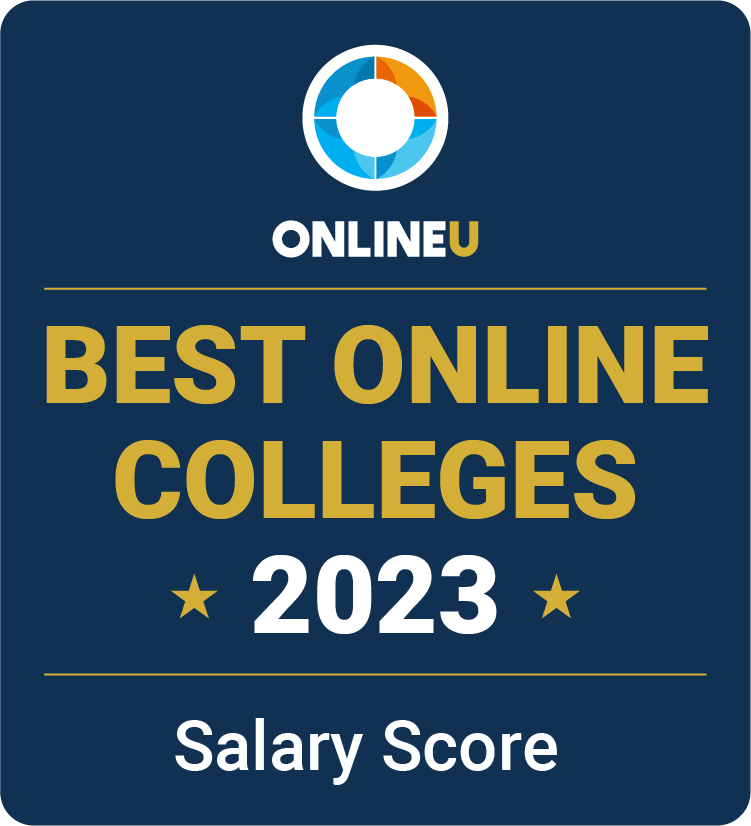 ADVERTISEMENT
Online Nutrition Master's Degrees You May Be Interested In

Annual Tuition: $11,538
1 Programs (view all)


Annual Tuition: $5,100 - $19,920
1 Programs (view all)
---
2023 Best Online Master's in Nutrition Programs
| Rank | School | Salary Score | Median Starting Salary |
| --- | --- | --- | --- |
| # 1 | Arizona State University | | $59,712 |
| # 2 | Stony Brook University | 91 | $58,950 |
| # 3 | Utah State University | 86 | $56,726 |
| # 4 | University of Rhode Island | 84 | $56,247 |
| # 5 | Indiana University of Pennsylvania - Main Campus | 79 | $54,373 |
| # 6 | University of North Carolina at Chapel Hill | 69 | $51,673 |
| # 7 | SUNY Oneonta | 67 | $51,203 |
| # 8 | Framingham State University | 64 | $50,469 |
| # 9 | University of Bridgeport | 62 | $50,061 |
| # 10 | University of North Florida | 60 | $49,715 |
What Is a Master's in Nutrition Degree?
An online master's in nutrition gives students a holistic understanding of how food affects health and well-being through different biological, social, and economic processes. Students learn about healthy food systems and how factors such as age, gender, and income influence nutritional health.
Graduates of master's in nutrition programs should finish their degree with the skills and expertise necessary to help a diverse array of clients optimize their health and well-being through dietary changes. Students pursuing a master's in the field of nutrition can specialize in specific niches of food science, including public health, food service administration, holistic nutrition, and environmental nutrition. There are also online public health degrees available as an alternative pathway.
Some master's programs prepare students to work in nutrition in general, while others prepare students for licensure as a Registered Dietitian or Registered Dietitian Nutritionist (RD or RDN). Students who want to become RDNs will need to get a master's specializing in dietetics through a program accredited by the Accreditation Council for Education in Nutrition and Dietetics (ACEND). There are also programs available for students with a bachelor's in nutrition who want to earn their master's in order to remain competitive in their field.
Degree Requirements
An online master's in nutrition generally requires 30-36 credit hours and takes two years of full-time study to complete. Some schools offer accelerated programs, where students can finish in just one year, while others allow students to enroll part time to accommodate work and other responsibilities.
Some online nutrition master's degree programs require students to complete an internship or practicum, which is especially important for students who want to qualify for the RDN credential after graduation. Dietetics students will need hands-on experience gained through a supervised didactics practicum to gain certification as an RDN. Online students can usually complete practicum requirements by working with a registered dietitian in their local area.
Courses
Pursuing a master's in nutrition online involves gaining valuable research skills while studying various aspects of the food system. Coursework is heavily focused on concepts in the biological sciences, including metabolic processes, micro- and macronutrients, and epidemiology. Other courses focus on the societal aspects of nutrition, teaching students about food production, how consumables are marketed, and how people make dietary choices based on the information they receive.
The following are common courses in a nutrition master's program:
Advanced Nutrition and Metabolism
Students taking this class learn about the biological processes through which nutrients are absorbed into the body. In addition to gaining an understanding of the nutritional value in chemical compounds, such as carbohydrates and fats, they also learn about how toxins affect us.
Students enroll in this elective to better understand how social norms affect nutrition. Topics covered include the political and economic drivers of food availability in the U.S., religious beliefs about diet, and the impact of culture on community nutrition.
Because so much of nutritional research is funded by corporations with financial interest in what the public sees as healthy or unhealthy, understanding how to evaluate the quality of new research is critical for nutrition professionals. Students will learn to evaluate clinical research studies and data by looking at factors, such as biological variation, sample size, experimental design, analytical integrity, and bias in design and analysis, and assess how they can incorporate new research into their clinical practice.
This class examines how age affects nutritional health. Students learn about changes in dietary requirements as individuals grow older as well as common threats posed by certain minerals and chemicals in older populations' food.
Meet Professional Nutritionist Kathleen Putnam
Kathleen Putnam has been a professional nutritionist for 20 years, and she has extensive experience in many facets of the nutrition field. She earned a Bachelor of Science in nutrition and dietetics from Oregon State University and a Master of Science in nutrition from Bastyr University. For the past 10 years, she has been at a private practice, NutritionWorks Seattle, where she counsels individuals and groups. When she is not meeting with her clients, she teaches nutrition courses at Shoreline Community College.
Why Did You Decide To Become a Nutritionist?
I was first attracted to this field because I have always been interested in my own personal nutrition. I was also drawn to the teaching aspect of nutrition as well as the constant learning. This is a dynamic subject, and the data is constantly changing. I knew I would enjoy learning and growing along with the field.
Are There Common Misconceptions About Your Profession?
Yes, people commonly think that nutritionists will be judgmental and condescending and that we will dictate what they can and cannot eat. But we don't force changes on people. We are here to help people understand why changing their habits is so difficult. Nutritionists are knowledgeable about human behavior and development, and we don't want to set people up for failure. An eating plan is only successful if it works for the individual person. We help people to make healthy choices in our modern culture while considering people's budgets, lifestyle, and personal preferences. Nutritionists are facilitators.
What Is a Typical Day Like for You?
Most days, I meet with four or five clients at my practice, Seattle NutritionWorks. Some days I also conduct a one-hour group session. When I am not meeting with clients, I update charts, communicate with therapists and physicians about clients, blog, and answer questions on my website. I make time each week to communicate and network with other professionals in the nutrition field. I also teach nutrition courses at local colleges. I currently teach two five-credit classes, although most quarters I only teach one class at a time.
What Advice Would You Give to a Student Studying To Become a Nutritionist?
If you are considering studying to become a nutritionist, you should first be aware of the time and education commitment. Often, students don't realize that a bachelor's degree in nutrition is not enough. Most nutritionist jobs will require you to be a registered dietitian. In order to become a registered dietitian, you will need to complete a yearlong internship after college, and then you will need to pass the national licensing exam. In all, it is a minimum commitment of five years, and you should understand the requirements ahead of time.
In addition to recognizing the level of commitment, I would also recommend that you research the profession and educate yourself about the salary range as well as the salary range of related fields.
Above all else, don't be discouraged by things that you hear or read; if it is your passion, you can have success. You will have plenty of opportunities, especially internationally, and your opportunities will probably increase as time goes on. If you love what you do and you have a passion for nutrition, you can make money in the field. You might have to supplement your income through teaching or writing, and you might have to be creative to get your foot in the door and gain experience. But if you want to work as a nutritionist, you will find success. There is room for you!
What Can You Do With a Master's in Nutrition?
Most students earn their master's in nutrition to become nutritionists or RDNs and work directly with nutrition clients. After a master's program, some may go on to complete further education in nutrition, such as a certificate or doctorate. Others may pursue RDN certification or another type of licensure, or they may start their career in the health and wellness industry.
Further Education
After finishing a master's in nutrition, some students go on to earn a doctorate in nutrition or a related field to advance their academic and professional expertise. Doctoral programs, such as a Doctor of Philosophy (PhD) in nutrition, usually involve rigorous research and allow students to dive deeply into specific areas of study within the field. Doctoral studies may focus on areas like clinical nutrition, public health, molecular nutrition, or food science. Graduates with a doctorate often pursue careers in academia, research institutions, or specialized advanced roles in healthcare or the food industry.
Some students might instead choose a post-graduate certificate in another specialized area of study they didn't get to focus on during their master's program, such as sports nutrition or public health.
Nutrition Careers
A master's degree can open the door to a range of advanced career opportunities in nutrition and the wellness industry. Graduates of a nutrition program often enter the field to work directly with clients and are uniquely qualified to make a positive impact on the lives of individuals and communities by promoting healthy eating habits and providing nutritional education.
Becoming a nutritionist or registered dietitian (RD or RDN) are two of the most common career paths for nutrition professionals with a master's degree. While the two careers are very similar in scope, the main difference between a nutritionist and a dietitian is that RDNs are required to have state licensure to practice. While RDs and RDNs have certification that allows them to work as health professionals, nutritionists are more limited in the services they are able to provide without licensure.
RDs often work in more clinical settings, providing nutrition therapy to patients in hospitals, nursing homes, and other facilities. Nutritionists might work as consultants, lifestyle coaches, or nutrition writers.
FAQs About Master's in Nutrition Programs
How Much Does a Master's in Nutrition Cost?
---
The cost of a master's in nutrition can range significantly depending on where you go to school. The most affordable master's degrees in nutrition cost around $5,000 to $7,000 per year. More expensive programs can cost upwards of $25,000 per year. Students should also take lost wages into consideration when figuring out how much their degree will cost them.
In general, online degrees are more affordable than in-person programs because students don't have to pay for transport, on-campus housing, or relocation, and they can often keep working during their program. Some schools even charge distance learners in-state tuition rates, which are generally lower.
Is It Hard to Earn a Master's in Nutrition?
---
A master's in nutrition requires a blend of social sciences and STEM classes, which means students interested in the major will likely see a mix of classes that are easier and more difficult for them, depending on their strengths. For some students, a master's in nutrition may be more difficult than other programs due to the science-heavy classes necessary to understand how nutrition impacts our bodies at the cellular level. However, other students may have more success in a nutrition program than other degrees if they are interested in the material.
How Long Does It Take to Earn a Master's in Nutrition?
---
Earning a master's in nutrition usually takes about two years of full-time study. Students pursuing an RDN credential will also need to complete 1,000 clinical hours, either during their program or during an internship, which translates into about six months of full-time work. Some programs incorporate practicum hours into their curriculum as part of the program, while others do not include this as a requirement. Students who don't enroll in a program that includes practicum requirements will need to spend additional time getting these hours in after graduation.
Is a Master's in Nutrition Worth It?
---
The worth of any degree varies based on students' career goals, personal circumstances, and finances. In general, however, investing in graduate school may lead to increased future earnings. A master's in nutrition may also result in a rewarding career for those interested in improving individual or communal health through food science.
There are a few pros and cons students should consider. One of the most important things to think about is that a master's is required to become a dietitian. Another pro of earning a master's in nutrition is that it can lead to careers in multiple sectors, including government, business, education, and nonprofit. However, there are some potential downsides. The additional requirements needed for RDN certification may push some students to pursue another degree. Depending on where they live, some students may also have a hard time finding somewhere to do their practicum.
What Degree Is Best For Nutritionists?
---
Students who want to become nutritionists should earn their master's in nutrition. Those who want to become registered dietitians and work in a clinical setting should focus on a master's in nutrition and dietetics that meets RDN licensure requirements.
Bottom Line
A master's degree in nutrition is one of the most important steps toward becoming a nutritionist or dietitian as it helps future nutrition professionals qualify for certification and licensure.
A master's program in nutrition can be challenging because students must take an interdisciplinary approach to food science, deepening their knowledge in biology, sociology, and economics, to name a few. Aspiring nutritionists also often need to complete a number of practicum hours as part of their master's degree. While it is a significant investment in time and money, a master's in nutrition can lead to a fulfilling and rewarding career in the industry for those who are passionate about nutrition and helping others.
Why Trust Us?
60,000 Degrees Researched Annually
20,000 Hours Spent on Research Annually
Launching Rankings Since 2009
Meet our team
Related Articles
2023 Best Online Master's Degrees
A master's program can expand your employment options and earning power. Explore our list of the best online master's programs based on alumni salaries.
2023 Most Affordable Online Master's Programs
Explore the most affordable online master's degree programs in 2023 and choose the one that's right for you.