2020 Best Accredited Online Master's in Nursing (MSN) Programs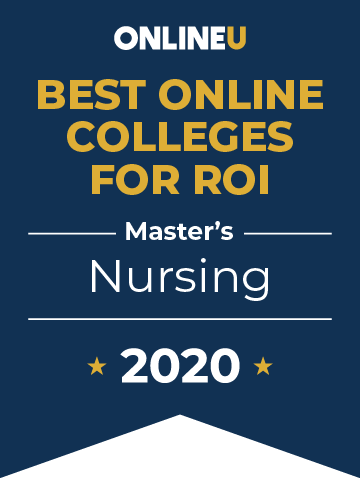 Distance students seeking master's programs in nursing will find that these 23 colleges offer the best value based on affordability and alumni salaries. Graduates of the #1 school, University of Massachusetts - Amherst, report earning a median salary of $116,300. Second-ranked University of Arizona offers an MSN for $11,560 per year. Graduates of the school's nursing program earn a median salary of $116,000.
Alumni salaries were provided by PayScale. View our methodology for more details or learn more about OnlineU.
Rank
School

Annual Tuition

Mid-Career Salary

#

1

University of Massachusetts - Amherst

$11,060

$116,300
#

2

University of Arizona

$11,560

$116,000
#

3

Rivier University

$9,450

$114,800
#

4

California State University-Dominguez Hills

$13,116

$115,600
#

5

University of Massachusetts-Dartmouth

$11,880

$113,500
#

6

Gonzaga University

$9,550

$107,500
#

7

University of San Francisco

$37,180

$118,100
#

8

Seton Hall University

$19,650

$110,900
#

9

University of Massachusetts-Boston

$13,800

$108,100
#

10

University of Hartford

$10,455

$106,100
#

11

The University of Texas at Arlington

$6,500

$104,300
#

12

The University of Texas at Tyler

$14,328

$106,200
#

13

Texas Woman's University

$7,681

$103,400
#

14

University of North Dakota

$9,945

$104,000
#

15

University of Southern Indiana

$5,105

$101,600
#

16

The University of Texas at El Paso

$10,540

$103,200
#

17

Drexel University

$4,428

$99,800
#

18

Rush University

$19,980

$105,400
#

19

Wichita State University

$5,736

$99,600
#

20

Fort Hays State University

$5,179

$99,100
#

21

The University of Texas Medical Branch

$8,963

$100,200
#

22

Texas A & M University-Corpus Christi

$11,535

$101,200
#

23

University of Kansas

$9,901

$100,500
Salary data provided by

2020 Online Colleges Offering Nursing Degrees - Ranking Details
Online Master's in Nursing
A Master's in Nursing is a post-graduate degree program that helps students with a strong professional or academic background in nursing to broaden their knowledge of the field and advance their careers. This level of education is usually undertaken by Registered Nurses (RN) with some years of work experience. It focuses on developing leadership and research skills to prepare students for advanced positions in the workplace and higher levels of responsibility.
What are the Prerequisites for an Online MSN?
There are three primary types of master's degrees in nursing for aspiring students to consider: RN to MSN programs, BSN to MSN programs, and direct entry MSN programs.
Online RN to MSNs are the most common master's in nursing program and are perfect for individuals who are already Registered Nurses but would like to further advance their knowledge. Applicants will need to hold a valid RN license and an associate degree in nursing (ADN) or a nursing diploma. In many cases, RN to MSN programs also confer a BSN upon students once they complete the undergraduate portion of the coursework. These programs allow students to accelerate the process of earning their BSN and MSN degrees, compared to enrolling in separate BSN and MSN programs. Online RN to MSN programs may take up to four years of study.
Online BSN to MSN programs are geared toward students who already have an accredited bachelor's degree in nursing. Applicants to these online programs will need to have a valid RN license in addition to their BSN, and may need to have experience working as a nurse to be eligible. Aspiring nursing master's students with a BSN will want to look for this type of online MSN program.
Online direct entry MSN programs are designed for students who already have an accredited bachelor's degree in a field other than nursing. These degree programs enable students to fast-track their nursing careers by allowing them to skip the process of earning a BSN before enrolling in a graduate nursing program. Direct entry programs are not intended for students with an RN or a BSN-those students should select RN to MSN or BSN to MSN programs depending upon their credentials.
What Classes Will I Take in an Online MSN Program?
The curriculum of the MSN depends on the program specialization; there are a variety of MSN program specializations available online including nursing education, nursing leadership, nursing administration, and nurse informatics. Clinical programs focus on advanced skills for assessing patients, managing cases, and promoting health in patients. Within these clinical programs, students choose a particular focus, such as nurse practitioner, midwife, clinical nurse specialist, or psychiatric nursing. Clinical care MSN degrees always require clinical rounds in a healthcare facility, where nurses practice advanced hands-on care.
What can I do with an Online MSN?
A Registered Nurse with a Master's in Nursing are referred to as Advanced Practice Registered Nurse and will be eligible for positions such as a Nursing Consultant, Research Nurse, Clinical Nurse Specialist, Nurse Administrator, and many other positions. Salary range for an Advanced Practice Registered nurse starts at around $78,286 up to $119,562 a year.
This website offers school details to prospective students as an informational resource. The appearance of a school listing on this website should not be interpreted as an endorsement of the school by this site.