Best Online Master's in Mechanical Engineering Degrees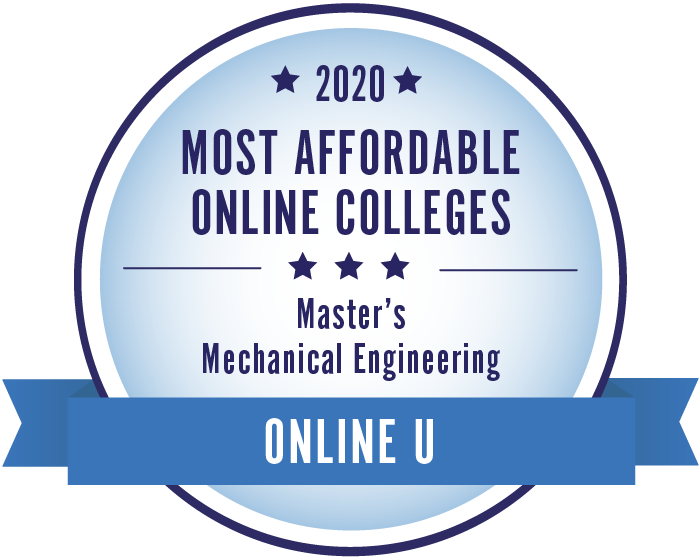 The 23 schools on this list are the best value options for obtaining an online master's program in mechanical engineering based on alumni salaries and low tuition rates. At #1, the University of Central Florida charges $10,422 per year for their MS in Mechanical Engineering. The University of Southern California offers distance learners a Master of Science in Aerospace & Mechanical Engineering - Computational Fluid & Solid Mechanics for $29,050 per year. Alumni reported a mid-career salary of $136,600.
Alumni salaries were provided by PayScale. View our methodology for more details or learn more about OnlineU.
| Rank | School | Annual Tuition | Mid-Career Salary |
| --- | --- | --- | --- |
| # 1 | University of Central Florida | $10,422 | $129,700 |
| # 2 | University of Southern California | $29,050 | $136,600 |
| # 3 | Missouri University of Science and Technology | $18,000 | $129,900 |
| # 4 | University of California - Los Angeles | $16,000 | $126,200 |
| # 5 | Auburn University | $14,235 | $125,200 |
| # 6 | University of New Mexico | $4,583 | $119,000 |
| # 7 | Texas A&M University - College Station | $26,402 | $125,200 |
| # 8 | Colorado State University - Fort Collins | $14,460 | $120,400 |
| # 9 | Iowa State University | $10,425 | $117,900 |
| # 10 | Lehigh University | $22,500 | $122,600 |
| # 11 | The University of Texas at Austin | $16,811 | $120,200 |
| # 12 | Purdue University - Main Campus | $20,220 | $121,400 |
| # 13 | University of Virginia | $8,115 | $115,700 |
| # 14 | University of Arizona | $16,000 | $117,900 |
| # 15 | University of Idaho | $8,235 | $114,400 |
| # 16 | University of Houston | $15,623 | $117,200 |
| # 17 | University of Wisconsin - Madison | $16,000 | $117,300 |
| # 18 | University of Michigan - Dearborn | $16,965 | $117,600 |
| # 19 | Worcester Polytechnic Institute | $23,490 | $118,700 |
| # 20 | Georgia Institute of Technology | $16,500 | $115,500 |
| # 21 | University of Florida | $30,134 | $120,300 |
| # 22 | Columbia University in the City of New York | $31,560 | $120,300 |
| # 23 | University of Illinois Urbana - Champaign | $17,344 | $114,200 |
Salary data provided by

2020 Online Colleges Offering Mechanical Engineering Degrees - Ranking Details
What Is Mechanical Engineering?
Mechanical engineering is a broad discipline that combines various subjects, including math, physics, and business, to advance many different technological developments. One of the oldest engineering fields, it has contributed to inventions that have revolutionized human existence, such as air travel, the printing press, and the internal combustion engine.
Modern-day mechanical engineers work on innovations both big and small in a range of industries. If you aspire to work on cutting-edge developments in biotechnics, renewable energy, robotics, or electric cars — to name a few areas — a master's in mechanical engineering can be an excellent choice. Continue reading to learn more about master's degrees in mechanical engineering, costs, courses, and how to choose a program.
Our guide to online engineering degrees provides more information about programs in this field.
Online Master's in Mechanical Engineering Degrees
Applicants to online master's degrees in mechanical engineering typically need a bachelor's in mechanical engineering or a related field of study, and some programs also require a year or more of professional engineering experience. Students complete about 10 to 15 courses over a span of one to three years.Though many programs are fully online, some may require students to complete in-person labs or a practicum.
Because many of these graduate degrees are aimed at current engineering professionals, they are flexible in their curricula. Specifically, students can choose between either a thesis or a non-thesis track. While the former involves conducting original research, the latter tends to include additional coursework in specific areas. For example, students could focus their courses in materials science, manufacturing, or biomechanical engineering. A student specializing in manufacturing might take courses in machine design and design for manufacturability.
Explore our guide to learn more about applying to online colleges.
Courses in an Online Master's Degree in Mechanical Engineering
Upper-level math courses are common requirements in master of science in mechanical engineering programs. Courses in partial differential equations and complex variables, for instance, give engineers a more developed mathematical arsenal with which to approach engineering problems. Aside from math, online students can expect to take core classes and electives in various technical areas.
Advanced Structural Analysis
This computer-focused course teaches students how to create 2D and 3D models of various structures such as bridges, skyscrapers, and beams. It introduces the software used to create models while also covering the physical principles that ensure structural integrity.
Introduction to Systems Engineering
As a distinct sub-discipline, systems engineering explores the knowledge and methods used to create a defined, well-functioning collection of rules. Systems engineering may be applied to biological, mechanical, and computing functions. Students may also gain an understanding of how to test systems for efficiency and commercial success.
In numerical methods, students seek to learn the mathematical and computational principles applied in engineering solutions. This course places a heavy emphasis on understanding concepts like algorithms, equations, and differentiation, as well as how to apply them to real-world problems.
Mechanical Engineering Specializations & Concentrations
At the master's level, mechanical engineering students typically have the chance to complete a specialized degree program or concentrate coursework in a particular sub-discipline. Given its expansive nature as a field, options to specialize or concentrate vary by program and institution. Below are a few common paths for both specialized degree types and concentrations.
Biomedical engineering deals with advancements in human health. This area may cover the design and manufacture of medicines and medical equipment and may also explore how to construct systems that increase the efficiency of healthcare delivery. Many biomedical engineering degrees or concentrations combine practices in biology, mechanical engineering, and clinical practice.
Materials Science & Engineering
This sub-discipline focuses on the chemical and physical properties of different materials, including concrete, various metals, and different liquids. Students learn how to manipulate these materials to solve engineering problems in a range of industries. In some cases, they may also study how to fashion new types of chemical compounds designed to meet specific real-world needs.
Robotics and Autonomous Systems
Robotics and autonomous systems are becoming increasingly important in areas like self-driving cars, healthcare, and manufacturing. This sub-discipline of mechanical engineering draws heavily on systems design and computer science, with students learning about multiple robotics applications and how to design specialized equipment.
How Much Does an Online Master's in Mechanical Engineering Cost?
Master's in engineering programs can vary significantly in their tuition rates. For example, Columbia University charges students over $2,300 per credit hour, while those enrolled at schools like the University of New Mexico pay roughly $4,190 for 12+ hours. Other factors that influence the cost of attendance can include whether you're enrolled full- or part-time and if you qualify for in-state tuition.
Though online programs in mechanical engineering may often be cheaper than in-person ones, distance learners usually have specific expenses to cover, such as buying a laptop, paying for a reliable internet connection, and acquiring textbooks. Additionally, online engineering students may have to purchase specialized equipment or tools to complete labs. However, they can usually save on costs, including relocating, transport, and on-campus housing.
What Can You Do With a Mechanical Engineering Master's Degree?
Mechanical engineers are employed in some of the economy's most innovative industries and are likely to stay in demand in future years. This is because their work is critical when it comes to driving technological advancements related to how human beings live, work, and interact with each other. Below are a few common career paths for graduates with a mechanical engineering graduate degree. While it's possible to land the following jobs with a bachelor's, a master's can increase your chances of securing employment.
Annual Median Salary:
$122,270
Aerospace engineers design and build important technologies such as airplanes, drones, and satellites. Depending on their education, they may work on specific components, such as jet engines and navigation systems, or develop and test entire products for safety and usability. Their work is often used in commercial and government sectors, including the defense department.
Bioengineers and Biochemical Engineers
Annual Median Salary:
$97,410
Bioengineers and biochemical engineers are typically employed in the health services sector, where they work on technologies that improve human health. Their roles can be quite varied, from designing computer equipment to constructing tools like X-ray machines or prosthetic body parts. These professionals may also conduct research and present their findings to scientists and physicians.
Electrical and Electronics Engineers
Annual Median Salary:
$101,780
Electrical and electronics engineers are trained to build electrical systems that are used in a wide variety of applications. Some of the products they work on include smartphones, entertainment equipment, and video game consoles, though their work is essential to nearly any device that runs on electricity. Given this, electronics engineers are employed in many different sectors, including government and business.
What to Look For in a Mechanical Engineering Program
Choosing the right master's in mechanical engineering degree can set you up for success in your future career. However, with many options available, you may wonder which program is right for you. Below is a list of important factors to consider when selecting your engineering degree.
Accreditation
Accreditation ensures that you're enrolled in a program that meets national standards for academic excellence. An accredited degree is also a requirement when it comes to landing a job in this field. At the master's level, you should be sure to choose a program that has been accredited by the Accrediting Board for Engineering and Technology.
Affordability
Choosing a program that is affordable based on your unique financial circumstances is essential and can affect your ability to complete your education. Consider applying for financial aid if you aspire to complete a master's in engineering.
Specialization or Concentration
As mentioned before, mechanical engineering includes various specialized degrees and concentration options. Examine your career goals when deciding whether you want to pursue a degree program that focuses on a particular sub-field or one that allows you to concentrate coursework in a specific area. While the former may open up job opportunities in specialized areas, such as civil engineering, the latter can typically give you access to a wider range of employment opportunities.
Learning Formats
For students who work, have a busy schedule, or need to meet familial obligations, an online program can help meet both personal and academic goals. Remember, some degrees may utilize a hybrid learning model, while others can be fully in-person. It's important to assess your learning style and personal situation when selecting a program.
Questions About Online Master's Degrees in Mechanical Engineering
Is a Master's Degree in Mechanical Engineering Worth It?
---
Engineers across a variety of disciplines make a median annual salary of $79,840, which is higher than the economy-wide average of $45,760. From an earnings standpoint, a master's in mechanical engineering can therefore be quite lucrative. Additionally, this discipline can give you the chance to learn how modern technology is improving human lives.
Do Mechanical Engineers Need a Master's Degree?
---
Strictly speaking, you don't need a master's in mechanical engineering to land a job in this field. However, a master's can equip you with advanced subject-area knowledge and skills that make you a competitive candidate. In addition to commanding a higher salary, you may also be able to apply for management-level positions and advance your career relatively quickly.
How Long Is a Master's Degree in Mechanical Engineering?
---
Like other graduate programs, a master's in mechanical engineering can be completed in two years of full-time study, during which students complete roughly 30-64 credit hours, depending on their program. Part-time students who take fewer classes a semester can take longer, while those enrolled in accelerated programs can finish their graduate education in as little as one year.
Is Mechanical Engineering Hard?
---
Mechanical engineering is a highly technical discipline that relies heavily on advanced math and computing principles to problem solve. You are likely to learn about algorithms, statistics, and mathematical concepts like differentiation. This may be difficult for students without a strong background in — or a natural aptitude for — technical thinking. However, those with undergraduate-level experience in STEM fields may be well prepared for a master's in mechanical engineering.
Related Articles
2023 Best Online Mechanical Engineering Degrees
Find the best online mechanical engineering degrees in 2023 from our list of accredited colleges ranked by popularity.
2023 Best Online Colleges for Systems Engineering Degrees
These schools offer the best online master's in systems engineering degrees, according to annual salaries reported by alumni.