Best Online Master's in Marketing Degrees
By Seph Anderson | Updated 8/7/2022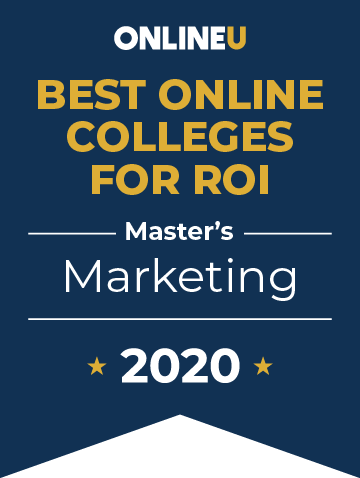 The following 5 schools offer the best online master's in marketing programs, based on their low tuition rates and high mid-career salary potentials. West Virginia University is the #1 school, with an average alumni salary of $84,500 and charging only $12,300 for their MS: Data Marketing Communications. Webster University offers distance learners an MA in Advertising and Marketing Communications for $14,040 per year. Alumni reported a mid-career salary of $84,300.
Alumni salaries were provided by PayScale. View our methodology for more details or learn more about OnlineU.
| Rank | School | Annual Tuition | Mid-Career Salary |
| --- | --- | --- | --- |
| # 1 | West Virginia University | $12,300 | $84,500 |
| # 2 | Webster University | $14,040 | $84,300 |
| # 3 | Johns Hopkins University | $55,530 | $98,900 |
| # 4 | Franklin University | $20,770 | $78,700 |
| # 5 | Southern New Hampshire University Online | $11,286 | $66,400 |
Salary data provided by

2020 Online Colleges Offering Marketing Degrees - Ranking Details
What Is a Marketing Degree?
Let's First Define Marketing
The American Marketing Association (AMA) defines marketing as "the activity, set of institutions, and processes for creating, communicating, delivering, and exchanging offerings that have value for customers, clients, partners, and society at large."
In simpler terms, marketing is the creative and strategic process by which a brand, individual or entity attempts to capture a consumer's attention, create engagement, and ultimately influence them to take a specific action.
While the global origins of marketing date back to ancient Egypt around 3000 BCE, U.S. origins are far more recent. In fact, it wasn't until the country's first print newspaper in 1704, The Boston News-Letter, that an ad appeared in print. Fast forward some 300+ years to the present day, and we live in a society dominated by advertising and marketing, some of which we're consciously aware of and some of which we aren't. It's anywhere and everywhere and there's simply no stopping the machine that's become marketing as we know it in the 21st century.
---
In terms of the employment outlook, the
Bureau of Labor Statistics
(BLS) projects that by 2030, advertising, promotions and marketing manager positions will grow by 10%.
---
Marketing at the Master's Level
In pursuing an online master's in marketing, you'll play a lead role in helping to shape the future of marketing in today'sever-evolving digital business landscape. To earn a marketing graduate degree, you must complete a curriculum specifically designed to help you prepare for a career in marketing.
However, marketing is a field with seemingly endless, constantly evolving niche areas.
Whereas the curricula in most bachelor's marketing degree programs are designed to provide students with a more all-encompassing education in business and marketing (in addition to a core curriculum), the courses in a master's degree program are more specific. For example, where your undergraduate curriculum likely included introductory courses, like Marketing Research, graduate courses around the topic might include such specificity as Environmental Marketing Research or Social Media Marketing, for example.
Master's coursework is more targeted and niche in order to help expand your general knowledge base and provide you with opportunities to focus on your desired area of interest within the program.
Online programs have become an increasingly popular alternative to traditional, on-campus programs and are well-respected among marketing professionals.
How Long Will It Take To Earn a Master's Degree in Marketing?
---
Again, while no two programs are the same, there are generally two main tracks:
One is geared toward working professionals who want to earn a master's degree in marketing but don't have time outside of work to take a full-time courseload. Most programs aimed at working professionals last anywhere from 18-24 months, depending on the number of credit hours taken each term.
Most institutions offer a second program track for traditional students looking to enroll full time and complete the program in a shorter period. Full-time students can usually complete coursework within 10-15 months, depending on the exact number of credits required.
In considering different colleges and universities for your graduate degree, you'll want to be sure and find out whether or not an institution requires separate admissions applications for each program track offered or if one application covers them all.
What Are the Admissions Requirements for Online Master's Programs in Marketing?
---
Understanding admissions requirements often varies from institution to institution. There are a few standard admissions requirements you can expect to see on one or more applications you complete.
Below are the common admissions requirements:
Online admissions application, which may include an application fee

Minimal GPA of around 3.0

One of two admissions examinations (if applicable) — Graduate Management Admission Test (GMAT) or Graduate Record Exam (GRE)

Letters of recommendation

Personal statement or admissions essay

Professional work experience
However, it's important to note that many institutions have started moving to a more holistic admissions process in which test scores, among other things, are optional.
Common Courses for a Master's in Marketing Program
The courses and curriculum of a master's degree in marketing program are intended to provide students with a greater depth and breadth of foundational marketing knowledge and opportunities to focus on different niche areas.
While core coursework may vary slightly from one program to the next, especially between the two most common types of master's degree programs in marketing — the Master of Science (MS) in Marketing and the Master of Business Administration (MBA) with a concentration in marketing — there are standard courses across programs.
Below are some examples of core classes in marketing at the master's level:
This course involves a journey into the minds of consumers in order to learn how marketing impacts each stage of consumers' decision-making process. Understanding consumer behavior will help you think like a consumer and a marketer.
Like everything else in life, marketing has gone digital. Consumers spend a great deal of time online, and digital marketers are well aware. In a digital marketing course, you'll learn how modern marketing has become remote and how it can help businesses.
Integrated Marketing Communication
An integrated marketing course will teach you how to effectively apply strategic messaging in today's digital environment. You'll learn integrated marketing communications theories and see how they've been used in different fields.
Marketing Research and Analytics
One of the greatest keys to creating a robust and impactful marketing campaign is to conduct meaningful research and carefully analyze the results. A marketing research and data analytics course will teach you about the different types of research you can conduct and how to use analytics to ensure your campaign's success.
Once considered an industry niche, social media marketing has now become more of an industry standard. Between the multitude of social media platforms, the growing number of users and the marketing analytics capabilities, a strong social media marketing strategy has become necessary for marketers.
What Can You Do With a Marketing Master's Degree?
Minus a few exceptions like doing surgery, practicing law, being a pilot, etc., there's not much you can't do with a master's degree in marketing.
Effective marketing has become synonymous with business success in the 21st century.
One of the more recent marketing roles created to meet the needs of the digital business world is a digital marketing specialist. Professionals in this role provide their expertise in growing a company's digital marketing efforts. In addition, digital marketing specialists closely follow the performance of digital marketing campaigns, explore new opportunities in the digital space and play a role in social media marketing initiatives. Achieving an online marketing master's degree may give you a leg up in this burgeoning field of remote work, as it demonstrates your digital prowess.
We've also listed some other popular career paths for professionals with a master's in marketing:
Annual Median Salary:
$133,380
Marketing managers oversee a business or organization's marketing efforts, including the messaging and imaging portrayed to current and prospective consumers, the alignment of marketing and corporate strategy, the effectiveness of different marketing campaigns, and leading marketing teams. A master's degree is not required to enter this role, but often, experience in the field is what counts. However, it can give you a leg up in the industry, and the highest 10% of earners make over $208,000.
Marketing Research Analyst
Annual Median Salary:
$63,920
Research and analysis play a vital role in marketing. Marketing research analysts have specific skill sets which allow them to conduct marketing research and analysis at every stage of a marketing campaign. They help their marketing teams craft data-driven and strategic marketing decisions based on research findings, case studies, performance analysis, predictive analysis and a host of other marketing research tools. It's important to keep in mind that it's possible to begin this career with a bachelor's, but some research positions require a master's degree.
Professional Organizations To Join
To aid your job search, become certified, participate in trainings, and expand your network of peers, you should thinking about joining some communities in the marketing world:
Is a Master's Degree in Marketing Worth It?
It can be stressful trying to figure out whether it's worth it to pursue a master's program in marketing online. Beyond the notion that a earning a master's degree will lead to an increase in salary over time, there are a number of other factors to consider:
If you're working full-time, with or without a partner and children, will you actually have the time to commit?
When will you have time each day and week to set aside for lectures, readings, assignments, projects, etc.?
Considering the marketing vertical in which you currently work or aspire to work, is there a tangible benefit to earning a master's degree in marketing?
Would you be better served by simply putting yourself out there, individually, to gain new professional, resume-building experiences?
These are a few examples of the types of questions you'll want to ask yourself as you continue the decision-making process.
Also, consider the following pros and cons:
Potential Advantages
More job opportunities
Receiving a formal education in an up-to-date master's program in marketing could lead to new professional career paths. Additionally, holding a master's degree in marketing, as opposed to simply an undergraduate degree, could make you a more attractive job candidate than those who don't have a higher degree.
Networking
In today's business environment, having a strong professional network can help open doors that might remain closed otherwise. By pursuing a master's degree in marketing, you can grow your network of colleagues to include fellow students, respected faculty members, and industry professionals.
Teaching at the collegiate level
Earning a master's degree would keep you on the path to potentially teach at the university level, especially if you went on to pursue a doctoral degree in marketing or a related field.
Potential Disadvantages
Expense
If you're not in a position to pay tuition and fees out of pocket, the burden of thousands of dollars in student loan debt might not be worth the trade off. Further, scholarship availability likely varies from one program to the next.
Constant change
The marketing landscape, particularly in regard to digital marketing, seemingly evolves each day. You must be willing to be a lifelong learner in this field, as it requires constant change.
Master's not required
A master's degree in marketing is not a requirement for the majority of industry jobs. Obtaining a professional industry certification from an accredited agency may hold as much weight to a current or potential employer as an actual master's degree.
Time commitment
Thinking about your current situation in life, considering things like your current job, relationship, dependents and other commitments, adding another time-consuming element to your life may create more stress than benefits.
Bottom Line
To summarize, marketing continues to evolve in today's digital environment. Accordingly, opportunities for professional growth in traditional and digital marketing are expected to grow by 10% between 2020 and 2030.
The decision concerning whether or not to pursue a master's in marketing is a highly individual one, as you must consider whether current personal and professional commitments in your life would allow the time and energy required to earn an online master's degree in marketing.
Related Articles
2023 Best Online Bachelor's in Marketing Degrees
Prospective students may enjoy our list of the best schools offering online bachelor's in marketing degrees for 2023, ranked by tuition costs and alumni salaries.
2023 Best Online Master's Degrees
A master's program can expand your employment options and earning power. Explore our list of the best online master's programs based on alumni salaries.