Best Online Master's in Marketing Degrees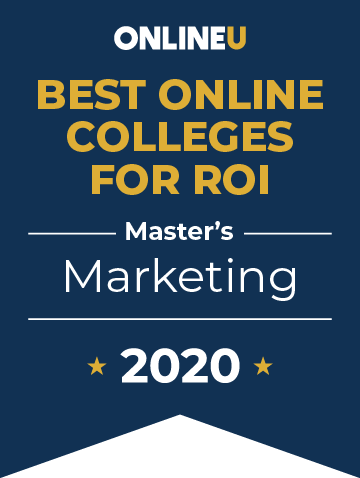 The following 5 schools offer the best online master's in marketing programs, based on their low tuition rates and high mid-career salary potentials. West Virginia University is the #1 school, with an average alumni salary of $84,500 and charging only $12,300 for their MS: Data Marketing Communications. Webster University offers distance learners an MA in Advertising and Marketing Communications for $14,040 per year. Alumni reported a mid-career salary of $84,300.
Alumni salaries were provided by PayScale. View our methodology for more details or learn more about OnlineU.
| Rank | School | Annual Tuition | Mid-Career Salary |
| --- | --- | --- | --- |
| # 1 | West Virginia University | $12,300 | $84,500 |
| # 2 | Webster University | $14,040 | $84,300 |
| # 3 | Johns Hopkins University | $55,530 | $98,900 |
| # 4 | Franklin University | $20,770 | $78,700 |
| # 5 | Southern New Hampshire University Online | $11,286 | $66,400 |
Salary data provided by

2020 Online Colleges Offering Marketing Degrees - Ranking Details
Overview of an Online Master's Degree in Marketing
The curriculum in the marketing master's degree program can take an integrated approach or focus in a particular marketing area. Integrated programs look at a wide variety of marketing topics, such as marketing decisions, strategy, statistics and analysis, digital marketing, and brand management. Other master's degree programs focus on a particular area of marketing, such as marketing research or public relations. Some programs include a general curriculum with optional focuses in areas such as marketing analytics. Students complete 12 to 15 classes in a variety of theoretical and applied marketing topics. Applicants typically need a bachelor's degree with a high GPA, as well as GMAT or GRE scores. Professional business experience may be required in some programs.
The marketing graduate program is excellent preparation for competitive marketing or sales management positions. A master's degree can help candidates stand out in the tough job competition that comes with these sought-after positions. Career opportunities may include advanced positions in Internet and digital marketing, advertising sales, product promotion, and public relations management.
Online MBA Degrees in Marketing
The marketing MBA combines courses in general management topics with in-depth study of the many aspects of product development, promotion, and sales. The degree consists of 2 to 3 years of coursework and 15 to 25 courses. Admission requires an accredited bachelor's degree. In some cases, applicants may need professional experience as well.
The marketing MBA core curriculum covers an interdisciplinary set of business topics. Classes in finance, accounting, and economics teach students the skills for developing a budget, navigating the market system, and growing capital. Other commonly required classes include management ethics, information systems, decision making, leadership skills, and organizational behavior.
The marketing specialization requires three to eight classes in areas such as public relations, advertising, market research, product development, branding, and international marketing. Some MBA programs require a capstone experience, where students develop a large project such as a mock advertising campaign or media strategy.
The MBA in marketing can help professionals land sought-after advertising, business, and promotions management positions. Marketing professionals with a firm understanding of digital marketing and online promotion are likely to have better opportunities.
This website offers school details to prospective students as an informational resource. The appearance of a school listing on this website should not be interpreted as an endorsement of the school by this site.
Related Articles
2022 Best Online Master's in Business Management Degrees
Discover the best online master's in business management degrees and learn about the program types, curriculum, and potential careers for MBA graduates.
Best Online Master's Programs
A master's program can greatly expand your employment options and earning power. Here are the best online master's programs, ranked based on alumni salaries and debt.