2022 Best Online Master's in Business Management Degrees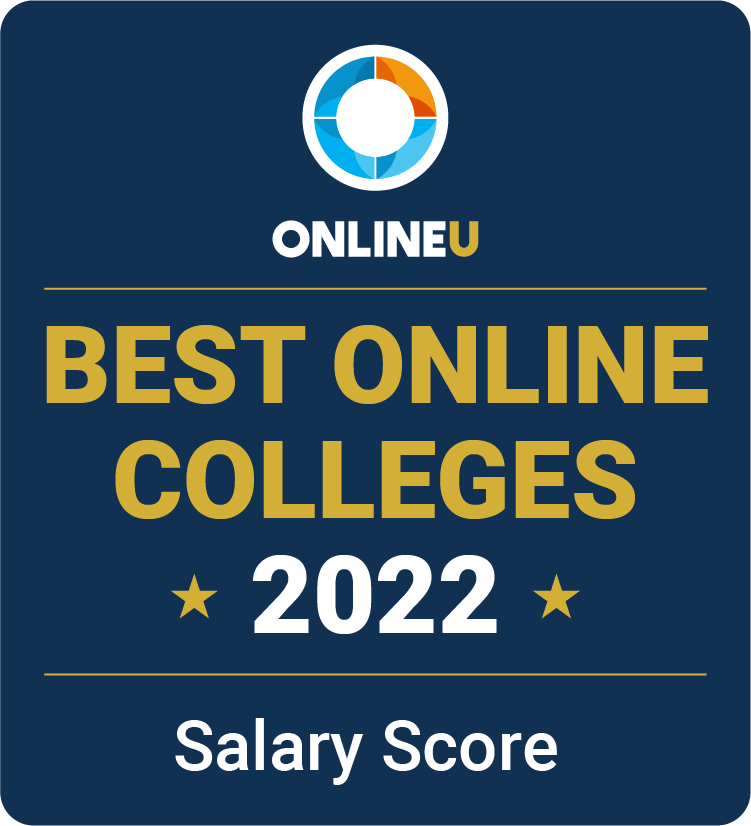 Our rankings are based on alumni salary to showcase online master's degrees in business management that have the best long-term financial value. According to the Bureau of Labor Statistics (BLS), the median annual wage for management occupations in the U.S. is $109,760 — the highest among all major occupational groups. For prospective students interested in expanding their leadership skills, a business management graduate degree can help them develop in-demand expertise that can be utilized across a wide range of industries. Coursework typically covers strategies for organizing a business, from overseeing innovation to successfully managing interpersonal dynamics.
View our methodology for more details about rankings or learn more about OnlineU.
| Rank | School | Salary Score | Median Starting Salary |
| --- | --- | --- | --- |
| # 1 | New York University | | $148,198 |
| # 2 | Duke University | 95 | $143,622 |
| # 3 | University of North Carolina at Chapel Hill | 94 | $135,965 |
| # 4 | University of Washington - Seattle | 93 | $133,070 |
| # 5 | Georgetown University | 93 | $131,589 |
| # 6 | University of Southern California | 92 | $127,841 |
| # 7 | Lehigh University | 91 | $122,676 |
| # 8 | University of Arkansas | 91 | $122,450 |
| # 9 | Northwestern University | 90 | $120,709 |
| # 10 | Golden Gate University | 90 | $117,549 |
2022 Online Colleges Offering Management Degrees - Ranking Details
What Will I Learn in a Master's in Management Program?
Master's degrees in management that are not MBAs tend to focus on leadership in a particular industry or function, such as engineering, project management, or supply chain management. Therefore, professors design these programs to do two things: increase students' general management knowledge and help them build the skills they need to lead employees in their subject area.
Most of the general management courses are similar across programs. These classes contain lessons on strategic planning, adaptive decision-making, and budgeting for teams. The content-specific curriculum varies by program — we've detailed coursework for some of the most common management graduate programs below.
Program Focus
General Curriculum
Common Courses
Business Analytics
Teaches students how to use data to understand and solve business challenges

Data Structures
Data Visualization
Statistical Analysis

Engineering Management
Aims to help experienced engineers learn practical skills for managing teams of fellow engineers

Economics for Engineering
Efficiency and Optimization
Strategic Management for Technology

Information Technology Management
Seeks to give IT experts the business knowledge necessary to guide their departments and represent their needs to upper management

IT Transformation for Business
Software Development Management
Strategic Planning in Technology

Project Management
Covers best practices for planning and completing cross-functional projects within time and budget constraints

Agile Teams
Communications and Collaboration for Managers
Project Planning
Careers With A Master's in Management
The intended outcome of an MA or MS in management is to help graduates secure a management position in their field. The potential roles will vary based on a program's focus area, but we list a few possibilities here. All salary and job outlook data comes from the Bureau of Labor Statistics.
Construction managers plan and oversee construction projects. They need technical knowledge of construction practices alongside management know-how to effectively plan budgets and shepherd employees through complex processes.
Like construction managers, engineering managers must combine technical engineering knowledge with leadership skills such as motivation, communication, and strategic thinking. This is one of the highest paid management fields.
Industrial Production Manager
Industrial production managers ensure that manufacturing facilities run smoothly. They plan production quotas, write and enforce safety policies, and purchase necessary materials.
Executives rely on marketing managers to identify who their employer should be targeting for sales. Marketing leaders need to understand their employer's products and services, along with market forces such as price elasticity of demand.
Medical and Health Services Manager
Healthcare facilities want to hire medical and health services managers with specialized knowledge because of the health, safety, and ethical considerations involved. This field is growing much faster than most occupations in the U.S. because the aging population is leading to a surge in healthcare requirements.
What's the Difference Between an MBA and Master's in Management?
The Master of Arts (MA) or Master of Science (MS) management programs have many overlapping characteristics with the practically oriented Master of Business Administration (MBA) program, with some exceptions. Some management master's degrees are similar to the MBA in that they include a general array of business classes such as marketing, management, accounting, and finance. Others concentrate more on a particular management area, such as leadership, management science, or project management.
While Master in Management programs have typically been more common in Europe, these degrees have become increasingly popular in the U.S. over the last few years. Master in Management degrees tend to take less time to complete, have lower program costs, and attract students with fewer years of work experience, making them more accessible than many MBA programs.
MBA programs are often structured in cohorts, meaning students take all the same classes together. Cohort programs can be beneficial for students seeking a sense of community and networking opportunities. On the other hand, these students might find the curricula of Master in Management programs preferable since they tend to focus more on group projects and MBA programs tend to focus more on reviewing case studies. Many management programs also require capstone projects, where students analyze and solve a specific business problem.
Is a Master's in Management Degree Worth It?
No single answer will satisfy everybody's circumstances, so it might be helpful to consider some pros and cons. One potential benefit is that management master's degrees generally don't require work experience, so you can apply immediately once you finish a bachelor's in management or other undergraduate degree. In addition, these degrees typically let you specialize in the area of business that interests you.
One notable drawback is that U.S. recruiters intend to hire more MBAs than master's graduates in management. In a 2021 survey, the Graduate Management Admission Council (GMAC) found that 52% of corporate recruiters planned to hire master's in management alumni, compared to 91% who planned to hire MBAs. However, hiring rates are much higher in Europe, which might be good news if you want to pursue international management opportunities. In addition, studying online may lead to fewer networking opportunities. Building a professional network is usually a great boon to your business career, but remote learning can make it hard to forge helpful relationships with colleagues and mentors.
Accreditation
It's important to apply to accredited colleges, because accreditation is a stamp of approval from an independent third party that has reviewed a school's curricula, faculty, and services. Business schools usually seek regional as opposed to national accreditation because regional accreditors tend to have higher academic standards. Either type allows a school to accept federal financial aid, but you'll usually have an easier time transferring credits from a regionally accredited college if you decide to switch institutions.
In addition, the Association to Advance Collegiate Schools of Business (AACSB) accredits individual business programs, including online master's degrees in management. Although programmatic accreditation isn't necessary, some employers may prefer to hire candidates who attended AACSB-accredited programs.
Related Articles
2022 Best Online Business Degree Programs
Explore the best accredited colleges offering online business degrees ranked based on alumni salary and debt.
Guide to Online Business Management Degrees
Explore this guide to business management degrees to learn about common courses, careers for grads, scholarships, and if the degree is worth it.