2020 Best Online Master's in Business Management Degrees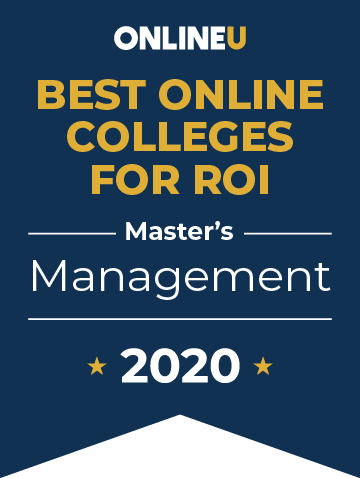 The following 22 schools offer the best online master's in management programs, based on their low tuition rates and high mid-career salary potentials. Ranked #1 is the University of Colorado Denver, with a very low tuition of $10,965 and a very high median salary of $186,500. American University, ranked #2 on the list, costs $20,175 annually for an online MS in Human Resource Analytics and Management, with alumni reportedly earning median salaries of $149,900.
Alumni salaries were provided by PayScale. View our methodology for more details or learn more about OnlineU.
Rank
School

Annual Tuition

Mid-Career Salary

#

1

University of Colorado Denver

$10,965

$186,500
#

2

American University

$20,175

$149,900
#

3

The University of Texas at Dallas

$36,450

$140,043
#

4

University of Florida

$40,174

$140,771
#

5

Florida Tech-Online

$12,821

$114,757
#

6

Embry-Riddle Aeronautical University-Worldwide

$10,335

$104,100
#

7

Walsh College of Accountancy and Business Administration

$14,706

$105,600
#

8

Stevens Institute of Technology

$55,020

$121,071
#

9

Albertus Magnus College

$12,258

$103,300
#

10

Pepperdine University

$64,800

$122,600
#

11

University of Maryland Global Campus

$11,862

$99,471
#

12

City University of Seattle

$14,595

$99,700
#

13

Webster University

$14,040

$98,943
#

14

Western Governors University

$7,600

$95,500
#

15

Troy University

$7,410

$94,200
#

16

Lesley University

$11,050

$92,900
#

17

Bellevue University

$10,530

$79,586
#

18

Southern Wesleyan University

$10,170

$78,200
#

19

Southern New Hampshire University Online

$11,286

$76,700
#

20

Indiana University - Bloomington

$20,700

$74,700
#

21

Fontbonne University

$13,175

$70,800
#

22

Wayland Baptist University

$9,760

$58,700
Salary data provided by

2020 Online Colleges Offering Management Degrees - Ranking Details
Overview of an Online Master's in Management
Online master's programs in management help students learn the skills necessary to lead organizations of all types. Management programs are available in several formats including a Master of Science, Master of Arts, or a Master of Business Administration. Depending on the program, curricula can cover foundational concepts in business or they might focus more on advanced management skills and theories.
Careers
Master's degrees in management can open up a wide range of careers, depending on your previous work experience and the focus of the degree. Many use these degrees to advance into chief management or analysis roles in their current workplace. Others use a specialized degree focus, such as coursework in healthcare administration or educational leadership, to move into a different career area. The management program can also be useful for leadership roles in information technology, marketing, and the non-profit sector.
What is the difference between a Master in Management and an MBA in Management?
The Master of Arts (MA) or Master of Science (MS) management programs have many overlapping characteristics with the practically oriented Master of Business Administration (MBA) program, with some exceptions. Some management master's degrees are similar to the MBA in that they include a general array of business classes such as marketing, management, accounting, and finance. Others concentrate more on a particular management area, such as leadership, management science, or project management.
While Master in Management programs have typically been more common in Europe, these degrees have become increasingly popular in the U.S. over the last few years. Master in Management degrees tend to take less time to complete, have lower program costs, and attract students with fewer years of work experience, making them more accessible than many MBA programs.
MBA programs are often structured in cohorts, meaning students take all the same classes together. Cohort programs can be beneficial for students seeking a sense of community and networking opportunities. On the other hand, these students might find the curricula of Master in Management programs preferable since they tend to focus more on group projects and MBA programs tend to focus more on reviewing case studies. Many management programs also require capstone projects, where students analyze and solve a specific business problem.
This website offers school details to prospective students as an informational resource. The appearance of a school listing on this website should not be interpreted as an endorsement of the school by this site.