2020 Best Online Master's in Library Science Degrees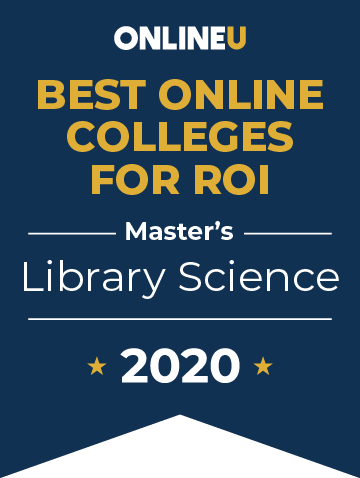 With low tuition rates and high average alumni salaries, the following 24 schools offer the best online master's in library science programs. A degree from Rutgers University has an impressive return on investment, with an annual tuition of $13,248 and alumni reporting a mid-career salary of $76,700. San Jose State University, ranked #2 on the list, costs $10,191 annually for an online Master of Library and Information Science, with alumni reportedly earning median salaries of $72,600.
Alumni salaries were provided by PayScale. View our methodology for more details or learn more about OnlineU.
Salary data provided by

2020 Online Colleges Offering Library Science Degrees - Ranking Details
Online Master's in Library Science Overview
While some programs require at least 40 semester hours before the degree is awarded, full-time students might be able to earn an online master's degree in library science in two years. In addition, students who have already completed coursework at another ALA-accredited program may be entitled to transfer credits. Many programs require a capstone project or thesis as well as an internship experience or practicum before the master's degree is awarded. There are a variety of different master's degree programs that students can pursue, including the following:
Master of Library and Information Science (MLIS): Students who pursue this track gain fundamentals in information systems management as well as in librarian studies. Technical courses might include Information Architecture, Database Administration, Telecommunications, Enterprise Network Management, Data Mining, and Project Management.
Master of Science in Library Science (MSLS) or Master of Library Science (MLS): These programs prepare students to work in environments like corporate, academic, or public libraries. In addition to core library science courses that discuss the ethics, politics, and history of bibliographic data standards and the written word, courses might include Government Documents, Classification and Cataloging, Principles of Searching, Business Reference Solutions, Conservation and Preservation, Issues in User Services, and Integrated Technologies in Libraries.
Master of Arts in Library Science (MA): Students pursuing a Master of Arts in Library Science focus on sharpening their analysis and research skills. Graduates of these programs are prepared to enter field-specific doctoral degrees, and possible courses of study might include Research Methods, Communications Technology, Information Services, Information Retrieval, Organization of Information, Library Collections Development, and Library Management.
This website offers school details to prospective students as an informational resource. The appearance of a school listing on this website should not be interpreted as an endorsement of the school by this site.