2020 Best Online Master's in Human Resources Degrees
As the backbone of most mid-size and large business operations, the human resources department provides a positive workplace environment that helps the organization run efficiently and effectively. Human resources professionals are primarily responsible for recruiting and hiring talent, developing compensation and benefits programs, and resolving issues that help retain great employees. Graduates with master's in human resources degrees will find the advanced business knowledge and leadership skills they acquire will most likely open the door to better-paying employment opportunities.
2020 Best Online Colleges Offering Master's in Human Resources Degrees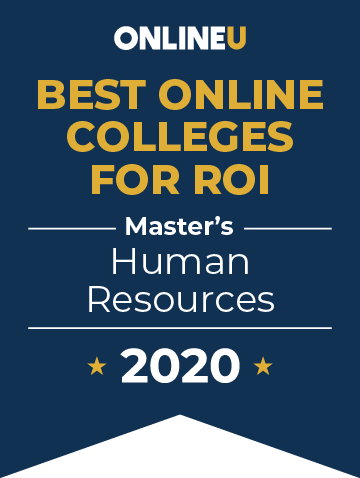 Students seeking an online master's program in human resources will find that these 24 colleges offer the best value based on affordability and alumni salaries. American University is ranked #1, offering a MS in Human Resource Analytics and Management for $20,175 per year. Graduates of the school reported a median salary of $149,900. New York University ranks #2, with a median salary of $151,214 and an annual tuition rate of $41,769.
Alumni salaries were provided by PayScale. View our methodology for more details or learn more about OnlineU.
Rank
School

Annual Tuition

Mid-Career Salary

#

1

American University

$20,175

$149,900
#

2

New York University

$41,769

$151,214
#

3

University of Southern California

$23,136

$124,843
#

4

National Louis University

$17,182

$117,100
#

5

Florida Tech-Online

$12,821

$114,757
#

6

Villanova University Online Graduate Programs

$18,630

$116,600
#

7

Embry-Riddle Aeronautical University-Worldwide

$10,335

$104,100
#

8

Florida International University

$35,000

$113,900
#

9

Walsh College of Accountancy and Business Administration

$14,706

$105,600
#

10

Pepperdine University

$62,400

$122,600
#

11

University of Denver

$22,816

$105,800
#

12

Western Carolina University

$13,620

$101,800
#

13

University of Maryland Global Campus

$11,862

$99,471
#

14

City University of Seattle

$14,595

$99,700
#

15

Drexel University

$29,969

$104,000
#

16

Webster University

$18,720

$98,943
#

17

Troy University

$7,410

$94,200
#

18

National University

$11,934

$87,400
#

19

Northeastern University

$16,698

$88,300
#

20

Liberty University

$18,080

$83,600
#

21

Bellevue University

$10,530

$79,586
#

22

Southern Wesleyan University

$10,170

$78,200
#

23

Southern New Hampshire University Online

$11,286

$76,700
#

24

Wayland Baptist University

$9,760

$58,700
Salary data provided by

2020 Online Colleges Offering Human Resources Degrees - Ranking Details
Online Master's in Human Resources Overview
Human resources is the branch of an organization that oversees the inner workings of the organization and its employees. The role of a human resources professional encompasses many functions, including recruiting and hiring, orientation and training, compensation and benefits, workplace relations, and retention. Students who wish to pursue a graduate-level degree in HR have two options: an MBA with a concentration in human resources or a master's of science degree in human resource management. The curriculum for the two degrees may appear to have some overlap, but the MBA will be more generalized in terms of business applications while the MS-HRM will focus fairly narrowly on HR examples, situations, and areas of specialization.
Many master's programs prepare students to become HR generalists, but some programs require students to focus on a particular aspect of HR, such as diversity and inclusion, benefits and compensation, international HR management, or human capital management.
Most online master's in human resources programs can be completed in one to two years. Students enrolled on a part-time basis may take up to five years to complete their degree. The exact time for completion will depend upon a variety of factors, including the program format, the course load, and whether any credits were transferred into the program.
Requirements
Admission into an online master's in human resources program requires a bachelor's degree from an accredited institution. Students applying to an MBA program with a human resources specialization may need a bachelor's degree in business or a related field. Beyond this, criteria will vary by school but may include a minimum GPA, professional experience, letters of recommendation, a statement of purpose, and GRE/GMAT scores. While some programs will request scores, there are online master's in human resources that require no GRE or GMAT scores for admission.
Curriculum
The core of an online master's in human resources program includes advanced courses in human resources and business strategy. General graduate-level business courses will include statistics, performance management, finance, and leadership. Master's in human resources students will also take classes that examine HR topics such as staffing, compensation and benefits, workplace ethics, labor management relations, labor law and procedure, communications and interpersonal relations, organizational leadership, and training.
Many programs also require an internship or a capstone course. The capstone course involves working on a research project to address a human resources problem.
How to Choose an Online Master's in Human Resources Program
When evaluating online master's in human resources degree programs, students should consider which structure works best for them. Program options include part-time, full-time, fully online, and hybrid programs that incorporate both online and on-campus learning. They should also think about whether their schedule allows for synchronous classes— which must be attended at a designated time—as opposed to asynchronous classes that they can access at their convenience.
Another factor to consider when choosing an online master's in human resources is whether the program offers any concentrations or unique features, such as graduate assistantships, field experiences, or internships. If students are interested in pursuing SHRM certification, choosing a program that is aligned to the SHRM's curriculum guidelines may also be beneficial.
After evaluating the programs on these criteria, assessing each school's reviews, faculty credentials, and graduation rates can help determine which program will best fit their needs and career goals.
How to Finance an Online Master's in Human Resources Degree
Students seeking financial aid for their online master's in human resources degree have several options. Completing a FAFSA application will help students determine which federal student loans and grants may be available to them. Students should also contact their school's financial aid department to determine whether they qualify for any aid offered through their office. Scholarship opportunities may also be available through industry organizations, such as the SHRM, The National Public Employer Labor Relations Association (National PELRA), or through private companies.
How Important is Accreditation for Online Master's in Human Resources Programs?
Prospective online human resources master's students are encouraged to select an online degree program that has received accreditation from a national or regional accrediting organization recognized by the US Department of Education or the Council for Higher Education Accreditation, particularly from HRCI or SHRM. Accreditation is a comprehensive evaluation process that schools and programs may choose to go through in order to demonstrate they meet established standards of excellence. In the accreditation process, master's programs are evaluated based on their curricula, faculty members, research programs, and student resources, among other things.
While accreditation is not required for graduates studying human resource management, the designation may add more authority to the student's resume when applying for jobs. Accreditation may also be beneficial if the student plans to transfer credits to another accredited school or apply for federal financial aid. Most schools and financial assistance programs require applicants to attend an accredited school. To learn more about accreditation, please visit our comprehensive accreditation hu.
What Are the Different Specializations in Human Resources?
Human resources generalists are typically trained to handle all aspects of HR, from identifying the employers' needs to recruiting and selecting candidates, and from monitoring employee benefits to administering the company payroll. However, it is also possible for HR professionals to specialize in particular aspects of the field, becoming experts in specific areas:
Recruitment: After identifying the organization's employment needs and developing job descriptions for all of the various roles, a recruitment specialist will find, screen, and interview viable candidates on an ongoing basis. Recruitment specialists often use job postings to recruit potential candidates, but they may also travel to college campuses and job fairs to find and interview candidates. Other tasks related to this role include testing applicants, conducting background checks, and negotiating job offers. Some recruitment specialists may also be responsible for introducing new employees to the organization, a process typically known as "onboarding."
Compensation and Benefits: Particularly in larger organizations, employee compensation and benefits programs are extensive and complex, which is why they often require specialists in these areas. These professionals are responsible for developing and overseeing an organization's employment policies and benefits, which generally includes salaries, other forms of compensation, paid time off, 401K or pension programs, and all types of insurance packages. Some organizations are particularly concerned about their employees' health and welfare, so compensation and benefits specialists may also be called upon to monitor occupational safety and health standards and practices, as well as premium benefits offered to employees, such as food service, recreational activities, childcare and elder-care programs, and counseling services.
Training and Development: HR professionals who particularly enjoy teaching and assisting others in their professional growth may be interested in specializing in training and development. This can translate into working with managers and employee supervisors to develop performance improvement measures, conduct orientation sessions, and arrange on-the-job training, and it can also mean working directly with employees to help them improve and maintain their job skills. Organizations known to invest in their employees' development often attract more ambitious and motivated employees.
HR Information Systems Management: As in so many other areas of business, organizations are increasingly relying on sophisticated and complex information systems to manage their HR departments. Therefore, there is a need for specialists who have a passion for IT while also understanding the intricacies of HR departments. HRIS analysts typically only need an associate or bachelor's degree, but to move into management positions, a master's degree may be required.
Do I Need a Certification for Advancement in the Field of Human Resources?
Graduates of an online master's in human resources program can pursue additional certifications as an HR professional. These certifications are often a requirement of higher-level human resources positions and can elevate one's earning potential. Some of the most recognized certifications include:
SHRM-CP Certification: This certification demonstrates a superior level of knowledge and skills among early- to mid-career HR professionals. Earning this designation is considered beneficial for HR professionals and their employers.
SHRM-SCP: This senior-level HR certification designates credential holders as experts in the human resources field. The certification is applicable to companies all over the world and in many industries.
Certified Employee Benefit Specialist (CEBS): Those who want to specialize in employee benefits can achieve this designation, which confirms that professionals have been trained to guide all facets of an organization's benefits strategy.
Professional in Human Resources (PHR): This designation, offered through the HR Certification Institute, helps human resources professionals master the technical and operational aspects of HR management.

Frequently Asked Questions for Online Master's in Human Resources Degrees
What can you do with an online master's degree in human resources?
In addition to gaining an in-depth knowledge of the HR field, graduates of a master's in human resources program will have developed important skills in areas such as research, communication, and leadership. Depending upon their education and experience, they may be prepared for positions in HR management, compensation and benefits management, or training and development management. Most HR managers will work in office environments, although recruitment specialists may have the opportunity to travel to job fairs and college campuses to meet potential candidates.
The advanced skill set acquired through an online master's in human resources program is useful beyond the realm of HR. Human resources professionals may be well suited for jobs in consulting, corporate training, social and community service management, administrative service management, and many other areas.
How much can I earn with an online master's in human resources?
According to the Bureau of Labor Statistics (BLS), the median annual salary for human resources specialists is $61,920 as of May 2019. However, HR professionals with more education and experience can work their way up to management positions. At this level, median salaries as of May 2019 were $116,720 for human resources managers, $122,270 for compensation and benefits managers, and $113,350 for training and development managers. Employment in these fields is projected to increase at a rate of approximately 5% through 2028. While competition for these jobs is predicted to be strong, those with a master's degree are expected to have the best prospects.
What is the difference between an MBA with a specialization in HR and an MS-HRM?
According to members of the Society of Human Resource Management, there is some overlap between the two degrees available to graduate students interested in HR—the MBA with a specialization in HR and the master's of HR management—but they are quite different. Students who are seeking a broader perspective on business in general will probably prefer the MBA program with a concentration in HR. The majority of courses for this degree are advanced business courses, such as management, statistics, finance, accounting, MIS, and marketing. These will be accompanied by three or four elective courses in HR management to meet the requirements for the HR specialization. Students who are intent on pursuing a lifelong career in HR management, however, will probably benefit from the more narrow curriculum of an MS-HRM degree that focuses exclusively on HR management. In this type of program, students will do a deep dive into various aspects of the profession, such as compensation and benefits, international HR, labor relations, labor law, and so forth.
Can I get a doctorate in HR management?
Students who are interested in research and academia may want to consider pursuing a doctoral degree in human resources management. PhD candidates study advanced concepts in HR and conduct original research for their dissertations. They can go on to teach in academia, where they also will most likely continue to conduct research, or they may seek executive-level positions and apply research to solving problems in the field of HR management. Most doctorate programs take two or more years to complete.
Are there industry organizations for HR professionals that I could join?
Joining a professional human resources organization enables graduates to stay up-to-date on industry news and trends and extends their networking opportunities. The following are a few prominent human resources organizations for graduates to consider:
This website offers school details to prospective students as an informational resource. The appearance of a school listing on this website should not be interpreted as an endorsement of the school by this site.