2020 Best Online Master's in Homeland Security Degrees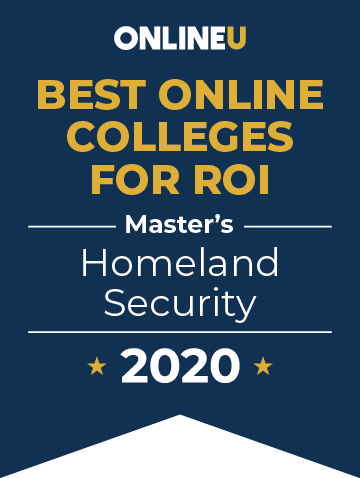 This list highlights the 25 best value colleges offering online master's programs in homeland security. A degree from University of Colorado Denver has an impressive return on investment, with an annual tuition of $11,358 and alumni reporting a mid-career salary of $120,708. Texas A&M University-College Station offers distance learners a Executive Master of Public Service and Administration - Homeland Security for $15,708 per year. Alumni reported a mid-career salary of $120,308.
Alumni salaries were provided by PayScale. View our methodology for more details or learn more about OnlineU.
Salary data provided by

2020 Online Colleges Offering Homeland Security Degrees - Ranking Details
Overview of an Online Master's Degree in Homeland Security
Upon completion of a bachelor's degree, graduates may consider continuing their education with a master's degree. A master's degree takes two years to complete, with around 30 credit hours and a master's thesis research project or final examination depending upon the program. In addition to a bachelor's degree and minimum GPA, master's degree programs generally require a GRE test score and work experience for admittance. Professionals in homeland security as well as other fields such as public health, technology, insurance, or law enforcement may be interested in a master's degree in homeland security to boost their professional profile and seek higher positions of administration and government.
Specializations offered within master's programs include degrees in information security and forensics, public health preparedness, geospatial intelligence, agricultural biosecurity and food defense. Courses are similar to those offered in the bachelor's degree level but with greater depth and specialization, including geospatial intelligence, public health, agricultural biosecurity, and cyberterrorism. Some programs offer an international track, which allows master's students to focus on homeland security in a global context, and the difference between local, national, and international security.
This website offers school details to prospective students as an informational resource. The appearance of a school listing on this website should not be interpreted as an endorsement of the school by this site.