Best Online Master's in History Degrees
By Holly Johnson | Updated 8/31/2022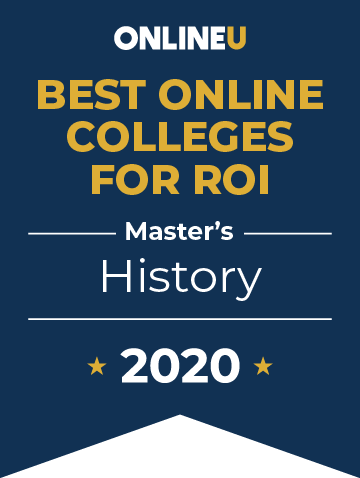 This list highlights the 18 best value colleges offering online master's programs in history. Graduates of the #1 school, the University of Massachusetts-Boston, report earning a median salary of $105,180. Tuition for the MA in History is just $8,625 annually. At #4, Fort Hays State University has the least expensive tuition on the list, charging only $4,316 per year. Students can choose between a Master of Arts in History and a Master of Arts in Public History.
Alumni salaries were provided by PayScale. View our methodology for more details or learn more about OnlineU.
| Rank | School | Annual Tuition | Mid-Career Salary |
| --- | --- | --- | --- |
| # 1 | University of Massachusetts-Boston | $8,625 | $105,180 |
| # 2 | Arizona State University | $10,640 | $104,728 |
| # 3 | Louisiana Tech University | $7,704 | $102,600 |
| # 4 | Fort Hays State University | $4,316 | $99,100 |
| # 5 | University of Memphis | $11,849 | $101,493 |
| # 6 | University of North Carolina at Wilmington | $13,638 | $100,300 |
| # 7 | Johns Hopkins University | $54,900 | $115,654 |
| # 8 | Western Kentucky University | $12,726 | $98,000 |
| # 9 | Florida International University | $13,500 | $97,224 |
| # 10 | Norwich University | $17,256 | $96,552 |
| # 11 | Missouri State University | $5,310 | $83,563 |
| # 12 | Sam Houston State University | $7,769 | $71,400 |
| # 13 | Liberty University | $13,560 | $71,987 |
| # 14 | Southern New Hampshire University Online | $11,286 | $70,212 |
| # 15 | Rutgers University-Camden | $29,232 | $66,900 |
| # 16 | Wayland Baptist University | $9,272 | $58,700 |
| # 17 | Jackson State University | $8,316 | $55,300 |
Salary data provided by

2020 Online Colleges Offering History Degrees - Ranking Details
Overview of an Online Master's in History
Pursuing an online history master's can help you understand the world as we know it, as well as the documented and recorded events that have helped shape humanity over thousands of years. Still, there are plenty of factors to keep in mind as you compare the best degree programs and schools that offer a history major for graduate students. For example, you'll want to search for an affordable master's in history program that suits your learning style and tastes, and you'll need to make sure your online school is fully accredited.
Before you dive into our ancient past with the goal of securing the future you truly want, you should also take the time to consider potential career paths for an online masters' degree in history. Read on to learn what a history master's program is truly like, how to pursue this field of study online, and common courses you'll need to take as part of your degree program.
What Is a History Master's Program Like?
First off, you should know that there are several degree options that fall under the umbrella of an online master's degree in history. The most common educational path is the Master of Arts in History, yet there are numerous concentrations students can choose from. For example, graduate school students can choose to pursue a Master of Arts in History, with a concentration in American History, Military History, Public History, Europe 1500-1815, History of the American West, and more.
While colleges and universities typically prefer candidates that have an undergraduate degree in history, it's possible to pursue an online master's in history with an undergraduate major in an entirely different field. A minimum GPA may be required to gain admittance to a master's degree program, as well as a personal statement, letters of recommendation, and a CV or resume.
Once admitted to this program, an online master's in history degree can require anywhere from one to two years of coursework, depending on the school and curriculum.
Can You Get an Online Master's in History?
While students can pursue a master's degree in history at a brick-and-mortar school in some cases, many opt to complete this graduate degree program online at their own pace. This option lets students continue working and taking care of other responsibilities while pursuing graduate studies in their spare time, and it allows them to continue their current living situation without having to relocate for school.
The key to finding the best online master's in history degree is making sure that the schools you consider are fully accredited by an accrediting organization that is recognized by the U.S. Department of Education. This ensures the online degree program will be fully respected, and the curriculum offered meets the same standards as brick-and-mortar institutions of higher education.
Common Courses for a Master's Program in History
The exact courses you'll take during this graduate program may depend on your school and your chosen concentration, if you have one. However, some courses for a master's in history online come pretty standard.
In addition to the completion of courses listed below, it's important to note that students may need to complete a comprehensive exam or thesis in their chosen concentration. Some programs may also require graduate students to complete a capstone project that encompasses the most profound lessons they learned while pursuing their studies.
Below are some of the most common core classes for history students at the master's level:
American History explains the historical events that led to our country's official founding in 1776. Topics of study include the history of the Native Americans who inhabited this continent long before ancient explorers landed on its shores, as well as the political and social constructs that led to the creation of the U.S. Declaration of Independence and the U.S. Constitution.
Comparative History and Research
This course teaches students to use comparative research as a tool, with the goal of uncovering connections between historical events across time. Students will learn proper research techniques that are used in academic and professional settings as well as different comparative approaches to history. This course will almost certainly include a research project, which students complete as the culmination of their studies.
This course studies current historical events through the lens of digital media. Students will examine the history of digital media and tools with the goal of understanding how our modern world explains the past while shaping our future in real time. The end goal of this course is helping students learn how they can use digital media and resources in order to preserve and safeguard history for future generations.
Historiography is the study of historical writing, so it's not surprising that this course dives deeply into some of the most famous historical writings from our ancient past. Students study various historical texts as well as their interpretations and how they have changed over the years. Other topics covered include the role of historical narratives and how they shaped humanity as well as the preservation of historical writings for generations to come.
This course provides an overview of the main historical events that have taken place since the beginning of recorded time. Students learn about various world events and how they impacted humanity, as well as how they were explained and shared over thousands of years. .
What Can You Do With a History Master's Degree?
It's easy to believe an online history master's degree can only lead to a career in teaching, yet this is far from the truth. In reality, this graduate degree program can lead to a plethora of career options — both inside and outside of the classroom.
Consider the following career prospects before you enroll in a mas"ter's in history degree program:
What Is the Highest Paying Job With a History Degree?
While there may be some careers that pay history majors a higher salary, political scientists tend to earn the most among graduates with this degree. We already noted how the median annual salary for this field came in at $122,510, as of May 2021. However, that figure only tells part of the story.
Per recent data from the Bureau of Labor Statistics (BLS), the top 10% of earners in this field brought home an average salary of $172,490, as of May 2021. Further, some metropolitan areas within the United States posted higher than average salaries for all political scientists.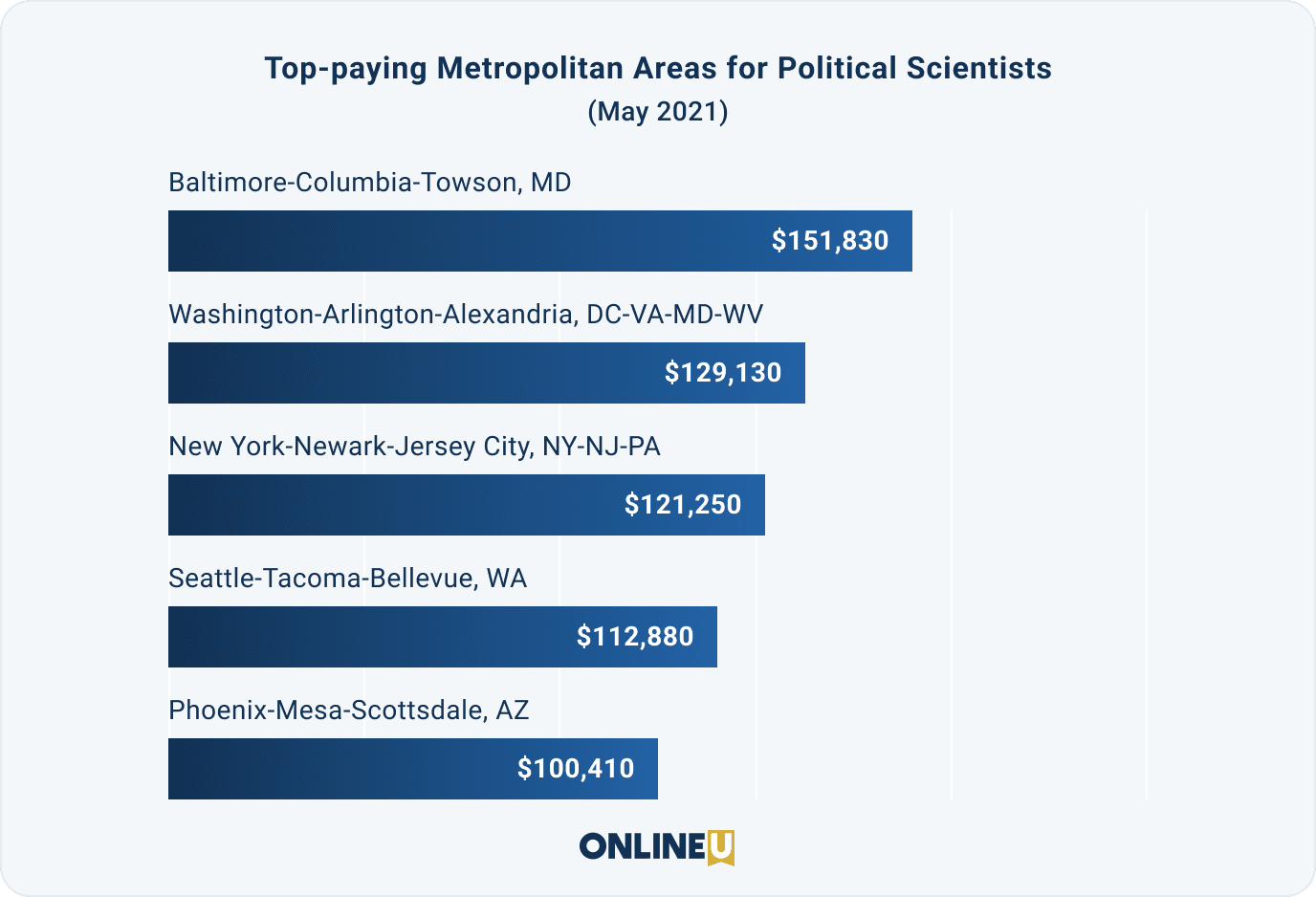 Financial Aid and Scholarships for Online Students
Students who plan to pursue a master's of history degree online should make sure they understand the financial aid opportunities that may be available to them. They should also take the time to fill out the Free Application for Federal Student Aid (FAFSA) for each year they attend school. After all, this form helps schools and states determine what financial aid they may be eligible for, whether that includes federal student loans, work-study programs, scholarships, or other types of assistance.
Students should also check for scholarship opportunities that apply directly to those pursuing a graduate degree in history, specifically. Popular history-themed scholarships to check out include the following:
Is a Master's Degree in History Worth It?
Ultimately, the answer to this question depends on the school you choose, the exact degree program you pursue, and how much you choose to focus on your studies while still taking care of other responsibilities.
That said, there are plenty of advantages and disadvantages that come with this field of study when compared to other, similar programs.
Potential Benefits
Pursuing a graduate degree in history can lead to more job opportunities than a bachelor's degree. While a bachelor's degree in history is not typically enough to become a postsecondary teacher, an archivist, or a historian, earning a graduate degree unlocks the potential to pursue any of these careers.
Earning a master's degree in history can lead to higher pay. Many jobs for professionals with a master's degree pay significantly more than comparable careers for bachelor's degree holders.
Professionals who study history as their life's work tend to be happy in their chosen careers. According to a survey by CareerExplorer, historians report a high level of satisfaction in their careers, as do political scientists.
Potential Drawbacks
Some history degree jobs come with relatively low pay. An example includes archivists, who earned a median annual salary of $60,050, as of May 2021.
You may need a doctoral degree to teach history at the collegiate level. While a master's degree in history can help you secure a postsecondary teaching position in a community college, you'll typically need a doctoral degree in order to teach history at a university.
Pursuing your studies online requires a significant amount of discipline and focus. Studying online can make it more difficult to meet others in your program that can help you stay on track. To succeed in an online degree program, you'll need to have the discipline to see your program to fruition on your own.
Bottom Line
Earning an online master's in history can help you work toward the future you have always wanted — whether you desire a career as a community college teacher, a historian who studies the past as their life's work, or an archivist who spends the bulk of their career tracking historical objects and other amazing finds in museums.
That said, you'll definitely want to spend some time comparing the best online history degrees and the schools that offer them. Since all our online history degrees are fully accredited, you can begin your search for a program here.
Related Articles
Best Online Colleges
Our rankings are the first of their kind to use student salary and debt data from the government to highlight the best online colleges.
Best Online Bachelor's Degrees in History
Explore top accredited online history degrees. Our best online colleges rankings include data for tuition, salary, debt, and return on investment.