2020 Best Online Master's in History Degrees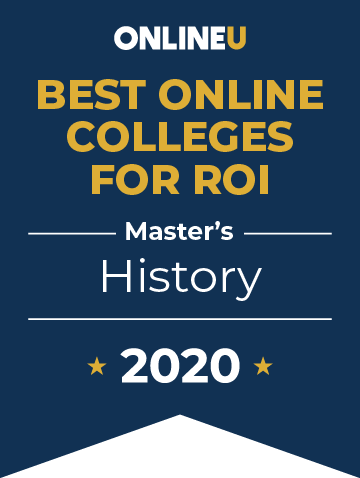 This list highlights the 19 best value colleges offering online master's programs in history. Graduates of the #1 school, the University of Massachusetts-Boston, report earning a median salary of $105,180. Tuition for the MA in History is just $8,625 annually. At #4, Fort Hays State University has the least expensive tuition on the list, charging only $4,316 per year. Students can choose between a Master of Arts in History and a Master of Arts in Public History.
Alumni salaries were provided by PayScale. View our methodology for more details or learn more about OnlineU.
Salary data provided by

2020 Online Colleges Offering History Degrees - Ranking Details
Online Master's in History Overview
Program Requirements
Online history master's degrees usually take two to three years to complete and consist of approximately 36 semester credit hours. Applicants will need to have a bachelor's degree in a related field and will need to submit transcripts from their undergraduate studies as part of the application process. In addition to transcripts, some schools will also require applicants to submit standardized test scores, letters of recommendation, and/or personal statements.
Curriculum
Examples of core classes included in these degree programs include colonialism, cultural and religious history, diplomatic history, imperialism, historiography, Roman history, slavery, women's suffrage, and race, class, and gender history. Other common classroom topics may include research methods of historians, popular culture throughout history, early American history, analyzing historical data and samples, history of ancient Greece, and history of ancient indigenous people. Coursework will vary based on students' areas of interest and whether they choose to specialize in one aspect of historical studies.
Graduates of online history master's programs may go on to become museum administrators, teachers, archivists, librarians, and writers; many master's graduates become college instructors. Those who are interested in becoming consultants or scholars in the field should consider earning a doctoral degree as well.
This website offers school details to prospective students as an informational resource. The appearance of a school listing on this website should not be interpreted as an endorsement of the school by this site.