Best Online Master's in Healthcare Management Degrees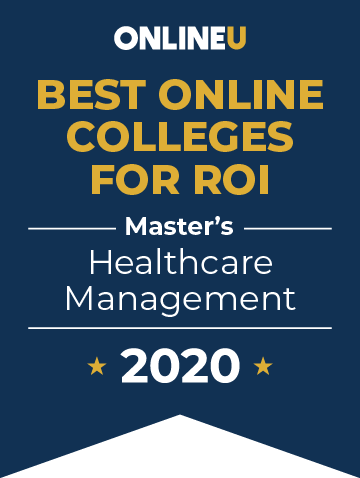 The following 25 schools offer the best online master's in healthcare management programs, based on their low tuition rates and high mid-career salary potentials. Indiana Institute of Technology is ranked #1, offering a Master of Business Administration - Health Care Management for $9,270 per year. Graduates of the school reported a median salary of $134,200. In the #2 spot, the University of Texas at Dallas offers a Master of Science in Management Sciences - Healthcare Management for only $36,450 per year, making it an affordable choice for distance learners who are looking for a high quality and affordable education.
Alumni salaries were provided by PayScale. View our methodology for more details or learn more about OnlineU.
| Rank | School | Annual Tuition | Mid-Career Salary |
| --- | --- | --- | --- |
| # 1 | Indiana Institute of Technology | $9,270 | $134,200 |
| # 2 | The University of Texas at Dallas | $36,450 | $132,820 |
| # 3 | Clarkson University | $28,176 | $125,550 |
| # 4 | The George Washington University | $17,640 | $117,262 |
| # 5 | Florida Tech - Online | $16,128 | $115,384 |
| # 6 | University of Massachusetts - Dartmouth | $8,595 | $112,071 |
| # 7 | American University | $26,385 | $118,304 |
| # 8 | Texas Tech University | $15,456 | $113,156 |
| # 9 | Johns Hopkins University | $28,200 | $115,703 |
| # 10 | Massachusetts College of Pharmacy and Health Sciences | $17,820 | $109,300 |
| # 11 | Northeastern University | $16,698 | $108,369 |
| # 12 | University of Massachusetts-Lowell | $26,370 | $111,757 |
| # 13 | Hofstra University | $32,890 | $113,218 |
| # 14 | Rutgers University | $13,248 | $103,213 |
| # 15 | Kettering University | $25,110 | $107,800 |
| # 16 | Stevenson University | $12,060 | $101,300 |
| # 17 | Albertus Magnus College | $17,955 | $103,167 |
| # 18 | Spalding University | $7,310 | $97,993 |
| # 19 | Fort Hays State University | $9,200 | $97,738 |
| # 20 | University of Denver | $22,816 | $103,055 |
| # 21 | The University of Texas at Tyler | $30,339 | $105,613 |
| # 22 | Salve Regina University | $10,890 | $97,200 |
| # 23 | University of Arizona | $30,000 | $104,390 |
| # 24 | Widener University | $22,088 | $101,015 |
| # 25 | Western Carolina University | $24,971 | $100,053 |
Salary data provided by

2020 Online Colleges Offering Healthcare Management Degrees - Ranking Details
What Is Healthcare Management?
High-level careers in the healthcare field are sometimes described as "service through management," which is mainly because professionals use their expertise in planning and directing to provide the best quality care for their patients. Serving the community in this way requires excellent managerial skills as well as a deep knowledge of the healthcare industry. These two priorities form the foundation of online master's degree programs in healthcare management and online MBA programs that specialize in healthcare management.
The healthcare industry is filled with doctors, nurses, and other medical practitioners who want to serve others by providing direct patient care. But hospitals and other medical facilities are also business organizations that require careful oversight, which creates the need for trained managers who understand the complexities of the healthcare field. Online master's programs in healthcare management are designed to fill this need.
In these programs, students learn to make sound decisions that allow their organizations to run smoothly and provide high quality care to patients and their families. Courses cover many of the core business topics — accounting, finance, data analysis, leadership, human resource management, and strategy, to name a few — but always viewed through the lens of the healthcare industry. In the process of earning a master's degree, students have the opportunity to develop essential skills, such as critical thinking, problem-solving, collaboration, and communication.
Online Master's in Healthcare Management Degrees
Students interested in earning an advanced degree in healthcare management can opt for a Master of Science in Healthcare Management or a Master of Business Administration (MBA) in Healthcare Management. Applicants who have no prior education or work experience in healthcare or business management may be required to take several prerequisite courses before enrolling in a healthcare management master's program.
For either an MS or MBA, an online master's in healthcare management degree typically requires the completion of 30-36 credit hours. Programs often involve five or six core courses, with the remaining credits taken as elective courses. Many programs end with a capstone project, although a few require a written thesis instead.
Courses in an Online Master's Degree in Healthcare Management
Online master's in healthcare management programs are often an interdisciplinary mix of courses integrating the study of business administration and leadership with knowledge of the healthcare services industry. Some of the more common electives explore subjects such as operations, supply chains, economics, contract negotiation, diagnostics and medical devices, healthcare informatics, and pharmaceuticals.
The following are some of the more common core courses in a healthcare management program:
Accounting for Decision Making
This course reviews many common accounting practices and explores some of the complexities of accounting in healthcare systems. Coursework also reveals how data derived from accounting can be used to make informed business decisions.
Healthcare Systems in the U.S.
Often one of the earliest courses in a program, this class provides a broad overview of healthcare delivery systems in the country. Students learn about healthcare providers, consumers, and insurance companies. They also discover how the government and politics influence healthcare systems.
Strategic Organization and Management
In this course, students look at high-level management issues, such as strategic planning and goal setting. Topics may include change management, team dynamics, and quality initiatives.
Healthcare Management Specializations & Concentrations
By selecting a set of related electives, enrollees may develop an area of specialization within healthcare management. Completing coursework for a concentration this way may set graduates apart from other job candidates and enable them to land specific positions within the healthcare industry.
The following are some of the more popular areas of specialization:
Information technology is one of the most important aspects of healthcare system operations. Students who want to specialize in managing IT in the healthcare industry can take courses in electronic health records, data analytics, and network systems.
Legal Issues in Healthcare
The healthcare industry is heavily regulated in terms of patient privacy, licensure to practice, insurance practices, and more. A concentration in healthcare law provides students with a thorough understanding of regulations, compliance measures, and other legal issues.
A significant cost factor in overall healthcare management is supply chain management. Courses in this concentration cover the most cost effective and efficient means for purchasing, logistics, and quality assurance.
Some students may want to focus on improving the quality of healthcare systems. For this concentration, students may take courses in spreadsheet modeling and analytics, as well as quality improvement models such as Six Sigma and Lean Management.
How Much Does an Online Master's in Healthcare Management Cost?
The cost for earning an online master's degree in healthcare management varies widely. Total tuition fees for the entire program range from $12,600-$38,628. Although online students do not have to pay for room and board or transportation to and from school, they will likely have additional expenses for fees, books, and other supplies. Depending on their bachelor's coursework, some students may also need to pay for prerequisite courses.
As in most states, online college students who are attending accredited schools are eligible for financial aid. To determine whether they qualify for grants, scholarships, or loans, students should submit a Free Application for Federal Student Aid. Master's students may also want to apply for private scholarships, fellowships, and grants, which don't have to be repaid with interest (as is required with student loans). Some students, particularly current and former military service members, may also be eligible for tuition discounts.
What to Look For in a Healthcare Management Program
In addition to the cost and type of an online healthcare management master's degree, prospective students may want to consider several other key factors before choosing a specific program. These factors may include:
Not all programs offer the same areas of specialization or electives, so students who want to specialize in a particular aspect of healthcare management should research concentrations before selecting a program.
Although many online healthcare management master's programs are fully online, a few require students to come to campus for brief periods to participate in experiential learning activities.
Before enrolling in a program, students may want to confirm that the program has a high graduation rate, that graduates have been hired by reputable employers, and that the school's career development center supports online students.
A few master's programs in healthcare management are available at an accelerated pace, which may be a priority for some students.
What Can You Do With a Healthcare Management Master's Degree?
Master's graduates with online degrees in healthcare management often go to work in hospitals, many of which are part of larger healthcare organizations. Other employment opportunities include nursing homes, assisted living facilities, and large medical practices, as well as health insurance companies and pharmaceutical companies.
With enough work experience, some healthcare systems managers may advance to top executive positions. Chief executive officers and chief financial officers may earn median annual salaries of $179,520, according to the U.S. Bureau of Labor Statistics (BLS). However, most new graduates will need to start with an entry-level administrative position, such as department manager, before working their way up to second-tier management positions like the following:
Medical and Health Services Managers
Medical and health services managers are responsible for the high-level oversight and strategic planning of a large department within a healthcare facility or possibly the entire facility. They must be skilled in setting goals, working with data and financial documents, and interacting with other members of the managerial team.
General and Operations Managers
General and operations managers usually direct the operations of a large healthcare facility, such as a hospital. Their diverse responsibilities include planning the use of resources, setting policies and procedures, overseeing daily operations, and managing change as needed. According to the BLS, the highest paid professionals earn more than $150,000.
Health Information Technology Managers
Health information technology managers plan and direct all of the computer-related activities in a healthcare organization. This can include making purchasing decisions, establishing training programs, securing the organization's system, and ensuring compliance with healthcare regulations.
Questions About Online Master's Degrees in Healthcare Management
Related Articles
Best Online Bachelor's in Health Care Management Degrees
Pursue an online bachelor's in healthcare management degree. Use our tuition data to determine which school best fits your needs and price range.
Best Online Bachelor's in Healthcare Administration Programs
Find an accredited bachelor's in healthcare administration degree online. Use data on tuition, salary, debt, and 10-year return on investment to determine which school best fits your needs and price range.