2020 Best Online Master's in Healthcare Management Degrees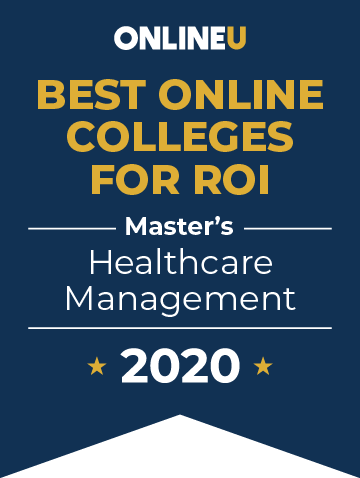 The following 25 schools offer the best online master's in healthcare management programs, based on their low tuition rates and high mid-career salary potentials. Indiana Institute of Technology is ranked #1, offering a Master of Business Administration - Health Care Management for $9,270 per year. Graduates of the school reported a median salary of $134,200. In the #2 spot, the University of Texas at Dallas offers a Master of Science in Management Sciences - Healthcare Management for only $36,450 per year, making it an affordable choice for distance learners who are looking for a high quality and affordable education.
Alumni salaries were provided by PayScale. View our methodology for more details or learn more about OnlineU.
Rank
School

Annual Tuition

Mid-Career Salary

#

1

Indiana Institute of Technology

$9,270

$134,200
#

2

The University of Texas at Dallas

$36,450

$132,820
#

3

Clarkson University

$28,176

$125,550
#

4

The George Washington University

$17,640

$117,262
#

5

Florida Tech-Online

$16,128

$115,384
#

6

University of Massachusetts-Dartmouth

$8,595

$112,071
#

7

American University

$26,385

$118,304
#

8

Texas Tech University

$15,456

$113,156
#

9

Johns Hopkins University

$28,200

$115,703
#

10

Massachusetts College of Pharmacy and Health Sciences

$17,820

$109,300
#

11

Northeastern University

$16,698

$108,369
#

12

University of Massachusetts-Lowell

$26,370

$111,757
#

13

Hofstra University

$32,890

$113,218
#

14

Rutgers University

$13,248

$103,213
#

15

Kettering University

$25,110

$107,800
#

16

Stevenson University

$12,060

$101,300
#

17

Albertus Magnus College

$17,955

$103,167
#

18

Spalding University

$7,310

$97,993
#

19

Fort Hays State University

$9,200

$97,738
#

20

University of Denver

$22,816

$103,055
#

21

The University of Texas at Tyler

$30,339

$105,613
#

22

Salve Regina University

$10,890

$97,200
#

23

University of Arizona

$30,000

$104,390
#

24

Widener University

$22,088

$101,015
#

25

Western Carolina University

$24,971

$100,053
Salary data provided by

2020 Online Colleges Offering Healthcare Management Degrees - Ranking Details
Overview of an Online Master's in Healthcare Management
Master's degrees in healthcare management are usually found in Master of Business Administration (MBA) programs and can act as a major or specialization within the management-level business degree. Master's programs take one to two years and usually include 36 to 48 semester credits. For these career-specific programs, the required bachelor's degree usually takes the form of a business degree, although it is sometimes possible to enroll in an MBA program without having completed an undergraduate degree in business. Because most applicants to healthcare management programs have a background in business or medicine, their initial courses or workload can be strongly influenced by which basic foundation courses have been completed and which ones haven't.
Health management MBA students will gain a thorough understanding of medical practices, medical terminology, medical billing and coding methods, and legal requirements and standards of healthcare. Business courses will cover accounting and finance, personnel management and organization, and general leadership and management. Some courses combining healthcare and business might include the history of healthcare management or economic decision making in medicine.
In many cases, those attending healthcare administration master's programs are aspiring hospital directors. Although this position is technically available to healthcare-related MBA graduates, many hospitals are looking for those who hold a doctoral degree in medicine as well as education in business management.
This website offers school details to prospective students as an informational resource. The appearance of a school listing on this website should not be interpreted as an endorsement of the school by this site.