2020 Best Online Master's in Forensic Science Degrees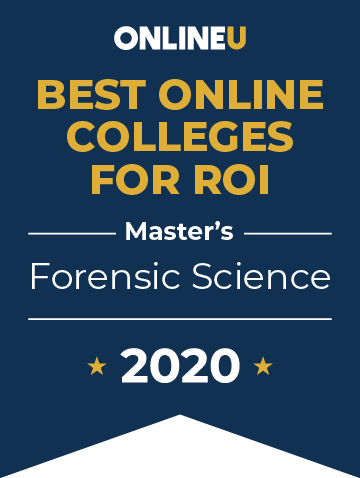 The 12 best value online master's programs in forensic science programs can be found at these colleges and universities. Graduates of the #1-ranked school, the University of Rhode Island, reported a median salary of $99,600. Florida International University, ranked #2, offers an annual tuition of only $14,400 for its Professional Science Masters in Forensic Science. Graduates of Florida International University reported an average mid-career salary of $97,224.
Alumni salaries were provided by PayScale. View our methodology for more details or learn more about OnlineU.
Rank
School

Annual Tuition

Mid-Career Salary

#

1

University of Rhode Island

$15,390

$99,600
#

2

Florida International University

$14,400

$97,224
#

3

DeSales University

$11,625

$94,500
#

4

University of Central Florida

$11,117

$94,282
#

5

West Virginia University

$14,475

$95,473
#

6

University of South Florida Online

$11,586

$89,758
#

7

University of New Haven

$28,200

$90,221
#

8

Nova Southeastern University

$11,700

$79,814
#

9

National University

$11,934

$73,100
#

10

California University of Pennsylvania

$9,468

$66,500
#

11

Saint Joseph's University

$13,305

$63,800
#

12

Saint Leo University Online

$10,620

$57,600
Salary data provided by

2020 Online Colleges Offering Forensic Science Degrees - Ranking Details
Online Master's in Forensic Science Overview
The master's degree in forensic science is a two- or three-year degree. Students who are taking full-time courses take two to three per academic semester or quarter. To qualify for a spot in one of these programs, students must have a bachelor's degree and, oftentimes, some experience in forensics or law enforcement.
Earning a master's degree in forensic science is ideally a hands-on endeavor. Students will put their problem-solving skills to the test, sorting out actual crimes based on given evidence, learning how to interrogate or question people, and learning how to look for evidence that may not be obvious. There may be some technical training, working with forensics analysis software and general equipment. Students will get specialized experience by taking on an internship or relevant part-time job or by completing a master's thesis on a topic of their choice.
A master's degree in forensic science can make it easier to get your foot in the door at federal or state investigative agencies, which are usually very selective about whom they hire. Still, having experience is key, and even with a master's degree, some graduates will have to start in entry-level positions. Many investigators were originally police officers. Federal agencies are also more apt to hire people who have master's degrees, as they work on some of the most challenging and high-profile crimes. With experience and the education provided by a master's degree, a forensic scientist can choose to work privately, as there are many private investigation agencies that work on everything from violent crimes to missing persons.
This website offers school details to prospective students as an informational resource. The appearance of a school listing on this website should not be interpreted as an endorsement of the school by this site.