Best Online Master's in Forensic Psychology Degrees
At the intersection of psychology and the law lies the highly specialized field of forensic psychology. Forensic psychologists are valuable in solving crimes, and the field is challenging yet interesting. An advanced degree in forensic psychology can lead to a potentially lucrative career in a growing industry. Psychologists in general, for instance, earn a median annual salary of $82,180. Discover more about forensic psychology and the career outlook for this field below.
2020 Best Online Colleges Offering Master's in Forensic Psychology Degrees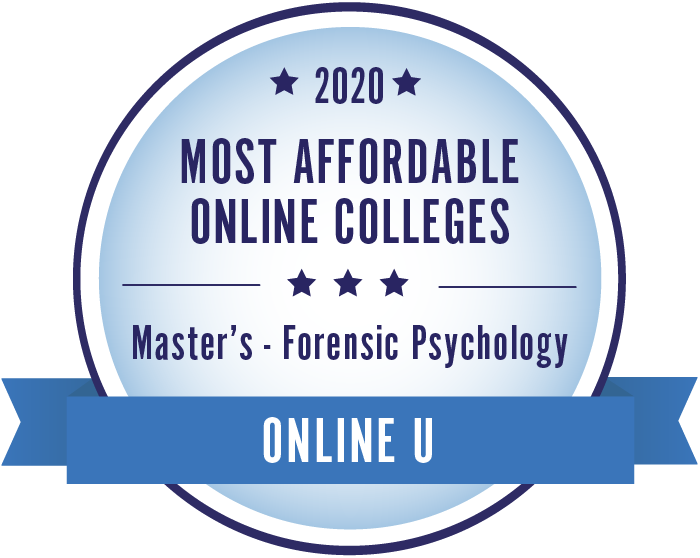 The 6 schools on this list are the best value options for obtaining an online master's program in forensic psychology based on alumni salaries and low tuition rates. A degree from the University of California-Irvine has an impressive return on investment, with an annual tuition of $14,394 and alumni reporting a mid-career salary of $127,000. At #3, University of North Dakota has the least expensive tuition on the list, charging only $7,785 per year for its Master of Arts in Forensic Psychology.
Alumni salaries were provided by PayScale. View our methodology for more details or learn more about OnlineU.
| Rank | School | Annual Tuition | Mid-Career Salary |
| --- | --- | --- | --- |
| # 1 | University of California-Irvine | $14,394 | $127,000 |
| # 2 | Arizona State University | $9,044 | $104,728 |
| # 3 | University of North Dakota | $7,785 | $99,015 |
| # 4 | Nova Southeastern University | $14,220 | $79,814 |
| # 5 | Liberty University | $13,560 | $71,987 |
| # 6 | Southern New Hampshire University Online | $11,286 | $70,212 |
Salary data provided by

2020 Online Colleges Offering Forensic Psychology Degrees - Ranking Details
Online Master's in Forensic Psychology Overview
Over the last several decades, the field of forensic psychology has emerged as an increasingly important and popular specialization. Forensic psychology applies psychological principles to the field of criminal justice. Students will learn about behavioral disorders, personality types, social psychology, and other aspects of the mind through the lens of legal applications. Getting an online master's degree in forensic psychology allows students to prepare for a doctoral degree or for a career in this field on their own schedule from almost any geographical location.
Program Requirements
Applicants to an online master's in forensic psychology program should hold a bachelor's degree with a behavioral or social science major. Some schools may require applicants to submit GRE scores, personal statements, and/or transcripts from their bachelor's degree program.
In general, the degree requires two years to complete, and students usually take a capstone course or participate in some type of research or fieldwork in the second year of study. The majority of the courses in these programs are delivered online, but some courses require students to attend one or more mandatory on-campus sessions. In some cases, students are required to take a comprehensive exam to ensure they have mastered course content.
Curriculum
Online master's programs in forensic psychology provide students with an understanding of how the principles, theories, clinical practices, and research of psychology serve the legal and criminal justice systems. Core coursework covers areas such as abnormal behavior, criminal behavior, ethical issues and professionalism, forensic assessment techniques, forensic psychology research, maladaptive behavior and psychopathology, and the psychology of criminal behavior. Elective courses may include forensic applications in community settings, such as juvenile justice, delinquency, and development, mental health applications, and program planning and evaluation in forensic settings.
Graduates of a master's program in forensic psychology may earn a professional counselor license or work as a forensic consultant in the legal system, but students who wish to become a licensed psychologist will need to continue their education at the doctoral level. Master's programs are also good preparation for advanced degree programs in criminal justice and law.
Choosing a Program
Choosing a program for an online master's degree in forensic psychology is one of the most important decisions for a successful future. A program should be selected carefully and the different factors of any forensic psychology degree course of study should be evaluated for quality. Prospective students should find out whether part-time or full-time study is available online to see what works with their own schedule.
It's also recommended to review the graduation and hiring rates for students from a program to determine how valuable the degree will be. Before applying to a program, students should seek information about the program's faculty and any credentials of the instructors and professors to understand the quality of instruction. Prospective students should also factor in on-campus requirements and fieldwork or capstone projects.
Is Accreditation Important for Online Master's Degrees in Forensic Psychology?
When considering options for online master's degrees in forensic psychology, it is important to consider program accreditation. Accreditation indicates that a school meets national education standards for particular subject matter areas. For example, students who wish to pursue any program of study in psychology should look for accreditation by the American Psychological Association. Although it is not mandatory for students to attend accredited programs, it will be extremely useful if a student wishes to transfer credits to another institution or to pursue a doctoral degree.
It is important to note that programs without proper industry accreditation do not prepare students to sit for certification or licensure exams in their field.
What Certifications and Licenses are Available for Forensic Psychologists?
There are numerous types of industry certifications for forensic psychologists and other professionals in the industry. Additionally, to be a practicing psychologist, candidates must seek licensure in their state.
Here is a selection of industry certifications and licenses in forensic psychology:
Board Certified Specialist in Forensic Psychology – Professionals can get board certified in forensic psychology by the American Board of Forensic Psychology. Participants must pass an exam to earn the certification.
Certified Treatment Specialists – Graduates of a forensic psychology degree program may also opt to specialize in juvenile treatment or a number of other subfields governed by the National Association of Forensic Counselors.
Certified Chemical Dependency Counselor – Professionals can earn a certificate to help treat patients struggling with addiction. Testing and requirements vary by state so students should consult their state boards for specific information.
Frequently Asked Questions for Online Master's in Forensic Psychology Degrees
What do forensic psychologists do?
According to the American Psychological Association, most forensic psychologists spend their time assessing individuals who are involved with the legal system in some way. In addition to training in law and forensic psychology, a forensic psychologist must possess solid clinical skills, specifically clinical assessment, interviewing, report writing, verbal communication (especially if an expert witness in court), and case presentation skills.
Forensic psychologists may also find themselves performing tasks such as:
Conducting threat assessments for schools
Child custody evaluations
Competency evaluations of criminal defendants
Counseling crime victims
Death notification procedures
Screening and selection of law enforcement applicants
Delivery and evaluation of intervention and treatment programs for juvenile and adult offenders
In short, the practice of forensic psychology involves investigations, research studies, assessments, consultation, the design and implementation of treatment programs, and expert witness courtroom testimony.
Do I need a doctorate to be a forensic psychologist?
All forensic psychologists must have either a PhD or a PsyD degree from an accredited doctoral program. They must also acquire professional experience, perhaps through a predoctoral internship.
However, there are other career options for master's program graduates, including positions as a case manager, clinical and program director, court liaison officer, expert witness, jury consultant, law enforcement advocate, researcher, or victims' advocate. Occupational settings for master's graduates include community corrections offices, correctional facilities, government agencies, law enforcement agencies, and victims' advocacy programs.
How much can I earn with an online master's degree in forensic psychology?
Careers with an online master's degree in forensic psychology are typically in the field of mental health and the criminal justice system. A master's in forensic psychology can open the door to becoming a psychologist, which is just one specialization in a diverse field of occupations. According to the Bureau of Labor Statistics, the demand for psychologists overall is expected to increase by 8% through 2030. The median salary for a general psychologist is $82,180 per year.
A career in law enforcement is also possible. Police and detective jobs, with a median salary of $67,290, are expected to grow by 7%, according to the BLS.
How can I finance an online master's degree in forensic psychology?
Are there any professional organizations for forensic psychologists that I could join?
The field of forensic psychology is enhanced with a number of strong professional organizations, such as the following groups:
Related Articles
2023 Best Online Master's Degrees
A master's program can expand your employment options and earning power. Explore our list of the best online master's programs based on alumni salaries.
2022 Best Online Master's in Forensic Science
If you want to earn your master's in forensic science online, explore our list of the best online programs and read more about this graduate degree.