2022 Best Online Master's in ESL Programs
By Taneia Surles | Updated 6/27/2022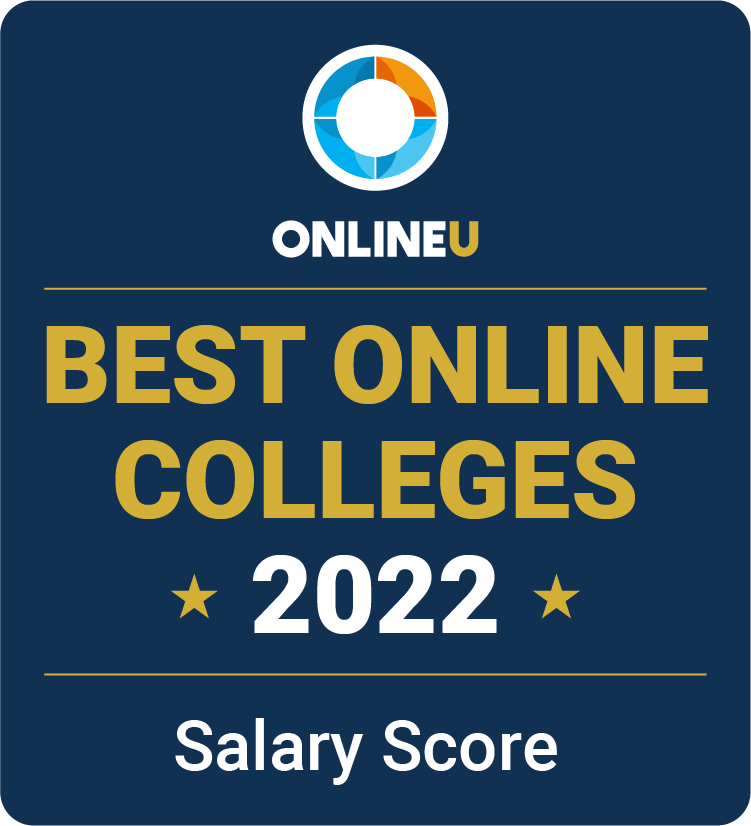 This list is ranked by the real-world salary outcomes of graduates from online master's programs in ESL, which stands for English as a Second Language. The curricula across these programs are designed for online learners who want to develop their career teaching fundamental English skills, including reading, writing, and speaking. In an ESL program at the master's level, students are expected to have a teaching license already. While a bachelor's degree is often the minimum requirement for ESL teachers, some higher education institutions may require an ESL master's degree.
View our methodology for more details about rankings or learn more about OnlineU.
2022 Online Colleges Offering ESL Degrees - Ranking Details
Overview of ESL Master's Degrees
Teachers interested in working with non-English speaking students often choose a career path in English as a Second Language (ESL), also known as English Language Learning (ELL). Students and entry-level professionals wanting to further their knowledge in this career can pursue a master's degree in ESL. With this degree, students can apply for higher-level positions in ESL, which comes with a significant increase in their annual salary rate. In addition, an online Master's in ESL is recommended for busy professionals who need schedule flexibility when working on their graduate degrees.
What Is a Master's in ESL?
A Master's in ESL prepares students to work with children or adults whose primary language is not English. In addition, this program can provide an ELL or ESL certification, which is sometimes required for teachers to work in certain school districts. While a master's degree is unnecessary to become an ELL/ESL teacher, obtaining a graduate degree in ESL can lead to opportunities for career development, such as leadership roles and higher salaries.
Online master's degree programs in ESL are available to those who already have a teaching license and want to add to their knowledge and skill set. It's also for individuals who don't have a teaching background and want to begin a career as an ESL teacher.
This type of program will generally take two years to complete and consist of around 30 credit hours of study.
After earning a master's degree, graduates will be qualified to work as an ESL teacher to students from Pre-K to the twelfth grade.
Coursework often involves classes like Language Structure and Acquisition, Linguistics, Language and Culture in the Classroom, and ESL for Children. Additionally, student teaching is also usually required. After earning a master's degree, graduates will be qualified to work as an ESL teacher to students from Pre-K to the twelfth grade. Those who are looking to earn a master's as a way to become a licensed teacher will need to check with their state for any additional requirements.
What Are the Requirements for an Online Masters in ESL?
To be admitted to one of these programs, an applicant will need to have earned a bachelor's degree, and depending on the program, this degree may or may not need to be in a related field. Depending on the nature of the program, the applicant may also need to have a teaching license and work experience in the field.
The admission requirements for an online Master's in ESL can vary depending on the institution, but the following criteria are commonly requested:
Application fees
GRE scores
Letters of recommendation
Minimum GPA of 3.0
Official or unofficial transcripts from an accredited institution
Teaching license
Valid government-issued ID
Work experience
What Courses Will You Take in an Online Masters in ESL Program?
An online Masters in ESL program provides students with an overview of the skills and knowledge to excel in the ELL/ESL field. While each institution offers a variety of courses, the majority focus on the following areas: ESL for children, linguistics, language acquisition, curriculum development, instructional planning, language assessment, and research. In addition, students may be required to complete a capstone project before graduation.
Below we list some of the most common courses offered in an online masters in ESL program:
Becoming an ESL teacher requires the ability to communicate with students in order to deliver the best learning experiences. ESL Field Experience is a standard course within an online master's in ESL program. In this course, students receive immersive, hands-on experiences working in the ESL profession. They are supervised by teachers while conducting face-to-face interactions with children in the classroom.
Second Language Acquisition (SLA)
This course provides a detailed overview of the different theories surrounding SLA. Students learn about factors like culture, learning environments, and more, which can influence the adoption of a second language. The course equips students with knowledge to assist others in learning a second language.
Methods and Materials of Teaching ESL
This course provides students with the theoretical foundation for teaching ESL by exposing students to the current and most popular teaching methods available. Students also review techniques and strategies, such as direct method, communicative language teaching (CLT), and total physical response (TPR). Additionally, students are often required to design and present micro-teaching lessons throughout the course.
Phonology for ESL Teachers
This introductory course provides students with a deeper understanding of English phonetics and phonology. Faculty help students improve their expertise in language and speech perception. Students learn how to apply the knowledge provided in the course to teach proper pronunciation to ESL learners of all ages.
Topics in Applied Linguistics
Applied linguistics is an umbrella term for various topics within the discipline. In this course, students learn about the social contexts of language, SLA, language and culture education, discourse analysis, and much more. Depending on the program, students may be required to complete a research project for a chosen topic in applied linguistics. By the end of the course, students can identify applied linguistics theories and constructs, which can later be used to design effective lesson planning and implementation for ESL learners.
Teaching Adult Language Learners
This course teaches students how to deliver the most practical teaching experiences for adult ESL learners. Students will learn about setting goals, implementing practices, and understanding the principles needed to address the needs of adult learners from different backgrounds. At the end of the course, students better understand how to evaluate and implement the best teaching practices for adult learners.
What Can You Do With a Master's in ESL?
With a master's degree in ESL, graduates are eligible for many mid- and senior-level positions. For those who want to take their ESL/ELL knowledge beyond the classroom, their master's degree in ESL provides them with opportunities to gain the expertise needed to excel in other industries.
Graduates can pursue many career opportunities, such as the ones listed below:
FAQs About Online Master's in ESL Programs
Can You Earn a Master's in ESL Online?
---
Yes, there are many master's in ESL programs you can take online, including those from the accredited schools on our rankings list. If you work part or full time, an online degree program often offers the flexibility to complete coursework at your own pace, and it's also a more affordable option in most cases.
What Major Do You Need to Teach ESL?
---
Students can come from different specialties to teach ESL, though certain degrees are preferred by graduate programs and hiring managers. A bachelor's degree — specifically in specialties such as ESL, TESOL, Elementary Education, Education, Linguistics, or a related major — is recommended to teach ESL. Having a bachelor's degree in ESL provides a solid foundation before students pursue a master's degree in ESL.
How Much Can You Earn as an ESL Teacher?
---
Becoming an ESL teacher with a master's in ESL can lead to a high earning potential for new graduates. The median annual salary for an ESL teacher is $59,720 (or $28.71 an hour). However, this rate varies depending on candidates' location, educational background, and work experience.
Related Articles
2023 Best Online Master's Degrees in Speech Pathology
If you want to earn your master's in speech pathology online, explore our 2023 list of the best online programs and read about your best options.
2023 Best Master's in English Online Programs
The schools featured on this list provide the best master's in english online degrees. Rankings for 2023 are based on tuition rates and alumni salaries.