Best Online Master's Degrees in Environmental Science
The interdisciplinary field of environmental science focuses on the evolving relationship between living organisms and the environment. Environmental science students will study the social, economic, political, and biological effects of people on local and global environments, and coursework will touch on a wide range of topics from business, engineering, and public policy to sustainability and natural resources. We've ranked the best online bachelor's and master's programs in environmental science, based on the schools' tuition rates and alumni salaries provided by PayScale. Interested students will find information about careers and program accreditation here as well.
2020 Best Online Colleges Offering Master's in Environmental Science Degrees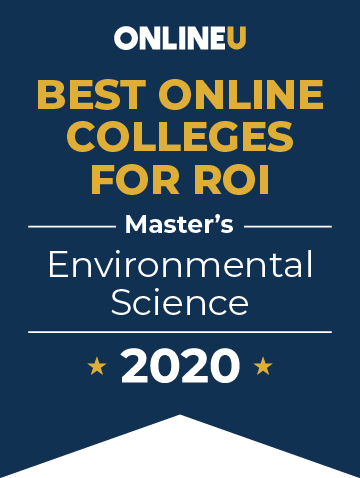 With low tuition rates and high average alumni salaries, the following 23 schools offer the best online master's in environmental science programs. A degree from California State University-Fresno has an impressive return on investment, with an annual tuition of $13,963 and alumni reporting a mid-career salary of $128,892. Second-ranked University of Idaho offers a M.S. in Environmental Science for $9,876 per year. Graduates of the school's environmental science program earn a median salary of $125,060.
Alumni salaries were provided by PayScale. View our methodology for more details or learn more about OnlineU.
| Rank | School | Annual Tuition | Mid-Career Salary |
| --- | --- | --- | --- |
| # 1 | California State University-Fresno | $13,963 | $128,892 |
| # 2 | University of Idaho | $9,876 | $125,060 |
| # 3 | University of Houston - Clear Lake | $25,877 | $130,956 |
| # 4 | Oregon State University | $12,880 | $121,445 |
| # 5 | Texas A&M University-College Station | $16,526 | $120,800 |
| # 6 | University of Florida | $8,475 | $115,384 |
| # 7 | Texas Tech University | $5,295 | $113,771 |
| # 8 | Colorado State University - Fort Collins | $7,050 | $113,234 |
| # 9 | Virginia Polytechnic Institute and State University | $13,500 | $113,576 |
| # 10 | North Carolina State University | $19,425 | $115,423 |
| # 11 | University of Illinois Urbana - Champaign | $11,200 | $110,304 |
| # 12 | University of Connecticut | $12,375 | $103,278 |
| # 13 | University of Illinois at Springfield | $8,145 | $98,360 |
| # 14 | University of Denver | $22,816 | $103,250 |
| # 15 | University of Maryland Global Campus | $11,862 | $98,492 |
| # 16 | Johns Hopkins University | $55,530 | $115,654 |
| # 17 | Utah State University | $8,281 | $90,908 |
| # 18 | Southern Methodist University | $20,250 | $94,023 |
| # 19 | University of South Florida Online | $11,586 | $89,758 |
| # 20 | The University of West Florida | $13,853 | $89,500 |
| # 21 | Webster University | $15,600 | $86,777 |
| # 22 | Duke University | $34,135 | $92,798 |
| # 23 | Troy University | $8,892 | $76,140 |
Salary data provided by

2020 Online Colleges Offering Environmental Science Degrees - Ranking Details
What can you do with a master's in environmental science degree?
Careers in environmental science focus on protecting the earth's resources by identifying things that are harming it and working to reverse environmental degradation. In order to help realize these goals, environmental scientists work in both public agencies and private firms in a variety of specializations. Some work for the government, testing and analyzing environmental resources and suggesting policy items and regulations. Others work as consultants, helping businesses comply with government regulations and develop sound environmental practices. Academic environmental scientists may work on more theoretical research and may apply a variety of disciplines to the study of the environment, such as math and chemistry.
Job opportunities for students of environmental science are growing both in the public and private sectors. Additionally, many NGOs (nongovernmental organizations) rely on the research and work of students of environmental science to publish reports, lobby governments, and help ensure their practices meet state and federal guidelines. Even energy companies hire many environmental science graduates to analyze aspects of their businesses. In the public sector, many environmental science majors go into teaching.
Graduates of an environmental science master's program may pursue opportunities as environmental scientists, planners, consultants, managers, geospatial scientists, wildlife biologists, restoration specialists, city planners, and more, depending on their education and experience.
Meet Environmental Studies Professional Peter deFur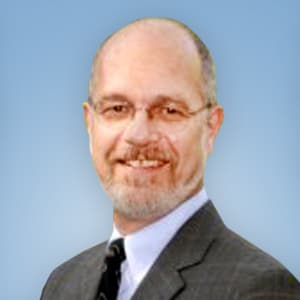 Peter deFur has been a professor of environmental studies for 30 years. For the past 20 years, he has been a part-time professor at Virginia Commonwealth University. In addition to his work in academia, Peter has worked for a national environmental organization as a senior scientist, evaluating federal policy and regulation. He holds a PhD in biology from the University of Calgary and has completed two different fellowships.
Throughout his career Peter has participated in a variety of leadership development programs, including a year-long stint at the Natural Resources Leadership Institute. Peter currently serves on the Mid-Atlantic Fishery Management Council. To learn more about the best online master's in environmental science programs, check out our 2020 rankings. Otherwise, continue reading for advice from online student Peter deFur!
What do you find most and least interesting about environmental studies?
As a classically educated biologist, the most interesting aspect of environmental studies is how living systems manage to survive and even thrive in new and changing conditions. But I find that I am learning so much about so many different topics, that I can honestly say that each day is a learning experience.
I sometimes grow frustrated that I cannot deal with more progress in teaching or in my consulting work. One example is the local issue of the Chesapeake Bay. The governments around the Chesapeake Bay, where I live, signed the first Chesapeake Bay Agreement in 1985, nearly 30 years ago and the largest problem remains. The difficulty in solving the problem is not lack of knowledge on how we can solve the problem, but the difficulty in generating the will to solve the problems.
Are there subfields of environmental studies that students might not be aware of?
That is hard to say, because any subject area students can think of has an environmental field -- all the sciences (geology, hydrology, biology, chemistry, psychology, anthropology), engineering, economics, sociology, art, literature, and education.
What careers do students commonly pursue with a degree in environmental studies?
For the longest time, environmental studies graduates went into some area of science, management, or law with a company, university, or government. But that pattern has changed incredibly in the past 10 years or so, and I see the job opportunities continuing to expand. I see jobs and careers in the environmental field that did not exist 10 years ago. Perhaps the field that is expanding the most is restoration of streams, rivers, fields, and forests.
Is a graduate degree preferable for a career in environmental studies, or can someone enter the field with a bachelor's degree?
Some people find that an undergraduate degree suits their job and career interests, and in others, a graduate degree is necessary, so it depends. The sciences are more likely to expect a graduate degree, especially if there is research in the job.
Do you think environmental studies is a subject that can be studied online, or is a traditional class environment ideal?
I have taught several online courses, and if done properly, online courses work fine. I think the important aspect of environmental studies courses is a strong emphasis on practical aspects, not just theory.
Online Master's in Environmental Science Overview
An online master's degree in environmental science can help prepare graduates for advanced environmental scientist positions that require understanding, analyzing, and managing the world's climates and ecosystems. Knowledge of the environment and its effects are important to local, state, and federal agencies, engineering and environmental consulting firms, independent research laboratories, educational institutions, nonprofit organizations, and many other employers.
Online master's in environmental science degrees are available in a range of subjects and specializations. Some degree programs provide an interdisciplinary curriculum, an approach that is well-suited to students who have not yet decided on a specific career path. However, other programs offer a concentration that focuses on a defined area within the field of environmental science, which is ideal for those students who want to tailor their education to their personal interests and career goals. Concentrations available in online environmental science master's programs include:
Natural resources
Forestry
Environmental engineering
Wildlife science
Environmental policy
For those students who are interested in pursuing research opportunities during their master's in environmental science program, there are a number of institutions that are particularly focused on research. Universities have hosted some of the most innovative research projects for environmental science in the last couple of decades, and students who attend one of these schools may have the opportunity to get involved in such projects. These schools often provide funding opportunities for research projects, and may also have the latest technology and some of the top professors in the field. Research projects can also be beneficial for networking and ongoing professional partnership opportunities.
The Importance of an Accredited Online Master's in Environmental Science Degree
Accreditation is an important criteria in selecting an online master's program. Accreditation means that the college or university degree program has received a comprehensive evaluation by an authoritative, independent agency and been proven to meet high academic standards. Legitimate accrediting agencies are recognized by the US Department of Education and will be found in the USDE database.
Many graduate schools, licensing boards, and even future employers will require degrees that have been issued by an accredited program. Accreditation may also be required for certain scholarships or financial aid. Students should visit the US Department of Education or the Council for Higher Education Accreditation for a list of accredited schools before selecting a degree program.
What are the best areas of specialization in environmental science?
Environmental science is an exciting and interdisciplinary field that students can take in a number of directions. Graduates of an online master's program in environmental science can focus on scientific inquiry or apply their knowledge to areas within business or law. Here are just a few potential areas of specialization:
Environmental Analyst: As an increasing number of business organizations become aware of the need for greater corporate social responsibility, they are beginning to hire environmental analysts to help them make better use of resources and to meet environmental regulations. Environmental analysts also work with governmental agencies, studying and evaluating the human impact on the planet's air, water, soil, and food supplies with the objective of preserving and keeping them safe. For this reason, it is beneficial for environmental analysts to earn certification in environmental risk management, as well as a master's degree in environmental science.
Environmental Law: Like all lawyers, an attorney specializing in environmental law must have a Juris Doctorate degree, which takes three years to earn. Combining a law degree with an environmental science master's degree will lead to a whole new array of opportunities. Students will have a unique mastery of environmental law that will enable them to work in top positions and make effective, positive changes.
Environmental Science: The number of environmental science jobs increases each year. Many such scientists have PhDs, but earning a master's degree in environmental science is often the first step. Successful environmental scientists are problem solvers. They are charged with finding appropriate, sustainable solutions to large-scale environmental concerns, such as pollution and renewable energy sources, and they may spend many years working on one particular issue. Patience and the ability to work well with large groups is of the utmost importance for environmental scientists.
Do I need a certification for advancement in the field of environmental science?
Although certification is not required to advance in this field, students who've earned bachelor's or master's degrees in environmental science may want to consider strengthening their professional credentials by seeking certification in one of these areas of specialization:
Certified Environmental Scientist (CES): The National Registry of Environmental Professionals (NREP) provides certification to professionals who have an understanding of the basic principles of environmental science, including chemistry, physics, biology, zoology, earth science, meteorology, and environmental health. This requires an exam, a related bachelor's degree, and three years of acceptable work experience.
Certified Environmental Auditor (CEA): Available through the National Registry of Environmental Professionals (NREP), this specialty program certifies professionals conducting environmental compliance and risk audits of on-going procedures, operating facilities, and related equipment. This certification requires an environmentally related bachelor's degree, four years of work experience, and an exam.
Registered Environmental Professional (REP): Designed to set the standard for environmental and safety certification, the National Registry of Environmental Professionals (NREP) provides certification to professionals who have a graduate level degree in a related field as well as work experience. There is no exam required.
Frequently Asked Questions about Environmental Science Master's Degrees
How do I get into an online master's in environmental science program?
Though admission criteria for an online master's in environmental science degree will vary by school, many programs require GRE/GMAT scores, prerequisite courses, and a bachelor's degree from an accredited institution. Students requiring financial assistance should know that the Environmental Protection Agency lists a number of scholarship and fellowship opportunities for environmental science students; additional federally-sponsored opportunities can be found here.
How long do environmental science master's programs take to complete?
Most online environmental science master's programs will take between 16 and 30 months to complete. The curriculum for an online master's in environmental science degree typically includes a required number of core and elective courses and a culminating project. Core courses are often foundational environmental science classes, and elective courses are related to the concentration or the student's area of interest. The culminating project is often a thesis, but many environmental science master's programs offer a non-thesis option, typically some kind of capstone project.
How much can you make with a master's in environmental science?
Graduates of environmental studies master's programs may enter a variety of fields, and salaries for environmental science professionals vary greatly by sector. According to the Bureau of Labor Statistics, environmental scientists and specialists earn an average annual salary of $73,230, with the top 10% of highest paid environmental scientists earning more than $129,450. The highest paying industry for environmental scientists and specialists is the federal government. The median annual salary in this sector is $103,180. The BLS states that a master's degree might be necessary for career advancement, which often translates to increased salary potential.
With an increased focus on issues related to climate change and hydraulic fracturing (fracking), employment of environmental scientists and specialists is expected to experience above-average growth of 8% over the next eight years. The projected industry growth and availability of jobs across a range of disciplines can make the field of environmental science a good choice for people with the right combination of education and experience.
Do I need a degree to work in environmental science?
Entry-level environmental science positions in government and some private firms typically require an undergraduate degree in environmental science, earth science, or a related area. Master's degrees are required by some consulting firms and are often necessary for advancing to higher positions. Environmental scientists at colleges and universities will usually need a doctoral degree in an environmental science area. Mastering the technology used in environmental science and earning the available professional certifications can also help an aspiring environmental scientist land a job.
This website offers school details to prospective students as an informational resource. The appearance of a school listing on this website should not be interpreted as an endorsement of the school by this site.
Related Articles
Best Online Master's in Exercise Science Degrees
These ranked schools are offering master's in exercise science online, and are ranked based on annual tuition rates and reported alumni salaries.
Best Online Bachelor's Degrees in Environmental Science
Our online environmental science degree rankings are based on alumni salary and debt. Featured schools offer degrees at the bachelor's level.