2020 Best Master's in English Online Programs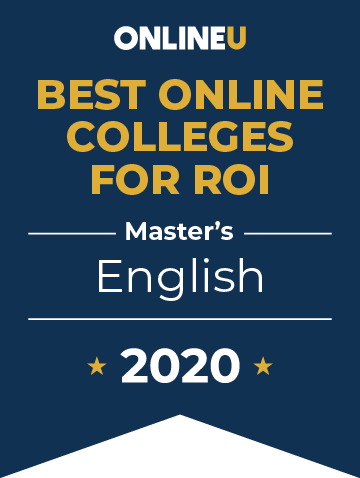 Students seeking an online master's program in English will find that these 24 colleges offer the best value based on affordability and alumni salaries. Texas Tech University is ranked #1, offering a Master of Arts in English for $6,785 per year. Graduates of the school reported a median salary of $113,771. Arizona State University, ranked #2, offers an annual tuition of only $8,512.
Alumni salaries were provided by PayScale. View our methodology for more details or learn more about OnlineU.
Salary data provided by

2020 Online Colleges Offering English Degrees - Ranking Details
Online Master's in English Overview
Master's degrees in English allow students with bachelor's degrees in any subject to hone their skills within the English language. Admission requirements vary among online schools; for example, many schools -- though not all -- don't require an admissions test. Some schools may require applicants to provide writing samples or take a test to demonstrate proficiency in a foreign language. Most online master's degree programs in English involve 30 to 37 credit hours of coursework and can be completed in 1.5 to 2 years.
Students studying English at the graduate level are required to choose a focus, with English literature and creative writing being the two most commonly offered concentrations. Programs in the literature track often offer courses highlighting specific genres of writing (novels, poetry, essays), historical periods in literature, and authors who made significant contributions to English writing.
Students in creative writing programs may also be required to take background courses in literature. The majority of the classes they take, however, focus on linguistics, composition, and writing style. Workshops, in which students share written work and receive feedback, are an integral part of master's programs. No matter which concentration students pursuing a Master of Arts in English choose, they should expect to complete a final project. Depending on the school, this may be a thesis, an exam, or a final piece suitable for publication.
This website offers school details to prospective students as an informational resource. The appearance of a school listing on this website should not be interpreted as an endorsement of the school by this site.