Best Master's in English Online Programs
A master's degree program in English serves to sharpen a student's critical thinking, writing, and research skills, as these are required to critique and compare works of literature using literary theory and pedagogy. Beyond literature, students can choose to focus their degree in language instruction, technical communication, or rhetoric and composition, among others. The following is a rankings list of 48 colleges offering the best value based on affordability and alumni salaries. Equipped with a comprehensive skill set founded in analytical problem solving and communication skills, graduates can pursue a broad spectrum of career paths in writing, as well as government, teaching, business, publishing, freelancing, and more.
2020 Best Online Colleges Offering Master's in English Degrees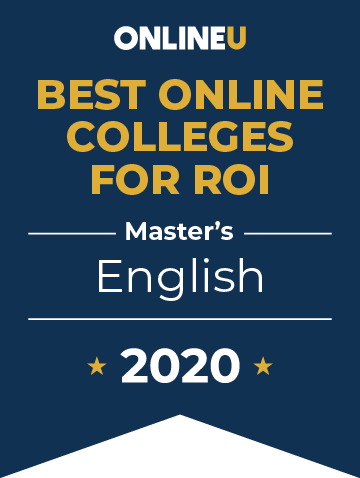 Students seeking an online master's program in English will find that these 24 colleges offer the best value based on affordability and alumni salaries. Texas Tech University is ranked #1, offering a Master of Arts in English for $6,785 per year. Graduates of the school reported a median salary of $113,771. Arizona State University, ranked #2, offers an annual tuition of only $8,512.
Alumni salaries were provided by PayScale. View our methodology for more details or learn more about OnlineU.
| Rank | School | Annual Tuition | Mid-Career Salary |
| --- | --- | --- | --- |
| # 1 | Texas Tech University | $6,785 | $113,771 |
| # 2 | Arizona State University | $8,512 | $104,728 |
| # 3 | Minnesota State University at Mankato | $6,411 | $103,200 |
| # 4 | The University of Texas at Tyler | $14,328 | $106,200 |
| # 6 | Murray State University | $8,160 | $101,700 |
| # 7 | Fort Hays State University | $4,604 | $99,100 |
| # 8 | University of Memphis | $11,849 | $101,493 |
| # 9 | University of Central Florida | $11,811 | $94,282 |
| # 10 | Mercy College | $13,455 | $89,000 |
| # 11 | The University of West Florida | $15,700 | $89,500 |
| # 12 | Old Dominion University | $8,925 | $86,578 |
| # 13 | Ohio University - Main Campus | $12,744 | $87,239 |
| # 14 | East Carolina University | $14,914 | $81,907 |
| # 15 | National University | $10,166 | $79,863 |
| # 16 | Indiana University - Bloomington | $8,100 | $78,441 |
| # 17 | Gardner Webb University | $7,035 | $74,000 |
| # 18 | Valdosta State University | $5,274 | $71,675 |
| # 19 | University of New Orleans | $4,938 | $67,900 |
| # 20 | Southern New Hampshire University Online | $11,286 | $70,212 |
| # 21 | University of Wyoming | $4,185 | $60,700 |
| # 22 | Rutgers University-Camden | $29,232 | $66,900 |
| # 23 | Wayland Baptist University | $9,272 | $58,700 |
| # 24 | Tiffin University | $7,875 | $52,700 |
Salary data provided by

2020 Online Colleges Offering English Degrees - Ranking Details
Master's in English Degree Overview
An online master's degree program in English provides prospective students with a broad base of knowledge in the areas of literature, writing, and rhetoric. Graduates develop advanced skills in critical analysis, research methods, textual interpretation, and analytical writing that apply to various career fields, including teaching, government, writing, and editing.
Program Requirements
The majority of master's programs in English require that applicants have a cumulative 3.0 GPA of upper-division undergraduate coursework. Other application requirements can include official transcripts, GRE test scores, letters of recommendation, writing samples, and a letter of intent. To graduate from a master's in English program, students must complete 30-36 credits of graduate coursework with a cumulative GPA of 3.0.
Curriculum
Online master's degree programs in English include a variety of courses, including writing, rhetoric, literary theory, linguistics, research methods, and early and modern American and British literature. Specialized courses are available in technical communications, linguistics, teaching, and other interdisciplinary literary studies. Students may be required to complete a thesis, capstone course, or final examination to graduate. Full-time students can complete a master's degree in two years, while part-time students may need additional time.
Choosing a Program
Before selecting a master's in English program, students should evaluate the program and school accreditation, faculty credentials, and cost. Students should also consider class flexibility, noting whether coursework follows an asynchronous or synchronous format, and the support and resources available to online students. Additionally, students should select a master's in English program that offers several courses or a specialization track in their area of interest.
Financing a Master's Degree in English
Students in an online master's degree in English program can apply for financial aid by filling out a FAFSA annually to receive federal loans or grants. Prospective students should also check what graduate scholarships their university or specific program offer to enrolled students. State programs and professional organizations may also offer scholarships and grants.
The TEACH grant is a federally-funded program through the U.S. Department of Education that provides $4,000 a year to students who take coursework to begin a career in teaching. Upon graduation, recipients must agree to teach in a high-need field and work in a school that serves a lower-income community for four years.
Is Accreditation Important for Online Master's Degrees in English?
Accreditation is an important factor to consider when deciding to enroll in a postsecondary institution. It is a voluntary process that ensures that universities, colleges, or individual programs meet the minimum standards of educational quality and academic rigor. Accrediting agencies are usually private educational organizations that conduct peer evaluations to determine whether universities or colleges meet an established set of criteria. Postsecondary institutions and programs can become either regionally or nationally accredited.
The U.S. Department of Education (USDE) periodically reviews accrediting agencies to ensure they are effectively enforcing their standards. The USDE also provides an online database of legitimate accrediting agencies in the United States. Enrolling in an accredited institution or program can assure students that they will qualify for federal financial aid, transfer credits to another university, and be eligible for employment in their chosen field after graduation.
What Specializations are Available for Online Master's Programs in English?
A master's program in English with a general focus will require students to take courses in a broad range of topics within the discipline. Completing a specialization or concentration will allow students to take additional courses in an area of interest. Not all of the master's in English online degree programs may offer all of the following specializations.
Literature: With this specialization, students take courses in literature from a particular time and place, such as early or modern English and British literature, Victorian literature, American literary realism, or world literature. Students will also learn literary theory and study and analyze major works of literature by applying methodologies in literary criticism. Graduates are prepared to pursue doctoral work in literature, teach at the junior college level, or take on writing or editing careers.
Professional Writing/Technical Writing: Students in this specialization will learn theoretical and applied skills in written and technical communications. Students who choose this specialization will take courses on writing for specific audiences and objectives, produce different types of documents and reports, apply research methods, and format text and graphics within a document. Students who complete this specialization are prepared to begin careers in various fields, including government and business, or take on any communication-related job.
Rhetoric and Composition: In this specialization, students will learn about the theory and history of rhetoric and writing. Students will study different rhetoricians and analyze texts from the classical ages to the present. Other courses include methods in teaching composition. Graduates can continue their education by pursuing a Ph.D. in the fields of rhetoric or composition, which will make them eligible to teach writing at the college level.
English as a Second Language (ESL): Students who undertake the ESL specialization are prepared to teach English to non-English speakers in the United States or abroad. Graduates are qualified to apply for a state teaching certification to work in public schools as an ESL instructor. Students take courses in second language learning and acquisition, assessing language ability, language structure, theory and practice of language, and language instruction methodologies.
Linguistics: Students electing to take a linguistics specialization will learn about theoretical and applied linguistics, including psycholinguistics and sociolinguistics. Many of the required courses may overlap with an ESL concentration. In general, students pursuing linguistics will take courses in semantics, syntax, phonology, morphology, pragmatics, and language instruction. Students can go on to perform doctoral work in this field or teach English to nonnative speakers.
What Kind of Certification is Available for Graduate Students Studying English?
Graduates of a master's program in English can work in a wide variety of careers involving writing, editing, communications, or teaching. Additional certifications are only required if graduates plan to work as teachers in the public school system. If graduates choose to teach in community colleges, certification is optional.
Teaching Certification: State certification is required to work as a teacher in a primary or secondary public school institution. Certification requirements vary by state, so prospective teachers should determine the specific requirements for the state in which they plan to teach.
The U.S. Department of Education provides a directory of state education departments and agencies by state. States may offer both traditional and alternative pathways to become certified. Prospective teachers may need to complete an approved teacher preparation program and earn endorsements in the subject matter they plan to teach, such as ESL or English.
Graduate Teaching Certification: While community college teachers are not required to have any teaching credential, many graduate certificate programs provide teaching preparation for those without a teaching background. Students take courses in adult learning, instructional methods, and course design for adult learners. Some programs may require an internship in a community college.
Frequently Asked Questions for Online Master's in English Degrees
What can you do with a master's in English?
Graduates of a master's program in English are qualified to work in various careers involving writing, editing, communications, research, or teaching. Graduates go on to work in government agencies or many industries, such as business, journalism, law, or education.
According to the Bureau of Labor Statistics, high school teachers can expect a median pay of $62,870 per year and jobs in this field are expected to grow at a rate of 8%. Postsecondary teachers earn $80,560 per year in median pay. Projected job growth in this field is 12%, which is faster than average. Writers and authors can earn $67,120 per year as a median salary. Job growth in writing is projected to stay the same or show little change because of popularity and strong competition in this field. The median annual wage for editors is $63,400 and the number of jobs is expected to increase by 5%, which is slower than the national average. While employment in online editing is rising, the decrease of traditional print publications might affect job growth rate.
What are the best online master's degree programs in English?
We have ranked the top online master's degree programs in English in terms of affordability and value. In general, students should look for these factors when choosing a master's program: accreditation, tuition cost, faculty reputation, and graduation rates.
Is an online master's in English the same as an on-campus degree?
Yes, unless otherwise noted, an online degree program is taught by the same faculty and follows the same curriculum as classes on campus. A diploma will reflect the institution's name but will not indicate that the recipient completed the degree online.
This website offers school details to prospective students as an informational resource. The appearance of a school listing on this website should not be interpreted as an endorsement of the school by this site.
Related Articles
2022 Best Online Master of Fine Art Degrees
Are you looking for a list of the best MFA programs? Check out our rankings based on alumni salary for the top online MFA programs currently available.
2022 Best Online Master's in ESL Programs
Compare the best online master's in ESL degrees by alumni earnings to determine their salary outcomes, and learn about the curriculum and admissions requirements.