2020 Best Online Master's in Emergency Management Degrees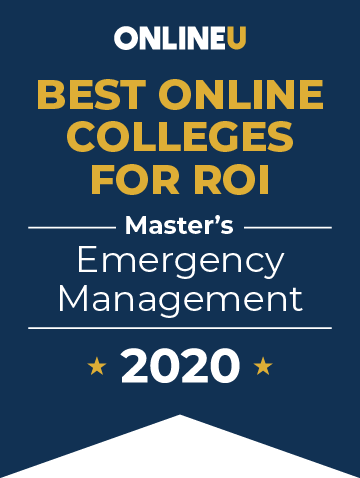 The following 24 schools offer the best online master's in emergency management programs, based on their low tuition rates and high mid-career salary potentials. The University of Colorado Denver is ranked #1, offering a Master of Criminal Justice - Emergency Management and Homeland Security for $11,358 per year. Graduates of the school reported a median salary of $120,708. Second-ranked Tulane University offers a Master of Public Health - Disaster Management for $31,510 per year. Graduates of the school's emergency management program earn a median salary of $122,863.
Alumni salaries were provided by PayScale. View our methodology for more details or learn more about OnlineU.
Rank
School

Annual Tuition

Mid-Career Salary

#

1

University of Colorado Denver

$11,358

$120,708
#

2

Tulane University

$31,510

$122,863
#

3

California State University-Long Beach

$7,984

$112,009
#

4

Adelphi University

$14,400

$111,683
#

5

DePaul University

$17,030

$109,241
#

6

Northeastern University

$16,698

$108,369
#

7

Arizona State University

$8,512

$104,687
#

8

University of Wisconsin-Oshkosh

$9,900

$103,000
#

9

University of Denver

$22,816

$103,055
#

10

University of Maryland Global Campus

$11,862

$98,635
#

11

Clemson University

$14,840

$98,877
#

12

Oklahoma State University-Main Campus

$14,898

$96,642
#

13

University of Central Florida

$10,422

$94,329
#

14

Norwich University

$17,256

$96,863
#

15

University of Alaska Fairbanks

$9,240

$92,800
#

16

Virginia Commonwealth University

$14,229

$93,985
#

17

University of Nevada at Las Vegas

$15,051

$93,780
#

18

Upper Iowa University

$9,990

$89,100
#

19

Georgetown University

$64,170

$110,622
#

20

University of New Haven

$16,920

$90,503
#

21

University of South Florida Online

$18,538

$89,765
#

22

Excelsior College

$9,675

$85,713
#

23

Eastern Kentucky University

$10,998

$85,958
#

24

Thomas Jefferson University

$42,840

$97,033
Salary data provided by

2020 Online Colleges Offering Emergency Management Degrees - Ranking Details
Overview of an Online Master's in Emergency Management
Online master's degrees in emergency management may give students the opportunities to excel in advanced management positions upon graduation. Individuals with this degree may find work in the public and private sectors, helping communities deal with emergencies and lowering the risk of disastrous situations occurring. There are also emergency management master's programs that have a homeland security emphasis, so individuals interested in a career in homeland security should look into those. Some job titles open to master's degree holders include Emergency Planner, Director of Emergency Management, and Disaster Recovery Specialist.
A master's degree will typically take one to two years to complete and requires 30-36 semester credit hours. Typical coursework includes hazard risk and vulnerability assessment, information technology in emergency management, criminal justice, and public policy. A culminating project or capstone course will also likely be required. In order to be admitted to one of these programs, a student must have earned a bachelor's degree in a related field and have a GPA of 3.0 or higher. Letters of recommendation and test scores from exams like the GRE or GMAT may also be required, depending on the school. Online emergency management master's programs are available at multiple colleges and universities around the country.
This website offers school details to prospective students as an informational resource. The appearance of a school listing on this website should not be interpreted as an endorsement of the school by this site.