2020 Best Online Master's in Elementary Education Degrees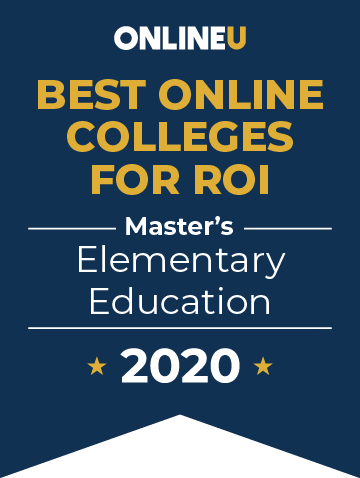 The 14 schools on this list are the best value options for obtaining an online master's degree in elementary education based on alumni salaries and low tuition rates. Graduates of the #1 school, California State University-Fullerton, report earning a median salary of $80,100. The #2 school, Western Governors University has an affordable annual tuition rate of $7,080 for its M.A. Teaching - Elementary Education.
Alumni salaries were provided by PayScale. View our methodology for more details or learn more about OnlineU.
Rank
School

Annual Tuition

Mid-Career Salary

#

1

California State University-Fullerton

$13,374

$80,100
#

2

Western Governors University

$7,080

$76,900
#

3

Saint Xavier University

$12,075

$75,800
#

4

University of North Texas

$12,146

$66,900
#

5

Kansas State University

$17,800

$68,600
#

6

Ball State University

$9,765

$63,900
#

7

Lesley University

$11,050

$62,800
#

8

University of New Mexico

$4,583

$58,600
#

9

University of Alabama

$6,300

$58,400
#

10

Liberty University

$9,960

$59,800
#

11

Troy University

$8,892

$59,100
#

12

Stephen F. Austin State University

$6,060

$57,000
#

13

Nova Southeastern University

$20,500

$59,800
#

14

Old Dominion University

$8,925

$55,000
Salary data provided by

2020 Online Colleges Offering Elementary Education Degrees - Ranking Details
Online Master's in Elementary Education Overview
Program Requirements
Online master's programs usually take around two years to complete. Admission to a master's program will require a bachelor's degree, though it does not necessarily have to be in education. Tuition rates will vary depending on the program, but programs can be found for under $10,000 a year.
Curriculum
Classes that students might take during their studies include Foundations of Exceptionality, Curriculum Fundamentals, Teaching Mathematics, The Diverse Elementary Classroom, Legal, Regulatory, Educational Standards, and Ethics, and Principles of Behavior Management. Student teaching may also be required.
After completing a master's program in elementary education and completing any additional requirements by their state to gain licensure, graduates will be ready to start working in elementary school classrooms.
This website offers school details to prospective students as an informational resource. The appearance of a school listing on this website should not be interpreted as an endorsement of the school by this site.