2023 Best Online Master's Degrees in Elementary Education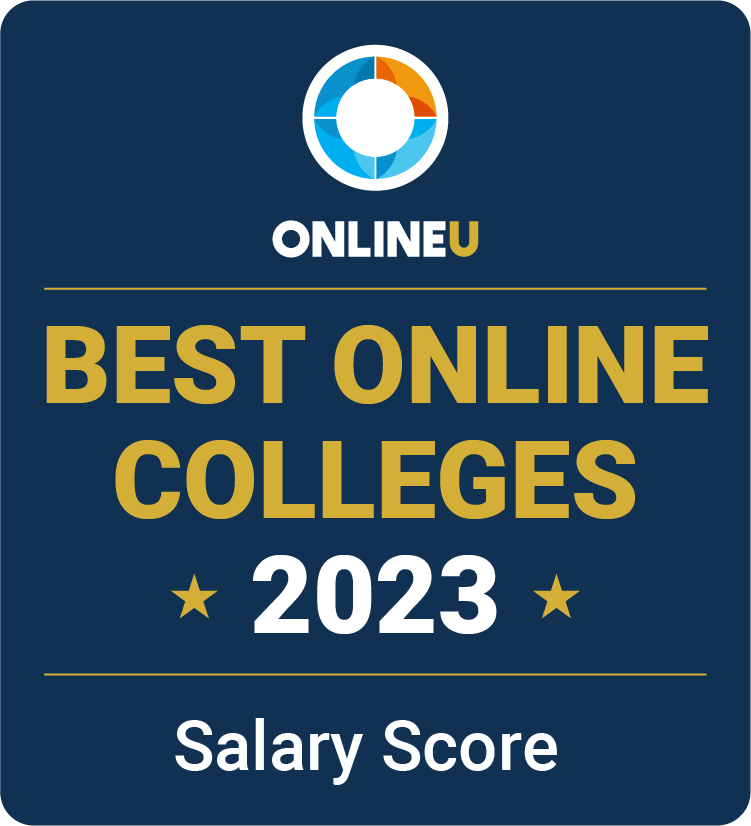 After receiving an online degree in elementary education or a similar field, an online master's in elementary education is designed for new and novice educators looking to expand their expertise. Each program covers elementary education, curriculum development, and leadership. In addition, students can expect to complete internships or practicums at local schools to meet program requirements for graduation. With an online master's degree in elementary education, students can pursue career opportunities such as an elementary teacher, principal, instructional coordinator, or school counselor.
Below, we've provided a list of the best online Master's in Education based on the highest alumni salary. View our methodology for more details about rankings or learn more about OnlineU.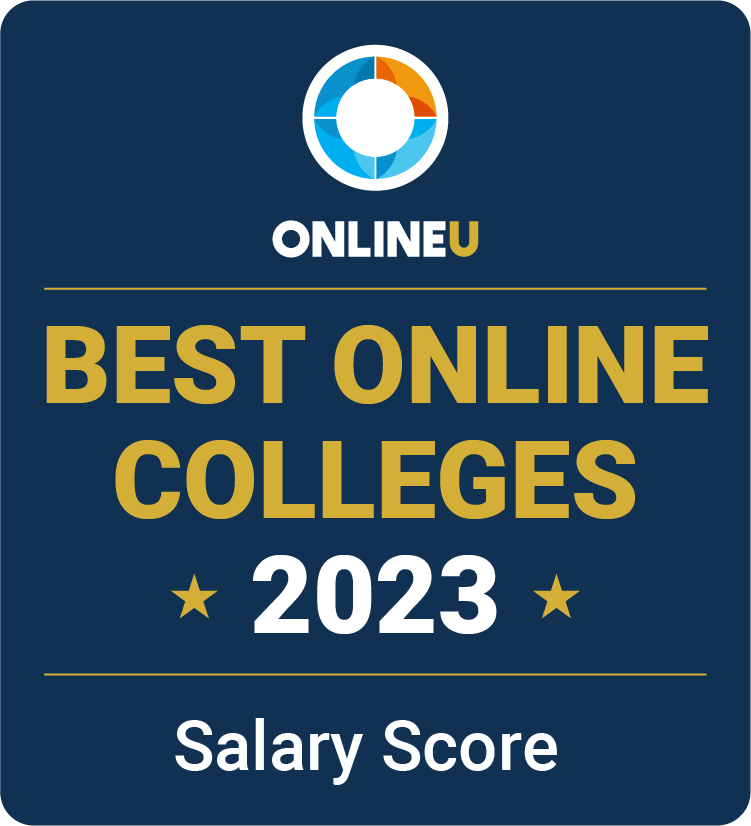 ADVERTISEMENT
Online Elementary Education Master's Degrees You May Be Interested In

Annual Tuition: $11,538
5 Programs (view all)


---
2023 Best Online Master's Degrees in Elementary Education
| Rank | School | Salary Score | Median Starting Salary |
| --- | --- | --- | --- |
| # 1 | Pennsylvania State University - World Campus | | $81,629 |
| # 2 | City University of Seattle | 96 | $59,848 |
| # 3 | American University | 94 | $58,228 |
| # 4 | California State University - Fullerton | 91 | $56,978 |
| # 5 | Nova Southeastern University | 86 | $54,785 |
| # 6 | McDaniel College | 73 | $51,549 |
| # 7 | The University of Texas - Rio Grande Valley | 69 | $50,797 |
| # 8 | Concordia University - Chicago | 67 | $50,366 |
| # 9 | Thomas University | 66 | $50,031 |
| # 10 | Chaminade University of Honolulu | 65 | $49,912 |
What Is a Master's in Elementary Education Degree?
An elementary education degree is often the first step in a rewarding career in the field of teaching. But what is elementary education exactly? When we talk about elementary-level learning, we are talking about education for young children in kindergarten and grades one through six. Elementary teachers typically teach a full range of subjects — including language arts, math, science, and social studies — at both private and public schools.
While a bachelor's degree in elementary education can help you land an entry-level position as an elementary school teacher, earning a master's in elementary education can help you move up in your career. For example, those who pursue an elementary education master's degree may go on to work as an instructional coordinator, a lead teacher, or a school principal.
Program Requirements
To gain the knowledge and skills required to teach school children, you must sincerely love working with young students. At a minimum, you must be willing to complete at least four years of higher education to earn a bachelor's degree.
Those who aspire to more advanced roles typically spend two to three more years completing a master's in elementary education program and fulfilling any licensing requirements. An undergraduate degree — preferably in elementary education, teaching, or early childhood education — is one of the common admissions requirements for graduate programs. Your official transcripts from your undergraduate degree may also need to show you maintained a GPA of 2.8 or possibly higher.
A master's program often requires the completion of 30-40 credit hours. Many programs also require some type of internship and about 600 hours of practicum or field experience in the classroom. Master's in education programs can lead to one of several different degree titles. You might earn a Master of Arts (MA), a Master of Science (MS), or a Master of Education (M.Ed.) degree or something similar.
Master's in Elementary Education Courses
Master's degree programs in elementary education are all designed to prepare you to help young students thrive in a variety of learning environments. You'll learn advanced curriculum planning and classroom management skills, as well as a variety of teaching methods that can be tailored to meet the needs of diverse learners.
Some of the core courses typically found in an elementary education master's program include:
This course introduces master's students to the world of books and stories our children read as they learn and grow. Students will discover the cultural and historical impact of children's literature and learn how teachers can use it as a tool to expand children's learning and perspectives. The goal of this course is to give teachers the tools they need to nurture a love for lifelong learning and reading among their students.
This core education course introduces the communication theories and practices teachers will need in their future leadership positions. Enrollees learn how to build and maintain healthy professional and personal relationships in an educational environment, as well as how to think critically about various types of interpersonal interactions. To cement the understanding of communication theory, concepts are put into practice through written and oral presentations.
Teachers need to know how to create engaging lesson plans from scratch or tailor their lesson plans and curriculum to students' unique and changing needs. Not only do lesson plans have to meet state standards, they should also prepare students for standardized testing and assessment.
This course introduces future teachers to the types of writing that are valued in academia and elsewhere. Students will learn to write in a variety of styles, including the articulation of arguments and general storytelling. While this course is designed to help teachers improve their own writing skills, the underlying theory and practice can help them share their knowledge with students in the classroom.
Teachers need to have a general understanding of world history. This course provides an overview of the last 5,000 years, including the cultural, political, and social structures and beliefs that have shaped our world.
Elementary Education Concentrations
Students who pursue a master's in elementary education degree can focus on a specific area of study if they choose. To fulfill the requirements for a concentration, you will probably need to take three or four core courses or electives on the particular topic.
Some of the elementary education concentrations at the master's level include literacy, curriculum and instruction, educational technology, or leadership in education. A few programs also offer a concentration in teaching science, technology, engineering, and math (STEM) subjects at the elementary school level. For those who are interested in working with smaller groups of children, concentrations are also available in special education and English as a second language (ESL).
After earning an in-person or online master's in elementary education degree, you'll be able to advance your career in the education field or beyond. Most positions within education will require a state-issued teaching credential or some other type of license to work with children. Obtaining licensure usually requires the completion of an accredited degree program, a certain number of hours of student teaching experience, a background check, and a passing score on a teacher certification test.
According to the Bureau of Labor Statistics (BLS), some of the possible career paths available to you include:
Elementary School Principal
Annual Median Salary:
$98,420
Elementary school principals work in leadership roles within schools and other learning centers. Not only do these professionals oversee the daily school activities and staff, they set basic curriculum standards and the general tone for the learning environment. School principals also oversee their school's budget and establish safety and security protocols for staff, students, and school visitors.
Elementary School Teacher
Annual Median Salary:
$61,350
While most elementary school teacher positions require a bachelor's degree, the BLS reports that some states require teachers to earn a master's degree after receiving their teacher certification and landing a job. Either way, an elementary education master's program provides a pathway to a career in teaching kindergarten and grades one through six. Those who work in this position help children learn through lesson plans, assignments, and games. Teachers are also charged with preparing for standardized testing based on state requirements.
Instructional Coordinators
Annual Median Salary:
$63,740
Instructional coordinators need a master's degree and related work experience to get started, which is why this job is a natural fit for teachers who wind up pursuing master's-level education at some point in their career. Workers in this field develop and implement curriculum for school systems, and they also evaluate the effectiveness of current lesson plans and techniques. Also called curriculum specialists, these professionals may also observe teachers in the classroom and suggest curriculum changes to meet students' evolving needs.
Training and Development Manager
Annual Median Salary:
$120,130
An elementary education master's degree can also prepare you for a job as a training and development manager. Workers in this career train and enhance the skills of an organization's staff. This typically involves developing and implementing targeted training programs built around staff members' specific needs while helping all parties work toward an organization's main goals. Training and development managers also update training programs as needed and evaluate their effectiveness over time.
Is a Master's Degree in Elementary Education Worth It?
Before enrolling in a traditional or online elementary education master's program, it's natural to consider whether the degree will be worth the time and effort. Only you can determine this for yourself based on your personal circumstances and goals. It will take two to three years and a significant financial investment to earn this degree. However, a master's degree will qualify you for a number of higher-paying occupations in education and business.
How to Choose an Elementary Education Master's Program
Deciding whether to go back to school to earn an elementary education master's degree is a critically important decision. You'll want to carefully research your options before choosing a program.
One thing to explore is the accreditation status of each of the schools you're considering attending. All of the schools on our list of the best online master's degrees in elementary education are institutionally accredited. To become accredited, each school has to be evaluated by an authorized agency and proven to meet national educational standards.
Not only does institutional accreditation ensure that you're getting a high-quality education, enrollment in an accredited program qualifies you for financial aid and allows you to transfer credits to another school if needed.
Beyond institutional-level accreditation, individual elementary education master's programs can earn programmatic accreditation. The Council for the Accreditation of Educator Preparation (CAEP) is the approved accrediting agency for all teaching programs. To be CAEP-approved, a program must be designed to train future educators to follow approved methods and practices and pass any certification exams.
If you're considering earning your master's in elementary education online, you may want to explore several aspects of each program's format before enrolling. Some key factors to consider include:
Can you devote yourself to your coursework full time, or do you need to attend school part time so that you can work? If needed, make sure the program can be completed on a part-time basis so that you can maintain a healthy balance.
Does the online program qualify you for a teaching credential in your state? Some states have strict requirements about the online teaching degree programs they recognize so be sure to select an appropriate program.
Are the online classes synchronous or asynchronous? Synchronous courses usually require you to log in at specific times to view lectures and participate in live class discussions and other learning activities. Asynchronous courses may give you greater flexibility by allowing you to complete each week's assignments on your own schedule.
Do you consider yourself to be self-motivated and good at time management? Some students prefer more structure, which is typical of in-person programs.
What Else Should You Consider?
Aside from your school's accreditation status and online course format, there are several other points to consider before choosing an elementary education master's program. In particular, you may want to establish a cost estimate for earning this graduate degree and your budget in advance.
If you want to save money on your master's degree, earning an elementary education master's degree online may be your best option. Some schools lower their tuition fees for distance learning students, which could significantly reduce your investment. As an online student, you'll also save money by avoiding college room and board or transportation costs.
Additionally, remember that both on-campus and online graduate students are eligible for financial aid. Be sure to fill out and submit the Free Application for Federal Student Aid form as well as applications for private scholarships for education majors. Some public school districts also provide tuition assistance for working teachers.
One last factor to consider is the application deadline of the schools on your list. Graduate programs generally accept applications about seven to nine months before the fall semester when classes begin. However, some schools offering master's in elementary education online programs review applications all year round and allow students to start as soon as they're ready.
FAQs About Elementary Education Degrees
Do Most Teachers Have a Master's Degree?
---
Data from the National Center for Education Statistics shows that approximately half of all public school teachers have earned a master's degree. A graduate degree prepares you for advanced positions in teaching and administration, which may allow you to earn a higher salary.
What Grades Can You Teach With a Master's in Elementary Education Degree?
---
A master's degree in elementary education prepares you to work with K-6 children. Unless you specialize in working with special education students or ESL students, you will most likely be required to teach all subjects
Can You Get a Master's in Elementary Education Degree Online?
---
Yes, you can definitely get a master's in elementary education degree online. Many highly respected schools offer fully online programs, which usually take two to three years to complete. Just make sure you choose an online master's program that qualifies you to earn a teaching license or credential in your state.
Bottom Line
According to an ongoing survey conducted by Career Explorer, elementary school teachers report that their work is meaningful and their work environments are enjoyable. You can establish a successful long-term career as a school teacher with only a bachelor's degree.
However, if you want to command higher salaries and move into advanced positions in education sometime in the future, you may want to consider earning a master's degree in elementary education.
Why Trust Us?
60,000 Degrees Researched Annually
20,000 Hours Spent on Research Annually
Launching Rankings Since 2009
Meet our team
Related Articles
2023 Best Online Master's Degrees
A master's program can expand your employment options and earning power. Explore our list of the best online master's programs based on alumni salaries.
2023 Best Online Master's Degrees in Education
Are you interested in earning an online master's degree in education? Find the best master's degrees in education from our 2023 list of accredited online schools.