Best Online Master's in Electrical Engineering Degrees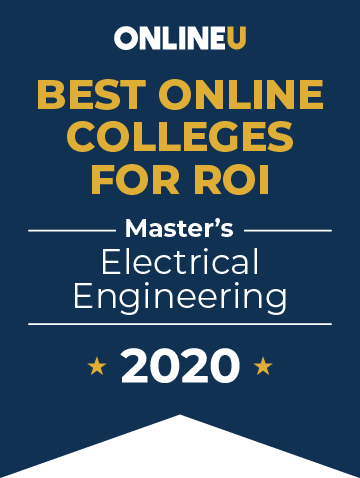 The 23 online colleges on this list are the best value options for online master's programs in electrical engineering, based on their tuition and alumni-reported salaries. Ranked #1 is the University of Virginia, with a low tuition of $8,115 and a high median salary of $142,900. At #2, Texas A&M University - College Station has a tuition rate of $26,402 per year for its Master of Engineering in Electrical Engineering.
Alumni salaries were provided by PayScale. View our methodology for more details or learn more about OnlineU.
| Rank | School | Annual Tuition | Mid-Career Salary |
| --- | --- | --- | --- |
| # 1 | University of Virginia | $8,115 | $142,900 |
| # 2 | Texas A&M University - College Station | $26,402 | $131,300 |
| # 3 | Columbia University in the City of New York | $31,560 | $132,700 |
| # 4 | Stanford University | $20,280 | $127,320 |
| # 5 | University of Colorado Boulder | $10,000 | $120,900 |
| # 6 | Stevens Institute of Technology | $24,780 | $126,600 |
| # 7 | Worcester Polytechnic Institute | $23,490 | $121,600 |
| # 8 | Illinois Institute of Technology | $25,200 | $121,800 |
| # 9 | Georgia Institute of Technology | $16,500 | $115,420 |
| # 10 | Purdue University - Main Campus | $20,220 | $116,800 |
| # 11 | Arizona State University | $10,108 | $112,000 |
| # 12 | Colorado State University - Fort Collins | $10,575 | $111,200 |
| # 13 | University of California - Los Angeles | $16,000 | $112,880 |
| # 14 | University of Houston | $18,747 | $113,100 |
| # 15 | Iowa State University | $10,425 | $109,100 |
| # 16 | University of Florida | $10,350 | $104,400 |
| # 17 | New Jersey Institute of Technology | $19,605 | $108,000 |
| # 18 | Drexel University | $29,969 | $112,100 |
| # 19 | University of Wisconsin - Madison | $16,000 | $105,200 |
| # 20 | Missouri University of Science and Technology | $18,000 | $105,700 |
| # 21 | North Carolina State University | $20,185 | $104,800 |
| # 22 | Washington State University | $8,925 | $99,500 |
| # 23 | University of Southern California | $29,050 | $105,000 |
Salary data provided by

2020 Online Colleges Offering Electrical Engineering Degrees - Ranking Details
What Is Electrical Engineering?
Electrical engineering is a field that is concerned with the design, manufacture, and testing of electrical systems and equipment. It is a more recent area within engineering, having developed in parallel with technology that utilizes electrical conductivity.
Today, electrical engineering is an extremely diversified discipline that is at the forefront of many breakthroughs. From designing everyday products, like smartphone batteries and entertainment equipment, to working on electric cars and brainstorming better ways to power cities, electrical engineers continue to push the boundaries of scientific discovery.
An online master's in electrical engineering may be an excellent choice if you hope to work in a field that will likely continue to grow and remain relevant in many industries. This page covers information on what to look for in an electrical engineering program, as well as degree costs and common courses.
Online Master's in Electrical Engineering Degrees
An online master's in electrical engineering can be completed in two years of full-time study, with students taking 30-64 credit hours. Part-time students and those enrolled in accelerated programs may finish in more or less time, depending on how quickly they complete classes.
An online master's in electrical engineering allows students to take classes at their own pace. Individuals typically have 24/7 access to class materials, such as lectures, notes, and assignments, giving them the chance to learn asynchronously. In many cases, they also check in with their advisors at regular intervals. While some programs permit students to complete labs online as well, others may expect them to visit campus once a year to meet degree requirements.
Students may also choose between a thesis or non-thesis track in an electrical engineering master's degree. While both are designed to equip graduates with the knowledge and skills to land employment in the field, the former is more research-focused and may also open up opportunities for further study.
Courses in an Online Master's Degree in Electrical Engineering
Electrical engineering students at the master's level study advanced applications of circuitry and currents. Common courses cover electrical design, product development, and management skills and techniques. Many graduate programs in electrical engineering require students to write a master's thesis or complete a culminating project. This project demonstrates a student's mastery of a very specific subject, and most people spend at least one semester working extensively on their project.
Introduction to Power Electronics
In this class, students learn about voltages, currents, and power converters. They focus on how to build components that can conduct electricity more effectively. Covered topics include current types, power regulation, and electricity modeling.
Battery Management Systems
This class introduces students to modern-day battery management systems and the wide variety of applications they're used in. It explains how to build different types of batteries, measure currents, and calculate energy levels. Some versions of this class may also cover how battery systems are used in new technologies like self-driving cars.
Differential Equations for Electrical Engineers
This course focuses heavily on mathematical concepts and their use in electrical systems. Students cover both the theory behind differential equations and problem-solving exercises, which train them to apply their knowledge in real-world situations.
Electrical Engineering Specializations & Concentrations
Master's degrees in electrical engineering typically allow students to pursue a specialized course of study or concentrate their classes in a particular area. While the former may prepare graduates for unique career paths, the latter allows students to explore an area of electrical engineering they find interesting.
Below are examples of specializations typically offered in a master's program:
Communication and Signal Processing
The communication and signal processing specialization explores how electrical systems are used to efficiently and accurately deliver information. This may include analyzing internet, cellular, and other forms of communications technology. Common courses cover how to process computer signals, utilize machine learning, and build networks.
Electrophysics
Combining physics theory with the function of electrical systems, electrophysics is a specialization that is central to the development of modern electronics. Students learn about the electrical components and physical principles that together allow everyday technologies to work. They take classes in quantum phenomenon, accelerator physics, and optical systems.
Power Systems
Power systems can include engines, transformers, and generators. This broad specialization covers the design and functioning of these systems and also explores possible new sources of electrical power, such as solar energy. Students learn about renewable energy, electrical transport mechanisms, and power systems.
How Much Does an Online Master's in Electrical Engineering Cost?
Tuition rates for electrical engineering are based on multiple factors, including whether you're enrolled full or part time, if you are considered an in-state learner, and the program itself. Schools like the University of Virginia charge $19,090 annually. Students at more expensive colleges, like the University of Southern California, can pay upwards of $38,000 per year.
It's important to remember that as an online student, you may have expenses that are not included in a school's typical tuition and fees structure. These can include purchasing a laptop or special tools, such as multimeters, oscilloscopes, and circuit boards. On the other hand, you may save money by not having to pay for fees to use university facilities and services.
What Can You Do With an Electrical Engineering Master's Degree?
Electrical engineering jobs are available in various economic sectors, including government and the business world, as well as multiple industries, such as telecommunications, tech, and health care. Given the demand for their skills, an electrical engineer's salary can be quite substantial, depending on their skills and experience, and a master's degree may further increase your earning potential in this field.
Below are a few common career paths for graduates with an electrical engineering degree:
Annual Median Salary:
$104,820
Electronics engineers devise, build, and test electrical components used in a wider variety of industries. Their job may include assessing the viability of a new product or electrical component, writing technical manuals focused on maintenance and testing, and presenting research findings. Electronics engineers often collaborate with engineers from other backgrounds to develop technology in telecommunications, computing, and aerospace.
Annual Median Salary:
$95,300
For decades, automotive engineers have designed cars that are more efficient, safe, and faster. Modern-day automotive engineers may explore how to build electric vehicles or improve the functionality of the many electric components within cars. Their responsibilities typically involve running tests, suggesting modifications, and ensuring electrical components meet regulatory standards for automotive safety.
Architectural and Engineering Managers
Annual Median Salary:
$152,350
Architectural and engineering managers are responsible for planning, coordinating, and evaluating engineering activities. They typically supervise a team of engineers working on a particular project or research initiative. In most cases, these professionals are also responsible for hiring new team members, approving budgets, and filing reports.
What to Look For in an Electrical Engineering Program
As a highly technical field, electrical engineering can seem quite daunting to some. Selecting a program that suits your professional and personal goals can also feel like an overwhelming task. Below are a few factors to consider that can help you find the electrical engineering program that's right for you:
Accreditation
Accreditation is a process in which a third party evaluates a school or program to make sure the education it offers meets national benchmarks for academic quality. You should be sure to enroll in an accredited program, as this is typically a requirement to find a job in the field. The Accrediting Board for Engineering and Technology is the only agency that assesses electrical engineering programs.
Affordability
Your ability to pay for a master's degree can determine whether you complete your education and can also affect your return on investment. Applying for financial aid can help fund your degree, but it's important to enroll in a program that aligns with your unique financial circumstances as well.
Specialization or Concentration
Choosing the right specialization can go a long way in ensuring you meet your career goals. Alternatively, opting to concentrate your coursework in a particular area can help develop a unique understanding of electrical engineering as a field. Weighing your academic and career goals before selecting a master's will ensure you find the degree program that meets your needs.
Learning Formats
As a student, you may have to work, have a busy schedule, or take care of family. Selecting a learning format that allows you to complete classes and make progress toward your degree while meeting personal obligations is essential. Many programs offer fully online, hybrid, and in-person formats, so be sure to choose one that suits your needs.
FAQs About Online Master's Degrees in Electrical Engineering
Is a Master's in Electrical Engineering Worth It?
---
Electrical engineers make a median annual salary of $101,780, and these jobs are expected to increase at a steady rate over the next decade. If you're looking for a stable career that pays well, then a master's in electrical engineering will likely be worth it to you. In addition, as a field that's constantly evolving and driving technological developments, electrical engineering can be exciting to work in.
What Do Electrical Engineers Do?
---
Electrical engineers use their knowledge and training to develop, improve, and repair various kinds of electronic equipment. On a daily basis, their job may include working in a lab, assembling devices, and running tests. Those involved on the research side may write reports and present their findings to the scientific community.
Can You Get an Electrical Engineering Degree Online?
---
Yes, it is possible to get an electrical engineering degree fully online. Many schools offer the chance to learn in a distance learning program, which allows students to take classes at their own pace. In most cases, degree requirements, like labs, can also be completed online.
How Hard Is an Electrical Engineering Degree?
---
Electrical engineering draws on advanced math concepts as well as computing principles. This can seem intimidating to some students, especially those that don't have experience in a STEM field. Additionally, electrical engineering requires creativity and critical thinking as there are often multiple ways to solve a problem. This may be challenging to students who feel uncomfortable experimenting with solutions or those that thrive in a well-paced learning environment.
Related Articles
2023 Best Online Degrees in Electrical Engineering
Learn about the best online electrical engineering degrees in 2023 and the accredited colleges that offer them.
2023 Best Online Master's in Industrial Engineering Degrees
We've ranked the best online master's in industrial engineering degrees for 2023 based on tuition rates and alumni salaries. Compare schools to narrow down a choice.