Best Online Master's in Electrical Engineering Degrees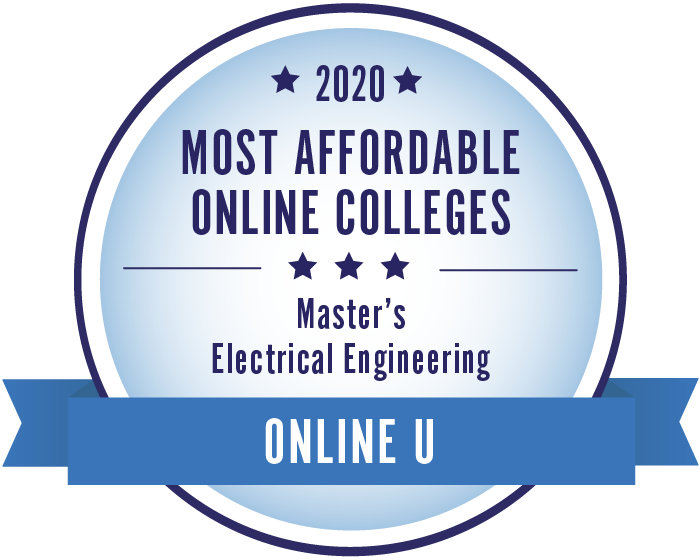 The 23 online colleges on this list are the best value options for online master's programs in electrical engineering, based on their tuition and alumni-reported salaries. Ranked #1 is the University of Virginia, with a low tuition of $8,115 and a high median salary of $142,900. At #2, Texas A&M University - College Station has a tuition rate of $26,402 per year for its Master of Engineering in Electrical Engineering.
Alumni salaries were provided by PayScale. View our methodology for more details or learn more about OnlineU.
| Rank | School | Annual Tuition | Mid-Career Salary |
| --- | --- | --- | --- |
| # 1 | University of Virginia | $8,115 | $142,900 |
| # 2 | Texas A&M University - College Station | $26,402 | $131,300 |
| # 3 | Columbia University in the City of New York | $31,560 | $132,700 |
| # 4 | Stanford University | $20,280 | $127,320 |
| # 5 | University of Colorado Boulder | $10,000 | $120,900 |
| # 6 | Stevens Institute of Technology | $24,780 | $126,600 |
| # 7 | Worcester Polytechnic Institute | $23,490 | $121,600 |
| # 8 | Illinois Institute of Technology | $25,200 | $121,800 |
| # 9 | Georgia Institute of Technology | $16,500 | $115,420 |
| # 10 | Purdue University - Main Campus | $20,220 | $116,800 |
| # 11 | Arizona State University | $10,108 | $112,000 |
| # 12 | Colorado State University - Fort Collins | $10,575 | $111,200 |
| # 13 | University of California - Los Angeles | $16,000 | $112,880 |
| # 14 | University of Houston | $18,747 | $113,100 |
| # 15 | Iowa State University | $10,425 | $109,100 |
| # 16 | University of Florida | $10,350 | $104,400 |
| # 17 | New Jersey Institute of Technology | $19,605 | $108,000 |
| # 18 | Drexel University | $29,969 | $112,100 |
| # 19 | University of Wisconsin - Madison | $16,000 | $105,200 |
| # 20 | Missouri University of Science and Technology | $18,000 | $105,700 |
| # 21 | North Carolina State University | $20,185 | $104,800 |
| # 22 | Washington State University | $8,925 | $99,500 |
| # 23 | University of Southern California | $29,050 | $105,000 |
Salary data provided by

2020 Online Colleges Offering Electrical Engineering Degrees - Ranking Details
What Is a Master's in Electrical Engineering Degree?
A master's degree in electrical engineering covers advanced concepts in this discipline. Coursework usually includes lessons on circuits, differential algebra, and power generation and regulation. Many programs have more opportunities to specialize than bachelor's degrees do. Master's faculty may also teach some management skills for students interested in leadership roles.
Most online engineering degrees feature courses without live meetings, including online electrical engineering master's degrees. Students complete coursework in a learning management platform where they can view lecture recordings, read assignments, and talk to classmates.
Accreditation can be very important in engineering. The Accreditation Board for Engineering and Technology (ABET) is an influential accreditor, and many employers prefer candidates who hold degrees from ABET-approved programs. You can search ABET's database of accredited programs to find online and on-campus electrical engineering options.
Degree Requirements
You need to submit official bachelor's degree transcripts to apply for an online degree in electrical engineering. You don't necessarily need a bachelor's degree in electrical engineering to pursue a master's in the subject. But most master's candidates have a STEM degree of some kind, with engineering degrees being the most common.
Electrical engineering master's degrees usually have 30-36 credit hours of coursework. This may take as little as one year with a full-time schedule or two to three years at a part-time pace. Some classes require laboratory work that you can complete with kits that your school provides, though you might need to buy some components yourself. Other schools might require you to travel to campus once or twice a year for intensive lab sessions over several days.
Internships are fairly common in electrical engineering. If your program has a required or optional internship, you'll complete this at a workplace in your community. This is the same for online or in-person students.
Electrical Engineering Courses
Each master's program in electrical engineering has a slightly different program. But we've listed a few common courses below that you're likely to take in any program you choose:
Battery Management Systems
This course introduces students to modern-day battery management systems and their applications. Professors explain how to build different types of batteries, measure currents, and calculate energy levels. Some versions of this class may also cover how battery systems are used in new technologies such as self-driving cars.
Differential Equations for Electrical Engineers
Electrical engineers need to understand these mathematical concepts in order to design electrical systems. Students cover both the theory behind differential equations and problem-solving exercises that train them to apply their knowledge in real-world situations.
Introduction to Power Electronics
Students build components that can effectively conduct electricity in this class. Topics might include current types, power regulation, and electricity modeling.
In this course, faculty discuss how electricity is transmitted from plants to consumers. They typically cover telecommunications networks, failures and self-healing, and advances in smart grid technology, such as intelligent sensors.
Other Engineering Specializations
It's common to specialize in electrical engineering by choosing a concentration during master's-level coursework. One of the most common concentrations is electronics engineering, which is the design and construction of components and consumer devices that function on electricity. Other popular choices include wireless and mobile communication, robotics, and automatic control systems.
But there are many types of engineering degrees beyond electrical engineering. The math, science, and design skills used in one field often apply to some or all of the others. Therefore, students who hold a bachelor's degree in one engineering major can go on to study another in graduate school.
We've listed examples of engineering disciplines below that you might consider if you're not yet decided on a specialty:
Aerospace engineers design and test airframes such as planes, helicopters, and spacecraft. It may be possible to pursue an online master's degree in aerospace engineering, though much of the lab work will require you to use campus facilities.
Chemical engineers use chemistry to design and perfect a huge variety of products for business leaders to sell. As with aerospace engineering, an online master's degree in chemical engineering might have fully remote courses but some in-person laboratory time built in.
A master's degrees in civil engineering focuses on building infrastructure such as highways, railroads, and water treatment facilities. You need a license from your state if you work on public projects, which is the bulk of civil engineering duties.
Computer engineers work on physical computer hardware and its interactions with software. They need to understand much of the same electronic circuitry, instrumentation, and signals concepts as electronics engineers, so you might consider an online master's degree in computer engineering if this interests you.
Online engineering management master's degrees emphasize leadership theory and practices so that graduates can manage engineers and their projects. Students typically learn about behavior and motivation theory, financial planning, and supply chain management.
This is one of the most interdisciplinary fields in engineering. Systems engineers organize processes and procedures in an effort to maximize efficiency for their employers or clients. Online master's degrees in systems engineering teach the systems theories and best practices they need in the workplace.
What Can You Do With a Master's in Electrical Engineering Degree?
Many engineers progress through their careers with nothing more than a bachelor's degree, while others choose to add a master's to their resume. But you might decide to pursue a doctorate in electrical engineering if you want to become a professor or academic researcher advancing knowledge in the field. It often takes 7-10 years to earn a doctoral degree when you factor in researching and writing a dissertation.
However, most electrical engineering graduates stop at the master's or bachelor's level. Read on to learn about possible occupations these degrees can qualify you for.
Potential Careers
Many graduates seek jobs as electrical or electronics engineers. The median annual salary for this career is $101,780, well over twice the national median salary of $45,760. Electronics engineers who design small components have a better job outlook than general electrical engineers (6% growth versus 2% growth through 2031).
Electrical engineering students learn valuable skills and knowledge that might be useful in related engineering or STEM careers. Some complementary jobs include industrial engineer, systems engineer, and mechanical engineer.
Financing Your Master's Degree in Electrical Engineering
It's important to understand all the costs associated with graduate school before diving into applications. That way you can start the financial planning process with all the information you need.
Most graduate students take out student loans to help pay for their program. This can lead to student loan debt that you need to repay with interest down the line. OnlineU's student loan repayment calculator can help you compare possible debt levels at different schools you're considering.
Ideally, you'll be able to secure some other forms of financial aid that don't need to be repaid. These include merit- and need-based scholarships, need-based grants, and need-based work-study programs.
FAQs About Master's in Electrical Engineering Programs
How Long Does It Take to Get a Master's in Electrical Engineering Degree?
---
Full-time students might be able to complete an electrical engineering master's program in a year, though two years is also common. Some colleges structure online programs into eight-week terms, which are intense but allow you to take more classes each year.
Is Electrical Engineering Hard?
---
Most students find electrical engineering courses difficult. There are many complex math and science concepts to master, all of which are important because electricity is so potentially dangerous. Even if you're a STEM wiz, you might struggle with some of the soft skills that these programs emphasize, such as collaboration, communication, and critical thinking.
Can You Get a Master's Degree in Electrical Engineering Online?
---
There are many master's programs in electrical engineering with 100% online coursework. It's still possible that you'll need to do some laboratory work on a campus. Any required internships will also take place in person.
Is a Master's Degree in Electrical Engineering Worth It?
---
An electrical engineering master's degree is often worth the money, time, and effort. In most cases, education pays off in the long run by leading to higher earnings and lower chances of unemployment.
But it's worth noting that the projected job growth rate for electrical engineers is lower than the national average of 5%. Electronics engineers should fare better, so it's worth considering programs with electronics engineering concentrations to make you more marketable.
Bottom Line
Electrical engineers can have rewarding careers with just a bachelor's degree, but a master's degree may open new career possibilities and lead to higher salaries. Many electrical engineering master's programs allow for specialization and contain some lessons on engineering management.
You might read through our college planning resources if you're unsure what subject to study or you have other questions about graduate school. The Guide to Starting Your Online Education can provide tips once you commit to an online learning program.
Related Articles
2023 Best Online Engineering Degrees
Find the best online engineering bachelor's degree for you. This page investigates the best online engineering degrees available in 2023.
2023 Best Online Colleges for Systems Engineering Degrees
These schools offer the best online master's in systems engineering degrees, according to annual salaries reported by alumni.