2020 Best Online Data Science Master's Degrees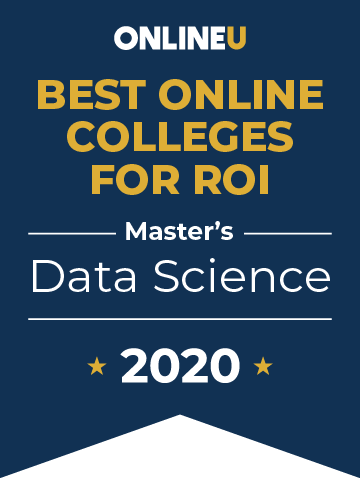 The 25 best value online master's programs in data science programs can be found at these colleges and universities. Graduates of the #1-ranked school, Georgia Institute of Technology, earn a median salary of $129,976 after completing their Master of Science in Analytics. In the #2 spot, Stevens Institute of Technology offers a Master of Science in Applied Artificial Intelligence - Data Engineering for $24,780 per year, with a median mid-career salary of $126,858.
Alumni salaries were provided by PayScale. View our methodology for more details or learn more about OnlineU.
Salary data provided by

2020 Online Colleges Offering Data Science Degrees - Ranking Details
Overview of an Online Master's in Data Science
Several universities offer online graduate programs in data science. Students graduating with a master's in data science can take on roles such as senior tech specialists, business intelligence analysts, or data architects. To enroll in this type of academically rigorous program, students often must have two years of work experience (not necessarily in the computer industry), and a baccalaureate degree from an accredited U.S. post-secondary school (or a school of equivalent standard in another country). Also, students must submit an entrance essay and pass admission interviews. Knowledge of computer programming and statistics or completion of introductory courses in these subjects is a prerequisite for this program.
Once enrolled, students can expect a 36 credit hour schedule. Within this curriculum are core courses such as data analytics, introduction to data science, and data engineering. Students may have the choice of choosing a specialty direction such as big data/data management, and usually may choose from several electives like big data design patterns, ethical practices, and text analytics. This degree often takes two years to complete, but is offered on an online and part-time basis. Students looking to complete their Master's of Data Science will have an eye for using data to solve problems as well as the ability to see the importance of past data accumulation and future data technology practices.
This website offers school details to prospective students as an informational resource. The appearance of a school listing on this website should not be interpreted as an endorsement of the school by this site.