Best Online Data Science Master's Degrees
By Jordan Beliles | Updated 8/4/2022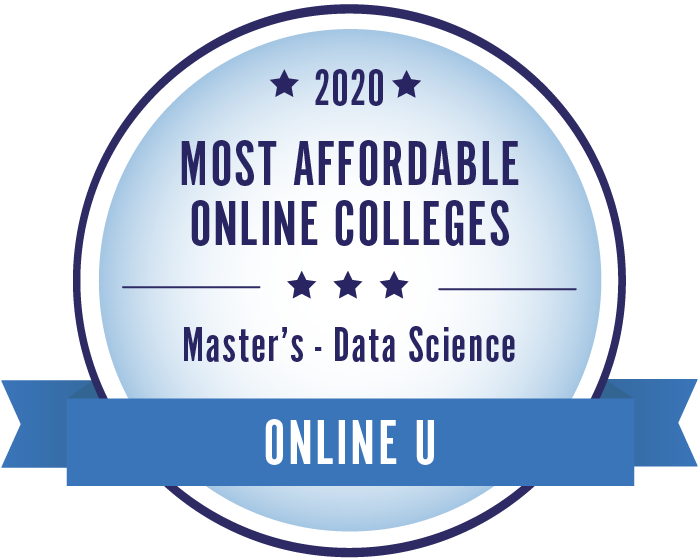 The 25 best value online master's programs in data science programs can be found at these colleges and universities. Graduates of the #1-ranked school, Georgia Institute of Technology, earn a median salary of $129,976 after completing their Master of Science in Analytics. In the #2 spot, Stevens Institute of Technology offers a Master of Science in Applied Artificial Intelligence - Data Engineering for $24,780 per year, with a median mid-career salary of $126,858.
Alumni salaries were provided by PayScale. View our methodology for more details or learn more about OnlineU.
| Rank | School | Annual Tuition | Mid-Career Salary |
| --- | --- | --- | --- |
| # 1 | Georgia Institute of Technology | $4,125 | $129,976 |
| # 2 | Stevens Institute of Technology | $24,780 | $126,858 |
| # 3 | Carnegie Mellon University | $37,440 | $131,294 |
| # 4 | Oregon State University | $12,880 | $120,433 |
| # 5 | Worcester Polytechnic Institute | $26,622 | $122,920 |
| # 6 | University of California - Berkeley | $23,104 | $121,077 |
| # 7 | Clarkson University | $35,332 | $125,550 |
| # 9 | Texas Tech University | $13,248 | $113,156 |
| # 10 | University of Michigan - Dearborn | $16,965 | $114,400 |
| # 11 | University of Illinois Urbana - Champaign | $10,720 | $110,124 |
| # 12 | Missouri University of Science and Technology | $18,000 | $110,878 |
| # 13 | Colorado State University - Fort Collins | $25,141 | $112,828 |
| # 14 | University of Maryland - College Park | $16,065 | $109,054 |
| # 15 | DePaul University | $17,030 | $109,241 |
| # 16 | Brandeis University | $23,580 | $111,300 |
| # 17 | Northeastern University | $16,698 | $108,369 |
| # 18 | University of Southern California | $33,200 | $114,720 |
| # 19 | Arizona State University | $8,512 | $104,687 |
| # 20 | University of Michigan - Ann Arbor | $21,223 | $106,084 |
| # 21 | Rutgers University | $14,100 | $103,213 |
| # 22 | George Mason University | $13,950 | $103,038 |
| # 23 | University of Wisconsin - Oshkosh | $15,300 | $103,000 |
| # 24 | Fort Hays State University | $4,604 | $97,738 |
| # 25 | Columbia University in the City of New York | $52,368 | $116,109 |
Salary data provided by

2020 Online Colleges Offering Data Science Degrees - Ranking Details
What Is a Data Science Degree?
In simple terms, a data science degree teaches you how to organize complex information. During an online master's degree in data science, you'll learn how to collect, analyze, and interpret large collections of information through the lens of computer science and information technology. These programs also include economics, math, and business courses to offer you a well-rounded education in the ever-evolving data science field. You may also take a specialized route in health care or cybersecurity, depending on what industry you want to work in.
Master's degree level data science generally takes one to two years in order to complete after you've earned a four-year bachelor's degree in data science or a STEM field. Along with holding a relevant bachelor's, you'll need to meet other prerequisites, such as keeping a 3.0 GPA or higher, two years of entry-level work experience in the field, and have completed coursework — such as multivariable calculus, linear algebra, or computer programming. Keep in mind, each master's program may have different prerequisites for admissions.
Can You Get a Data Science Degree Online?
Online data science graduate programs are widely available from both online colleges and traditional four-year universities, and they're just as respected as their on-campus counterparts.
Some online universities that specialize in STEM programs will offer data science degrees with more options for relevant concentrations, like web analytics or business data analytics.
Online programs are offered through a learning management system (LMS), with video conferencing and chat room discussions, where you can engage with your teachers and peers. Some of the best online data science masters programs will prepare you for a career working remotely from anywhere in the world.
Financial Aid for Online Master's Students
Once you hold all the requirements and are ready to apply for college, you may also want to begin searching for financial aid.
Federal loans can help ease the burden of tuition and provide an opportunity to attend a program that would normally be out of financial reach. As long as your school of choice is accredited, you'll be eligible to receive financial assistance after filling out the Free Application for Federal Student Aid (FAFSA). This is the largest financial aid program from the U.S. Department of Education. There's also the PLUS loan that specifically offers support for master's students seeking financial aid.
Data Science Degree vs. Bootcamp
With the rising cost of tuition, many students are seeking ways to get an education without committing to a full-scale university.
Data science bootcamps condense coursework into months-long — or in some cases weeks-long — programs by teaching specific skill sets. They often give you a crash course in a single subject, such as statistical analysis or data visualization software. Bootcamps are great if you're switching careers and want to quickly learn a new skill.
Unless you have a relevant STEM background, you might be overlooked by employers. It helps to have the necessary mathematical and computer science education students learn in a comprehensive master's program.
Data science bootcamps provide you with specific skills to enter the workforce and offer a certification at the end of your short program, all for around $20,000. However, unless you have a relevant STEM background, you might be overlooked by employers. It helps to have the necessary mathematical and computer science education students learn in a comprehensive master's program.
Common Courses for a Data Science Master's Program
Master's in data science programs involve courses that teach a variety of computer software programs as well as how to analyze and interpret information and upper-level mathematics. You'll also learn about the laws and ethics that surround big data, which will be especially helpful when seeking employment.
Your coursework will vary depending on the concentration you choose, but most of the classes will revolve around computer science, information technology, and the data therein. Below are some common core classes in a data science master's program online:
In this course, you'll develop models based around statistics. This technique helps organizations predict trends in big data. You'll learn to classify clusters of information, analyze links between data points, and test your models for accuracy.
Another common data science course is machine learning, where you'll look at ways to enable systems to identify patterns and improve their capabilities. This coursework involves algorithms, statistical principles, and learning the various applications used to program machines.
science programs also teach you about data security, one of the most important aspects of information technology. Security and privacy issues, organizational policies, and threat prevention techniques will be taught in this course, alongside the various ways intruders will try to infiltrate data systems.
Human-Centered Data Science
course explores the way data affects the human experience and how data privacy laws and ethics can lessen its impact on society. You'll study intellectual property, data preservation, user experience design, and data communication.
Natural Language Processing
Natural language processing refers to the relationship between humans and computers. This is the technology that powers smart assistants, like Apple's Siri. As a student in this course, you'll learn how to program computers to understand data offered by humans via voice or text.
What Can You Do With a Master's in Data Science?
In order to turn your degree into a viable data science career, it's best to understand the professional paths that are available. While job titles and responsibilities vary, each role requires you to work closely with machines and software programs while also communicating effectively with business leaders. Data drives many industries, and working as a data scientist can take you into positions with government agencies, the U.S. military, private tech companies, or even public hospitals.
Here are some common data science jobs you can get with a master's degree:
Professional Organizations for Data Science Graduates
Like many technical professions, data science also has a robust network of organizations that help disseminate information and keep members up-to-date on innovations in their field. These organizations can be great for meeting like-minded professionals, attending events, and even getting career assistance.
The most popular organization is the Association of Data Scientists (ADaSci), which is an international consortium in the data science and machine learning professions. They offer a regular publication with peer-reviewed studies, conferences, webinars, and a career center to browse job listings.
The American Statistical Association (ASA) is another group focused on uplifting the data science community through education resources, meetings and events, policy advocacy, and career help.
Even if you attend one of the best masters in data science programs, you can still benefit from an outside organization after you graduate.
Is a Master's Degree in Data Science Worth It?
The best data science master's programs are difficult to obtain — not because they aren't readily available online, but because they require a great deal of complex technical skills and advanced knowledge in information technology and computer science. However, if you're capable of achieving your degree, you'll be rewarded with benefits that many other careers cannot offer.
Let's take a look at the possible rewards and drawbacks of pursuing a master's degree in data science:
Potential Benefits
Data scientists earn a much higher wage than the average American. The average median salary for professionals in this field is $100,910, while the average American salary is just $58,260.
Data science professions are expected to grow at a high rate. Along with economists and information/computer research scientists, a data science role has a high job growth of 15% or higher.
Work on the front lines of technological innovation. Data science graduates will be thrust into a competitive field filled with innovative technologies that drive the growth of nearly every industry in the world.
Potential Drawbacks
Data science requires an understanding of complex mathematics. If you're not excited about re-learning calculus or linear algebra, then data science may be an especially difficult degree to achieve.
Data scientists may be asked to make hard decisions surrounding data privacy. The issue of privacy and security is constantly resurfacing as both public perception and policies change nationwide. Therefore, data scientists may have to tackle ethical issues related to people's private data.
Some can work in data science without a master's degree. Bootcamps can be a cheaper and quicker route to a professional career without spending several years and tens of thousands of dollars on graduate programs.
Alternative Master's Degrees to Data Science
One similar degree program to data science is computer science. You'll find many of the same courses in each program, especially when it comes to mathematics and statistics. Computer programming courses will also be similar, including classes in operating systems and coding.
A master's degree in cybersecurity crosses into the same territory as data science, particularly when it comes to the subject of data privacy and how data is organized in complex information systems. In some cases, data science can be a sort of catch-all term. If you're interested in a more specific career route, you may consider an alternative degree with a related subject matter.
Bottom Line
Earning an online master's degree in data science can offer a very fulfilling career with a lucrative salary and positive job outlook. Not only is the field growing at a faster rate than other industries, but as technology moves forward, so will your opportunities for advancement. Nearly every major industry requires knowledgeable data analysts to help them understand the information that makes up their business. If you have the desire to understand these systems, you can turn your data science degree into a lifelong career.
Related Articles
2023 Best Online Master's Degrees in Biology
View rankings of the best online master's in biology programs for 2023 with data on tuition, salary, debt, and return on investment.
2023 Best Online Master's Degrees
A master's program can expand your employment options and earning power. Explore our list of the best online master's programs based on alumni salaries.