Best Online Master's in Cybersecurity Programs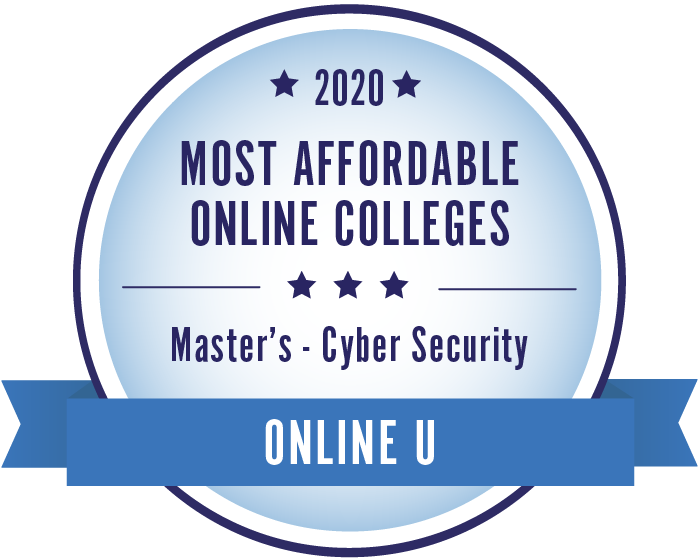 Students seeking an online master's program in cyber security will find that these 13 colleges offer the best value based on affordability and alumni salaries. At #1, New Jersey Institute of Technology charges $19,605 per year for their Master of Science in Computer Science - Cybersecurity. In the #2 spot, University of Maryland Global Campus offers a Master of Science in Cybersecurity Management and Policy for only $12,492 per year, making it an affordable choice for distance learners who are looking for a high quality and affordable education.
Alumni salaries were provided by PayScale. View our methodology for more details or learn more about OnlineU.
| Rank | School | Annual Tuition | Mid-Career Salary |
| --- | --- | --- | --- |
| # 1 | New Jersey Institute of Technology | $19,605 | $147,700 |
| # 2 | University of Maryland Global Campus | $12,492 | $121,900 |
| # 3 | DePaul University | $17,030 | $121,100 |
| # 4 | Webster University | $15,600 | $117,300 |
| # 5 | Florida Tech - Online | $16,128 | $115,600 |
| # 6 | Nova Southeastern University | $10,692 | $110,300 |
| # 7 | Missouri State University | $5,100 | $100,100 |
| # 8 | Bellevue University | $10,530 | $100,200 |
| # 9 | University of Detroit Mercy | $25,530 | $105,400 |
| # 10 | Northeastern University | $11,616 | $96,500 |
| # 11 | National University | $13,260 | $73,100 |
| # 12 | Saint Leo University Online | $13,860 | $57,600 |
| # 13 | Tiffin University | $7,875 | $52,700 |
Salary data provided by

2020 Online Colleges Offering Cybersecurity Degrees - Ranking Details
What Is an Online Master's in Cybersecurity?
Cybersecurity master's degrees aim to create a new generation of leaders who can manage security teams that defend employer data from cyber threats. To this end, enrollees study a curriculum that covers information assurance and security in computer networks, databases, cloud computing, software, and operating systems, as well as security management. Administrators often seek program accreditation through the Accreditation Board of Engineering and Technology.
Most programs are 30-36 credit hours long and take about two years to complete with a full-time schedule. Many programs, whether on campus or online, also offer part-time options for working graduate students. The only major difference between in-person and distance programs is in learning format.
Most online cybersecurity degree programs are asynchronous, without live course meetings. Instead, you sign in to a learning management system to interact in forums, read and submit assignments, and watch recorded lectures and demonstrations. You'll complete any required internships in person, though field experiences are relatively rare for online master's degrees in cybersecurity. More common are capstone courses that culminate in a comprehensive capstone project that integrates everything you've learned.
Admission Requirements for a Cybersecurity Master's Program
Admission is usually competitive for master's degree programs. Although requirements differ by school, the following criteria are fairly typical:
A bachelor's degree with a minimum 3.0 GPA; the major doesn't need to be in cybersecurity, though you may need to take some prerequisites if you didn't study computer science or a technology-related field

Official GRE or GMAT scores

A resume detailing your education and work experience

Letters of recommendation from professors familiar with your undergraduate work
Common Courses in an Online Master's in Cybersecurity Program
Most cybersecurity master's programs have broadly similar curricula, because they're relatively short and focused. Most students take a common core of classes, plus a few electives that grant a small degree of possible specialization to their graduate degree.
The courses below are typical for Master of Science in Cybersecurity programs.
Cybersecurity Foundations
This course introduces the fundamentals of cyberdefense and common methodologies for finding solutions. Faculty typically discuss a broad range of topics, including formal models, authentication, cryptography, security policy, and the interaction between physical and digital network security.
Digital Forensic Technology
Sometimes attacks will succeed, and this class describes how to gather and exploit evidence of criminality in the aftermath. Topics may include evidence preservation, data recovery, forensic imaging, and court testimony.
This is another course acknowledging the reality that hackers sometimes succeed. Learners study intrusion detection protocols, machine learning algorithms, and real-world case studies of successful countermeasures.
Professors discuss defensive methods for securing software and networks. They usually lecture on security architecture, secure systems development, malware awareness, firewalls, and access control.
This class covers the day-to-day concerns of running a cybersecurity strategy. You might learn about vulnerability testing and auditing, perimeter protection, intrusion detection, risk management, and monitoring. Depending on the program, you might also study management of people on security teams.
What Can I Do With a Master's Degree in Cybersecurity?
A cybersecurity master's degree may instill advanced knowledge if you already studied cybersecurity as an undergraduate. But it might also help you qualify for a cybersecurity career if you have no previous cybersecurity education.
In either case, the most natural career fit is a position as an information security analyst, which is the title the Bureau of Labor Statistics (BLS) uses for cybersecurity experts. But you might also find work in a related role, such as a computer and information systems manager or network and computer systems administrator. Security has become such a concern to many enterprises that might appreciate someone with a cybersecurity and information assurance background.
You can work in a variety of industries as a cybersecurity graduate, from software and web development to health care and national security.
You can work in a variety of industries as a cybersecurity graduate, from software and web development to health care and national security. You can also start your own business. Eric Florence, a cybersecurity consultant and entrepreneur, believes that a master's credential can help develop the leadership qualities needed for such a venture: "Getting a master's is for someone looking to start a consulting firm or lead security at a large company."
Is an Online Master's in Cybersecurity Worth It?
You might not be able to answer this question until you've earned your diploma and worked as a security professional for a few years. But a master's in cybersecurity may be worth the time, money, and effort if you want a leadership role in the field.
Possible Benefits
On the plus side are stories like those of Eric Florence or Mike Pedrick, a vice president of cybersecurity consulting at the security provider, Nuspire. Pedrick says of his master's degree, "The knowledge gained via the subject matter made me a better leader in the information technology/information security space."
Possible Drawbacks
On the other hand, earning an advanced degree always comes with a price. Even if you receive some financial aid, a graduate program is an expensive undertaking. Pedrick also notes the opportunity costs he incurred, such as "finding and maintaining the motivation to complete the coursework while working as an IT/IS leader in a manufacturing firm with multiple locations and spending time with family."
In addition, a master's degree might be unnecessary if you want to practice computer security in a non-leadership or non-entrepreneurial role. Florence says, "Anyone who just wants to enter the field can take an online course for certification and get to work, or teach themselves, and showcase their skills to potential employers." For this reason, it may not be worthwhile to get a master's degree if you already have certification or a bachelor's in cybersecurity and you don't want to pursue leadership roles.
FAQs About Online Master's in Cybersecurity Programs
Related Articles
2023 Best Online Master's Degrees
A master's program can expand your employment options and earning power. Explore our list of the best online master's programs based on alumni salaries.
2023 Best Online Cybersecurity Degrees
Cybersecurity is a popular field, and an online bachelor's program can be a smart choice. Find the best schools in 2023 for online cybersecurity degrees.