Best Online Master's in Criminal Justice Degrees
A degree in criminal justice prepares people to be dynamic, forward-thinking, well-educated leaders in our criminal justice system. That's where the following ranked list of online master's in criminal justice degree programs comes in. These programs prepare graduates for leadership within police departments, state and federal investigation agencies, and correctional facilities, as well as in the legal, judicial, government, and social welfare systems. Professionals who take on these roles are well-compensated. Read on for more information about career options and networking opportunities.
2020 Best Online Colleges Offering Master's in Criminal Justice Degrees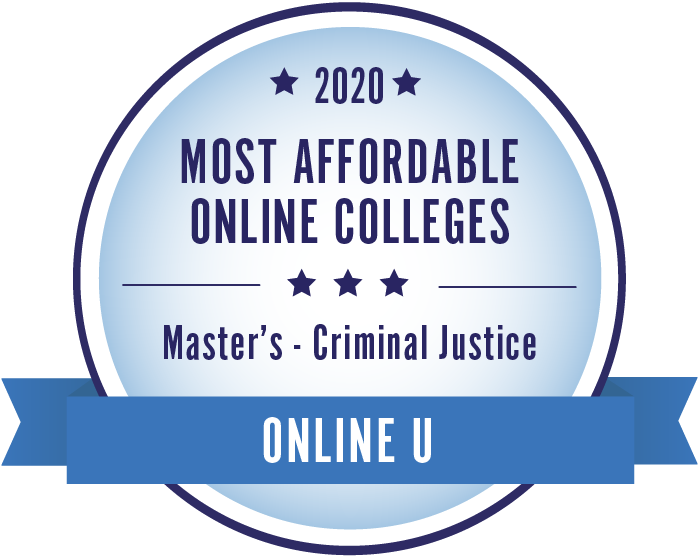 The 10 best value online master's programs in criminal justice programs can be found at these colleges and universities. Graduates of the #1-ranked school, Northeastern University, earn a median salary of $96,500 after earning their Master of Science in Criminal Justice. Second-ranked CUNY John Jay College of Criminal Justice offers a Master of Arts in Criminal Justice for $11,445 per year. Graduates of the school's criminal justice program earn a median salary of $78,300.
Alumni salaries were provided by PayScale. View our methodology for more details or learn more about OnlineU.
| Rank | School | Annual Tuition | Mid-Career Salary |
| --- | --- | --- | --- |
| # 1 | Northeastern University | $30,590 | $96,500 |
| # 2 | CUNY John Jay College of Criminal Justice | $11,445 | $78,300 |
| # 3 | Anna Maria College | $12,330 | $73,400 |
| # 4 | National University | $11,934 | $73,100 |
| # 5 | Sam Houston State University | $9,283 | $71,400 |
| # 6 | University of Cincinnati | $13,090 | $67,800 |
| # 7 | Saint Joseph's University | $15,966 | $63,800 |
| # 8 | Saint Leo University Online | $10,620 | $57,600 |
| # 9 | Tiffin University | $10,500 | $52,700 |
| # 10 | Troy University | $7,410 | $48,000 |
Salary data provided by

2020 Online Colleges Offering Criminal Justice Degrees - Ranking Details
Overview of Master's in Criminal Justice
A graduate degree in criminal justice provides a strong foundation for professionals who want to assume higher-level positions and leadership roles in their chosen fields. However, students interested in pursuing a master's degree in criminal justice should try to clarify their career goals before choosing an online college or university to attend. There is much variation in programs, degrees, and areas of concentration, and some programs even allow for customization under a counselor or advisor's guidance.
Program Requirements
Admissions requirements vary from one school to another. While most criminal justice master's programs have minimum grade point requirements, they can vary from a 2.5 to a 3.0. Other common requirements for application are official transcripts, letters of recommendation, prior experience, and personal essays on career aspirations and outlook. It is worth noting that many schools do not require the GRE to apply.
Obtaining an online master's degree in criminal justice requires diligence and planning. While this degree typically takes full-time students two years to complete the required 30 to 36 credit hours, some online students may be able to finish their studies in as little as 12 months. For part-time students, the process generally takes three years. A few online criminal justice master's degrees also include a capstone project.
Curriculum
Many colleges and universities offer a Master of Science in Criminal Justice degree. This is what is referred to as a generalist degree, and the curriculum encompasses a broad range of relevant courses in theories or philosophies of criminology, techniques and procedures in crime analysis, criminal behavior, and ethics. However, some schools encourage or require master's students to choose an area of concentration, such as community and family justice, corrections and rehabilitation, policing, intelligence, public policy, or homeland security and terrorism.
In addition to, or in some cases in lieu of, a Master of Science in Criminal Justice degree, some schools offer variations on this degree, and the curriculum for each is carefully selected to train students for specific roles. For example, a degree program could lead to a Master of Arts in International Crime and Justice, a Master of Science in Security Management, or a Master of Science in Criminal Justice Leadership and Management.
Finally, some programs prepare students for a technology-based career with programs leading to a Master of Science in Digital Forensics or a Master of Science in Cybersecurity.
Choosing a Master's of Criminal Justice Program
Many factors go into selecting the right online master's degree in criminal justice program. Students who have very specific career goals should carefully evaluate programs to ensure selecting one that will help fulfill those goals. Other students may consider a program that leads to a generalist Master of Science in Criminal Justice degree.
Other important factors include program structure and time commitment. While many online programs offer flexibility, some programs are a better fit for those studying part-time while working a full-time job. Some students may also want to investigate faculty credentials, opportunities to gain hands-on experience, and other support resources offered through the program.
Financing a Master's Degree in Criminal Justice
While paying for a master's degree online is often a prospective student's primary concern, many programs offer flexible options for paying tuition. Some schools provide discounts for active military or law enforcement. Others offer financial aid or student loans. Also, some students may be eligible for tuition assistance from their employer.
Accreditation
Accreditation is a voluntary action taken by educational institutions to have the content and quality of the programs they offer evaluated. The review is often conducted by independent regional or national agencies. Accreditation signals that the institution meets or exceeds quality standards and shows a commitment to continuous improvement.
Prospective criminal justice students should verify whether the school is accredited by the Academy of Criminal Justice Sciences (ACJS) or some other recognized accrediting agency as determined by the United States Department of Education or the Council for Higher Education Accreditation (CHEA). Graduating from an accredited program is sometimes required in order to work for certain states or employers.

Specializations
The term "criminal justice" encompasses a wide range of career opportunities and work environments, from policing and investigation to the courts and correctional facilities. It also addresses public safety at every level, from local to international agencies. Some possible areas of concentration include:
Corrections and Rehabilitation: The U.S. Correctional System oversees people in all stages of the criminal process, from people in jails and prisons to those on parole and probation. The system employs many professionals who specialize in providing rehabilitative services, education, and counseling to people who have served their sentences.
Criminal Investigation: Criminal investigators use an array of investigative techniques to uncover, collect, identify, research, categorize, and interpret evidence that can lead to identification and conviction. Some also work as criminal profilers, who compile data about similar crimes and those who committed them in order to form theories about the perpetrator of a crime under investigation. Analytical, problem-solving, and communication skills are all essential to specialists in this field, who are often called upon to communicate their findings to other law enforcement agents, lawyers, and perhaps even the members of a jury.
Cyber Security: Where digital forensic investigators deal with the aftermath and fallout from cybercrime, cybersecurity analysts work on preventing cybercrime by designing more secure systems. Analysts in this field often further specialize in a particular area, including infrastructure, networks, applications, the cloud, or the Internet of Things.
Digital Forensics: Digital forensic investigators use their highly specialized technology skills and knowledge to research crimes involving digital devices, such as computers, computer networks, and mobile devices. They identify people who have committed crimes, assess damage after breaches, and make recommendations.
Homeland Security: With a workforce of 229,000 and 22 divisions, the U.S. Department of Homeland Security is dedicated to protecting the country and its people from threats and responding to disasters. This creates numerous opportunities for criminal justice professionals with advanced knowledge and skills to work in such areas as aviation, border, maritime, and port security. Additionally, some agencies are charged with detecting and protecting against chemical, biological, and nuclear threats.
Incident Management: In business, an "incident" is a physical or computer security event, such as an explosion at a manufacturing plant or an online security breach, that could lead to a disruption in the organization's operations. If not addressed properly and immediately, an incident can mushroom into a crisis. Incident managers are specially trained to manage and coordinate teams of people who handle such events, providing employee support and communications with the public so that business operations can return to normal as quickly as possible.
Certifications and Licenses
In general, law enforcement, security, and corrections professionals are not required to be licensed or certified. However, some professionals in the field of criminal justice may find that additional certifications will enhance their careers, especially if coupled with a master's degree in criminal justice. These certifications include:
Frequently Asked Questions for Online Master's in Criminal Justice Degrees
What can I do with a master's degree in criminal justice?
There are many job openings within the criminal justice system, including within the judicial system, in city police departments, in federal investigation agencies, in the social welfare system, and in correctional facilities. The majority of these require an undergraduate degree or a high school diploma paired with specialized training. However, professionals may seek an advanced degree to qualify for higher-level positions in criminology, management, and leadership. Graduates of online master's degree programs in criminal justice will find themselves well-positioned for leadership roles in law enforcement, security services, and the legal and social systems.
How much can I earn with a master's degree in criminal justice?
A master's degree in criminal justice opens the door to higher-paying administrative and management positions in any given field of law enforcement and security services. For example, the average police chief earns about $203,000 annually, and the average fire chief earns about $180,000 annually. An advanced degree in criminal justice also increases an applicant's chances of landing the more high-level jobs in law enforcement and intelligence. These could include becoming an FBI agent with an annual salary starting at $75,000, a CIA agent earning $65,000 a year, and a criminal investigator with the U.S. Marshals earning anywhere from $99,000 to $146,000 a year. A Juvenile Justice Caseworker can expect to make almost $52,000 a year, on average.
What skills do I need for a career in the criminal justice system?
Many online master's degree programs in criminal justice are designed to help build practical skills in addition to teaching theories and philosophies. Many of these valuable skills can be applied to a wide range of work environments. They include critical thinking abilities, hands-on investigative techniques, lab research methods, and written and communication skills.
Can I earn a doctorate in criminal justice online?
Yes, there are a number of online doctoral programs in criminal justice that will help train students for high-level careers in research, academia, law enforcement, and the judicial system. Because criminal justice looks at the causes of criminal behavior and the treatment of criminals, there are numerous opportunities for research in this field, especially in academia. Knowledge at this level also helps prepare doctoral candidates for leadership positions in law enforcement, in corrections and rehabilitation, and within the judicial system, where they will focus on establishing policies and setting standards.
What are some professional industry associations for criminal justice?
One way for criminal justice students and professionals to stand out and stay current in their professional skills is by joining an industry association. These groups offer networking and continued education opportunities, among other benefits. Additionally, they can be resources for news and changes within the industry. Some popular criminal justice industry groups include:
Related Articles
2023 Best Online Criminal Justice Degrees
Discover the top online criminal justice degrees in 2023 according to alumni salaries, and find the best degree program to kickstart your career.
2023 Best Online Law Enforcement Degrees
The best online bachelor's degrees in law enforcement can help prepare students to work in local police departments, federal agencies, and courts.