2020 Best Master's in Creative Writing Online Programs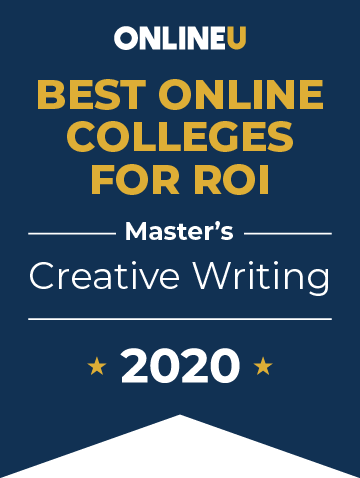 The 14 schools on this list are the best value options for obtaining an online master's degree in creative writing based on alumni salaries and low tuition rates. Mount Saint Mary's University - CA is the #1 school, with a median alumni salary of $127,100 and a yearly tuition of $17,946 for a Master of Fine Arts in Creative Writing. The University of Texas at El Paso ranks #2, with a median salary of $104,311 and an annual tuition rate of $10,350.
Alumni salaries were provided by PayScale. View our methodology for more details or learn more about OnlineU.
Rank
School

Annual Tuition

Mid-Career Salary

#

1

Mount Saint Mary's University - CA

$17,946

$127,100
#

2

The University of Texas at El Paso

$10,350

$104,311
#

3

Albertus Magnus College

$13,500

$103,300
#

4

University of Denver

$22,816

$103,250
#

5

Drexel University

$29,969

$102,914
#

6

The University of West Florida

$15,700

$89,500
#

7

National University

$13,260

$79,863
#

8

Southern New Hampshire University Online

$11,286

$70,212
#

9

Regent University Online

$15,600

$68,500
#

10

Saint Leo University Online

$11,340

$57,600
#

11

Savannah College of Art and Design

$38,475

$67,200
#

12

University of Nebraska at Omaha

$15,000

$56,893
#

13

Tiffin University

$7,875

$52,700
#

14

Lindenwood University

$11,880

$46,200
Salary data provided by

2020 Online Colleges Offering Creative Writing Degrees - Ranking Details
Online Master's in Creative Writing Overview
The most common type of online master's degree is the Master's of Fine Arts (MFA) in Creative Writing. An online MFA program offers workshops, provides more in-depth feedback than bachelor's programs, and exposes students to a myriad of other writing styles. It also often prepares graduates to teach the craft to others at the collegiate level. The preferred method of learning for this program is "low-residency", meaning that the majority of the work is completed online, but once or twice a year students convene for a week to attend live intensive seminars.
Many programs take two to three years to complete, require 36 to 70 credit hours, and call for a completed creative writing thesis upon graduation. Traditionally, the programs offer concentrations in poetry and fiction, with select programs now offering coursework in media related fields. For admission, students need to hold a bachelor's in any area of study—though a degree in a communications or writing-related field is favorable—have a 2.0 to 3.0 minimum GPA, and obtain a satisfactory GRE score. Many individuals that hold this online degree go into publishing, communications, copywriting, teaching, and authoring.
This website offers school details to prospective students as an informational resource. The appearance of a school listing on this website should not be interpreted as an endorsement of the school by this site.