Best Online Master's in Counseling Degrees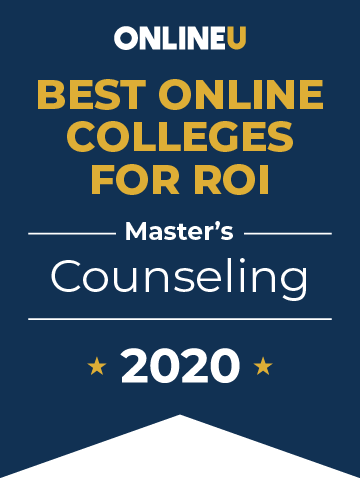 Below, we list the top 10 schools offering the best online master's programs in counseling. An online master's degree in counseling is designed to train students for careers that are dedicated to helping clients manage life's challenges and achieve emotional well-being. Earning a master's degree is also a necessary step for national counseling certification and state licensure. Professional counselors help clients identify and solve problems in order to modify unhealthy behaviors.
Continue reading for a program overview and explanation of requirements, which can help you understand college enrollment expectations. To determine whether a program is right for you, check out our discussion about a counseling degree's value.
Alumni salaries were provided by PayScale. View our methodology for more details or learn more about OnlineU.
| Rank | School | Annual Tuition | Mid-Career Salary |
| --- | --- | --- | --- |
| # 1 | West Virginia University | $16,960 | $109,600 |
| # 2 | Rutgers University | $11,040 | $72,600 |
| # 3 | Pepperdine University | $49,135 | $85,000 |
| # 4 | University of North Texas | $16,194 | $69,500 |
| # 5 | University of Massachusetts-Boston | $17,250 | $69,100 |
| # 6 | Our Lady of the Lake University | $18,140 | $68,200 |
| # 7 | New York University | $53,850 | $78,300 |
| # 8 | Liberty University | $5,500 | $54,300 |
| # 9 | Virginia Commonwealth University | $22,176 | $60,100 |
| # 10 | Nova Southeastern University | $18,960 | $57,100 |
Salary data provided by

2020 Online Colleges Offering Counseling Degrees - Ranking Details
---
Overview of Online Master's Degrees in Counseling
Master's programs aim to provide students with the theoretical knowledge and practical skills to help others optimize their mental health through behavioral changes, goal-setting, and problem-solving. Programs typically cover some methods for building therapeutic relationships with clients, such as outlining helpful communication skills and how to work effectively with diverse populations. In addition, a master's program delves into the clinical skills necessary for providing treatment, such as identifying emotional issues and suitable treatment options.
Online programs are designed so students learn mostly through asynchronous coursework, which means they can work at their own pace. Some on-campus work may be required as well as in-person, experiential learning under the supervision of trained professionals off-campus.
Program Requirements
A bachelor's degree from an accredited university is required for enrollment in an online master's degree in counseling. Most graduate schools prefer that students major in sociology or psychology, but they may accept undergraduate degrees in unrelated fields. It may also be helpful to have some experience in counseling, like through volunteer or professional opportunities. In general, applicants will most likely need to submit undergraduate transcripts, letters of recommendation, a resume, and a personal statement when applying to a counseling master's program. A personal statement is, essentially, an admissions essay that expresses an applicant's interest in counseling and outlines their professional goals. Many schools also request GRE scores.
When applying, it may be helpful to have some experience in counseling through volunteer or professional opportunities.
Online graduate counseling degrees generally take full-time students two years to complete. For those attending part time, it could take between three and four years. Students must usually complete approximately 60 credit hours to graduate. Counseling programs may also require practicums that take roughly 600 hours under the supervision of trained counseling professionals.
Common Courses in a Counseling Master's Program
Core course requirements in a counseling master's curriculum help students become effective communicators, understand fundamental counseling methods and techniques, and deliver emotional support. While titles for core courses and electives may vary across school programs, learning outcomes and objectives remain similar. Below are some common courses in an online master's program in counseling:
Counseling Theory and Techniques
Coursework may emphasize how intrapersonal and interpersonal communication skills are necessary to develop fundamental counseling skills. Students may work on building listening skills, empathy training, basic interviewing techniques, and performing clinical observations.
Ethical Standards and Professional Issues in Counseling
Lessons generally cover the foundation of ethical practices in terms of being a responsible counselor. Topics may include the study of models for ethical decision-making, ethical codes of professional organizations, and client rights.
Life Span of Human Development
Instruction generally provides an overview of human growth and development, from childhood to adulthood, and how information processing looks different in various stages of life.
Research and Evaluation in Psychology
Coursework often explores statistics and research models, design, and strategies. This allows students to identify, evaluate, and implement practical research methods and better understand how research informs evidence-based practices.
Social and Cultural Foundations of Counseling
This course typically reviews how gender, cultural diversity, religious preference, socioeconomic status, sexual orientation, and disability impact the counseling process for both the counselor and client.
Common Specializations
Students may choose to specialize by selecting an emphasis within counseling to treat targeted populations. This process means choosing electives in a specific area of interest, which generally requires the approval of a program advisor. Below are some common counseling concentrations to choose from:
Addiction or Substance Use Counseling
Marriage and Family Counseling
Mental Health Counseling
Rehabilitation
School Guidance Counseling
Accreditation
Accreditation ensures that a school meets quality higher education standards. Furthermore, attending an accredited school may also be necessary to use federal financial aid or transfer credits from one accredited school to another. Most non-profit universities have regional accreditation, which is often preferred over national accreditation because it has more regulations. Prospective students can verify a school's accreditation status through the U.S. Department of Education's accreditation database.
Online master's degrees in counseling may also receive programmatic accreditation, which is often conferred to ensure students enter the workforce prepared to meet professional standards and expectations. The Council for Accreditation of Counseling and Related Educational Programs (CACREP) is the primary accreditation board for over 900 graduate counseling degree programs at over 400 colleges and universities across the U.S. Completing a CACREP-accredited program may be required for state licensure. CACREP lists all currently accredited schools and programs on its website.
Careers With a Counseling Degree
There is a growing need for mental healthcare professionals nationwide. Over 21% of adults reported experiencing mental illness in 2020. Yet, the U.S. is short on mental health practitioners. As a result, the Bureau of Labor Statistics (BLS) projects high job growth — as opposed to the 8% national average across occupations — for the following counseling professions through 2030:
Certification and Licensure
Every state across the U.S. requires licensure for professional counselors to practice. Licensure ensures that these health and human services professionals are adequately trained and have the necessary field experience. Prospective counselors must complete 2,000-4,000 hours of clinical experience, pass an exam, and earn national certification to apply for a state license.
The National Board for Certified Counselors (NBCC) offers the National Certified Counselor (NCC) exam as its primary credential. Eligibility requirements include the following:
A master's degree
3,000 hours of counseling experience
An additional 100 hours of supervised experience for those who did not graduate from a CACREP-accredited program
A professional endorsement from a mental health professional
Those who earn their NCC designation are eligible to apply for licensure — also administered by the NBCC — to become a Licensed Professional Counselor (LPC), Licensed Mental Health Counselor (LMHC), Licensed Clinical Professional Counselor (LCPC), or Licensed Professional Clinical Counselor (LPCC), depending on the state. NCC designation is also a prerequisite for the Certified Clinical Mental Health Counselor and National Certified School Counselor certifications the NBCC offers.
Prospective counselors must complete 2,000-4,000 hours of clinical experience, pass an exam, and earn national certification to apply for a state license.
Some employers require that rehabilitation counselors become certified. Master's program graduates may become certified rehabilitation counselors by passing the Certified Rehabilitation Counselor (CRC) examination. Administered by the Commission on Rehabilitation Counselor Certification, passing the CRC exam is also accepted in some states for meeting testing requirements for licensure.
Is a Master's in Counseling Worth It?
Ultimately, this degree's value depends on your personal, professional, and financial goals. You may also want to consider your temperament and whether you'll enjoy the work after graduation. For example, counselors tend to be kind, generous, cooperative, patient, empathetic, and friendly. They enjoy socializing and teaching others, which is often what draws them into counseling careers.
It's also helpful to contemplate whether earning your counseling master's degree online will work well with your learning style. In general, completing a graduate program online can be convenient if you can't relocate or simply need to fit classes around your busy schedule. On the other hand, it may be harder to stay motivated when completing asynchronous online classwork and studying without a rigid class schedule. Below are some other pros and cons to consider when deciding on whether to pursue an online master's degree in counseling:
Potential Benefits
Mental health professionals are in high demand. There is a shortage of mental healthcare practitioners throughout the country, but according to the Health Resources and Services Administration, the need for counselors is the highest in the Western U.S.
Counseling work can be satisfying. According to CareerExplorer, those who provide counseling services find their job satisfying and rewarding. In fact, counselors are in the top third of careers in terms of job-related happiness.
Attending online school can save time and money. Earning a degree online can be less expensive than a traditional on-campus degree. For example, online students don't have to pay for on-campus housing or relocation costs. Distance learning also means that students don't have to commute to and from campus.
Potential Drawbacks
An online master's degree in counseling may have a low return on investment. For example, substance use, behavioral disorder, and mental health counselors earn a median wage of $47,660, according to the BLS. Yet, annual tuition rates can cost as much as $53,850, and the average student loan debt in the U.S. is $36,510.
Some counselors may have to work irregular hours. For example, mental health counselors at inpatient facilities may have to work evenings, nights, and weekends, which can infringe on their personal time. If a clearly delineated work-life balance is an important factor in one's career choice, this role may not be a suitable fit. Even those who decide to start their own private practice may have to be available whenever there is need.
Earning an online degree may feel isolating and limit relationship-building opportunities. It can be hard to feel motivated to study when doing so from home, and distance learning may not suit everyone's learning style. Forming meaningful relationships may also be challenging in an online environment because it could take more effort.
Frequently Asked Questions
How Long Does It Take To Earn a Master's in Counseling?
It can take full-time students about two years to earn a master's degree in counseling.
Can You Get a Master's in Counseling Online?
You can earn a master's in counseling mostly online. However, schools may require some on-campus work — usually for a week at the beginning and end of the degree program — called an intensive. This may involve assessment testing or a general orientation. Program advisors will also help online students secure practicums, which are on-site learning experiences that involve working with professional counselors in their local area.
How Much Does a Counselor Make With a Master's Degree?
Related Articles
Best Online Bachelor's in Counseling Programs
Discover the best online bachelor's degrees in counseling based on tuition and salary data.
Best Online Marriage & Family Therapy (MFT) Master's Programs
These rankings of the best master's in marriage and family therapy online degrees highlight the schools with low tuition rates and high reported alumni salaries.