Best Online Master's in Communication Degrees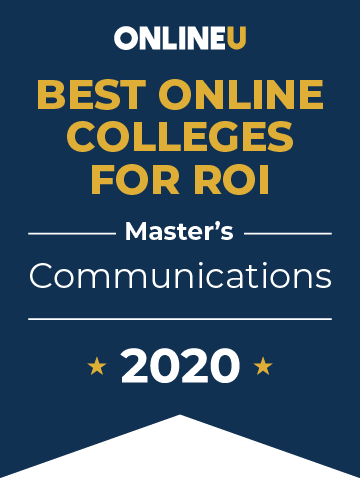 With low tuition rates and high average alumni salaries, the following 5 schools offer the best online master's in communication programs. Graduates of the #1-ranked school, Johns Hopkins University, earn a median salary of $98,900 after earning their Dual MA in Communication - Research/Flexible MBA. West Virginia University, ranked #2 on the list overall, offers an annual tuition of only $12,300.
Alumni salaries were provided by PayScale. View our methodology for more details or learn more about OnlineU.
| Rank | School | Annual Tuition | Mid-Career Salary |
| --- | --- | --- | --- |
| # 1 | Johns Hopkins University | $36,593 | $98,900 |
| # 2 | West Virginia University | $12,300 | $84,500 |
| # 3 | Webster University | $13,260 | $84,300 |
| # 4 | Franklin University | $20,770 | $78,700 |
| # 5 | Southern New Hampshire University Online | $11,286 | $66,400 |
Salary data provided by

2020 Online Colleges Offering Communications Degrees - Ranking Details
Online Master's in Communications Overview
Program Requirements
While most communications master's programs accept applicants from a variety of undergraduate backgrounds, strong writing skills are required. Programs may also require a high undergraduate GPA and standardized test scores. The majority of master's programs in communications are two-year degrees, though they range in length from one to three years.
Curriculum
The curriculum in a communications master's program requires study in a variety of communications and leadership strategies. Students learn about various methods of written and oral communication, such as public relations, mass communications, and digital communication. Many programs require foundational coursework in quantitative and qualitative research methods for social science. These courses teach students how to develop a sound research project, which is key for thesis-based degrees. The thesis requires students to draft a lengthy paper around a particular question or problem in communications.
Certain communications master's programs offer concentrations in communications management or professional communications. These degrees require more business-oriented coursework, such as classes in organizational behavior, team management, and international business.
This website offers school details to prospective students as an informational resource. The appearance of a school listing on this website should not be interpreted as an endorsement of the school by this site.
Related Articles
Best Online Speech Pathology Master's Programs
The best online speech pathology master's degrees ranked by return on investment. Compare top programs by tuition and alumni outcomes.
Best Master's in English Online Programs
The schools featured on this list provide the best master's in english online degrees. Rankings are based on tuition rates and alumni salaries.