2020 Best Online Master's in Civil Engineering Degrees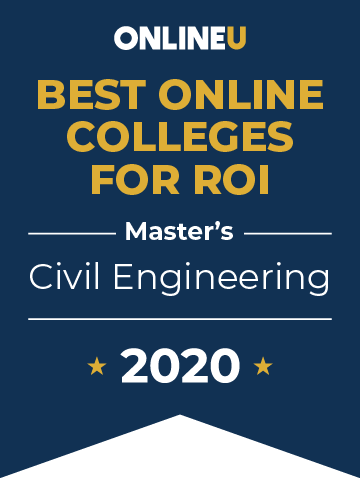 Ranked based on affordability and earning potential, these 17 schools offer the best online master's programs in civil engineering. Graduates of the #1-ranked school, Columbia University, earn a median salary of $132,700 after earning their Master of Science in Civil Engineering. Students can choose from multiple concentrations including Construction Engineering and Management, Engineering Mechanics, and Structural Analysis and Design. Stanford University, ranked #2, offers an annual tuition of only $20,280.
Alumni salaries were provided by PayScale. View our methodology for more details or learn more about OnlineU.
Rank
School

Annual Tuition

Mid-Career Salary

#

1

Columbia University in the City of New York

$31,560

$132,700
#

2

Stanford University

$20,280

$120,400
#

3

Colorado State University-Fort Collins

$9,640

$111,200
#

4

University of Houston

$16,664

$113,100
#

5

Iowa State University

$10,425

$109,100
#

6

Ohio State University-Main Campus

$16,704

$109,700
#

7

University of Illinois Urbana - Champaign

$19,512

$110,400
#

8

New Jersey Institute of Technology

$19,605

$108,000
#

9

Missouri University of Science and Technology

$18,000

$105,700
#

10

North Carolina State University

$20,185

$104,800
#

11

University of Louisville

$11,460

$100,700
#

12

University of Southern California

$29,050

$105,000
#

13

University of Florida

$30,134

$104,400
#

14

Villanova University Online Graduate Programs

$21,600

$99,200
#

15

Norwich University

$19,392

$95,600
#

16

The University of Tennessee - Knoxville

$10,710

$86,300
#

17

Michigan Technological University

$18,180

$88,700
Salary data provided by

2020 Online Colleges Offering Civil Engineering Degrees - Ranking Details
Online Master's in Civil Engineering Overview
An online master's degree in civil engineering is necessary for anyone seeking a senior-level position in public and private sectors within the civil engineering field. Master's degree programs can last from one to two years, depending on how many courses a student takes during a given semester or quarter. An approximate accumulation of 30 credit hours are needed to graduate, but could vary with specific programs. Most master's degree programs require a practicum, or a form of field experience to complete the program.
Students pursuing an online master's degree in civil engineering can expect to take courses that delve into extremely pertinent and technical aspects of civil engineering. These classes are more study-intensive and focused than engineering course work as an undergrad. Construction management, qualitative and quantitative statistics, and soil mechanics are examples of common courses offered. Colleges offering specific plans of study within the field may require additional courses for students to meet the program's criteria. Civil engineering graduate students are also expected to produce a thesis during the course of obtaining a master's degree. When earning an M.S. in civil engineering, students that are interested in pursuing a degree beyond the graduate level may want to choose a research track of study.
To obtain an online master's degree in civil engineering, a bachelor's degree is required. Prior internships related to civil engineering are also extremely helpful with being accepted into a graduate degree program. Strong GRE scores are expected and letters of recommendation are often required. Colleges and universities that offer four-year degrees are the most practical places to look for graduate programs. Many give students an option to combine both, allowing the student to take extra course work for an additional year or two and earn a B.S. and M.S. in civil engineering.
This website offers school details to prospective students as an informational resource. The appearance of a school listing on this website should not be interpreted as an endorsement of the school by this site.